Achieve superior business growth and profitability.
We leverage our deep expertise in data and analytics, Digital and Domain to deliver intelligent operations that get you faster actionable insights and power better decisions. We work with you to streamline your finance function, drive efficiencies, and customer experience so you can deliver overall finance excellence.
"Future-ready" finance
We deliver large-scale F&A transformation engagements across industries to engineer a future-ready, data-driven finance organization.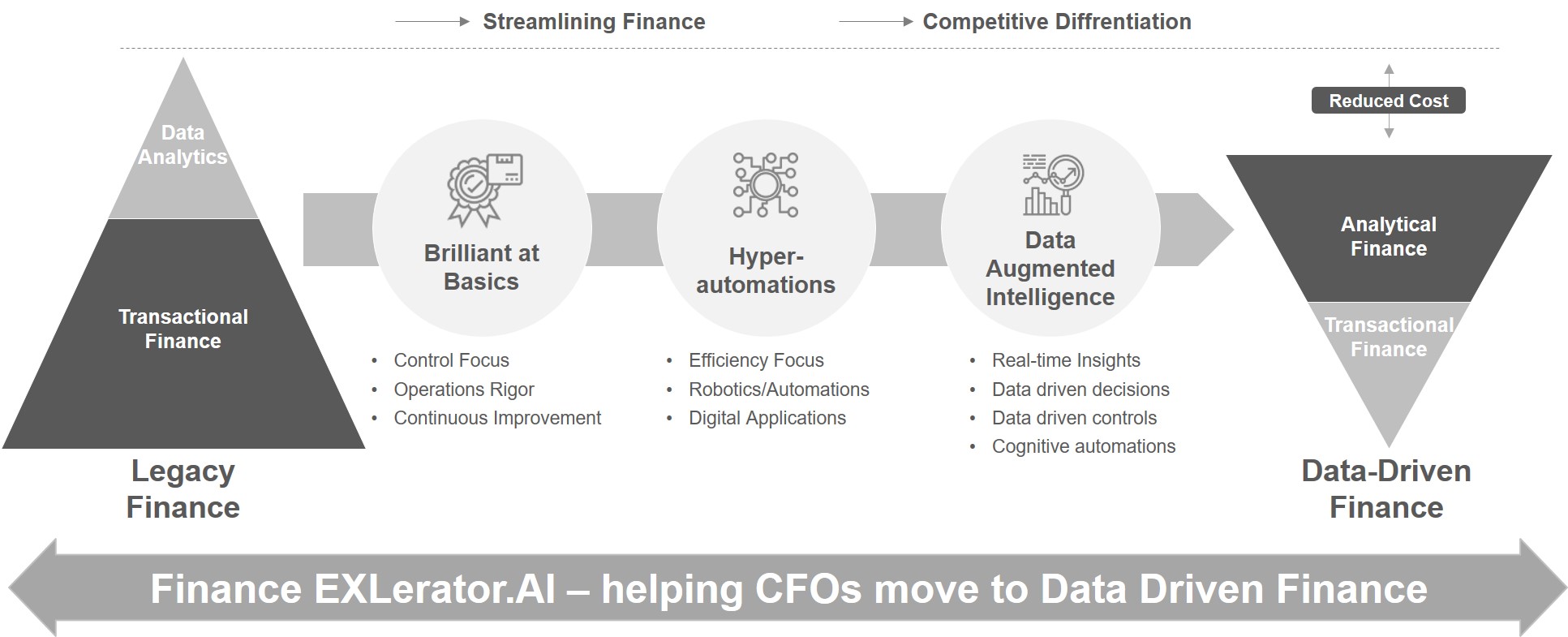 Our depth and breadth of talent includes more than 10,000 finance professionals and more than 1,400 finance analytics professionals.
Our world-class secure infrastructure, operations expertise, proven methodologies and deep analytics core brings strong operations management rigor, real-time performance tracking, insights and reporting.
We harness the power of AI:OS to drive intelligent business operations.
Our best-of-breed cloud and digital solutions and our partnership ecosystem assess and evaluate your existing platforms. We embed AI and analytics into processes for that trifecta impact -- outcomes, experience, and efficiency.
Data intelligence & insights
We give you faster, deeper actionable insights, powering better decisions.
Our solutions combine our ability to leverage best practices across industries with deep industry domain expertise resulting in a scalable and sustainable solution to deliver data-driven intelligent operations and control costs.
Complex, higher-end F&A services
Technical accounting

Regulatory reporting

Compliance

FP&A

Tax and analytical finance

Forecasting and risk management
We bring a pragmatic approach to Digital Transformation that focuses on the end-to-end process, is driven by rigorous investment discipline and business outcomes realization. Most importantly it prioritizes speed of execution in a "start small-scale fast" deployment model
Large-scale F&A transformation engagements

Multi-ERP environments

Ongoing ERP modernization or consolidation

Buyout or migration of captive operations

Market recognition of our analytics excellence

Years of experience running finance analytic COEs
Relationship-driven culture
We believe in an open, honest, mutually respectful and partnership driven approach. We listen. We bring you new ideas.
Recognized as an Industry Leader by HFS, Gartner, IDC, ISG and Everest, we bring Big 4 heritage and deep analytics core.
Why EXL data driven finance
EXL's Data Driven Finance Solutions look and go deeper to help you improve business outcomes. We help you harness the power of insights, deploy AI and OS support for intelligent operations, and support F&A infrastructure to achieve superior business growth and profitability.
We help create, embed and sustain a culture of Continuous Improvement through proprietary industry leading programs such as A.I.M (All Ideas Matter) and Digital EXLerator, our proprietary framework for process transformation.
Together, we will do this.
in all 6 categories in the "2020 ISG Provider Lens™ Financial and Accounting Digital Outsourcing for the US & UK" - F&A Consulting Services, Strategic F&A Services, and Transactional F&A Services
Gartner Peer Insights Customers' Choice
for Data and Analytics Service Providers distinction (2021)
in Everest "Advanced Analytics & Insights (AA&I) Services PEAK Matrix® assessment" 2021