Reshaping cyber risk scoring and underwriting
EXL teams with CyberCube to help insurers develop comprehensive cyber insurance offerings
Cyber Insurance is a tough class of business, and we are seeing an uptick in both frequency and severity of loss activity. We believe there are two key problems that insurance companies are trying to address - improving risk quantification and providing reinsurers enough transparency into the book to continue getting their reinsurance capacity. Our joint solution is aimed to address both.
It is designed to solve the unique challenges of the cyber insurance, capturing a wide range of traditional cyber risk measures, including industry-specific threat risk scores, signals, and financial loss models, along with non-traditional data and real-time threat assessment.
Together we create a proprietary view of cyber risk that standardizes how underwriters will evaluate and underwrite cyber risks. It simplifies the way underwriting teams can ingest data and assess cyber risks; and ultimately provides a support model for the cyber underwriters. Importantly, our solution will help standardize cyber risk underwriting by creating a single view of risk which will then be translated into trackable artifacts across pricing, actuarial, reinsurance partners and the Chief Underwriting Officers (CUO).
Want to learn more about how this could benefit your business? Complete the form and one of our experts will be in touch.
EXL and Cybercube partnership aims to address three key things:
Standardize – How underwriters define quality and assess a cyber risk
Simplify – How to leverage data at the point of sale
Support – How to empower underwriting with cyber trained and effective operating model

Standardize | Defining views of cyber risk and quality, is the secret sauce to building a scalable solution
Definition of a good cyber risk is made up of these components:


Simplify | Translating the view of risk, to quantifiable measures, allows the quality definition to be embedded throughout the operations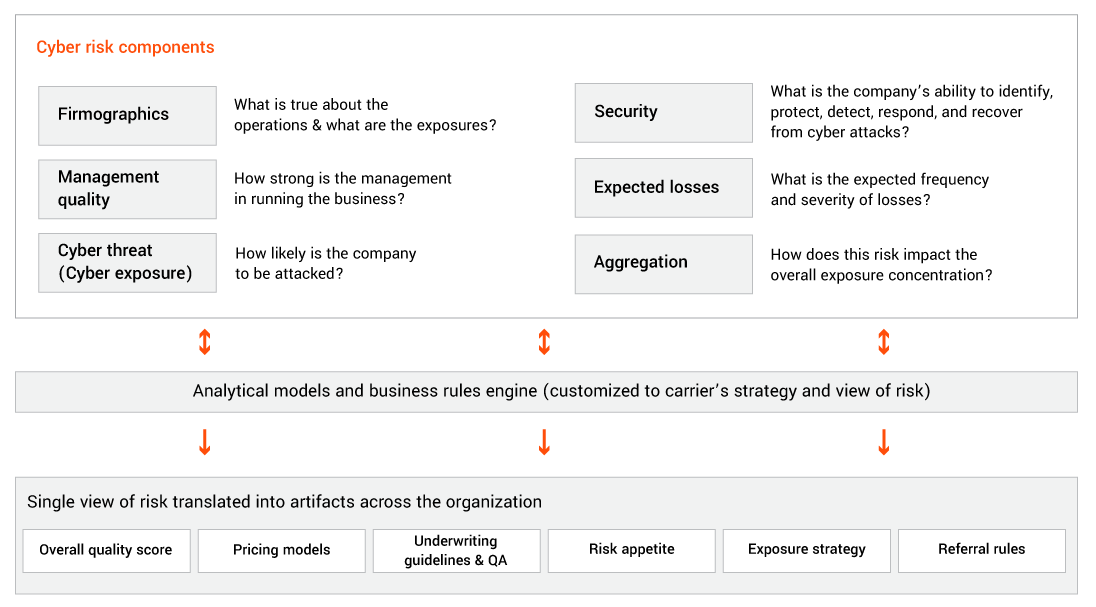 Support | An operating model built to empower the Underwriter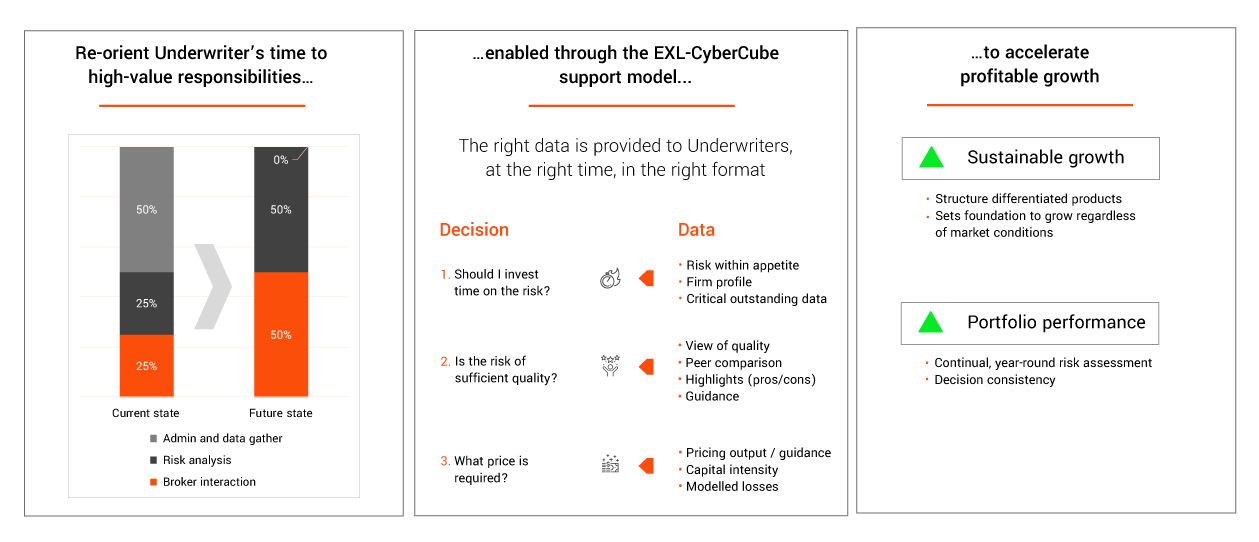 Leadership perspective
Raghav Jaggi
Co-Head General Insurance & Insurance F&A leader
EXL

"The cybersecurity insurance market is projected to grow from $11.9 billion today to $29.2 billion by 2027, but serious obstacles stand in the way of carriers being able to offer truly comprehensive, consistent and predictable products in this space. By bringing together world-class risk modeling capabilities with industry-specific analytics and workflow management expertise, we are delivering the missing link the insurance industry needs to seize this significant opportunity."

Raghav Maheshwari
Global Head of P&C Commercial Insurance and Insuretech
EXL

"Cyber is a tough class of business and we are seeing an uptick in both frequency and severity of loss activity. The biggest challenge we see insurers facing in this space is the lack of continuity and consistency in the way cyber risk is measured, tracked and reported. By working together with CyberCube, we will create a proprietary view of cyber risk that standardizes how underwriters will evaluate and underwrite cyber risks, simplify the way underwriting teams can ingest data and assess cyber risks, and ultimately provide a support model for cyber underwriters."

Ross Wirth
Head of Client Account Management and Technology Services
CyberCube

"The best insuretech analytics in the world are meaningless if they can't be integrated seamlessly into the enterprise-wide workflows of the major P&C carriers. Our partnership with EXL is an exciting opportunity for CyberCube to expand support to our clients by developing a customized operating model to best incorporate Account Manager and its scores and signals into their daily workflow in a customizable and repeatable fashion."

To learn more about our solution, contact: