Medconnection℠
The challenge
Today, carriers must overcome several obstacles to extract organized, actionable insights from medical records and bills. 25% of medical text is handwritten, often leading to difficulties in understanding illegible handwriting. Additionally, the fact that 75% of claims information exists as unstructured data can make finding the relevant information within a claim a struggle. Time constraints lead to approximately one-third of medical records going unread, and 8-12% of settlement payments are inaccurate. All this is compounded by rising expenses, which are expected to increase by 3-5% annually. 
What we do
EXL's MedConnection℠* platform helps insurers improve productivity for adjusters, legal staff, and nurses. This web-based tool offers easy integration with existing systems and no upfront capital expenditure. MedConnection also provides unique data sets for analytics while serving as a secure repository for collaboration and streamlined decision making.
MedConnection provides an interactive option for viewing or configuring items including the Patient Snapshot, Treatment Review, Calendar, and Records Index.
The Patient Snapshot is essentially a summary of all of the key factors involved in the medical records and bills received.
The Treatment Review is a chronological view of each patient visit including diagnosis, diagnostic codes and findings during the examination.

The findings and plan are further differentiated in SOAP fashion -subjective complaints, objective complaints, assessment and plan.
The Record Index is a sorted listing of each medical record using standard naming conventions. The records are arranged chronologically and can be viewed or downloaded individually or as a zip file.
The Summary includes: actionable landing page detail, procedures, diagnostic testing completed, and pre-DOL and post-DOL medications.

Summary PDFs are simplified for adjusters using inline highlights and tags.
MedConnection solution highlights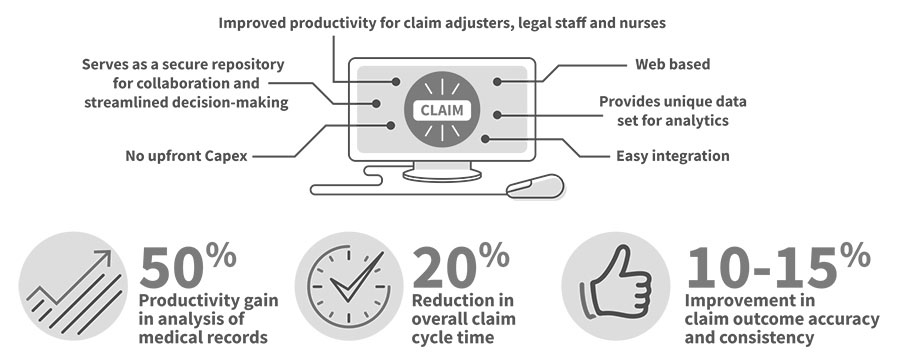 Client testimonial: Profiting from MedConnection

We had a challenging and complex claim and using EXL's MedConnection was highly beneficial to us. We had a claim for a woman with hurt knee and ankle who underwent 3 surgeries. The bills were sent to an adjuster over several months and were a disaster to follow. The claimant had said that the medications were over $100,000. After submitting to EXL, they found that only $42,118 was incurred with $22,562 written off. The net amount of specials was $16,250. We had limits of $500,000 and EXL's MedConnection helped us settle for $65,000.

District Claims Manager | Auto, Home & Life Insurance Company
Leadership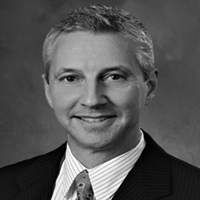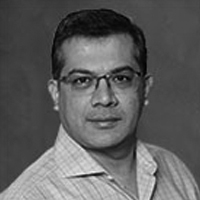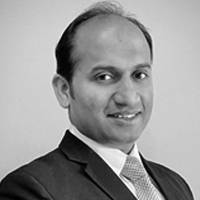 Brad Burdick
SVP, Head of Insurance Platform Services

Brad leads EXL's Insurance Platform Services business unit with overall responsibility for delivering solutions and services to meet our insurance clients' needs. With over 30 years of experience in technology, strategy, and operations, Brad's focus is on combining technology and services to deliver distinctive capabilities. Brad has over 15 years of Insurance industry experience combined with a rich technology and operations background. Brad joined EXL in 2011 as a part if the acquisition of The Hartford Insurance Group subsidiary, Trumbull Services, of which he was the President.
Sandeep Juneja
Vice President - Insurance Platform Services (P&C)

Sandeep Juneja is Vice President with P&C Insurance Platform Services at EXL. He has spent over 22 years in the field of Insurance & Financial services outsourcing, Transformation, Operations Management and M&A. Sandeep has led large projects combining Technology, Operations and Analytics to deliver value for clients across North America and APAC. He has complete his bachelors in Accounting and Masters in Financial Management and International Finance.
Arun Kumar
Vice President – Operations & Insurance Platform Services

Arun leads EXL's Digital Intake and Content Extraction Services with overall responsibility for delivering solutions and services to meet our clients' needs. With 20 years of experience in Operations, Technology and Strategy, Arun's focus is on combining Domain, Digital and Technology to deliver distinctive capabilities. Arun joined EXL in 2007 and since then has worked with multiple global insurance carriers across multiple geographies spearheading Operations Management, Transformation and Process Excellence.