EXL PayMentor™ and Argus predictions for 2021 and beyond
Digital Strategies for Managing the Coming Wave of Increased Account Delinquency
What is the current state of the payment industry? Why is debt collection more important now than ever? How can you stay on top of the situation and improve your collection rates, even as account delinquencies are expected to rise significantly? These questions were on the table during EXL's March 11, 2021 webinar titled, "The State of the Debt Collections Industry and Top Predictions," featuring Ankor Rai, EXL Chief Digital Officer and Anant Nambiar, Verisk Financial Division President, Argus Portfolio Management. Approximately 220+ industry professionals registered for the event. Here's what they discussed.
The State of the payment Industry
In Q4 2020, EXL and Argus partnered to study the effects of COVID-19 on the debt collections industry. Their findings suggested a coming spike in payment delinquencies and losses heading into 2021. Armed with this information, the two organizations crafted the webinar to help industry professionals prepare for the rising tide and proactively scale capacities using AI and data-led collections strategies.
According to the 2020 study, COVID changed consumer behaviors globally. Spending dropped in most categories, apart from essentials, such as groceries and isolated retail, as people delayed travel and put off large ticket purchases. Likewise, credit spending curtailed, as debit spending reach all-time highs.
"As stimulus payments continue, along with global lockdowns and vaccination rollouts, we expect debit spending to remain high," said Mr. Nambiar. "A return to the office will be key in getting economies to open up." Until then, banks will have to drive profits through operational efficiency, as traditional revenue drivers, such as revolving credit balances, remain virtually frozen. "Given the fact that 10-15% of any bank's portfolio is tied up in collections," Mr. Nambiar said, "collections will be a major emphasis going forward."
Why debt collection is important now, more than ever?
To understand the importance of collections in today's environment, EXL's Ankor Rai shared six key insights that will help lenders prepare:
1.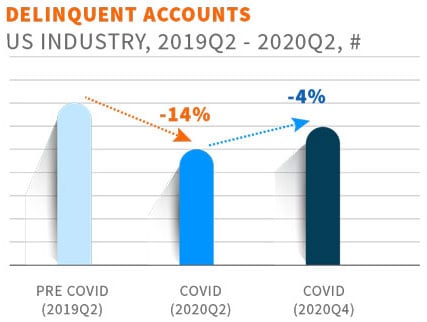 Delinquencies have dropped during COVID, as the pandemic continues to suppress spending and large-scale forbearance programs fill the gaps. "Now is the time to prepare for what's around the corner," said Mr. Rai, "by establishing interactive channels to engage with customers now; when delinquencies rise, banks will be better positioned to respond."
2.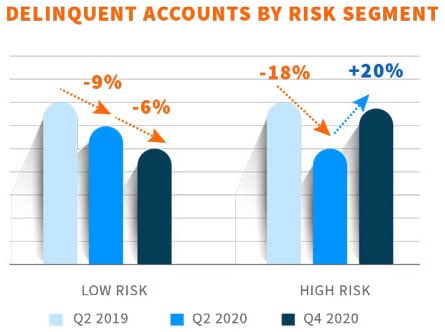 High-risk accounts, however, have already begun to show increased delinquency, as spending patterns and household capacity to cope with economic stress differ across segments. Banks that are able to identify such accounts and smartly interact with these households can help high-risk customers navigate stress and improve collections concurrently.
3.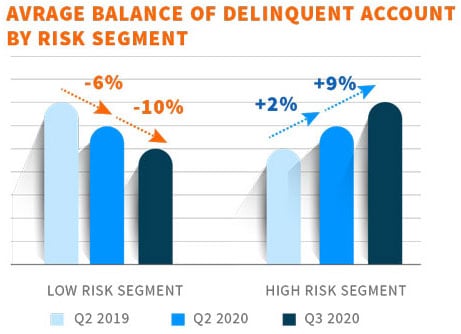 The average balance of high-risk delinquent accounts is also on the rise. For this reason, it is wise to look beyond credit history and focus on transaction data as an indicator for risk in a fast-moving environment, and then work at an account level for better collections efficiency and customer experience. "Moving from treating customers as a segment of thousands or millions to an individual household of one is the key to reducing adversarial interactions and improving overall collection rates," said Mr. Rai.
4.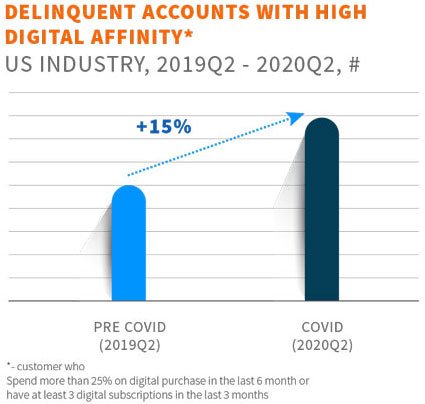 Consider collections from a consumer point-of-view. Consumers who spent more than 25% on digital purchases in the last six months or have at least three digital subscriptions in the last three months are more likely to prefer digital communications when it comes to collections. "Collections have historically relied on phone communications," Mr. Rai observed. "But where accounts demonstrate a high digital affinity, digital collections efforts are more likely to succeed."
5.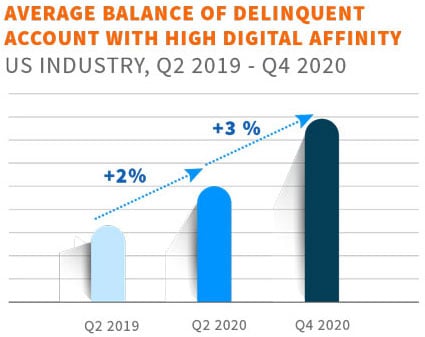 Personalization is the key to a satisfactory collections experience for both the consumer and the bank. Where phone calls tend to become adversarial in nature, digital and conversational AI foster a more objective dialog that can help collectors gain more customer information, identify specific customer needs and compose intelligent offers that reduce balances and lower outstanding debt.
6.
With one-fifth of delinquent accounts (high balance) contributing to two-thirds of credit loss, prioritizing an omni-channel collection strategy for high-balance customers can lower risk.
Achieving AI and Data-Led Collections
In light of the findings, an AI and data-led collections engine offers a logical path to improved efficiency and collections into the foreseeable future. It's a journey that begins with data intake and refinement, enabling drilldown into customer-level behaviors and personalized, customer-level dialog and decisioning, enhanced by communication AI. "The EXL PayMentorTM solution offers a modular approach to bringing these elements together," said Mr. Rai, who explained how EXL PayMentorTM combines deep understanding of collections and integrates it with data and AI-driven technology to create personalized engagement in a collections environment.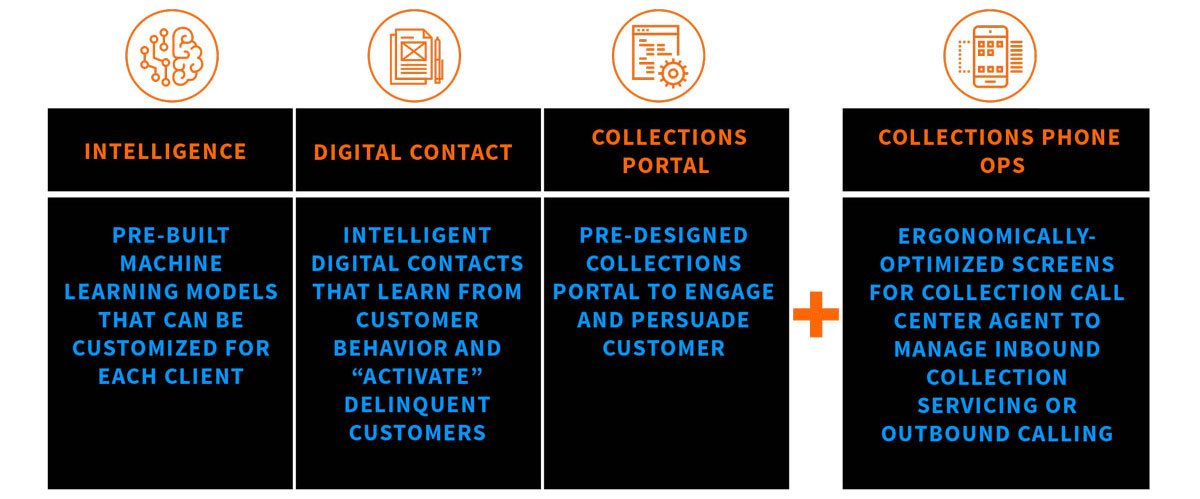 A digital intelligence module collects data from customer interactions, using pre-built machine learning models that track how customers respond to various communications, and builds customized interactions that fit each person's preferred mode of contact.
If it is found that a customer prefers digital methods of interaction, a digital contact module then tunes future contacts around the preferred communication channel, which may include text, email or conversational AI. "In this way, you can work with customers who may be experiencing stress and help them solve their problems using the communications they most prefer," said Mr. Rai.
Finally, a pre-designed collections portal drives the contact towards a suitable resolution. It lets the customer enter information about their hardship, select from a range of offers, and choose the next best action that fits their personal circumstances, leading to improved collections.
As well, if a phone conversation is required, call center agents can access full customer details on ergonomically optimized screens to manage inbound collection servicing or outbound calling operations.
"So far, our feedback on this platform, from banks and customers alike, has been positive," said Mr. Nambiar. "As the industry proceeds into a very different and difficult time, operational efficiency will be essential for growth, and having a process that both informs and digitalizes collections interactions will serve to drive outcomes beneficial for all parties concerned."
ABOUT EXL
EXL (NASDAQ: EXLS) is a leading operations management and analytics company that helps our clients build and grow sustainable businesses. By orchestrating our domain expertise, data, analytics and digital technology, we look deeper to design and manage agile, customer-centric operating models to improve global operations, drive profitability, enhance customer satisfaction, increase data-driven insights, and manage risk and compliance. Headquartered in New York, EXL has approximately 31,000+ professionals in locations throughout the United States, the UK, Europe, India, the Philippines, Colombia, Australia and South Africa. EXL serves multiple industries including insurance, healthcare, banking and financial services, utilities, travel, transportation and logistics, media and retail, among others. For more information, visit www.exlservice.com.
About Argus
Leading financial institutions, payments providers, and retailers worldwide count on Argus's, a Verisk Financial business, competitive studies, predictive analytics, models, and advisory services to provide a clear perspective on where their business stands today—and to best position them for success in the future. Leveraging our expansive network of data-powered solutions we supply insights and advice around the globe. At Argus, we translate raw numbers into business intelligence, and business intelligence into real-world actions that power your performance, so you can excel today—and win tomorrow. For more information, visit https://www.argusinformation.com/.
Presenters:
Ankor Rai
Chief Digital Officer, EXL
Anant Nambiar
Division President, Argus Portfolio Management