Claims transformation for general insurers: impacting the right outcomes
Introduction
The general insurance industry is in the middle of a digital overhaul. The customer mix is shifting towards digital natives, who expect seamless interactions over digital channels. While slow to start, the industry has embraced digital transformation – in large part due to new competitors such as insurtechs and platform companies entering the arena.
Over the years, insurers have invested in transformation initiatives to stay competitive, support their strategies, and build more agile, adaptive and disruptive businesses and operating models. With a changing competitive landscape, insurers must realise where to bet big on transformation effort and cost.
Claims: The Next Big Bet of Transformation
The claims function remains a critical moment of truth in the insurance value chain. For general insurers, digitizing claims function holds tremendous potential.
Among insurers, motor incumbents have been ahead of the curve in digital innovation, distinguishing themselves from their traditional peers. A research report from McKinsey states that, "a typical digital motor insurer will manage seven of ten claims without human touches and in less than a week"1.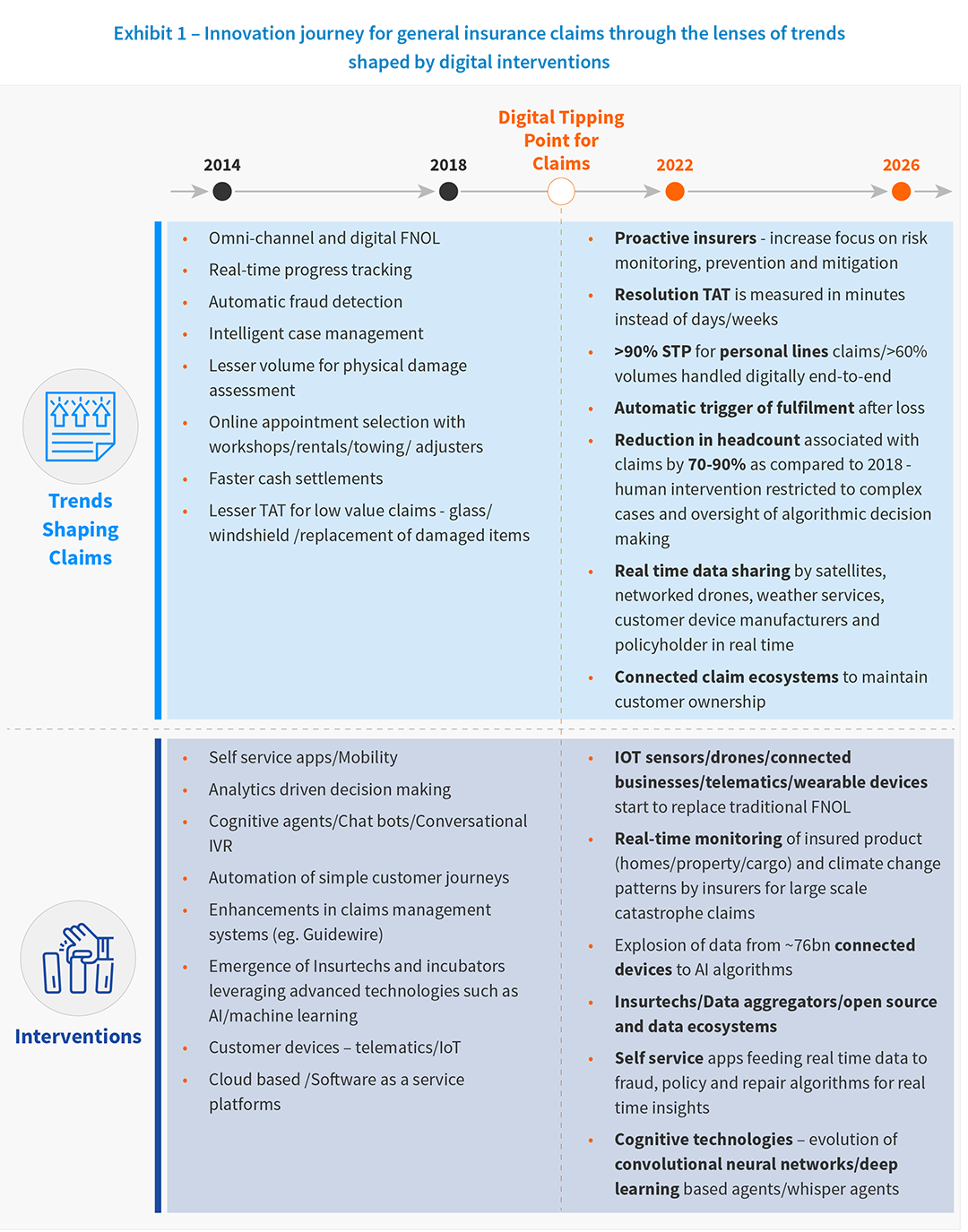 The transformation journey for claims has moved from advanced incumbents adapting to new technologies and models" to mainstream customers adopting these advanced technologies and models.
Insurtechs, with pure play digital business models, are continuing to leverage technologies at breakneck speed to transform the value chain. RightIndem provides a self-service platform that allows the claimant to control the pace of the claims process and their channel of engagement. FloodFlash's commercial property owner customers receive a payout as soon as sensors within a building detects water exceeding a critical depth, paying claims in full as fast as just 26 hours after flooding hits.
Given incumbents' modest CAGR and calls to improve efficiency, effectiveness, and balancing the need to provide seamless customer experience to a changing customer mix, claims organizations are typically the top priority for transformation. Claims presents one of the precious few opportunities carriers have to deliver a positive, impactful customer experience, build customer loyalty, and collect valuable data to help improve operations – but is also the moment when insurance companies have to pay customers.
Key Claims Outcomes
The challenge for insurers is balancing the digital services while also maintaining the personal touch that is the foundation of a positive customer experience. The integration of process optimization, technology, and data into the claims value chain is no longer a luxury; it is a necessity to design an optimum operating model. It will be one of the key drivers of success in a highly competitive marketplace. Transformation objectives have also evolved from the initial focus of operational excellence-based outcomes, such as increasing adjustor capacity, to driving better decisions with data. EXL's research and work with general insurers suggests that the true winners will be the ones that will focus on creating an end-to-end view of the claims value chain and accomplishing the delicate balance of the trifecta of outcomes that the carrier will aim to achieve: optimizing indemnity, reducing cost of claims, and creating frictionless customer experiences.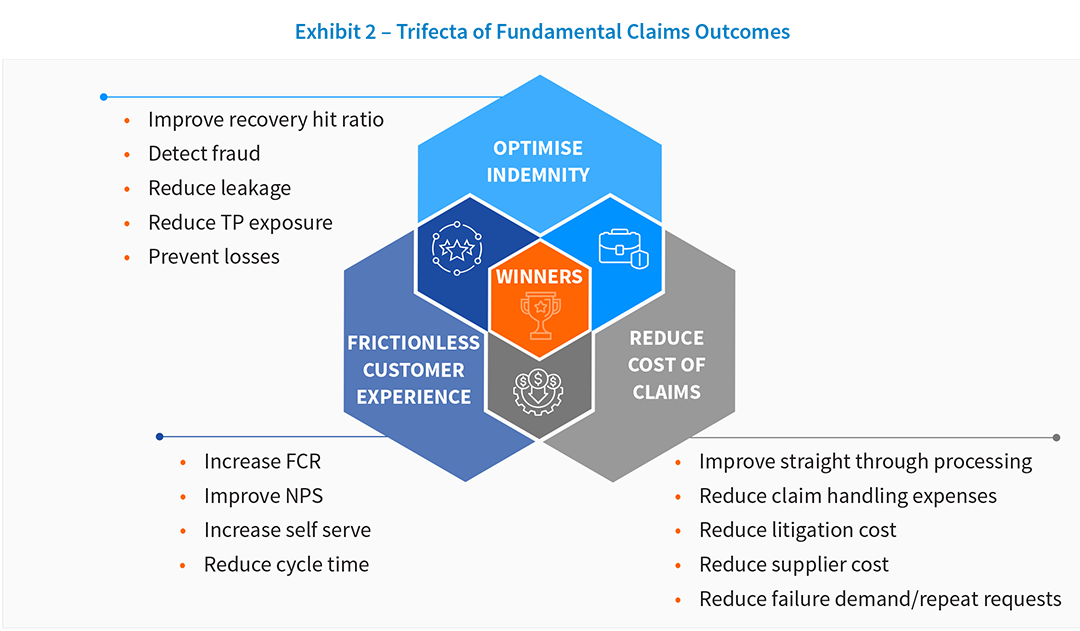 Optimise indemnity: Improve recovery hit ratio, detect fraud, reduce leakage and third party exposure, prevent losses for an impact of 3-5%
Reduce cost of claims: Improve straight-through processing, reduce claim handling expenses, lower litigation cost, supplier cost, and failure demand/ repeat requests for an impact of 20-25%
Frictionless CX, improve NPS: Increase FCR, selfserve and reduce cycle time for an impact of 10-15%
Each outcome within this trifecta will have an impact on the others. Carriers will look to prioritise related initiatives for 2021. Therefore, looking at these three outcomes holistically is the only way carriers will be able to manage this balance.
Generating Impact
For the digital age, the claims value proposition — the value an insurer can provide customers through the claims process — needs to go beyond traditional after-the-fact claims management. This new value proposition sets the aspirational goal of offering excellent, omnichannel customer experiences supported by intuitive digital processes. Insurers should aim to adopt a faster, analytics-driven approach to claims handling and fully automate the claims handling processes for clear and simple cases.
Claims organizations must embark on a transformation to become customer-centric, digitally enabled organizations that excel in the three fundamental areas of claims: customer experience, indemnity, and cost of operations.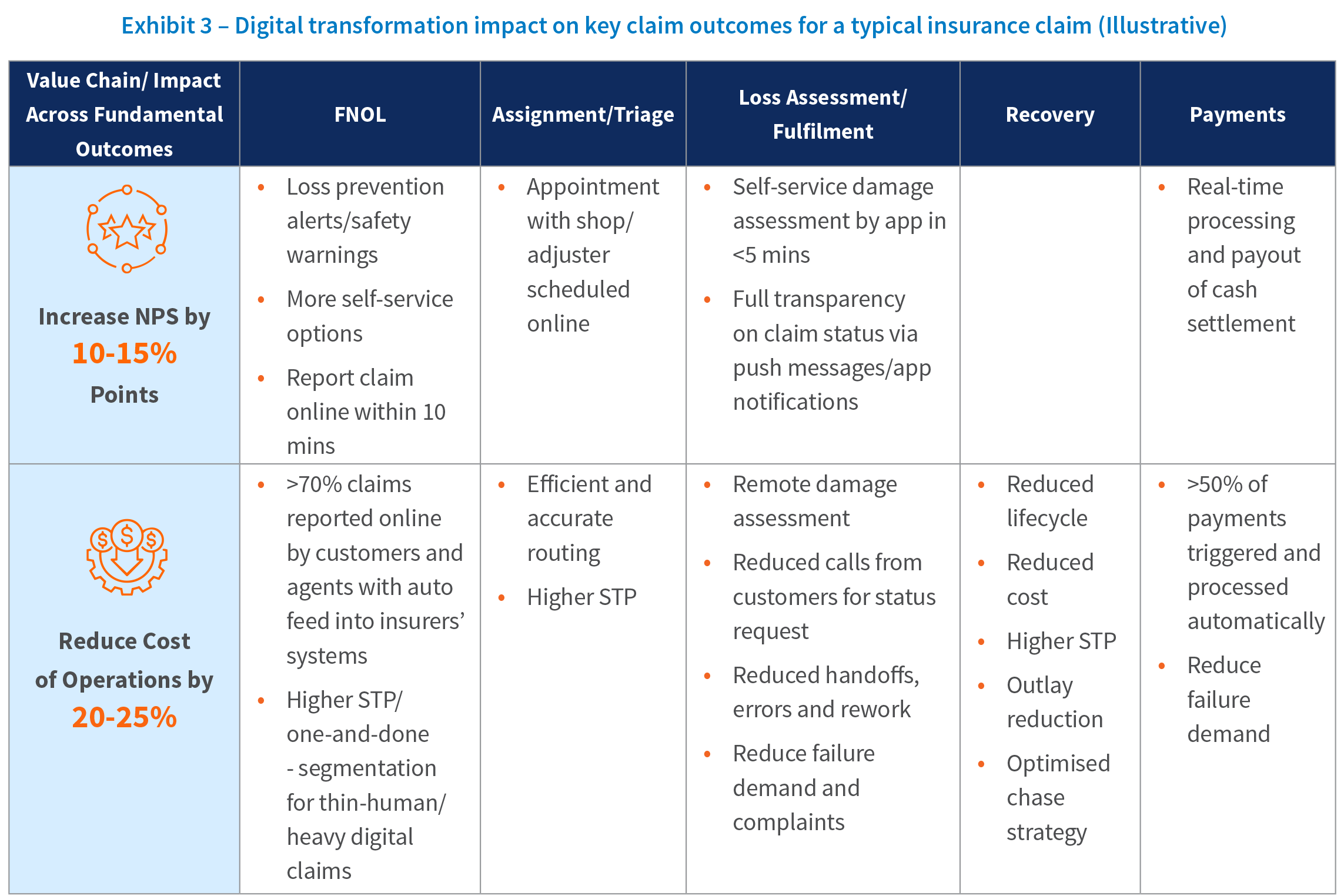 Levers for Claims Transformation
An effective and efficient claims practice can be a key contributor to a differentiated claims proposition that strengthens customer loyalty and attracts new customers. Three key levers need to be brought together to build a next-generation claims model.
1. Customer journey led business transformation
Customers are demanding and have high expectations in every industry. As customer journeys go, the claims journey is no doubt a complex and personal one for customers. The more complex the journey, the more opportunities there are for delays, breaks, and failure. Customer journey mapping integrates customer expectations with the insurance ecosystem of people, processes, and technology to design the optimal customer experience. The key business outcomes for this include developing a clear understanding of who the experience is built for, what needs to be done, and how to get there.
For example, the following diagram clearly visualizes the key requirements from a first notice of loss (FNOL) process, and what enhancements can drive the right business outcomes for both for the customer and the business.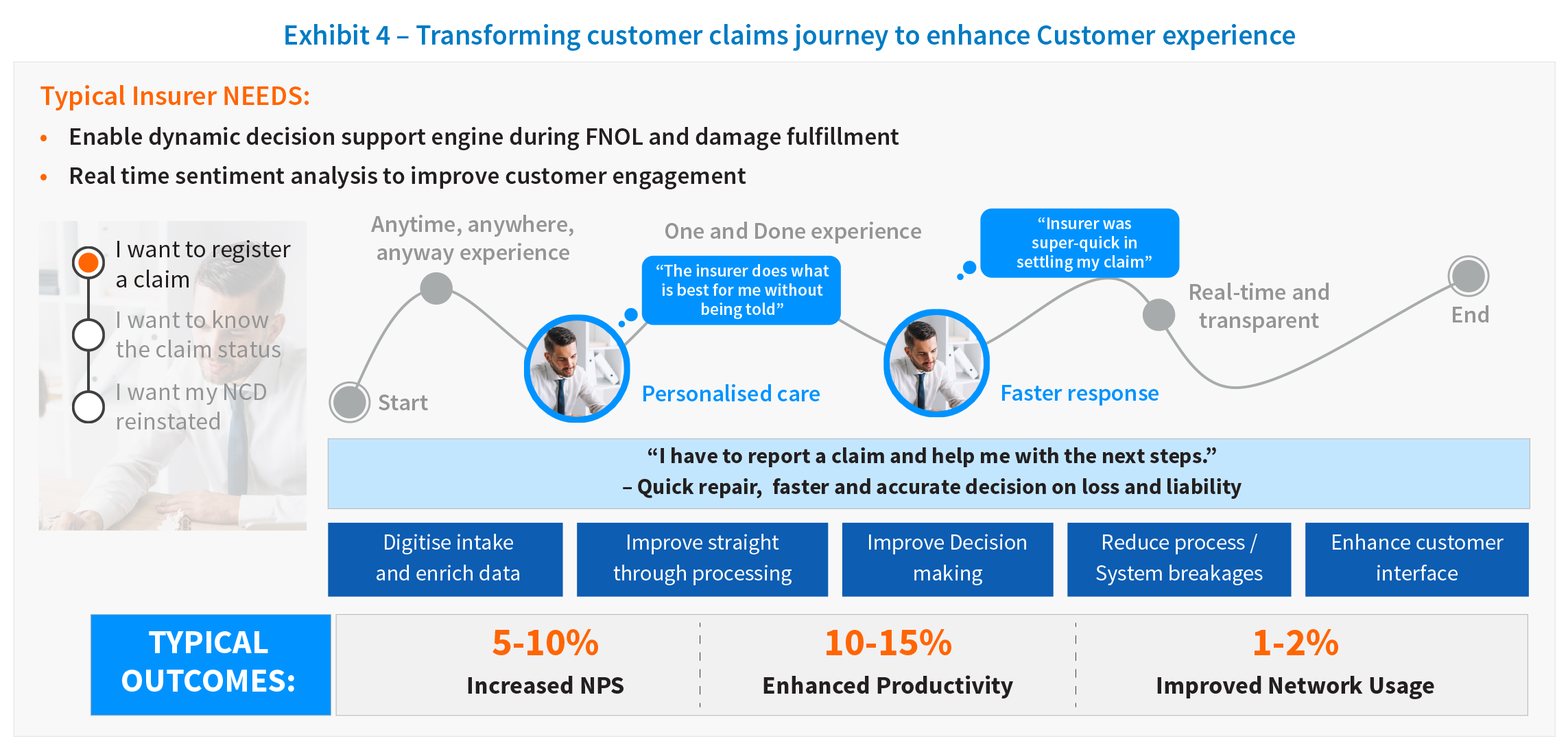 All insurers have come to realize that improving the end-to-end claims experience requires transforming internal processes. The analytics capabilities required for providing a real-time response are necessary to support customer transformation. For example, achieving full omni-channel communications is challenging, as it requires supporting real-time, seamless switching from one channel to another using digital data, processes, and modern linkages between systems. The goal here is that information should never have to be repeated or rekeyed, and picking up a conversation through a new channel should be a continuation rather than a restart. Advanced digital solutions such as conversational AI, cognitive agents, and chatbots enable seamless conversation, providing human-like interaction as well as an ability to switch to a real agent if the emotion rating indicates that as the best approach.
The following example showcases end-to-end claims transformation and cutting-edge solutions.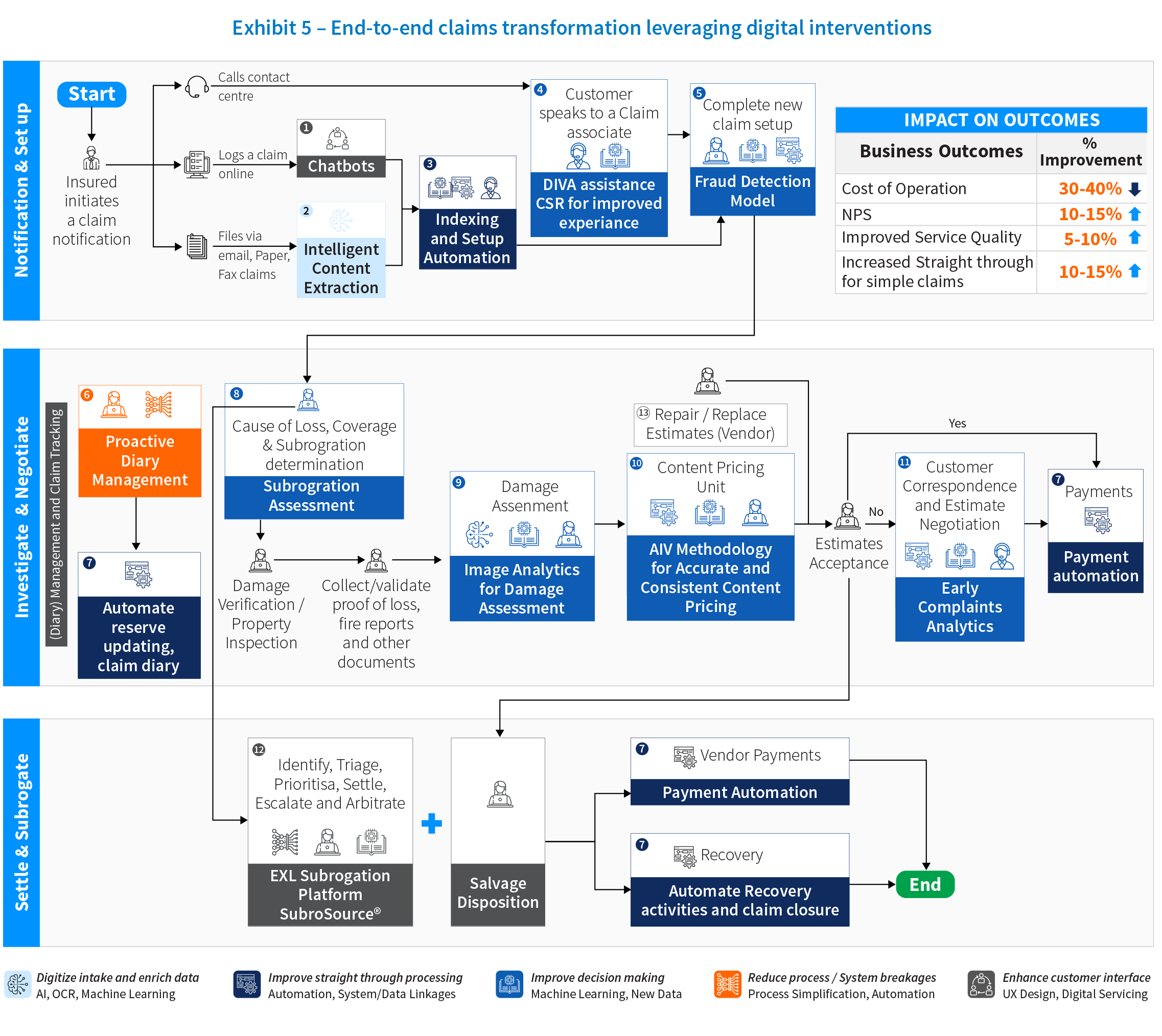 2. AI-driven analytics
Achieving claims transformation at scale requires a unique combination of analytics powered by AI and groundbreaking digital tools and technologies.
Analytics can significantly improve and speed up the claims management process by providing predictive insights at an early stage of claims lifecycle. The power of AI can be leveraged to identify and infer characteristics of claims that are not fully known at FNOL. This enables quick decision making on fraud, recovery, total loss, and litigation, and effects all the trifecta of outcomes of indemnity, expense and customer experience.
Data and analytics can help in the following ways:
Propensity prediction: Propensity of fraud, recovery, litigation, re-open, total loss, walkaway claimant
Severity detection: Accurate quantification of loss calculation leading to better reserving, case management, third-party capture, large loss detection
Segmentation and assignment: Classification of claims into appropriate segments based on captured and predicted variables, and triaging to the appropriate handlers based on skillsets and experience
Claims decision support: Help claim handlers choose the next best action using data and insights for areas including selecting the right vendor, hire car suggestions, and TP offers

3. Digital tools and technology
As the insurance customers have become more techsavvy, the ability to provide real-time responses and digital self-serve journeys has become a key differentiator for insurers. Real-time customer interactions and AI-driven analytical decision making requires a very different set of tools and technologies than traditional claims systems.
Insurers need to upgrade their technology stack to include cloud native solutions that can provide scalable computing power, distributed data services, and advanced analytical toolkits on demand. There are three facets of these technology changes that can usher in the fully digital and interactive claims process at scale:
Advanced digital solutions that unlock value across claims value chain by delivering impact across all three key outcomes. Some examples in this area are AI and natural language processing (NLP) based content extraction and data ingestion solutions for digital intake, intuitive virtual assistants for customer contact centres, and specialised insurance platforms that transform key parts of value chain.
Data and system integration: Claims organizations for many insurers still rely on traditional green screen core claims systems based on AS400 mainframes. These are unable to integrate AI modules and solutions at scale. This problem can be solved by changing the underlying IT architecture and introducing middleware that can interact with both core claims systems and the customer facing frontend while running AI and machine learning modules that provide decision support and real time interactions. The other option is a massive and often very expensive overhaul of the entire core claims system, replacing it with a cloud enabled system. Whichever route is chosen, the key to a successful transformation is to create strong foundational layers that can fuel the growth of the company while meeting the future customer demands.
Data sharing between related entities in the claims ecosystem through integrated digital networks can help insurers fast track the claims process and elevate customer experiences. For example, a home insurer that integrated systems with its building repair network partners could facilitate repairs significantly faster with less paperwork and wait times. Similarly, integrating weather information providers could help with loss prevention initiatives through the proactive prediction of weather events.
Internet of Things (IOT): IoT solution providers and insurtechs can fundamentally change the way claims are assessed by bringing in new data elements that were previously impossible to capture. Computer vision solutions can change the way vehicle damage is assessed or rooftop damage is evaluated using drone images. Natural catastrophe risks like wildfires can now be predicted through aerial imagery of vegetation cover in an area, or flood risk can be predicted through underwater sensors in riverbeds or lakes.
To summarise, the opportunities to transform claims are unprecedented, and the future of claims cannot be achieved without insurers evolving both their technology and the operating models. One thing is clear: Standing still is not an option. Insurers everywhere are developing new strategies to rethink and improve the claims function.
References
1. The Making of a Digital Insurer, Mckinsey
Written by
Rohan Regis
Vice President Insurance, UK & Europe
Swarnava Ghosh
Senior Engagement Manager Insurance Analytics, UK & Europe
Rahul Singh
Senior Consultant Insurance