Digital Healthcare Operations: Best practices
Thrive by digitizing clinical workflows and other processes
U.S. healthcare providers are facing numerous issues affecting operational effectiveness, revenue, customer satisfaction, and patient care. One of the most urgent issues is a severe nursing shortage that is unlikely to improve any time soon.
At the same time, healthcare organizations are being incentivized through value-based reimbursement programs to deliver more patient-centric care, requiring even more engagement from an already strained medical staff. With pressures to drive down costs, increase quality outcomes, and improve patient and provider satisfaction, healthcare executives are looking to digital technologies to create greater efficiencies in their business operations.
It's forecast that more than one million nurses will leave the workforce by 2030.
As a result, the United States Registered Nurse Workforce Report Card predicts a shortage of over 500,000 RNs by the end of the current decade.
Key to Success: Combining people with world class digital
"Some health plans — and even provider organizations — have been reluctant to trust digital tools in the past. They are attached to the status quo. But in tomorrow's world, it simply won't be possible to maintain your bottom line without introducing automation. With the efficiency gains come enormous savings, while member and provider satisfaction rates go up."

Michelle Bayer,
Vice President for Product and Clinical Services, EXL Health
To survive and even thrive in this challenging business climate, health care organizations must take advantage of every possible opportunity to create new operational efficiencies. One of the best ways to do this is to digitize operations. By applying artificial intelligence (AI) and cloud computing technologies to streamline processes, simplify clinical workflows and eliminate manual administrative tasks, companies can improve patient and employee satisfaction at the same time.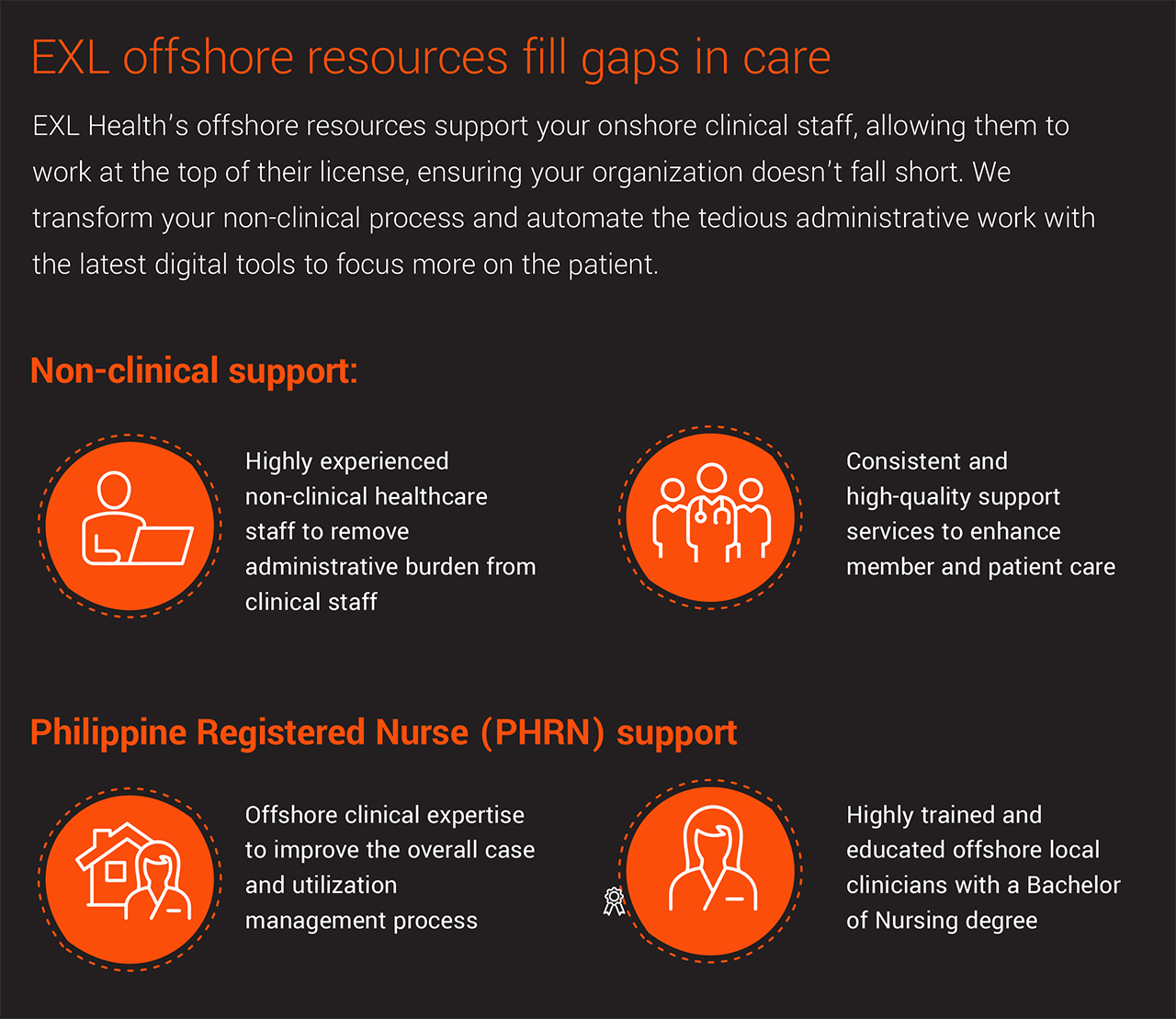 Building out digital operations.
Have a strategy and ensure leadership on board
Make sure all vested parties are on the same page about what "digital" means to them and what they hope to transform through automation.
Start small and prove value first
Address problems first that are easiest and quickest to solve such as call center activities. Once the value has been shown, other groups will more easily embrace subsequent initiatives.
Keep the focus on patient satisfaction
Look for digital solutions that can have the biggest impact on the care journey so patient interactions are simple, direct, and provide clear guidance.
About EXL Health
EXL Health takes a unique approach to digital operations. By applying AI and cloud technologies across clinical workflows, understanding client needs, and identifying opportunities for streamlining processes through automation, our clients receive scalable, customized solutions with the right level of support, at the right time.
Work with EXL Health and produce results that matter.
To learn more, visit https://www.exlservice.com/industries/health-and-life-sciences.