EXL title settlement services
The housing eco-system includes many different players, from real estate agents, lenders, appraisers,closing and escrow agents, notaries, abstractors to title settlement and title insurance companies. In the post-pandemic era, some of the eco system players are adopting digital transformation however it takes everyone's contribution in order to make meaningful impact to overall mortgage closing cycle time borrower experience. Closing and Escrow as well as Title Settlement and Insurance companies ("Title Companies") play a very crucial role in this eco system by supporting lenders and borrowers in the crucial closing process and in ensuring that the property title is in good standing.
Title Companies have traditionally relied on highly manual processes across the entire closing and escrow as well as title production functions. With over 3000 counties across US having different recording standards and processes, multiple lenders and other players involved, the complexities are enormous. There is a significant opportunity to transform this ecosystem though data led insights as well as AI / ML and RPA based digital technologies. EXL is focused on combining our deep domain experience and hyper automation capabilities to help Title Companies shift to a very different target operating model. We combine right mix of human and digital to transform the industry through technology driven innovation. EXL's operations management, data analytics and digital capabilities bring right mix of operations outsourcing and hyper automation that positions us very uniquely in the market.
Title settlement in the digital world
Global labor pools and lean operations management are no longer the primary drivers to lower cost, increase revenue and delight customers. These objectives require reinventing operating models.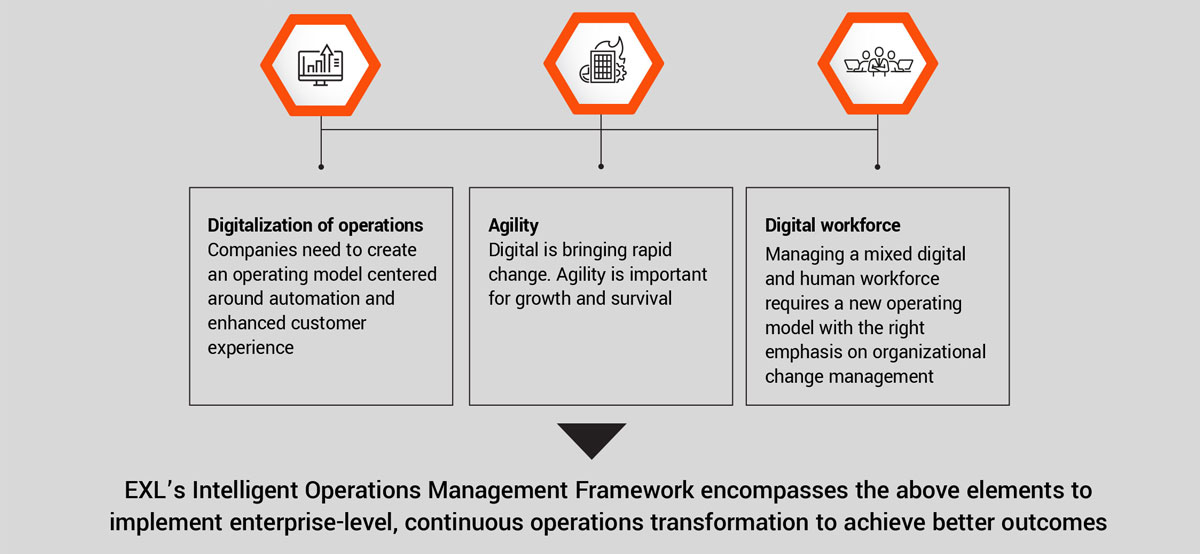 Title settlement process; Solution levers
Our title settlement services are driven by our Intelligent Operations framework, enabled by deep domain knowledge, practical digital enablement, and being brilliant @ basics to provide best-in-class results.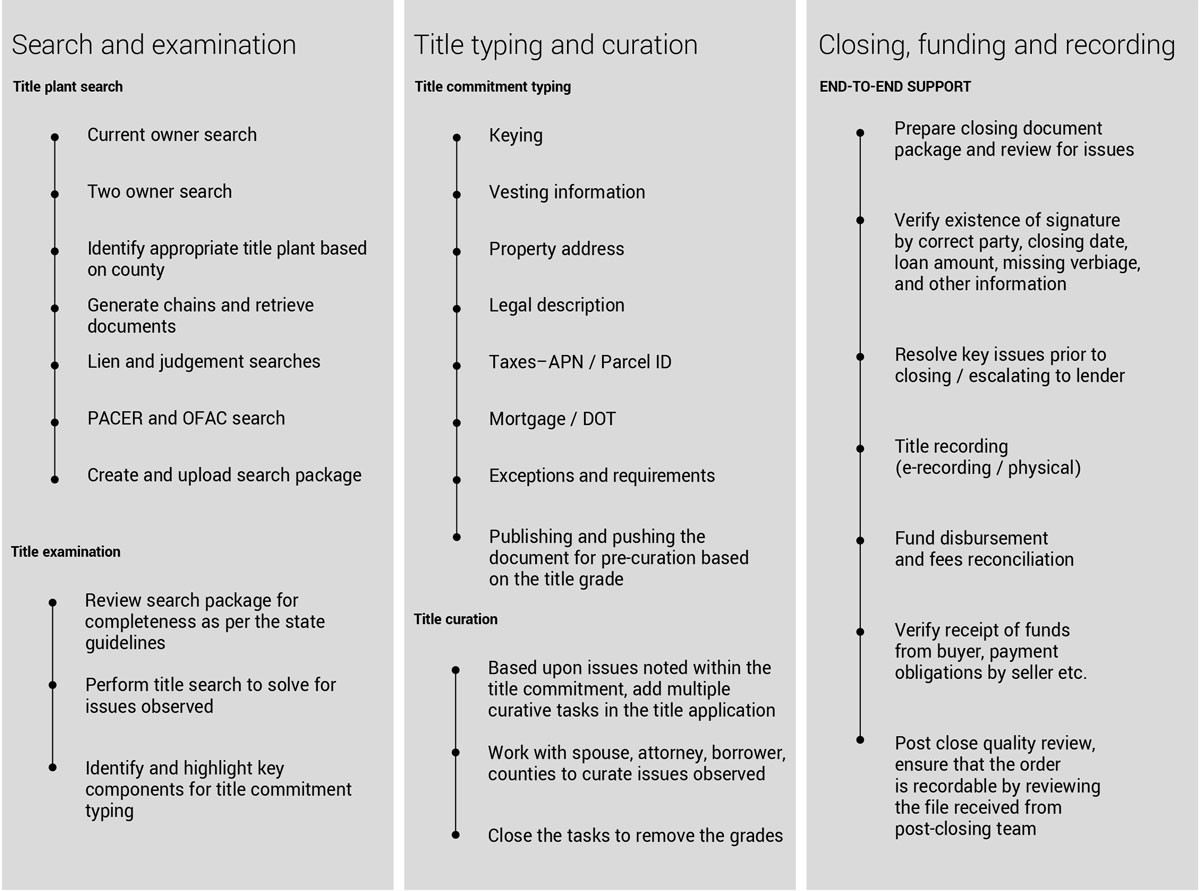 EXL's title capabilities : Right mix of digital & human
EXL is successfully transforming title operations by deploying a combination of our proprietary Digital Solutions and Domain expertise resulting in 30%+ reduction in Operations cost and improved customer experience.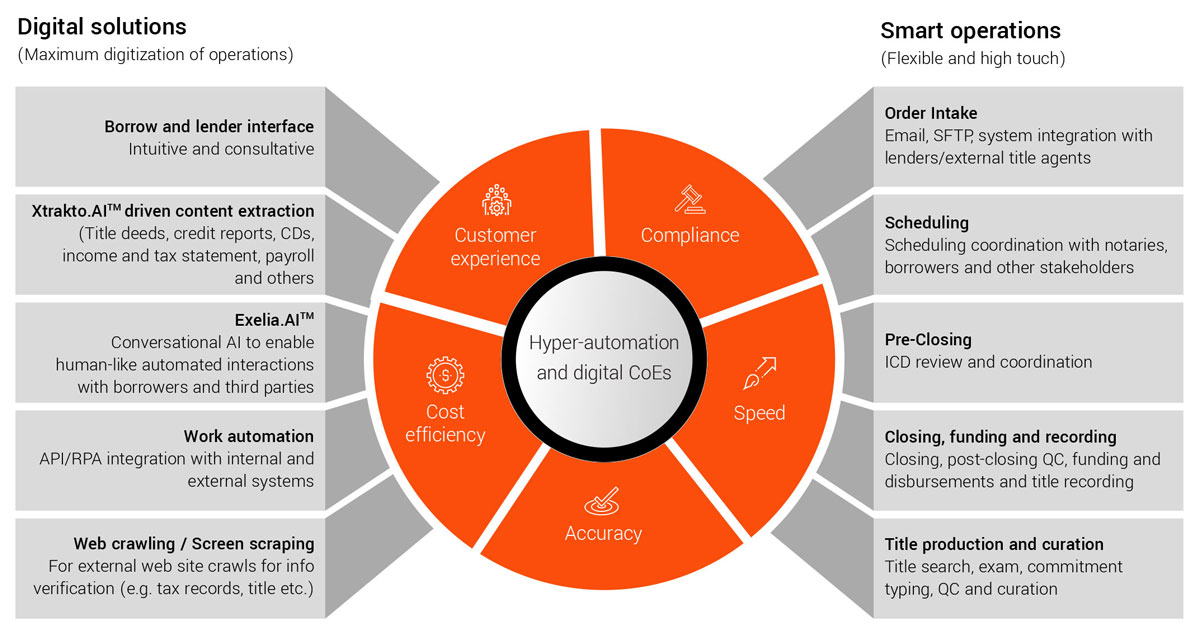 EXL's hyper-automation COE for the title industry
Our Hyper-Automation COE brings strong digital and analytics capabilities, specifically focusing on the title processes. We combine EXL's internal and partner solutions to transform title processes through AI, ML, RPA and analytics interventions.
Below are some key examples:
EXL's Xtrakto.AI
offers a proven solution with high confidence score that enables extraction of critical data elements from structured, semi-structured and unstructured documents such as Deed of Trust, Mortgage, closing disclosures (CD), tax statements, bank statements etc. and eliminates human interventions
EXL's Exelia.AI
a conversational AI solution from IPSoft combined with EXL's proprietary analytics and BPM solutions that enable AI based, human-like communication (where applicable) with borrowers, real estate agents, abstractors or other vendor partners throughout the title lifecycle
Web crawling / Screen
scraping a library of point solutions that enable automated interface with external parties such as title companies, country tax collector web-sites etc.
Workflow Automation
EXL's proprietary solution framework that offers automated orchestration of the overall business process that combines human and machine integration to build a connected enterprise that can be effectively integrated with other eco-system participants
In addition to above, EXL's Hyper-Automation COE brings strong expertise in transition to cloud-native environment that can offer significant scale and ease of maintenance of the digital infrastructure.
EXL's is transforming the entire title settlement lifecycle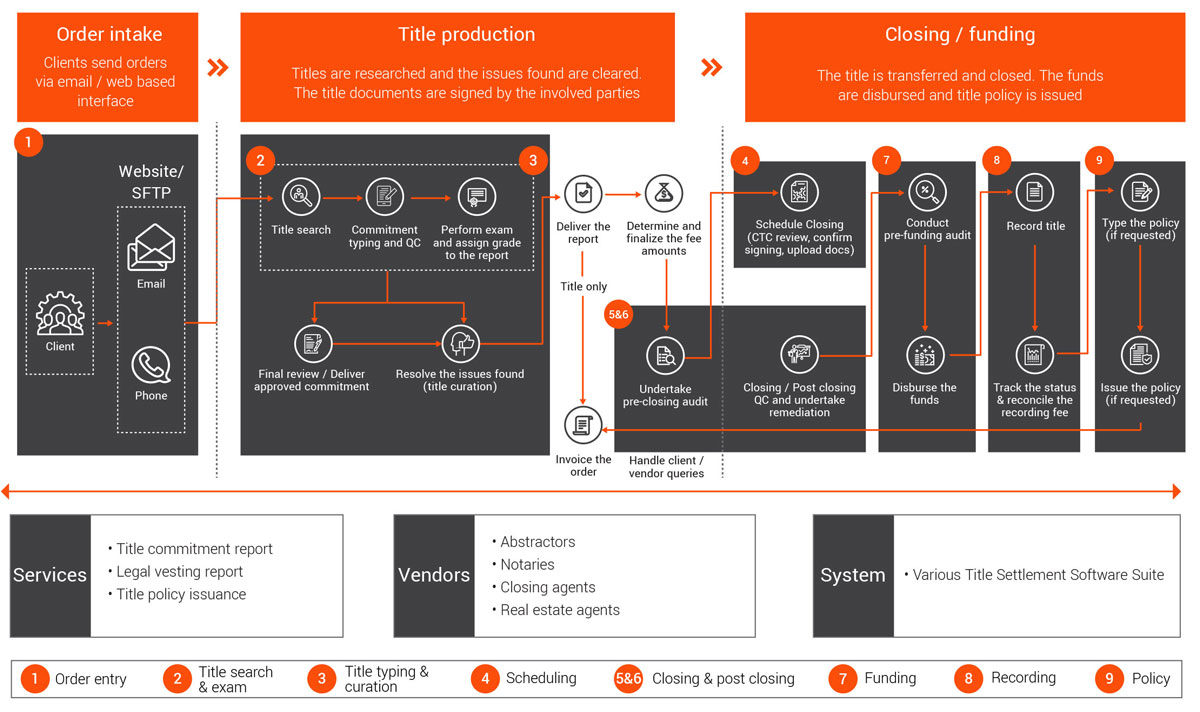 Case study
As a digital transformation partner EXL is helping a leading title servicer and insurer by enabling title settlement and insurance operation through a highly scalable digital operating model. The strategic engagement is to position our client as an innovation leader to disrupt the title space and to enhance their market share through improves customer service and cloud native, AI enabled operating model"
Outcome
3 months
Transition timeline to fully consolidate 300+ FTE operation across title services, remittance and claims processes
20%+
Reduction in transaction based pricing through digital transformation
6 months
To convert the operation to a transaction based pricing model
30-70%
Cycle time improvement in various title settlement processes
Contact us and learn more
Kalpesh Master, Partner and Practice Leader, Banking and Financial Services