Driving commercial effectiveness
In today's changing life sciences market, delivering a useful and accepted business intelligence and analytics solution for commercial teams – both successfully and cost effectively – represents a significant challenge:
Life Sciences companies often lack a single, reliable version of their commercial data from disparate sources
Integrating the data is often challenging due to the complex nature of the data and the need to consistently maintain and evolve business rules as the market changes
Data management and reporting is resource heavy and time consuming
IT budgets of biopharmaceutical and medical device manufactures continue to be constrained with increasing pressure to reduce the cost of incountry IT spend
There is a need for access to selfservice tools however, these tools often lack an appropriate data infrastructure that can be difficult to scale, maintain and ensure quality governance
As the Life Sciences market continues to evolve, it needs:
A powerful data infrastructure to bring disparate, changing and complex commercial life sciences data under control to give business users more sophisticated analytics to adapt to market changes and get closer to customers
Flexible solution providing users across the organization with personalized, accurate commercial insights delivered through a range of devices
Innovate, affordable, cost effective solution which brings together complex commercial data in a secure, scalable solution for growth markets
Efficient and effective delivery, avoiding a costly and lengthy analysis and customization phase providing valuable insights to end users, supporting the commercial operations being put in place for launch
A development and support model that can be tailored to client requirements
With EXLCIP
™

you can:
Deploy a cost-effective all-markets solution delivering maximum return on investment, giving your business users the business analytics tools they need to respond to a changing market
Rapidly deliver a scalable, quality controlled, reliable solution for thousands of users faster than building from scratch by mapping your data to EXL Health's proven, standardized data model
Benefit from a mature, tested, robust data integration platform built specifically for the complex life sciences rules and data complexity
Avoid lengthy and costly analysis and customization stage, based on our experience and proven data model ensuring the right 80%/20% is delivered. Our specialist team have an in-depth knowledge of sector-specific sales lifecycle, data integration challenges and information management issues
Access personalized dashboards and reports providing accurate and relevant data tailored to users precise needs through multiple devices
Achieve seamless integration with 3rd party data providers, business intelligence tools and CRM platforms such as Veeva
EXLCIP
™
EXLCIP™ is a cost-effective solution specifically designed for life sciences companies who are looking for a high-quality data integration solution to give business uses the valuable insights they need. Built using EXL Health's extensive life sciences experience, EXLCIP™ is based on a robust data model that covers the core functions of a commercial effectiveness team. This can be used to accelerate the deployment of a solution while allowing flexibility to customise the solution to a business' requirements. On top of the core data platform users have access to personalized reports based on disparate data - all at the touch of a button, available on multiple devices.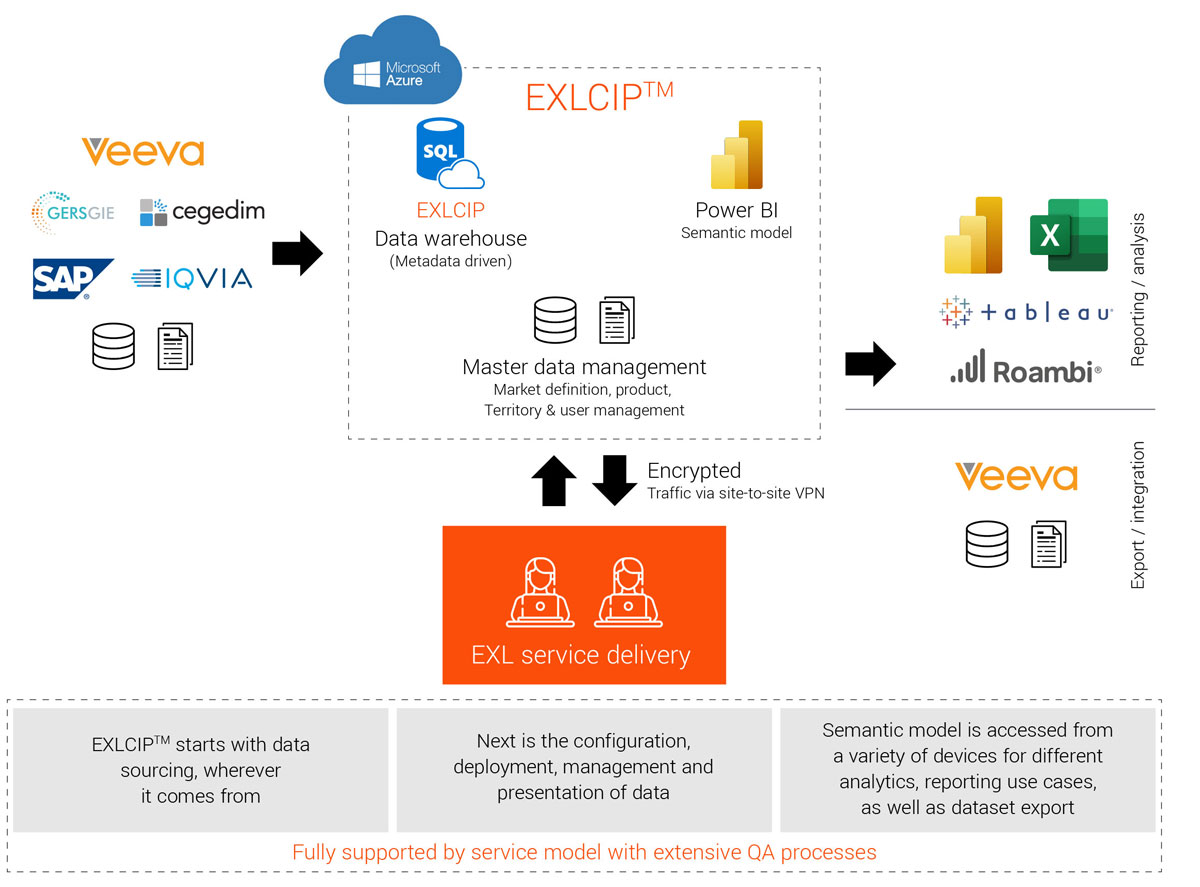 Reporting
Delivered through our innovative insights platform, accurate and relevant insights are immediately available to anyone in your commercial organization through a personalized portal, designed to drive actions and behaviour.
With our reporting platform, you can:
Deliver commercial life sciences data as a strategic business asset, providing users with insights they can act on
Ensure collaboration across your commercial organization, helping to connect, engage and inspire your teams to work smarter together, regardless of role or location
Harness the power of social media concepts in a commercial setting, leveraging our advanced collaboration tools that make sales conversations more qualified and relevant
Break down organizational silos, while addressing the sector's complex compliance issues, allowing you to quickly respond to new business challenges
Why partner with EXL Health?
Eight of the top 15 pharmaceutical companies, six of the top 10 health plans and two of the top three pharmacy benefit managers partner with EXL Health. Here are few reasons why:
We are client-focused. We listen to you and take the time to understand your needs. We then rapidly deliver flexible and configurable solutions using a proven framework.
 Our collaborative approach facilitates clear, consistent communications throughout our partnership, including an ongoing feedback loop, to adjust to your changing needs.
Our team quickly adapts new techniques and technologies to meet your specific needs, accelerate your transformation, and support your continued success
Human ingenuity is the catalyst with which we solve your complex problems. "Together, We Will Do This," is our passion, our commitment and our promise to do so. We look forward to partnering with you as we deliver right insights to bring the right outcomes for you.