EXL patient engagement platform
Nudging patients to better outcomes through tailored, personalized, omni-channel engagement
It takes patient cooperation to improve healthcare outcomes and enhance quality in today's cost-conscious, value-based healthcare industry. And, while many programs have been introduced that connect patients with providers for the sake of measuring outcomes, the inability to consistently motivate patients to do the "right thing" persists. The gap between identifying points of intervention using analytics and achieving outcomes, leading to savings and improved quality care, must be closed before value-based healthcare pays dividends.
Combining expertise, automation and behavioral science on a single platform
EXL Patient Engagement Platform is a cloud-based, omni-channel approach to outcomes-based patient engagement. It combines more than 20 years of certified clinical expertise with widely accepted digital technology and behavioral science techniques to reach patients at the right time, with the right message, over the right channel, and achieve the best possible outcomes.
Key solution pillars impact patient decisions
Built to positively impact health outcomes and improve cost trends quickly and consistently, EXL Patient Engagement Platform incorporates high-value components to steer patient decisionmaking in a timely and compelling manner:
Analytics: Embedded to identify specific opportunities for risk segmentation, effectiveness and member targeting of care management programs
Care management: Clinical services performed using EXL's or other thirdparty care management platform
Digital engagement: Adding value through digital intelligence and outreach built on conversational AI, mobile communications and robotic process automation
Behavioral science: Enabling efficient member adherence using pivotal strategies to understand human behavior and intervention response
By taking a member-centric, whole-person approach to healthcare, EXL Patient Engagement Platform helps close the gap between identifying points of intervention using analytics and achieving outcomes, while driving cost savings and quality care through continuous improvement in best practices.
EXL patient engagement platform core capabilities
Rapid data ingestion and universal data management
Advanced analytics
Digital front door with Conversational AI
Integrated care management
Behavioral science-based personalized outreach
How EXL patient engagement platform helps execute highly personalized care management strategies
Self-insured employers and health plans looking to improve population health through more effective care management strategies need a proven pathway to incentivize member compliance long-term.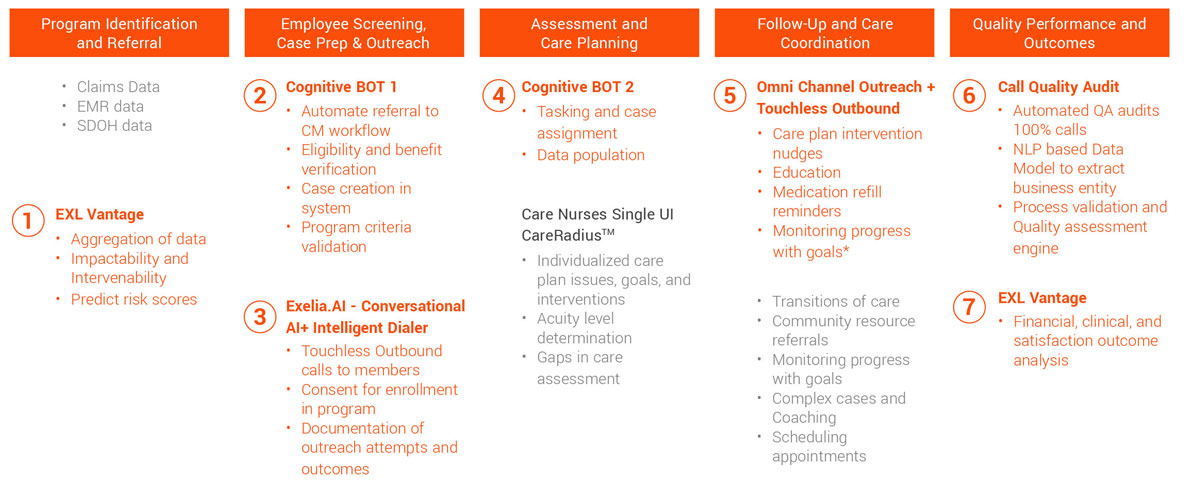 EXL helps compile reliable patient risk profiles accounting for a wide range of attributes by analyzing EHR and clinical data, lab results, costs, socio-demographic data and medical claims to segment and prioritize those members most at-risk and optimize outcomes.
EXelia.AI-assisted patient engagement
Our advanced AI technology, EXeLia.AI, enables a highly choreographed, patientspecific set of behavioral nudges to encourage self-care, reserving intensive human interventions for only the most complex cases.
Accurate benchmarking and progress measurements help track each point of engagement throughout the patient journey, effectively enabling care management strategies.
Fact-based provider engagement
A fact-based feedback loop offers hard data on costs, health outcomes and quality of care, guiding contract negotiations based on performance and supporting positive provider relations.
Underscored by behavioral science
Our doctors, behavioral psychologists, computer scientists and strategists understand why people behave the way they do and use persuasive psychology to get results.
Move the needle with EXL patient engagement platform
Why not get the results you want in an outcomes-based patient engagement strategy? To lower cost and improve outcomes, contact us today at www.EXLservice.com.