Second-level coding review with NLP technology and expert validation

Second-level coding review with NLP technology and expert validation
Maintain compliance and reduce risk for risk adjustment data validation requirements
Second-level coding review with NLP technology and expert validation
Maintain compliance and reduce risk for risk adjustment data validation requirements
Many health plans still struggle with incomplete or inaccurate risk adjustment submissions despite high-quality first-pass coding. As the industry landscape continues evolving around compliance audits, health plans face increasing pressure to find cost effective solutions to reduce their risk exposure.
Optimize performance with digitally enabled data-led digital solutions
Leveraging best-in-class natural language processing (NLP) technology, advanced analytics, and expert coder validation, EXL Health's Second Level Review assesses the accuracy and completeness of first-pass coding results, enabling health plans to identify, stratify, and analyze compliance risks and their financial impacts.
Within this solution, our industry leading technology detects ICD-10 and hierarchical condition category (HCC) codes in medical records and compares them against the client's first-pass coding results. Any unmatched codes are reviewed manually by expert coders to ensure accuracy and completeness while highlighting any previously unidentified and unsubstantiated member diagnoses. As collaborative partners, our highly trained coding staff provides deep domain expertise to craft strategies to mitigate any current and future compliance risks.
EXL Health's Second Level Review increases accuracy and efficiency while maintaining compliance to regulatory changes.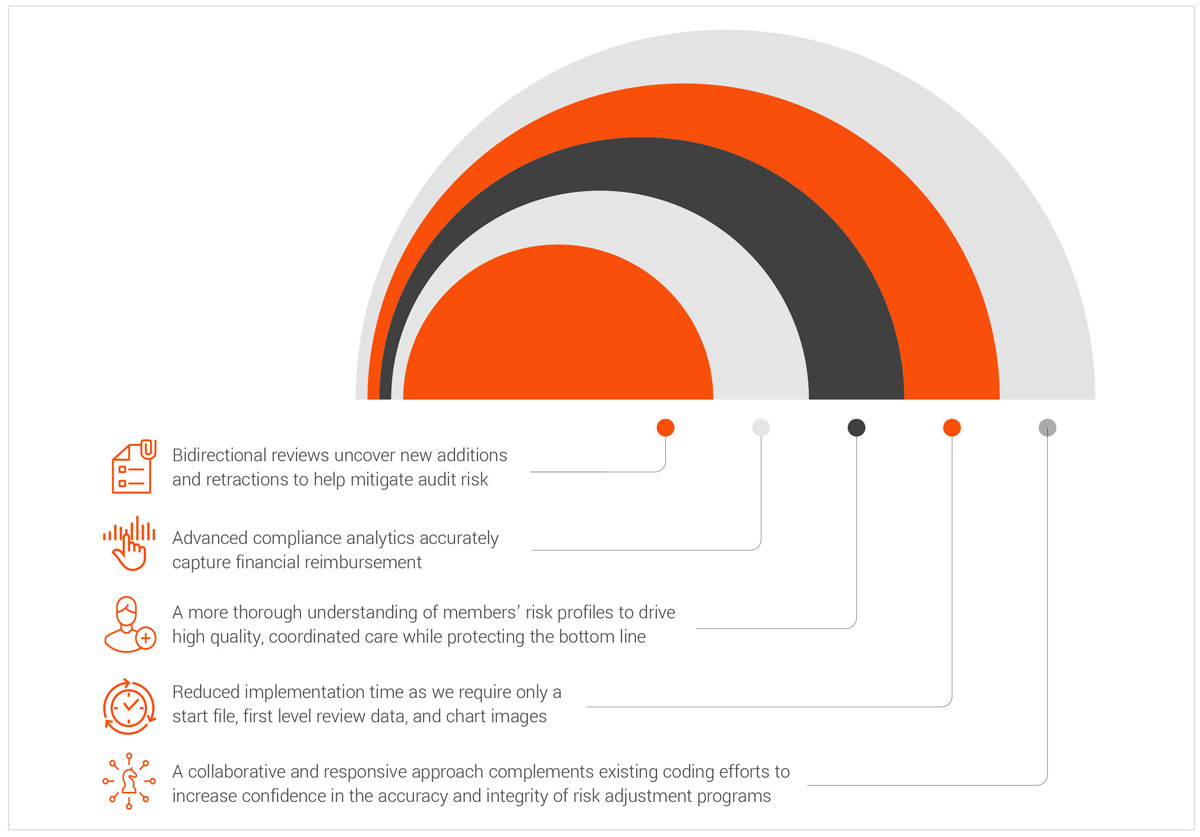 Our flexible delivery model supports every step along the value-based transformation journey
At EXL Health, we take a flexible approach to delivering our solutions because we know how critical it is to meet clients where they are on their value-based transformation journey. EXL Health also offers:

EXL Health will work with you to create an approach that works with your business today and in the future.
EXL Health's modular, end-to-end risk adjustment and quality management solutions deliver optimized performance on risk-adjusted populations, including improvements across clinical documentation, quality outcomes, and accurate reimbursement.
By combining deep domain expertise, cutting-edge technology, and advanced analytics, we help you achieve accurate risk and quality scores. Our AAPC-certified risk adjustment and quality services cover the full spectrum of support and are designed to meet our clients where they are on their value-based transformation journey. We partner closely with our clients to identify and engage the right patients at the right time to ensure they receive high-quality, coordinated care.