Transforming Insurance Operations with EXL XTRAKTO.AI
EXL XTRAKTO.AI™: Meet EXL's proprietary intelligent framework with the power to fundamentally transform insurance operations
Insurance might be commonly regarded, from the outside at least, as being one of the most traditional industries. But behind that stereotype, powerful transformation is beginning to take place using some of the most innovative solutions available today. Whole swathes of insurers' business processes — particularly those that stem from the age-old challenge of manually managing mountains of unstructured data — are ripe for reimagining. In particular, natural language processing (NLP), the field of artificial intelligence (AI) that deals with language inference through machine learning (ML), is proving its worth as the basis for data ingestion solutions that can arguably change the game for insurers.
Make no mistake: NLP presents a major opportunity for insurers. While many insurers are already using analytics to make better decisions and automate manual processing, there has been a limited emphasis on the upstream challenge of converting unstructured data — which is typically around 80% of all data — to structured data in machine-readable form, as well as extracting usable insights for better decisions. In other words, only half of the enterprise operational canvas is fully serviced.
Moving away from manual: The case for AI-driven data ingestion
To put the case for powerful data ingestion solutions into context, consider this: Insurers manually process huge amounts of bulk-generated data and documentation spanning the customer journey, from onboarding to servicing to claims, on a daily basis. This alone can engage up to 5-10% of enterprise bandwidth and related costs. In fact, it's estimated that a large global insurer can spend around $125 -$175 million and 4-6 million hours annually on manual document handling across multiple operational processes such as submission, booking and issuance, bordereaux management, FNOL, and investigation.
It is hardly surprising that demand for AI-driven data ingestion solutions is exploding. The market size is anticipated to grow exponentially from around $3 billion in 2016 to $18 billion in 2025, a 24% year-on-year growth.
"We are not only automating processes— we are also unlocking the true potential of AI-based technologies to help us deliver better customer and business outcomes. By identifying a custom yet scalable way to deploy NLP and ML to enhance the way we manage customer communications and data, we are creating an opportunity to dramatically improve customer experience and drive cost efficiencies.
Working with EXL, who bring a comprehensive framework, we are reimagining how we deal with the large volumes of customer communication including emails / documents and data. They apply their deep insurance domain expertise and digital leadership to assist us with identifying methods to apply cutting-edge technologies in new and exciting ways to transform critical processes." James Platt, Global Chief Operating Officer, Aon Business Services
Not all data ingestion solutions are equal
The market for data ingestion solutions is broadly divided into optical character recognition (OCR) vendors providing software that converts scans to machine-readable text, NLP stacks providing pre-built solutions to generic business challenges, and niche providers offering point solutions for industry-specific challenges.
EXL Xtrakto.AI™ is different. This market-leading approach, built on deep insurance domain expertise, draws on three levers to move insurers from production-based ways of working to scalable, assurance-based ways of processing, managing and using data: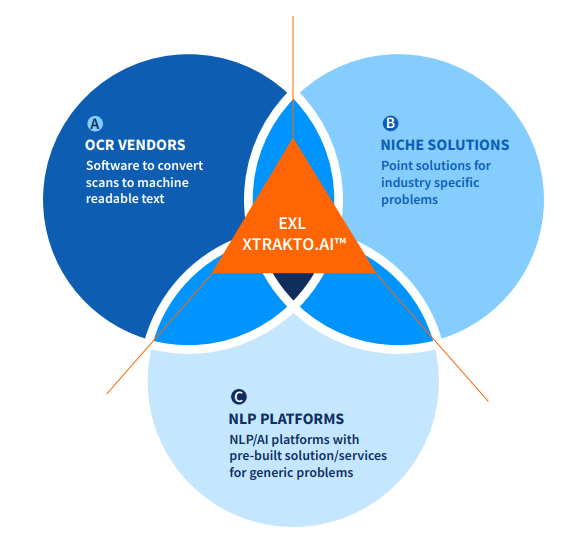 Lever 1: : Operating model focus triages incoming work into tiers and moves work to the right location
Lever 2: AI-driven extraction classifies data using technologies such as OCR, machine learning and deep learning
Lever 3: Operationalises the framework with end-toend process engineering, embedding AI models into the operational workload and driving managed change
In selecting the right approach, insurers must bear in mind that NLP is rapidly evolving; breakthroughs are identified almost every week. But while progress is rapid, there will not be general AI algorithms that can directly replace humans in certain tasks for some time. Even the most powerful NLP algorithms developed to date are examples of narrow AI, which only work for a specific set of tasks and can only use the data to which it has already been exposed. Hence, the most advanced NLP solutions cannot work as plug-and-play software. Instead, they contain modules that must be stitched together or customdeveloped as needed.
EXL applied our insurance knowledge to define a bestin-class approach as one that incorporates some of the latest NLP algorithms and customises them further by exposing them to real-world data and tasks. For any new NLP use case, customised pre-trained models would accelerate the solution development process — albeit with varying development timelines and estimated benefits, depending on nuances such as data availability, languages involved, handwriting utilisation, and other factors.
Harnessing NLP, unleashing transformation
Many insurers remain at relatively immature levels of automation at scale, inhibiting complete transformation as a result. But by embracing AI-driven data ingestion that effectively leverages NLP, insurers can drive more than just the obvious benefits of faster, more accurate automated processing in functional areas such as onboarding, claims, and billing. There are multiple compelling and far-reaching business benefits of adopting powerful data ingestion:
Maximised workforce value: Manual data processing is mundane, taking significant time and effort away from high-value and core activities such as underwriting, claims adjudication, and policy onboarding. Moving away from manual work frees up skilled workforces to drive more value for the business where it counts the most.
Improved customer experience: Customers expect insurers, like retailers, to remember their choices, use their data effectively, and respond to queries quickly. Manually processing real world inputs is simply not quick, insightful, or agile enough to satisfy this expectation.
Optimised processing quality: NLP-based data ingestion can drive better standardisation across processes, reduce error rates, and improve compliance
Readiness for further AI adoption: Applying the right approach and framework helps future-proof the business and readies it for further AI adoption by driving repeatability, scalability and speed to value across the enterprise, reducing effort by up to 50%.
Implementing the right intelligent automation at scale has the power to re-invent the data management cycle, drive human-machine collaboration and, on average, reap at least a four-fold return on investment in the technology. One global insurer is currently implementing EXL Xtrakto.AI™ to reimagine the Certificate of Insurance process workflow. The three levers are being applied in a phased approach over a six-to-eight month period and will enable the client to realise cost savings in a short space of time. By intelligently automating almost half a million requests per year from more than 8,000 clients, the insurer will see efficiency increases of >50%.
Insights from insurers
Optimising data ingestion using AI and a strong dataingestion framework have become key priorities for insurers, as well as their strategic partners. Two leading authorities at Aon shared their views on NLP, machine learning, and other cutting-edge deployments.
"Our objective is to transform the way we think about, manage and leverage data. We are automating traditionally manual, timeconsuming and linear operational processes that are inefficient and significantly impact customer experience while also introducing cutting-edge AI-based technologies to establish best-in-class NLP and ML powered applications for business deployment. These solutions will fundamentally change the way our organization deals with huge volumes of customer communication and contact center data.
EXL, with its Insurance domain expertise and market-leading advanced digital practice, is partnering with us to develop an NLPbased solution that enables us to extract meaningful insights from documents, emails and customer service data. These insights will allow us to deliver quicker and more accurate customer outcomes, improve operational resilience and free up capacity in our operations teams to focus on more valueadded tasks." Patty Crawford, SVP, Process Excellence & CIO, ASC, Aon Business Services
Why EXL?
EXL's insurance domain expertise and digital capabilities are globally recognised. We were named Leader in Everest Group's 2020 P&C Insurance PEAK™ Matrix. EXL demonstrates significant breadth of proprietary AI/NLP models, frameworks and toolkit. EXL Xtrakto.AI™ brings enhanced NLP, machine learning and artificial intelligence capabilities for accelerating document processing to meet business objectives for our clients. We believe that our framework is differentiated in four key dimensions:
Domain expertise that allows us to underwrite benefits: NLP development leverages our vast domain expertise (e.g. underwriting experts for medical records); most importantly, we ensure that the output from our framework plugs into the operational workflow that allows human reps to manage exceptions and allows EXL to underwrite the benefits.
Advanced NLP capabilities: Our proprietary stack of accelerators and frameworks built by our large team of data science professionals are fine-tuned for specific use cases; our stack speeds up the AI model development and integration process by up to 40%.
Customisation: We understand that every insurer and broker has different processes and do not follow a 'one size fits all' approach; EXL Xtrakto.AI™ caters to multiple document types (structured, semi-structured, unstructured) and formats (jpeg, tiff, emails, html etc.).
Flexible deployment with modular components: We can leverage EXL Xtrakto.AI™ on-premise or in the cloud and allow our clients to choose modular components; for example, many clients choose to take our user interface and validation screens while others have requested that we build customer document portals on their website.
If you would like to explore how leading insurers and brokers are leveraging EXL Xtrakto.AIEXL XTRAKTO.AI™: Meet EXL's proprietary intelligent framework with the power to fundamentally transform insurance operations and approach, the value it could deliver for you, we'd welcome the opportunity to talk and arrange a demo for you.
EXL Service has been recognised as a Leader in the Everest Group PEAK Matrix Assessment for P&C Insurance BPO
Written by
Raghav Jaggi
Co-Head, General Insurance & F&A Leader Mohit Manchanda
Head of Insurance, UK & Europe
Roopak Chadha
General Insurance Growth Leader Rohan Regis
Vice President Insurance, UK & Europe