EXL recognized as an insurance services leader in ISG Provider Lens™ 2021 – US & Australia

EXL recognized as an insurance services leader in ISG Provider Lens™ 2021 – US & Australia
Life & Retirement services | Property & Casualty services | TPA services
EXL recognized as an insurance services leader in ISG Provider Lens™ 2021 – US & Australia
Life & Retirement services | Property & Casualty services | TPA services
EXL has been recognized as a leader across all 3 categories in the "2021 ISG Provider Lens™ Insurance Services" in the US and across 2 categories in Australia. The categories are:
Life & Retirement services
Property & Casualty services
TPA services
Life & Retirement services
"A mature provider to the L&R insurance BPO space, EXL is well-known in the insurance BPO space for deep industry knowledge, and extensive digital and analytics offerings. EXL today is winning deals as an end-to-end digital transformation partner", reported ISG.
Key EXL strengths cited by ISG in the report include:
Digital operations: EXL leverages artificial intelligence, machine learning (ML), data and analytics to drive intelligent operations, to deliver high customer experience at a reasonable cost.
Solutions-based, sustainable growth: EXL has pivoted to a solutions-based organization focused on sustainable growth. Its differentiators are designed to generate disruptive industry solutions.
End-to-end BPO: EXL can provide end-to-end BPO services from product support, actuarial, new business, PHS and claims in an end-to-end operating model.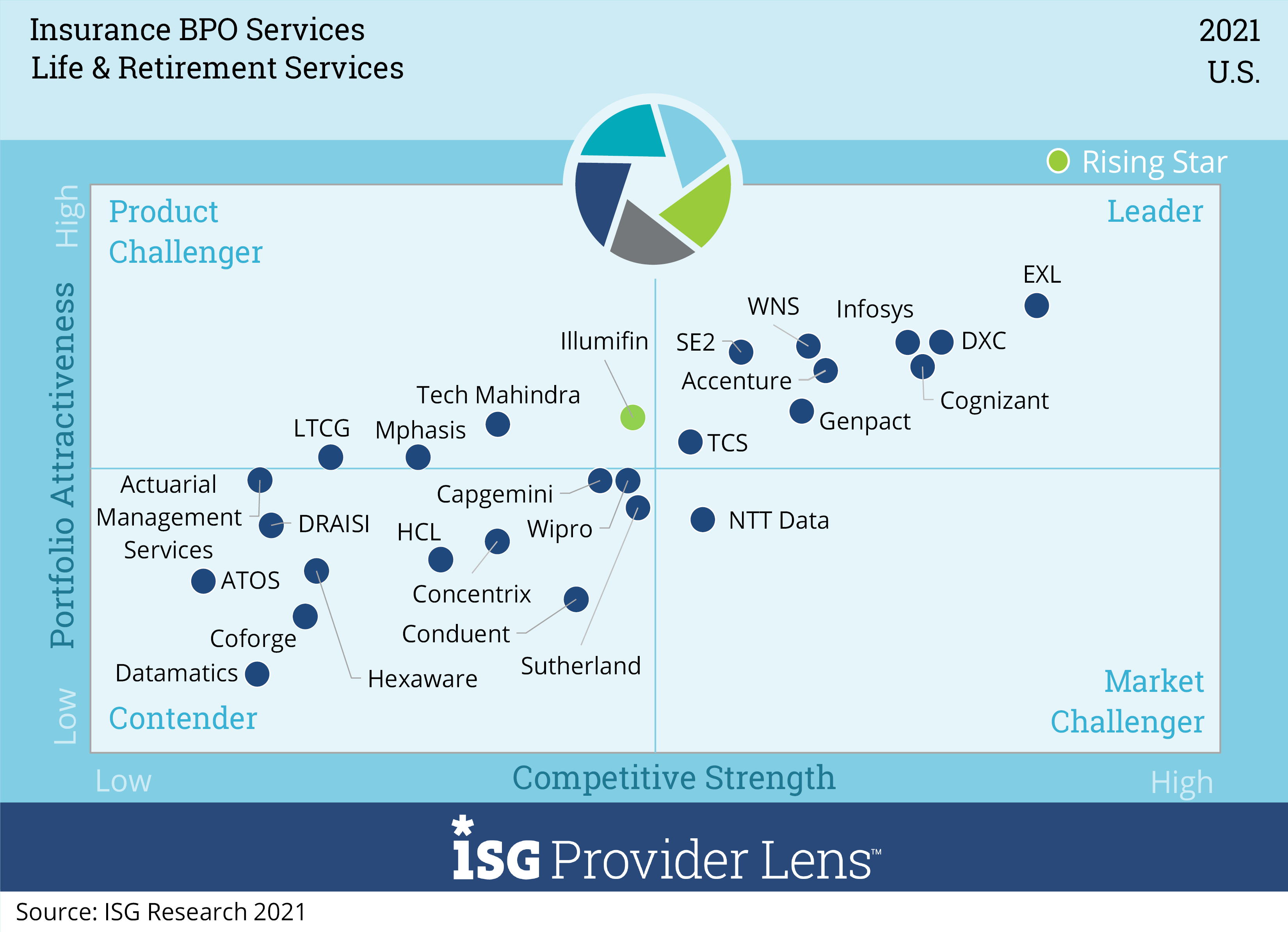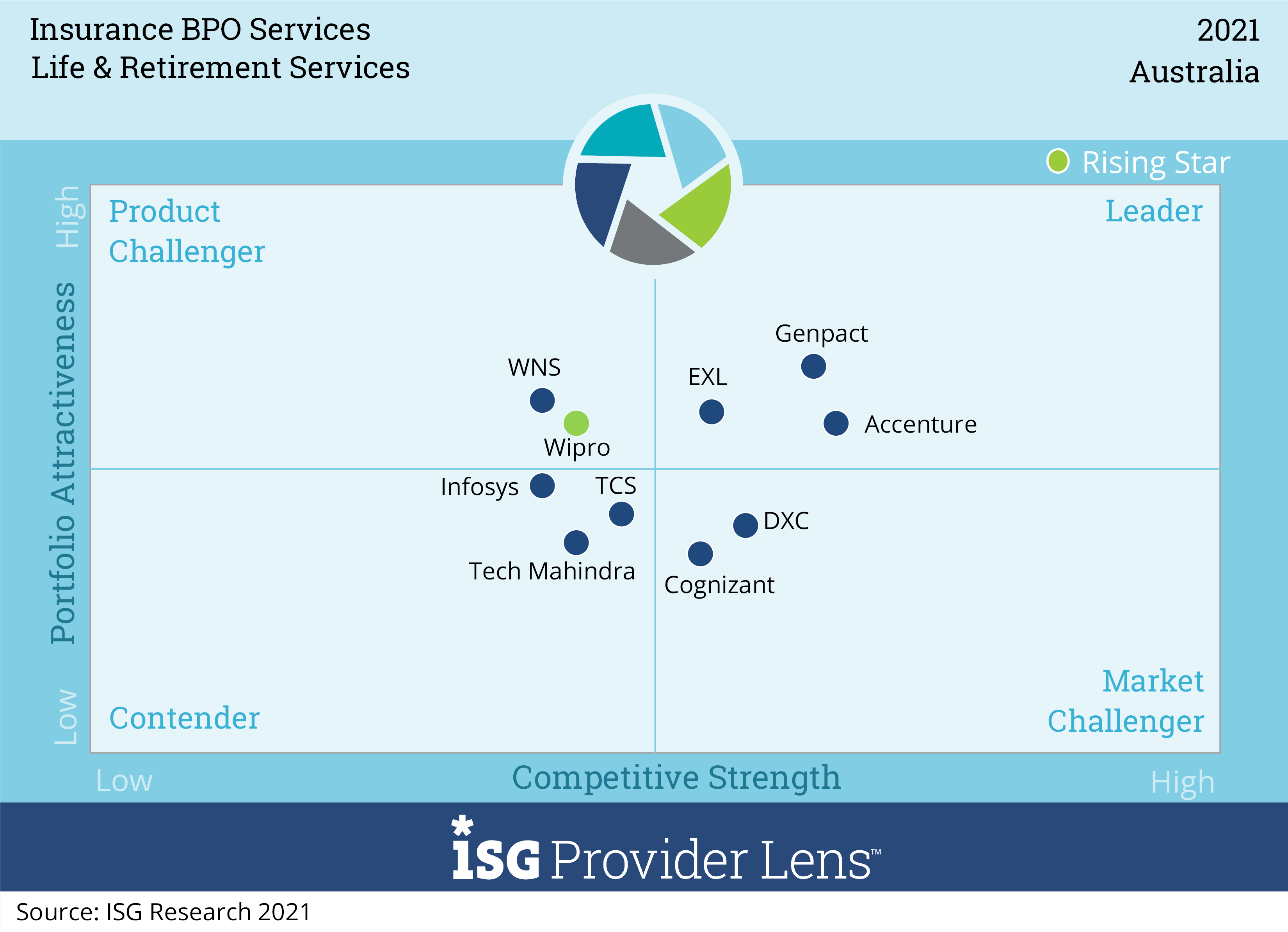 Property & Casualty services
"EXL continues as a top performer in P&C BPO and experienced significant growth over the past year. EXL offers P&C insurers strong solutions in AI, automation, cloud and data analytics" reported ISG.
Key EXL strengths cited by ISG in the report include:
Robust partner ecosystem: Partnering with technology service providers gives EXL the ability to leverage leading technology solutions to bring relevant outcomes to its clients.
Deep domain expertise: EXL has domain expertise across the entire P&C insurance value chain and in-depth knowledge of products.
Operations management and analytics: With its considerable global footprint across personal and commercial lines, EXL is among the largest global P&C operations management and analytics providers.
Self-developed IP through proprietary solutions: These solutions are focused on solving major pain points in the P&C sector and are built on valuable IP that can be reused across different clients.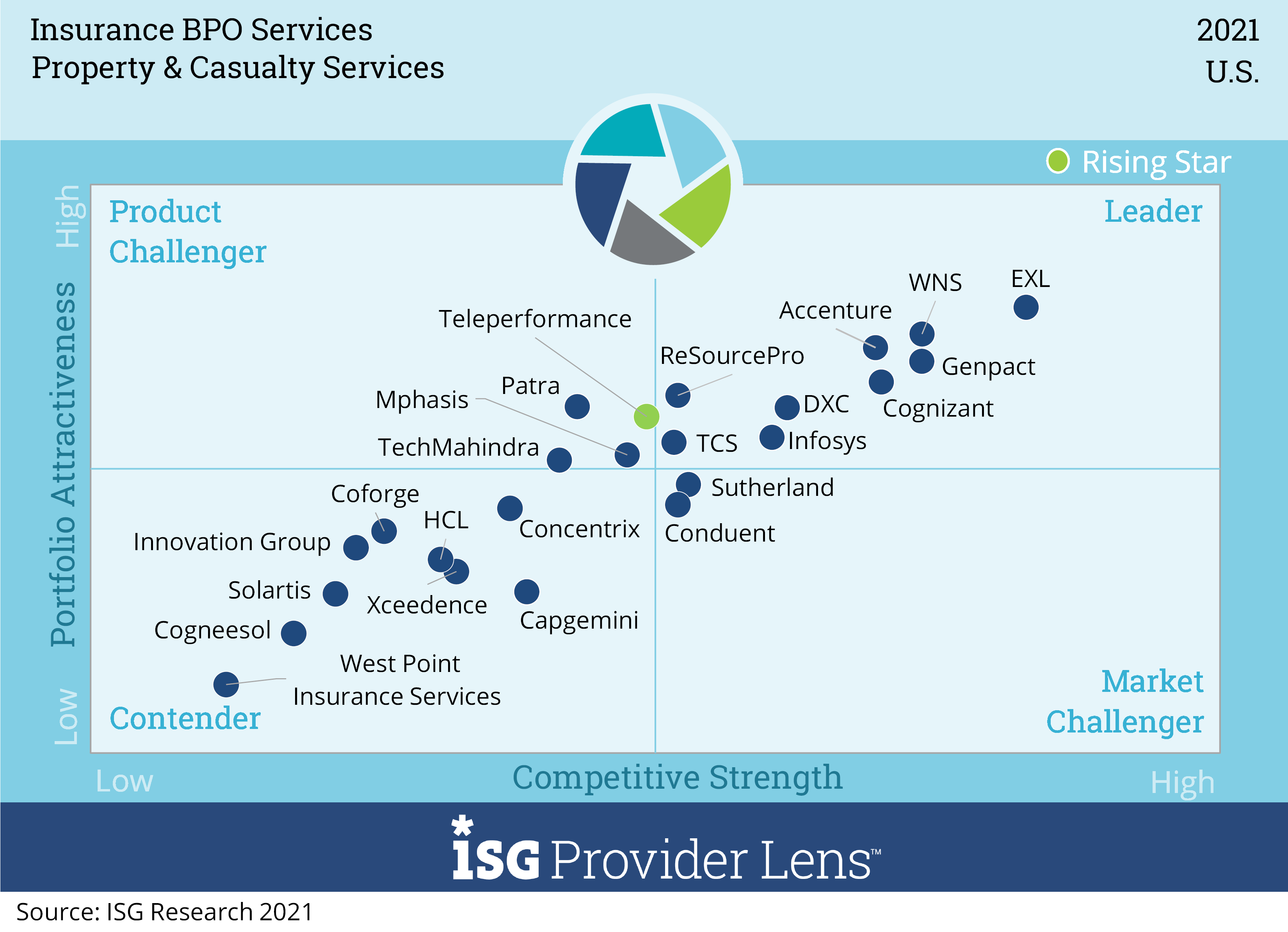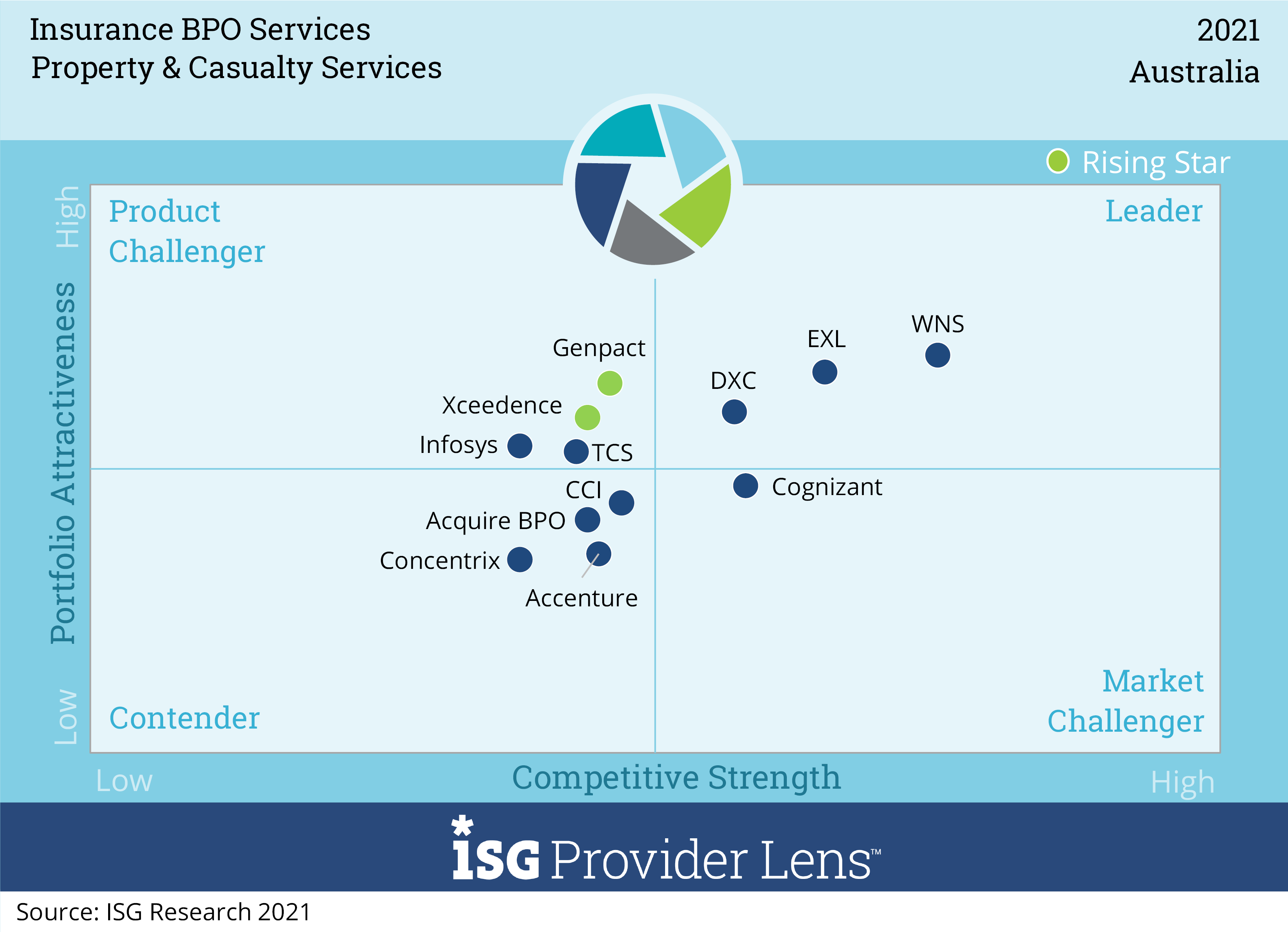 Third Party Administrations services
"EXL has evolved from a leading BPO and L&R platform player into a strong TPA. It continues to grow in the TPA market and is maturing its compliance and regulatory organizations, and with its expanding capabilities, the company is poised for future success", reported ISG.
Key EXL strengths cited by ISG in the report include:
Expanding capabilities: EXL continues to expand its TPA capabilities across the value chain to maximize value and deliver results to its clients. Capabilities are focused in four main areas: distribution, sales, and marketing; underwriting and pricing; operations; and claims management.
Outstanding performance: 2021 was the most successful year for EXL's TPA business. Significant wins included signing a large business closed block book of business with more than 450,000 policies. In all, the firm signed $100 million of total contract value (TCV).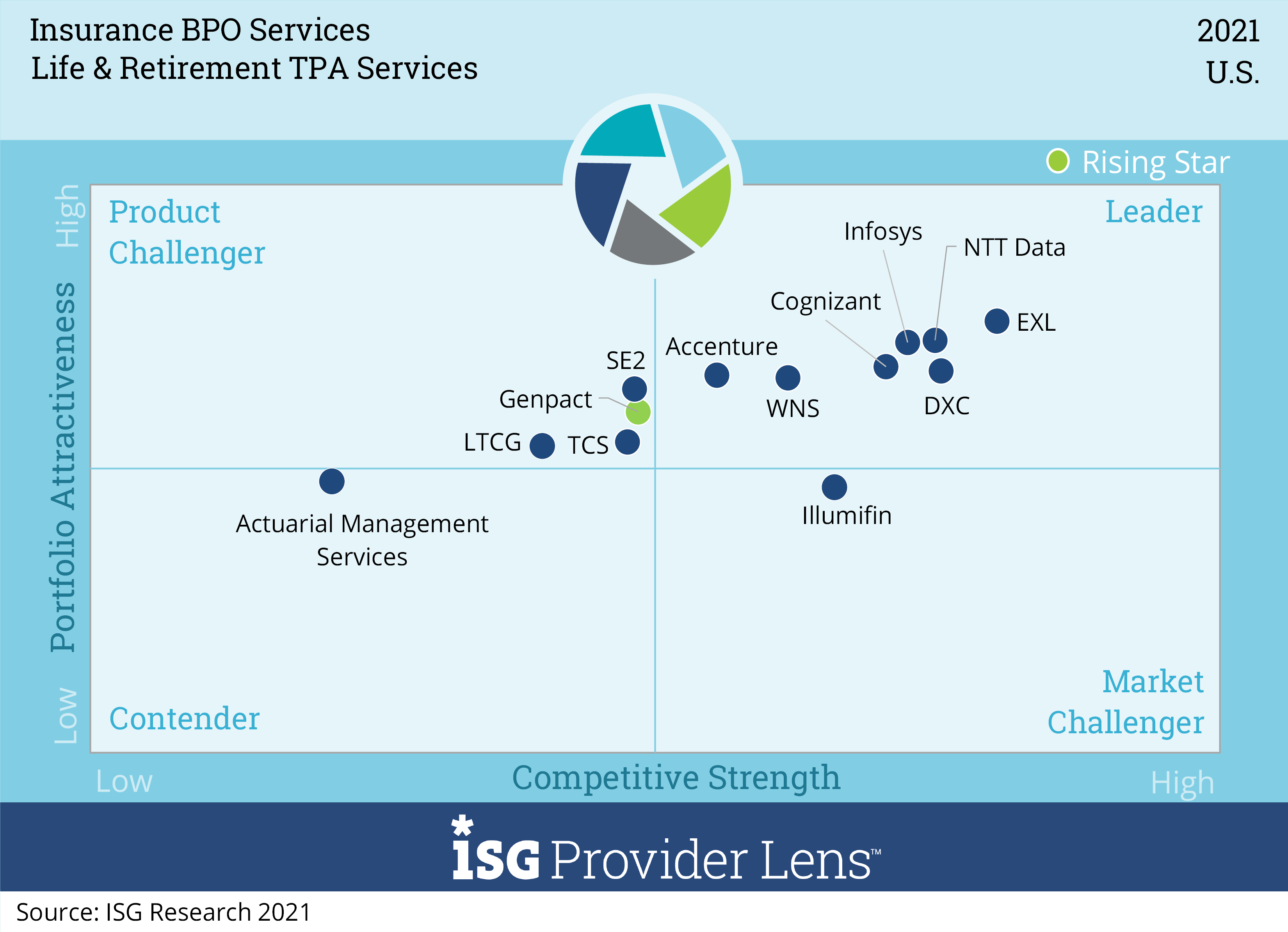 Leadership Perspective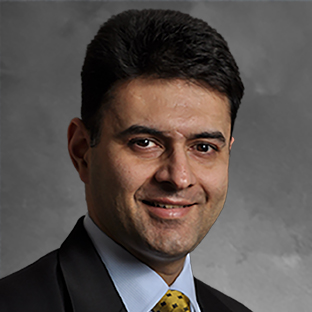 "The only way to deliver on rising end-customer expectations for hyper personalized service while improving operational efficiency is to harness data to inform every business function. We're honored to be recognized for our ability to keep pushing the envelope on innovation in the insurance space with our data-led model and we look forward to continued breakthroughs."
Vikas Bhalla, Executive Vice President and Head of Insurance, EXL