Doubling of repayment rates for leading USA DCA
EXL has been working with one of the largest debt collection agencies (DCA) in the United States. In this case study, we look at how EXL PayMentorSM enabled this DCA client to transform their digital collections performance.
Challenge
The client's former system for digital collections was based on older technology that didn't enable segmentation or personalization. The organization's email strategy for communicating with debtors was centered around mass one-size-fits-all messaging with no capability of analyzing each customer's specific, unique situation and adapting accordingly.
There was no capability to track customer interaction or make email adjustments in response to customer behavior. This non-personalized, mass email approach generated limited results for the DCA. EXL implemented EXL PayMentorSM and applied it to the least performing debts: the debts that had been in arrears for at least one year and hadn't paid to the DCA for at least the last 6 months.
Solution
EXL demonstrated to the client the ability to drive debtor engagement and reengage delinquent debtors through highly segmented, personalized email campaigns. By integrating EXL PayMentorSM, a fullcycle digital debt collection platform, EXL built a smart email journey for the client's delinquent debtor segment. For this client, EXL deployed the solution in the cloud.
EXL PayMentorSM incorporates advanced techniques in machine learning, deep data analytics, digital technologies and hyperautomation. These capabilities enabled EXL to create a highly sophisticated smart email communication roadmap that adapted to each individual's specific behavior response, in order to optimize debt collection performance. Through automation, it was able to execute individual, hyper-personalized campaigns with thousands of target debtor customers concurrently.
EXL PayMentorSM was able to communicate with each delinquent debtor directly through its generative conversational AI technology. This feature was designed to equip organizations to optimize customer engagement and respond to a diverse range of customer actions accordingly. The overarching purpose is to create a closer relationship based on trust and a better understanding of their specific circumstances to nudge them ever closer towards closure.
EXL integrated a system built on the following four pillars:
Amount to collect
Full control over operational margin of debt collections and a streamlining of operational costs.
High-level customer segmentation
Data-driven and powered by advanced machine learning to interact and respond optimally to customer email behavior.
Email tone progression
Ability to choose the right tone of the next email based on the customer's behavior in regards to the previous email by using deliverability data such as email delivery, open events, and other actions.
Customer self-service portal
White-labeled online portal that dynamically updates to improve the customer experience and drive consistency of faithful repayments across the full debt collection period.
Outcome
EXL's technology platform includes over 30 terminal nodes to define the kind of email to send to each customer at each stage of the repayment engagement campaign depending on the customer engagement level and customer type. EXL PayMentorSM enabled the client to record vast improvements in email open rates and degradation rates.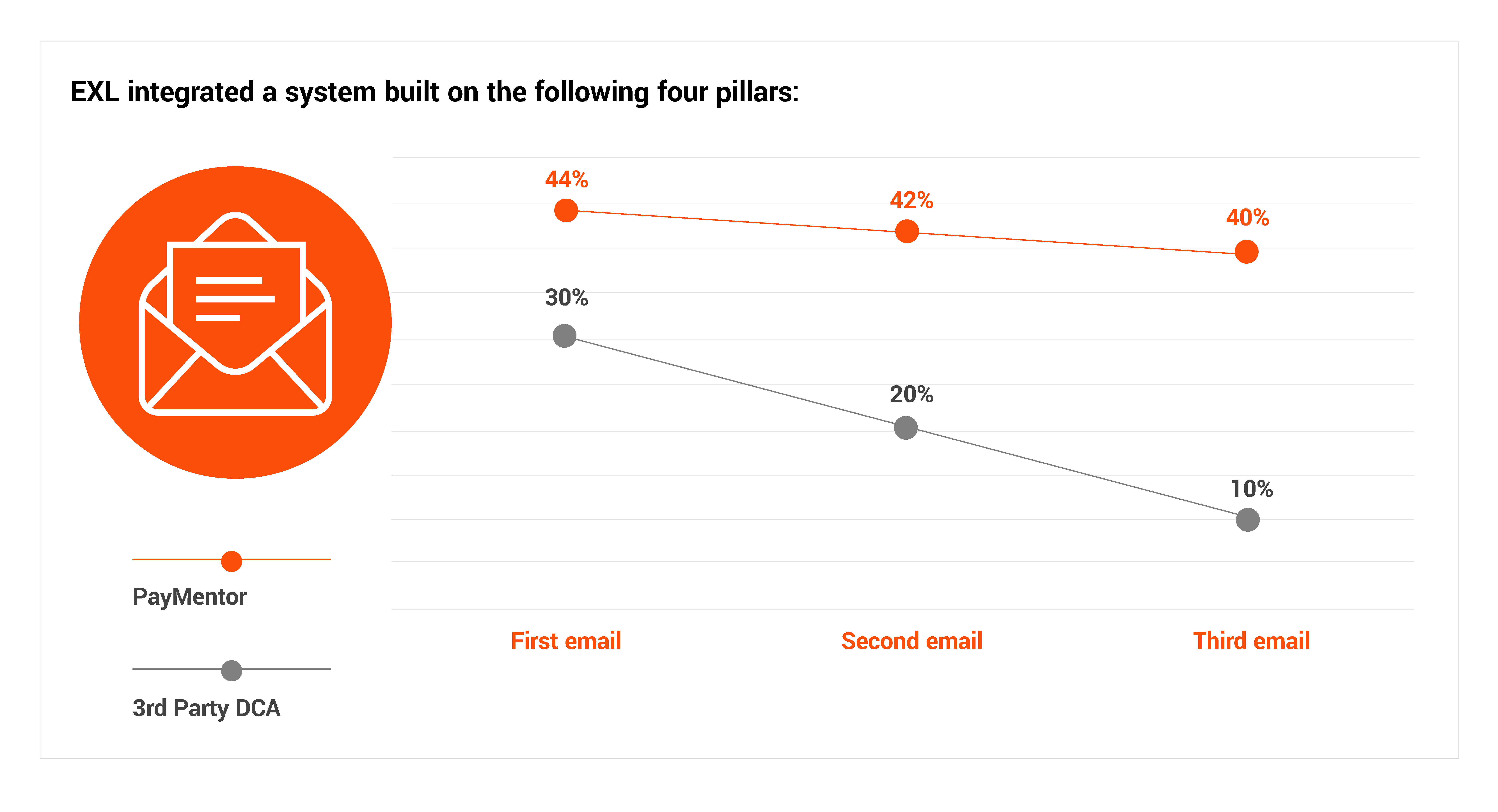 Through EXL PayMentorSM , the client was able to drive open rate improvement by almost 50%, from 30% to 44%. This resulted in a 100 BPS+ recovery rate per month. Moreover, the EXL PayMentorSM email journey produced a degradation rate of only 10%, from 44% down to 40%. This compares to the client's 67% degradation of their historical email journey, of 30% open rate down to 10%.
The final outcome that EXL PayMentorSM produced was over a doubling of the recovery rate among the customers who hadn't previously made payments for over six months.