End-to-end digital transformation for a leading UK based home and energy care provider

End-to-end digital transformation for a leading UK based home and energy care provider
End-to-end digital transformation for a leading UK based home and energy care provider
"This partnership between EXL and the client was recognised by the energy industry by winning the GSA Utilities Project of the Year award in 2019."
Energy companies have faced mounting challenges over the preceding years. Since the late 1990s, the increasing number of new smaller, nimbler energy companies in Britain has resulted in a hyper-competitive market. In 2018, government legislation introduced a market-wide price cap to protect consumers, a change that cost leading energy suppliers around 1.3 million customers.
In addition to these events, a report published by the UK group Step Change Debt Charity states that household debt is expected to touch £6B as an aftermath of COVID-19 pandemic, which will further push energy companies to the brink.
EXL's client, a leading UK' energy and home services provider, grappled with issues including
Increasing customer churn rates, with 1.8M lost customers since 2015
Increasing customer complaints, with 618K complaints in 2019
Costs pressures, including a £1.1B pretax loss in 2019
Increasing Debt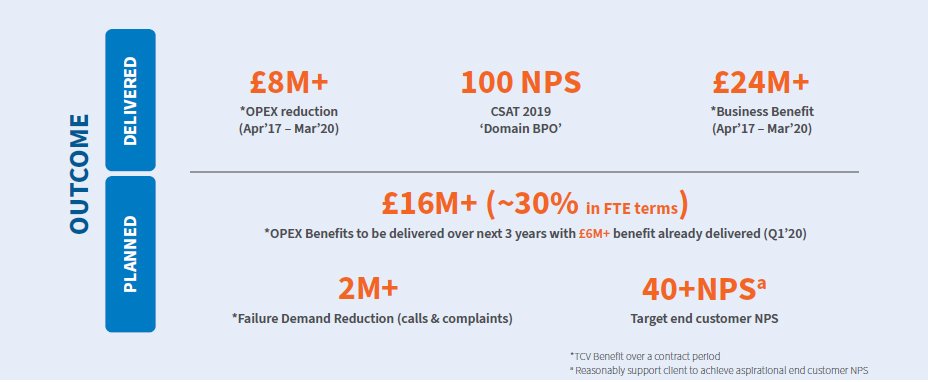 Context
EXL's deep domain knowledge helped to design and deploy digital and analytics solutions to deliver a trifecta of impacts of improved experience, outcomes, and efficiency. EXL partnered with the Client to deliver an all-inclusive and well-integrated transformation. EXL brought together the right data, domain expertise, and technology solutions to generate actionable insights.
EXL adopted an agile approach to transformation through a collaborative three-tiered governance model to mobilize client commitment, seek investment, and agree on desired outcomes.
Orchestration
EXL and the client collaborated on developing new ways of working, including shifting from running efforts in siloes with multiple independent initiatives delivering incremental benefits to multidisciplinary teams working in an agile manner with end-to-end accountability for customer journeys.
EXL used a multi-pronged approach to create an analytics-led insight engine called Management Information Assistant (MIA) to continuously provide real-time visibility into customer journeys. This solution enabled the client to determine what happened on the journey, identify key drivers, and note the solution for any issue which may have arisen. Proactive controls and workflows with continuous monitoring were deployed.
EXL also embedded its proprietary solution into operations using its Digital Command Center (DCC). This solution which includes a SWM 2.0 work management tool to align customer outcomes and business priorities. Top-down and bottom-up approaches were introduced to continuously keep diagnosing end-to-end processes and work instructions to identify inefficiencies across value steams.
EXL deployed advanced robotics in collaboration between RPA Centers of Excellence as well as a strategic technology partner. This fast-tracked the automation of key processes. EXL deployed 150+ BOTs and created a digital operations team for BOT management. This partnership between EXL and the client was recognised by the client with, winning a PAVE award in 2018.
EXL used embedded advanced analytics capabilities, such as interaction, sentiment, and predictive analytics, to increase customer satisfaction. A debt Center of Excellence was created to focus on preventive debt management, building propensity to pay models to improve the success rate of debt collections. With the help of data management and consolidation framework, EXL built a next-best action model which helped to drive right actions based on customer activities and past reactions.
Over past several years, EXL has delivered significant benefits to the client through various digital, analytics and methodology levers. This includes robotics, process re-engineering, standardization, analytics and Lean Six Sigma. This has resulted in optimized customer journeys, reduced failure demand, and lower debt, all leading to a reduction in cost of running operations.