Reduce total cost of ownership and improve operational efficiency through cloud transformation
Challenge
Legacy warehouse implementations accumulate large amount of technical debt over a period of time that results in an inability to respond to client needs quickly and an increase in maintenance budget to keep up the systems running. Use of legacy technologies, undocumented implementations makes simple changes complex to implement often resulting into breaking the output and delaying client deliverables. To add to the challenges healthcare data presents problems around security, quality and large number of disparate data sources involving claims, EMR, employer groups etc. to integrate when it comes to cloud transformation.
Human ingenuity
One of our clients was facing similar challenges. To deliver on our promise, we built one team that had the client's stakeholders to make the necessary business decisions as well as our healthcare domain SMEs, technical experts and architects. We invested effort on due diligence, inventorization, rationalization, and consolidation to build a transformation roadmap before jumping to the cloud implementation. As the latter approach often results in not achieving the cloud transformation objectives, we took the approach of building a core healthcare data foundation grounds-up on the cloud and for the cloud that not only lowers overall cost but also provides security and scalability to support future growth.
Outcomes
Cloud transformations are complex! The critical success factor for a successful implementation is to focus on business adoption. We ensured that we are constantly communicating to the business stakeholders and present all the required decision points and tradeoffs clearly. We built end users confidence in new processes by hand holding them, speaking in the "healthcare" language they understand and demonstrating new vs. existing system accuracy. We designed the system top-to-bottom that ensured each use case deployed on the cloud had a clear data lineage. Our implementation approach resulted in streamlining the data processes and reduced the redundancy in the system. As an outcome the time-to-market for our client was significantly reduced. Our data foundation broke the data silos in the organization that resulted in realizing other uses cases that could be delivered on same foundation we built. Finally, the client was able to create a data driven culture by building a community of data citizens in the organization.
Client's transformation plan
Envisions cloud-only solution to support its current network and provide ability to scale to meet future demands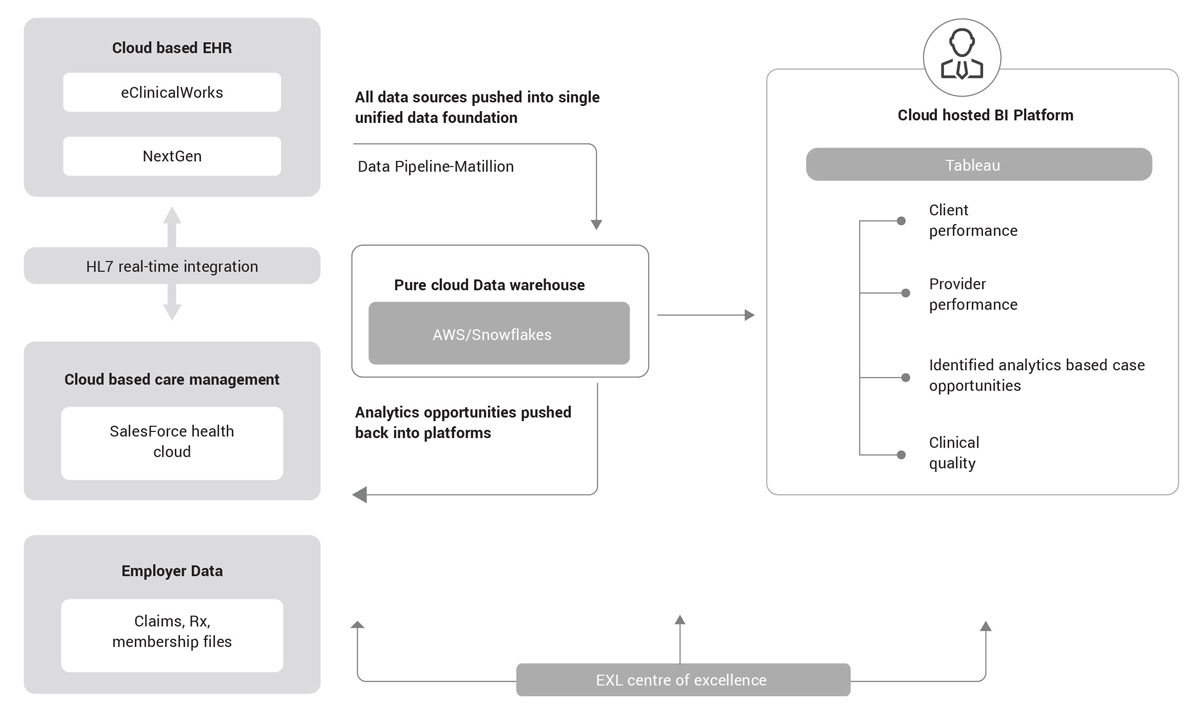 Direct primary care provider-overview
Client is a direct physician access model that provides convenient access to services. Employers offer client's services to covered employees to improve health.