A transformation partnership outline
Leading national health plan achieves clinical efficiencies & quality outcomes through strategic partnership
Client profile
Top 5 national health plans
Fortune 500 company
Partnership needs
Reduce cost to fund operational improvements
Access global clinical talent pool
Leverage business process outsourcing excellence
Enhance data analytics
Ensure necessary investments to grow clinical operations
Engage proven transformation partner
Adapt to process changes and business needs
Partnership commitment & outcomes
16 years partnership
Growth to 1,800+ resources supporting myriad business functions
Expanded solutions & services delivering extensive value
EXL's deep partnership with this large national health plan has grown exponentially over the course of the past sixteen years. Initially, the partnership centered on small and steady management of low complexity processes, including network steerage and custom reporting. Today, EXL is a true transformation partner to this market leading national health insurer. This partnership is built on strategic value, a consultative framework, a collaborative approach and delivery of key outcomes (medical cost management, customer-centric experience and bottom line impact).
Over the past sixteen years, EXL has substantially expanded the number of services delivered. More importantly, EXL delivers more complex services that meet the client's need to improve member engagement and optimize clinical outcomes.
Today, EXL serves as a de facto extension of the client acting as a true transformation partner through ongoing collaboration to support the need for transformation and business outcomes.
Utilization management
From case intake and processing to medical necessity reviews and appeal management, EXL's team of over 1,700 global clinicians (all nurses, many US registered) support the client's end-to-end utilization management operations and enable stateside staff / clinicians to operate at the top of their licenses
Pre-utilization management services
Utilization management
Post-utilization management services
Disease management
EXL handles comprehensive member enrollment and education of high-risk members identified for disease management programs. EXL's focused disease management services enable the client to meet its overall medical cost management goals and deliver robust member-centric services to its customers.
Case management
EXL provides support to identify of members for case management, enrollment of members into case management programs and case preparation. This enables the client's onshore case managers to focus on member-specific health needs instead of administrative details.
Quality
EXL enhances the performance of the client's HEDIS gap closure program through a team of nearly 100 local nurses that outreach to providers and validate gap closure.
EXL delivers outcomes that make an impact
To support the client's diverse and strategic needs, EXL currently provides a team of lean six sigma analytics and automation experts dedicated to transforming operations and making processes and people more effective and efficient.
From clinical and utilization management, to quality and compliance, to EXL's proprietary industry-leading Healthcare Academy, EXL has the client covered with a global, exceptionally trained talent pool of healthcare experts.
EXL supports health plans' need to drive capacity, compliance, efficiencies and effectiveness across their clinical business. This value is delivered through a variety of services, solutions, automation, analytics and technologies designed to transform clinical and quality outcomes today, tomorrow and for years to come.
Below is a glimpse of some of the value this dedicated EXL team has delivered:
Precertification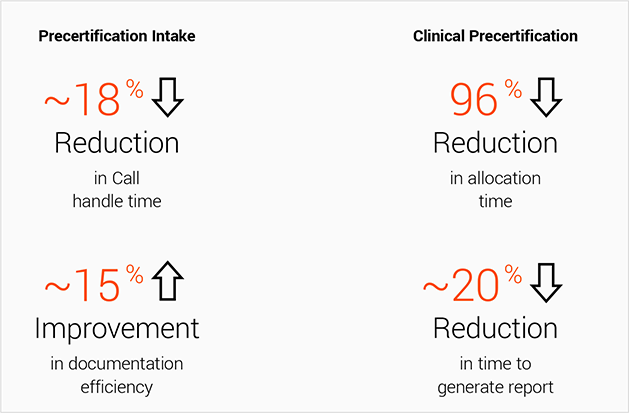 Utilization management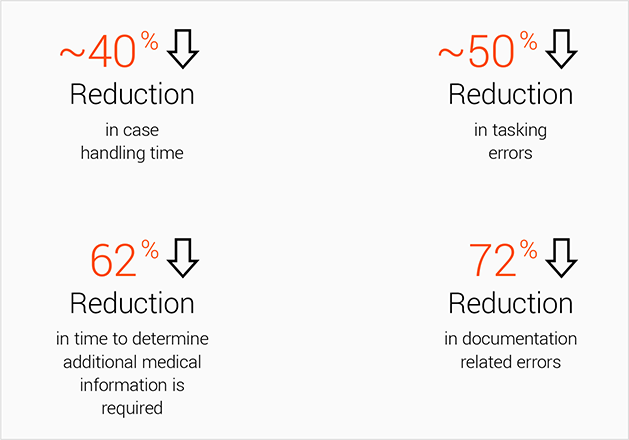 Case/disease management
HEDIS abstraction & provider outreach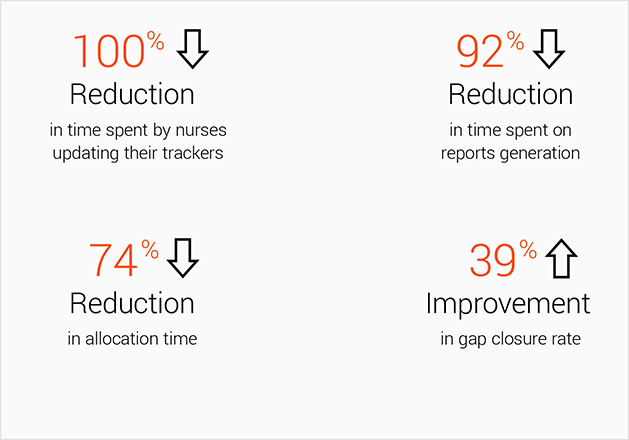 Optimizing clinical outcomes through robotic interventions
Expected savings achieved with EXL's DigiCA solution:
25-30% shorter cycle time
30-35% reduced cost to serve
20% enhanced user experience
20% reduced resource requirement