Transforming data management & government reporting framework
EXL Health gets results
EXL Healthcare Data & Analytics team collaborated with a not-for-profit health system, including several hospitals, medical groups, and a statewide health plan, to improve government regulatory reporting processes. Through this collaboration, the healthcare organization has experienced results such as:
Significant savings.
In the state our client operates in, healthcare organizations are subject to significant monetary penalties per report, per occurrence when failure to submit accurate or properly formatted reports. With the help of the EXL team, the healthcare organization significantly improved the delivery of on-time and accurate government reports – thereby averting substantial penalties.
Improved reporting accuracy.
Before partnering with the EXL Health team, the healthcare organization had different teams using different sources for each report. For example, one team would take responsibility for the Native American Members Report using one source while another handled the Care Coordination Report using another source. The problem: Data in these reports often did not synch – and, therefore, the reports would be deemed inaccurate. Now, reports are produced through a consolidated and standardized source, ensuring accuracy and avoiding any additional penalties.
Enhanced productivity.
Previously, reporting processes were conducted manually. However, with the EXL team implementing an automated, streamlined regulatory reporting framework, the healthcare organization significantly improved productivity. The organization has reduced the number of full-time employees dedicated to overall state reporting to a team of 4 handling 100-plus reports.
Scalability and repeatability.
EXL worked with the healthcare organization to create a data structure that handles not only today's needs but also tomorrow's. For example, the data mart is structured to support current key performance indicators (KPIs) and provides the ability to add or refine KPIs based on reporting needs continuously. The architecture helped smooth transitioning of reporting from the old claim processing system to a newly adopted claim system.
The Health system's challenges
Like many others, this large healthcare system deals with a necessary but onerous activity of Government reporting. The health healthcare organization is responsible for completing and submitting 100-plus reports – some on a yearly basis, others quarterly, monthly, or even weekly/ daily. Most of these reports are required by the state's Medicaid program.
Making government reporting even more difficult is the changing nature of government reporting requirements. For example, the Report 3 (Provider Network Adequacy) requirements have changed five times in a three-year period. What's more, ~50 reports have been added to the mix since the onset of the COVID-19 pandemic. Thus, the health system needed to find an efficient way to innovatively transform its current data structure to keep up with all of these reporting requirement changes without experiencing significant business interruptions.
EXL Health provided the guidance needed to transform the data management paradigm while ensuring that the health plan's business did not experience any significant interruptions.
The EXL approach
EXL Health worked with the healthcare organization to transition the state regulatory reporting structure to function perfectly with the newly developed data management framework. After working with the organization on historical reports, EXL created a framework to include a data cubes middle-layer to interact with the varied data sources. Under this new scenario, data was transitioned to reporting seamlessly, thus keeping the operational structure intact.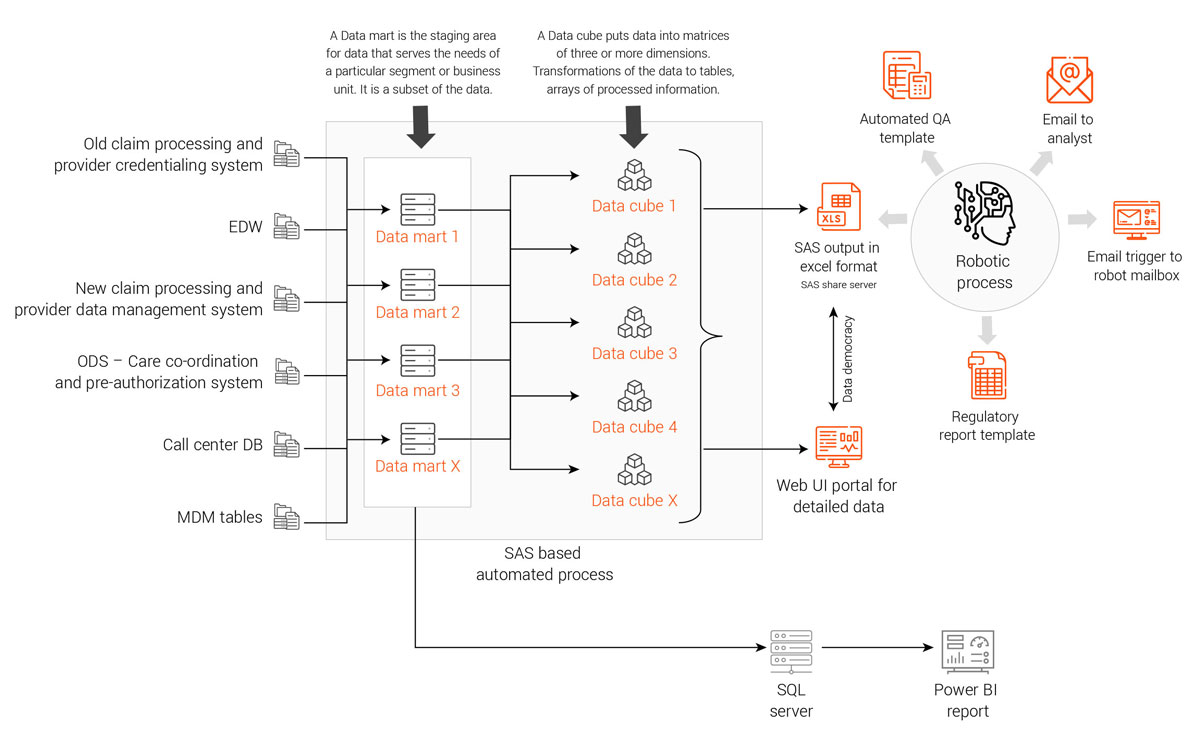 The EXL difference
EXL Health worked with the health plan to transform its reporting framework and establish an analytics center of excellence. To accomplish this, EXL assumed ownership of the data transformation, making it possible for the health plan to continue to concentrate on core business processes.
More specifically, to support this transformation, all data emanating from the new claim processing system adopted by client is translated for immediate use by each data reporting team. EXL worked with the healthcare organization to decouple its data management architecture from the underlying systems, making it possible to access needed data continuously. As a result, the healthcare organization experienced the benefits of the new data framework without a significant interruption to current business processes.
Key components of the framework include:
Establishing subject matter expertise around government reporting requirements
Extracting guidelines and automating government reporting requirement changes
Creating a report generation and QC framework that leverages scripts that automatically generate reports at scheduled times. As such, the healthcare organization can meet regulatory requirements in a timely fashion.
Supporting automated quality assurance (QA) processes. These processes rely on built-in intelligence designed to validate data accuracy, eliminating the need to conduct time-consuming, manual quality assurance programs.