Imagination & insight [issue 1]
A thought leadership series - the reading 'rendez-vous' for insurance leaders
Imagination & insight [issue 1]
A thought leadership series - the reading 'rendez-vous' for insurance leaders
The eight EXL levels for growth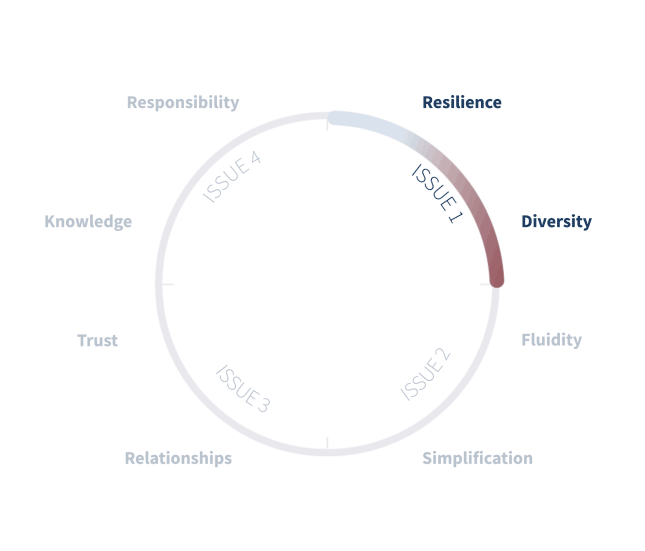 We have identified eight trends that we believe business in general should use as guides for their strategic development. In this first issue, we will address the two first EXL levers for growth: resilience and diversity. Looking at both the impact of Covid-19 and the wider changes that were already underway, we have identified eight trends that we believe business in general should use as guides for their strategic development. Taking each separately is helpful, not least as a 'sense-check' of alignment of processes or innovation; but understanding the interrelationship between many or all of them is where the greatest value is to be found. We intend to review and update evidence of these themes in subsequent reports, and we would welcome any contributions to this conversation.
A reading rendez-vous in 4 issues

Lever 1 — Resilience: from the self-awareness to know how we're coping, through to the strengthening effect of community, how we might all adapt our thinking and our models to ensure we 'bounce back' properly.
Lever 2 — Diversity: one of the greatest societal challenges of our time, and also one of the most powerful drivers of innovation, of doing business better and of doing better business.'bounce back' properly.
Lever 3 — Fluidity: living with ambiguity is actually a strength, and the new norm, which enables new forms of collaboration and opens up new channels of prosperity.
Lever 4 — Simplification: we all love more choice, but not if it brings complexity; technology has a key role in making things simple and intuitive for people.
Lever 5 — Relationships: new connections between the individual and data, people and big ideas and former competitors and partners, are driving innovations.
Lever 6 — Trust: ethics are becoming core to people's decisions to buy from or work with an organization; it is a fundamental requirement of leadership and of corporate positioning.
Lever 7 — Knowledge: the basis for the modern economy, and the new battleground for competitive advantage; it reinforces the need for ethics and trust to be at the centre of all decisions and operations.
Lever 8 — Responsibility: what are we all prepared to take responsibility for, how do we hold people to account, and how can we build towards a more equitable and sustainable future?
Raghav Jaggi
Senior Vice President, Co-Head P&C Insurance and Insurance F&A Leader, EXL
Raghav is responsible for EXL's Insurance Finance & Accounting Business and Co-Leads the Global P&C Business. Prior to his current role, Raghav was the Global Lead Partner for EXL's strategic accounts and Co-Head for EXL's Insurance Transformation business. He has extensive experience in implementing and managing strategic client engagements across Target Operating Models, Digital, Data and Analytics. Raghav has been with EXL for 17 years and has worked across Asia, Europe and Americas. He is based in New York City. Raghav completed his Bachelors from St. Stephen's College, Delhi University and attended the Advanced Management Program at Kellogg School of Management.
Jonathan Phillips
Senior Vice President and Geography Head for UK & Europe, EXL
Jonathan Phillips is Senior Vice President and Geography Head for UK & Europe, he is also responsible for EXL's delivery centers in Eastern Europe and South Africa. Having spent over 35 years in the Financial Services sector, Jonathan is an Insurance industry expert and his knowledge and experience spans across both retail and commercial lines in multiple markets around the globe. He has held C-suite roles at leading insurance organizations including Zurich, AIG and Chubb. During his career, Jonathan has focused on optimization and transformation across the insurance value chain, delivering competitive advantage, material impact on P&L, whilst increasing in NPS and customer satisfaction scores, and at the same time increasing employee engagement. Jonathan holds a Bachelor of Arts degree in Human Movement from Trinity College, University of Leeds.
Rohit Kapoor
Vice Chairman and CEO
Ankor Rai
Chief Digital Officer
Anita Mahon
Executive Vice President & Chief Growth and Strategy Officer
Vikas Bhalla
Executive Vice President & Business Head, Insurance
Vivek Jetley
Executive Vice President & Business Head, Analytics
Vikas Kapoor
Senior Vice President, Insurance
Mohit Manchanda
Head of Insurance, UK/Europe