Digital Healthcare Operations: Call centers
Start with success on the patient care journey
Call centers are often the initial experience in the patient journey within healthcare organizations. This interaction is a critical opportunity to make that all-important first impression, impacting how the patient perceives the organization during the course of their care.
Adding technologies such as digital agents, additional high-quality staffing, and automation to any service channel within a contact center can increase patient and provider satisfaction rates, deliver faster time-to-resolution, and decrease employee workloads.
Bring on the digital agent
Of course, contact centers don't exclusively rely on telephony. While some patients and members prefer voice communications and would rather place a call to get information or resolve an issue, others would prefer to interact with your organization online, via text messaging or through email. Digital agents can work in any or all these channels.
A digital agent is a cognitive AI solution that can interact with patients, members or providers using natural language processing (NLP) to answer questions, appropriately route complex inquiries and help users take the best next step to complete their patient or customer journey. Unlike legacy systems that often-left callers stuck in a frustratingly complex phone tree, modern proprietary solutions can engage with members and providers to: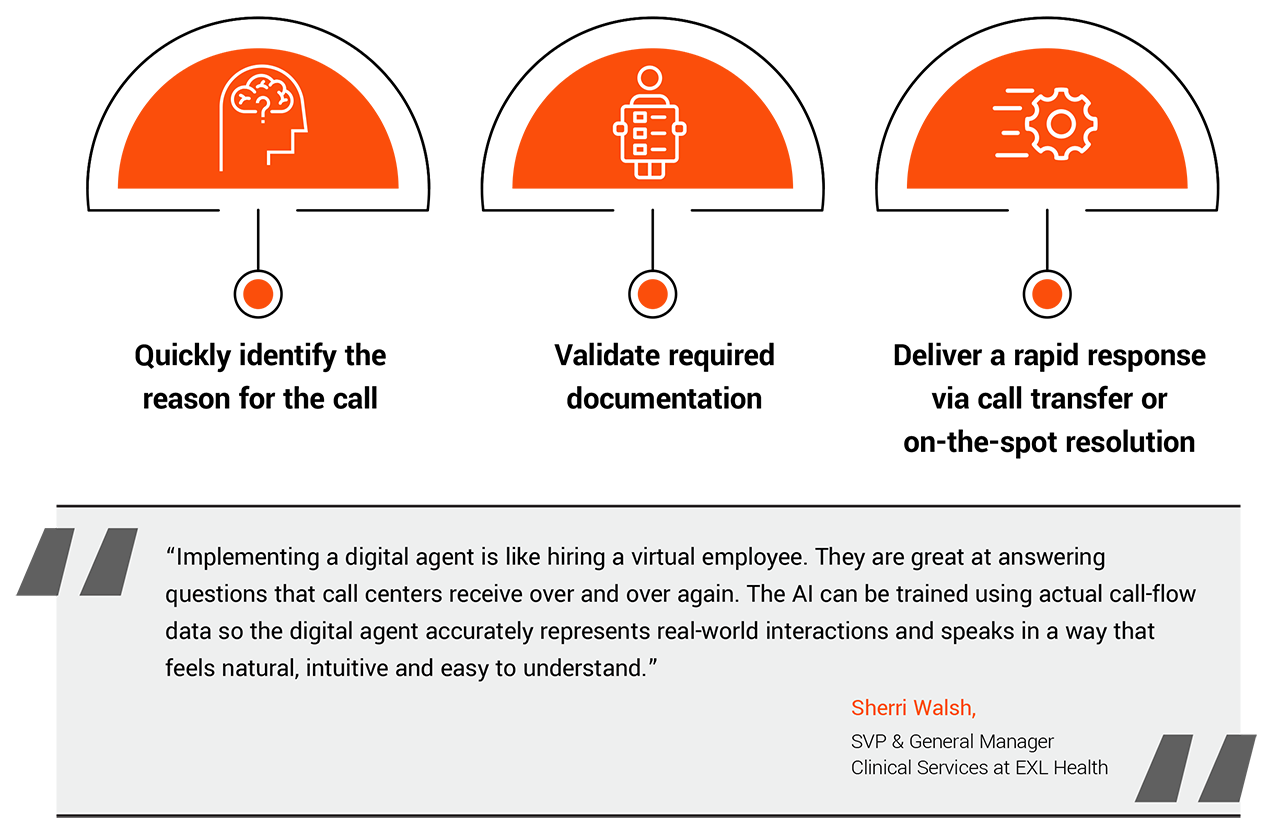 Case Study
A leading healthcare provider's contact center was overwhelmed with high call volumes and needed help with address time-consuming, repetitive tasks such as managing appointments, cancellations, and medication refill requests. As the call volume increased, patient satisfaction dropped. EXL Health determined the right people, processes, and technology and provided the appropriate resources necessary to resolve this issue.
Results included:

Real-world benefits of implementing a digital call center
After implementing an NLP-powered, cognitive AI solution, organizations have seen:

About EXL Health
Our digital call center services ensure member and provider satisfaction is top of mind for all health plan leaders. In order to respond quickly to members' needs and deliver a positive provider experience, health plans can tap into EXL Health's clinical or non-clinical staffing, and digital and automation technologies to reduce the administrative burden and deliver faster time to resolution. Proprietary technologies include conversational artificial intelligence, unified desktops, and virtual assistants that engage with members and providers.
Work with EXL Health and produce results that matter.

To learn more, visit EXLService.com/health.