Digital transformation in healthcare
If you're a healthcare leader, you're no doubt aware of the massive surge of interest in AI technology. But to achieve the transformation that AI can bring, organizations need more than just the right tools. They first need to establish fundamental building blocks that lay the groundwork for success. And those building blocks – all start with data.
EXL's view of digital transformation
Data is the foundation to any organization's goal of speed to insights and outcomes. Healthcare companies need to collect and make available every single data element from all perspectives—strategic, operational and clinical. Using that data, analytics can be applied to produce intelligence that can positively impact all stakeholders.
"Healthcare companies should not look at digital transformation as a cost center, but instead see this technology advancement as an opportunity to drive value, fuel innovation, and create better experiences for all stakeholders. The question is how to successfully implement transformation using your existing data to fuel innovation and adoption."
At this level, organizations can deploy digital technology enablers—AI, bots, automation—to bring about the "people plus one" view of digital transformation. Whether that person is in a call center, is a charge nurse, or someone in supply chain, organizations can now take this intelligence and embed it into a workflow. For example, with AI assistance patient calls can be more effectively routed to the appropriate agents, or the automation of data entry activities can allow more time for a nurse to have engaging and meaningful interactions with patients.
The four data-led tenets that lead to transformation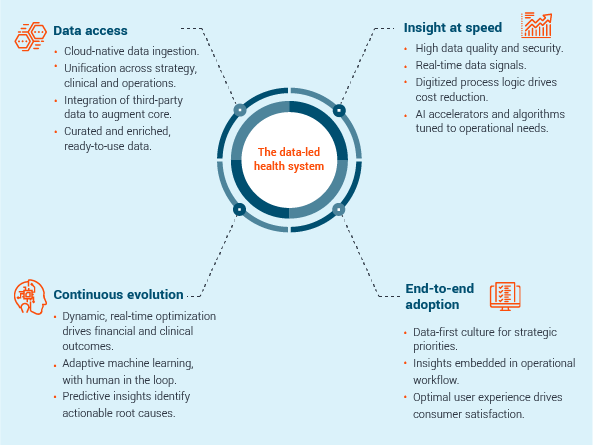 How EXL clients are becoming data-led organizations
EXL's most successful clients are using these four tenets to implement digital transformation at the highest level. They have built an intelligence layer around their experiences. They measure all the ways that people interact with their organization. They determine what is a good experience, where an experience or process is lacking, where there are revenue opportunities, and where there are access issues. The results are reduced costs and higher satisfaction for employees, members, and providers.
 

Case Study: Healthcare provider HCC coding issue
A healthcare organization had a significant issue with its HCC coding, a classic example of staff performing coding without any real-time assistance or seeing the value in the data. The EXL Health team used a data-led approach to not only improve HCC coding, but also identify and prioritize opportunities to improve patient care and the provider's bottom line.
By the end of this project, the provider had significant improvement in their HCC coding and risk adjustment factor. They achieved $10M in shared savings in year one. Over $33M in savings was achieved across four years. The provider had 10 times return on investment and the elimination of penalties.
 

Data at the core
Data is at the very core of healthcare operations. Twenty years ago, the primary concern about data was security and privacy. Today, data is an essential element of any successful healthcare organization. Every single provider note, every single keystroke that gets input on a clinical or operational system feeds this data loop. Forward-thinking organizations will see data as an asset, the foundational structure of its digital transformation. They will strive to have end-to-end clean, usable, and accessible data that is trusted through the organization.