Amplifying your medicare sales
We help you compete & grow by amplifying your medicare sales
With 10,000 baby boomers aging into Medicare range each day, Medicare enrollment has almost doubled within the last decade. In addition, the annual margins in the Medicare Advantage market were double the margins of individual and group markets. All these factors have made the Medicare Advantage market very attractive for existing players as well as investor-funded new market entrants. The number of plans available to Medicare beneficiaries to choose from has increased as well.
More than ever, the current environment presents strong competition and great opportunity of growth for health plans across the United States. The impact from the pandemic has accelerated the need to improve digital enrollment capabilities. In order to survive and win in this market, health plans will need to have the tools and capabilities that can amplify their reach to more potential members in a faster and more efficient manner.
EXL health medicare sales offering
EXL Health's Medicare Sales solution enables health plans to compete and grow their Medicare business by amplifying their Medicare sales. By leveraging EXL Health's analytics-driven digital solutions, clients can enable a digital Medicare Sales ecosystem that can:
Drive intelligent, region-based micro segmentation with market and plan competition analysis using industry data sets
Deliver the right message to the right audience through the right channel for effective lead generation
Make it easy and attractive for agents & brokers to sell your solutions using broker and member mobile apps
Accelerate and streamline sales with digital member and broker ecosystem
Influence and accelerate buying journey with seminar and event support
Achieve seamless, contactless, digital engagement between member, agent, you and the health plan
Improve Medicare sales throughput and increase retention
Enhance Sales Monitoring & Channel Performance Management
The right audience at the right time
"T65" (Turning 65) Special/Initial enrollment audiences respond 16X higher than 65+ broad target and 5X higher than annual/open enrollment period response rates.
Transform lead generation, enrollment and retention
EXL Health's Medicare Sales solutions is an end-to-end portfolio solution that optimizes sales across the sales value chain.
Leads
18%
Year-over-year increase in leads generated
Enrollment
15%
Year-over-year increase in enrollment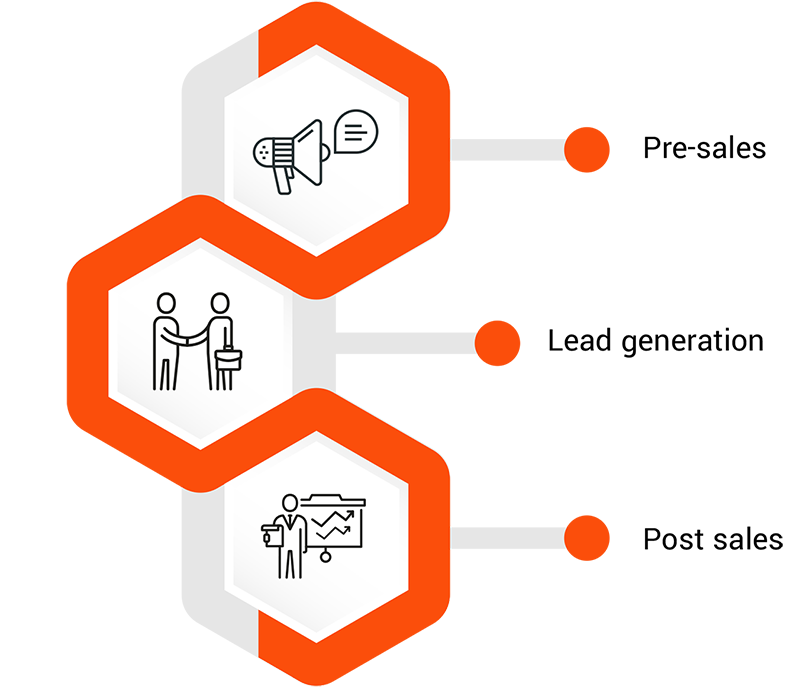 Intelligence-driven digital approach
Reaching and engaging seniors in a contactless safe setting, with ease-ofselling for brokers, helps achieve desired loyalty for health plans. The EXL Health solution components listed below enable exactly that.
Market segmentation for acquisition & retention is a consumer data and analytics-driven approach that uses personas to go beyond traditional segmentation that includes demographic, geographic, or socio-economic factors.
Opti-channel marketing reaches prospects online with the right message for better engagement and lead conversion.
Direct to agent and EXL lead connector is a low-cost turn-key solution that increases lead generation, enrollment and retention with a multi-channel engagement approach for the T65 audience to retain and convert commercial members in MA plans.
EXL lead engager is an efficient engagement mobile app that connects leads and prospects with agents and health plan in a contactless manner.
Seminar lead generation tool allows lead generation through conducting physical/ online seminars.
Retail event management tool is a one-stop solution for managing retail events in seamless manner.
Health Risk Assessment (HRA) services provides a comprehensive suite of services for health plans to securely enroll members, improve member engagement, increase care coordination, and diminish cancellation rates.
Sales monitoring & CHANNEL performance tracking allows visibility into sales operations, enrollment and commission tracking by geography, channel and brokers. The solution provides ability to measure enrollment effectiveness, as well as monitor and forecast sales against targets.
Improved outcomes
This modular, end-to-end digital approach to Medicare sales has enabled health plans to: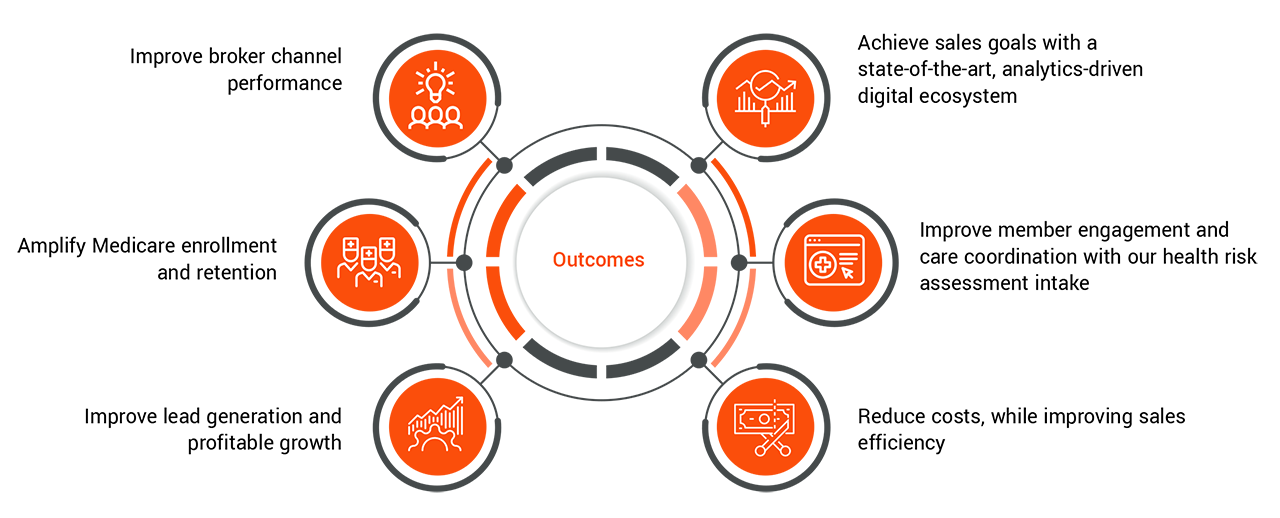 We help you compete and grow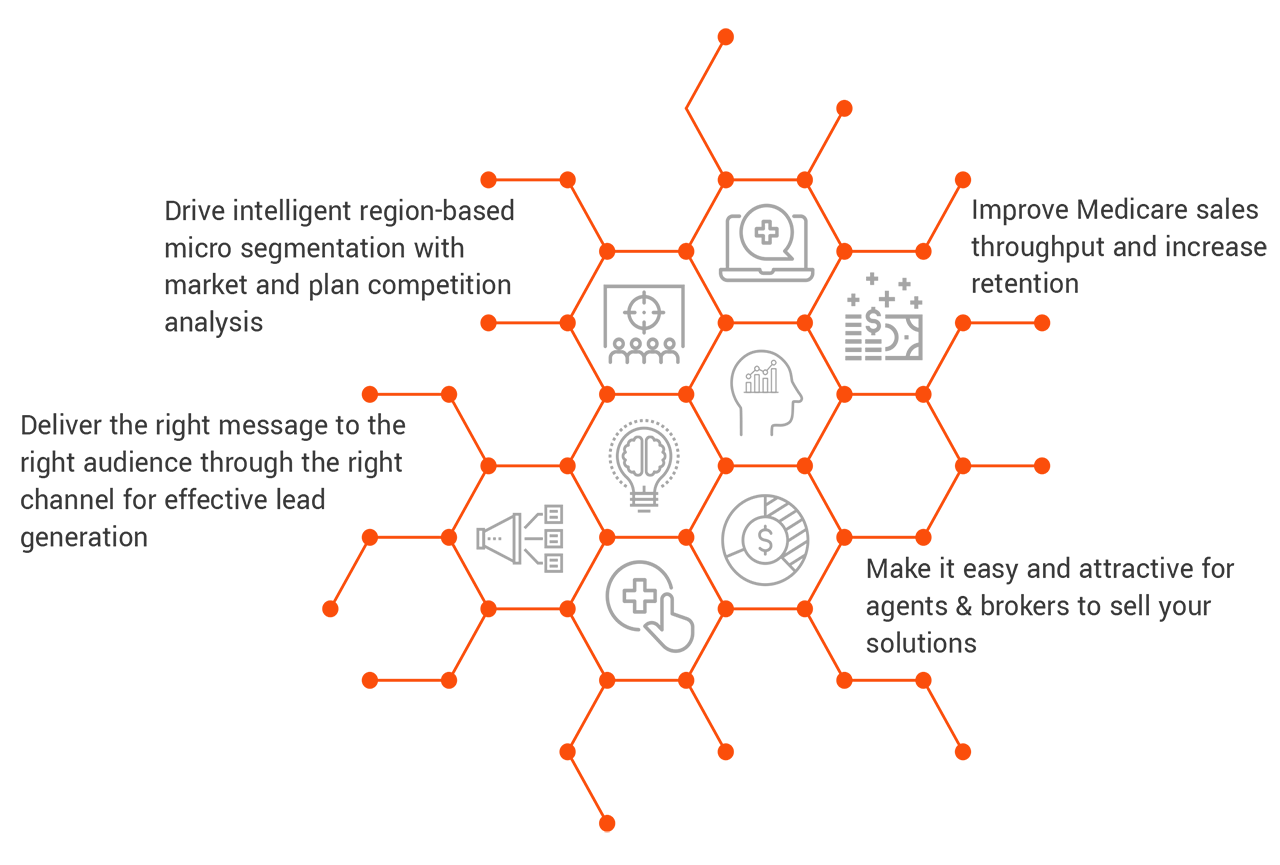 Why EXL Health?
At EXL Health, we are committed to a true partnership with our clients. We are passionate about your success. We take a client centric, collaborative approach to every engagement. We combine deep domain expertise with analytic insights and technology-enabled services to transform how care is delivered, managed and paid. Leveraging Human Ingenuity, we collaborate with our clients to solve complex problems and enhance their performance with nimble, scalable solutions. With data on more than 260 million lives, we work with hundreds of organizations across the healthcare ecosystem.