Benchmarking
Together, we will do this
Leverage data to improve business, clinical, and financial results
Healthcare organizations need to continuously measure to understand where their business issues are, the risks that may impact performance and how to improve. To make strategic decisions and allocate resources, organizations need to effectively use benchmark data to shift from a qualitative risk assessment to a quantitative approach. EXL Health's deep data expertise, significant data assets, volume and variety of benchmark data can help organizations get a complete view, so they can quickly and confidently manage specific risks to deliver value and enhance performance.
With our benchmark data you can easily analyze:
Health economics research outcomes.
Geographical variation in cost, utilization, practice patterns, and other trends.
Risk profile of members in value-based contracts.
Disease prevalence.
Health inequalities.
Social determinants of health and more…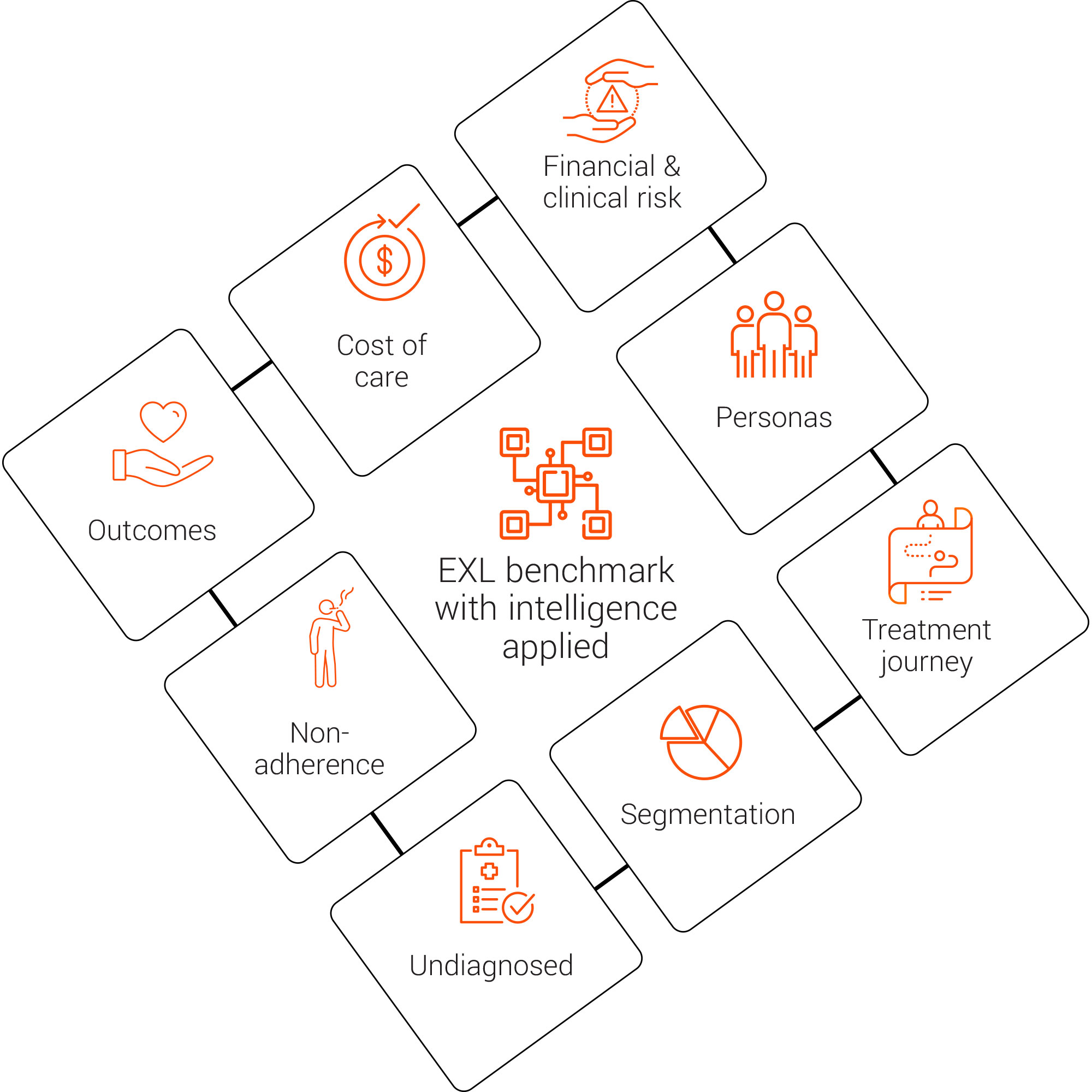 Data & analytics driven intelligence
Our benchmark database is based on information from more than 100 million members and includes 1 billion medical claims, 1.3 billion pharmacy claims, as well as demographic and socio-economic information.
Using this data, clients can view:
Longitudinal rich data assets.
360-degree view of members, providers & claims.
Commercial, Medicare & Medicaid population experience.
US representative data.
Adjustment for risk, age, gender, geography, industries and other business needs.
Information derived from 100 million+ lives.
Reports via flexible & modern delivery mechanisms.
Data to dig deeper to analyze across various dimensions.
The US healthcare market continues its march toward value-based transformation. Organizations need assets to support both strategic and tactical needs, and our benchmark solution does exactly that.
Expertise in data is core to excellence in analytics. Rigorous data quality practices assure efficiency and availability of data for use in developing analytic models, designing programs, and delivering results. EXL Health's ability to integrate heterogeneous data sets enables greater versatility in addressing today's business challenges. In addition to managing disparate data at scale, EXL Health has developed normative and non-normative benchmarks used by clients to identify and remediate unwarranted variation, a critical factor to optimizing results and reducing healthcare waste.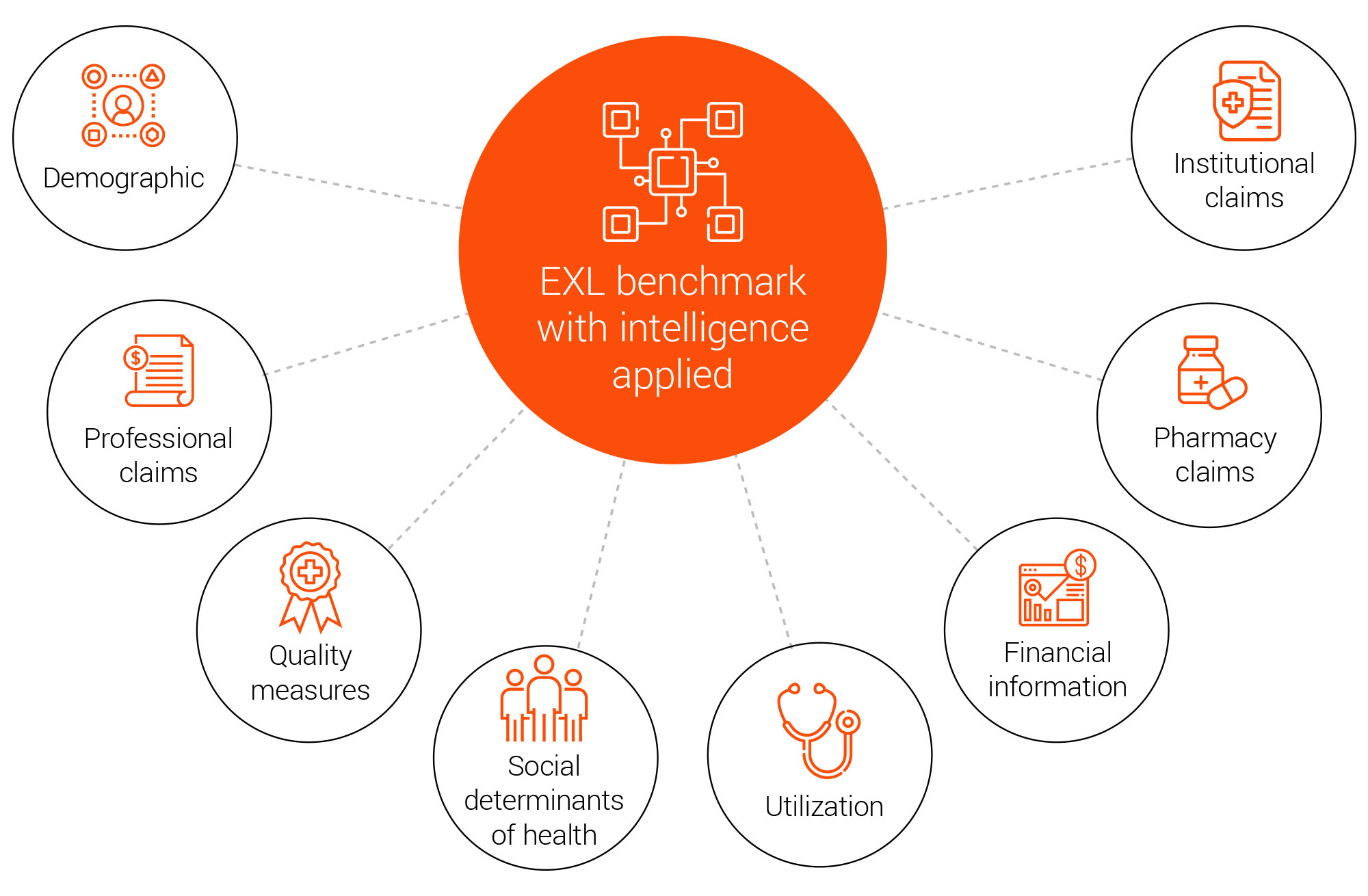 We deliver our benchmark data in a way that maximizes ease of use:
Access to the data discovery environment.
Generate reports and insights to compare, measure, and monitor performance.
Create custom cohorts for deep-dive analysis such as patient-flow analytics.
Integrate data into your existing systems with an API connection or file exchange.
Enable normative or non-normative benchmarks.
Benchmark components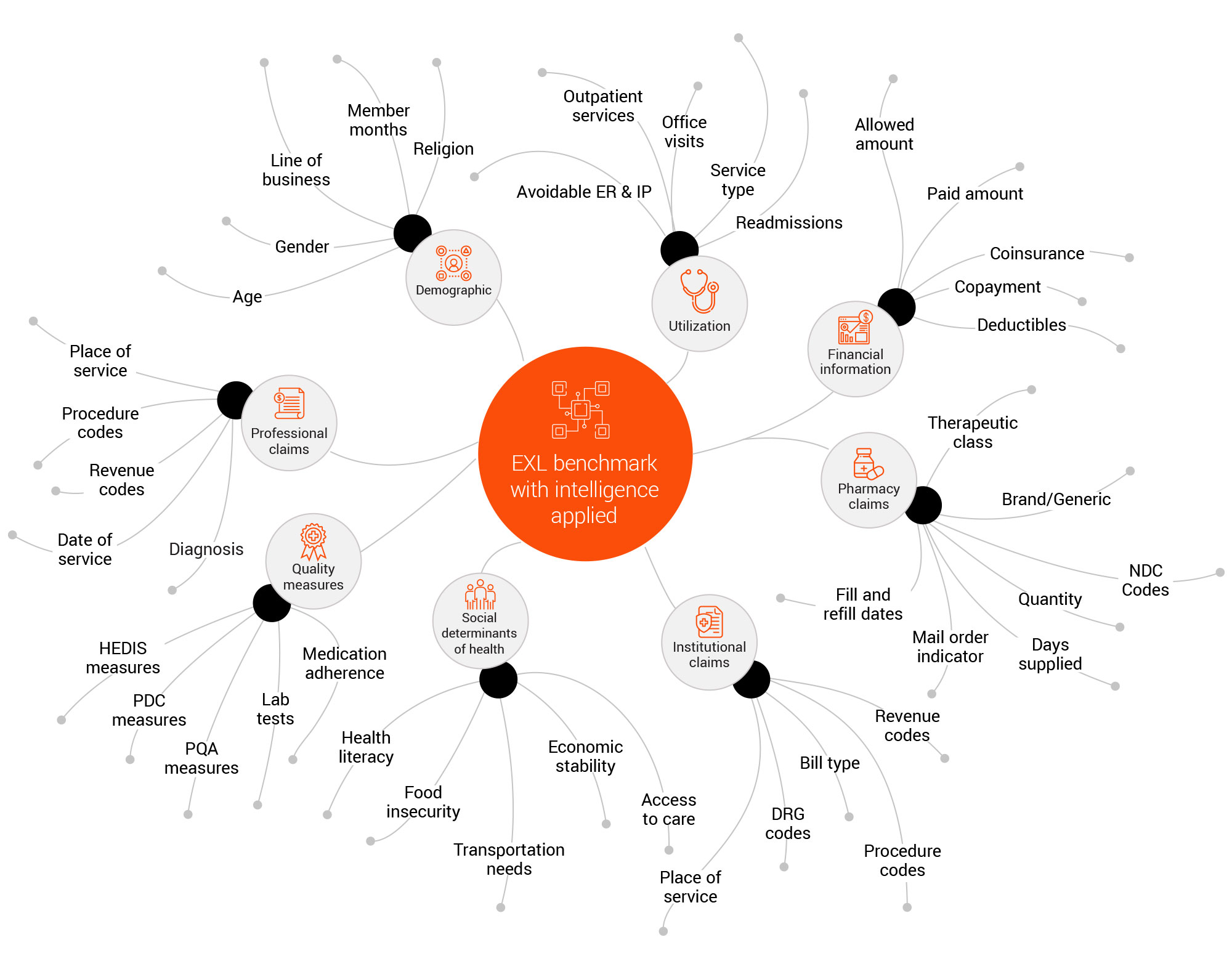 EXL turns data into an asset
EXL leverages data, analytics, and domain expertise to deliver meaningful and real results.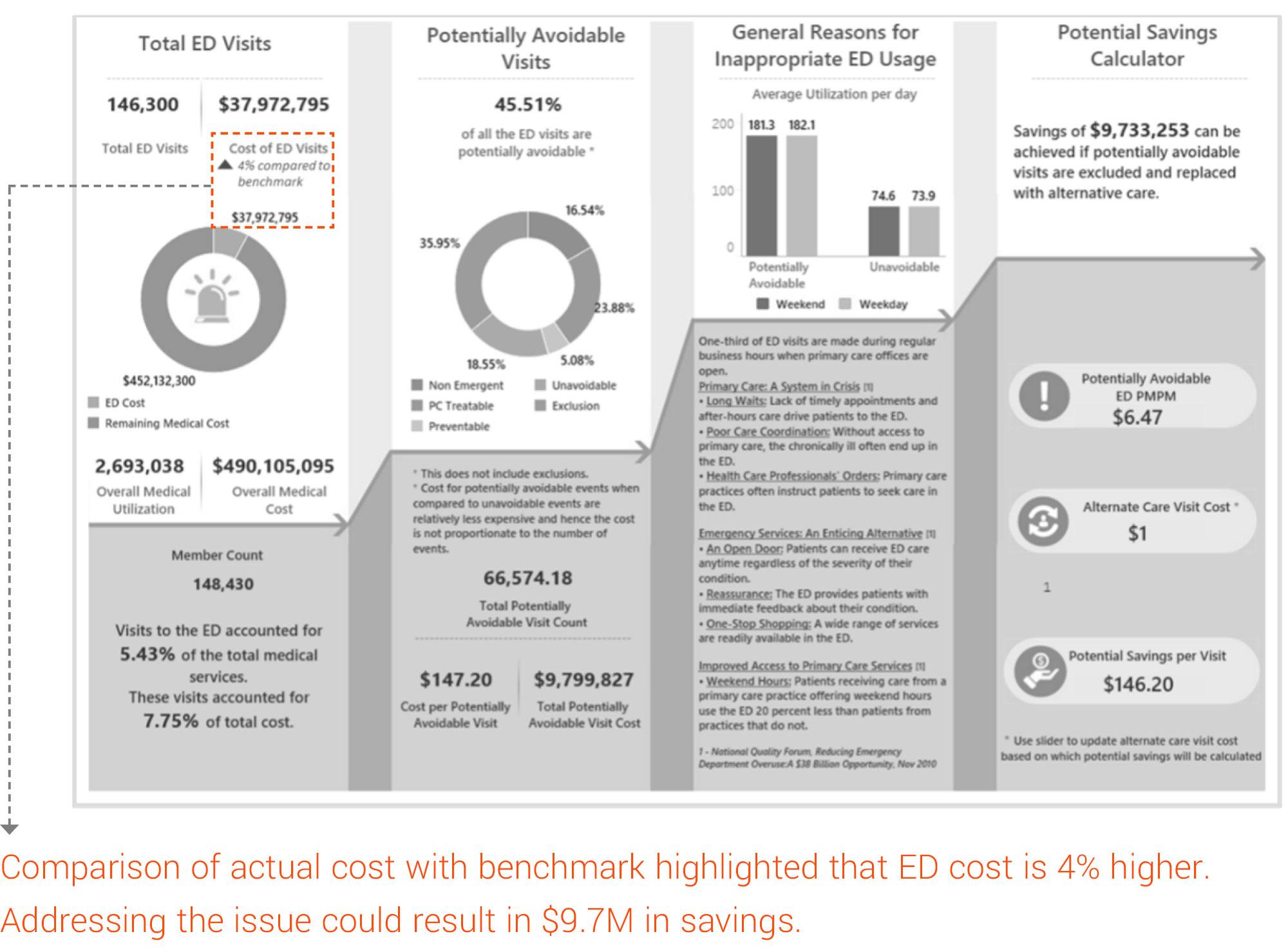 Why EXL Health?
At EXL Health, we seek to solve complex client problems by leveraging our significant data assets to inform client strategy, facilitate optimal data environments, and offer data management and analytics solutions. We give you the power to dig deeper and analyze trends against the national benchmark.
Processing 27TB of data each month, we help clients transform data into meaningful, usable metrics. The data is representative of all US states, and the information provided by the database is detailed and comprehensive. It is clearly structured into different levels, such as enrollment information, medical, and pharmacy claims for all the members. All the trends are validated using a rigorous methodology that combines empirical evidence with literature review. We share rigorous methodology and documentation to ensure you and your clients feel comfortable driving strategic decisions using our benchmark.