Enabling Real Time Insurance Verification Solution Sheet
Real Time Insurance Verification provides continuous proof of insurance. This is an industry utility solving longstanding fundamental problems of COIs (Certificate of Insurance) being point-in-time vs. real time documents, process of managing COIs is inefficient and costly for all stakeholders – Requestors, Insureds, Brokers and Providers and it is difficult to maintain compliance between renewals. EXL and Certificial have partnered to provide real-time certificate of insurance issuance and compliance monitoring.
Overview
Real Time Insurance Verification combines EXL's Xtrakto.AI™ and Certificial's platform to create an eco-system between Carrier/Brokers and Certificate holders to exchange real time coverage data and continuous monitoring. Real Time Insurance Verification combines EXL's deep domain capabilities and pre-trained AI/ML based models to extract data from unstructured | semistructured and structured inputs to create digital requests in Certificial enabling issuance, continuous coverage monitoring and compliance management.
Benefits include:
Pre-trained AI/ML models to extract data from COI requests
Seamless integration with Agency/ Policy management systems
Continuous improvement in models using process experts who feed accurate results into the model
Insurance Carriers | Brokers
Automated AI/ML based data extraction
Ability to connect to various data sources
Real time coverage information shared with Certificate holders automatically
Instant coverage deficiency identification against Certificate holders requirements
Expert in service across insurance products and processes
Requestors | Certificate holders
Continuous coverage monitoring
Instant coverage comparisons against coverage limits
Expert in service across procurement and compliance management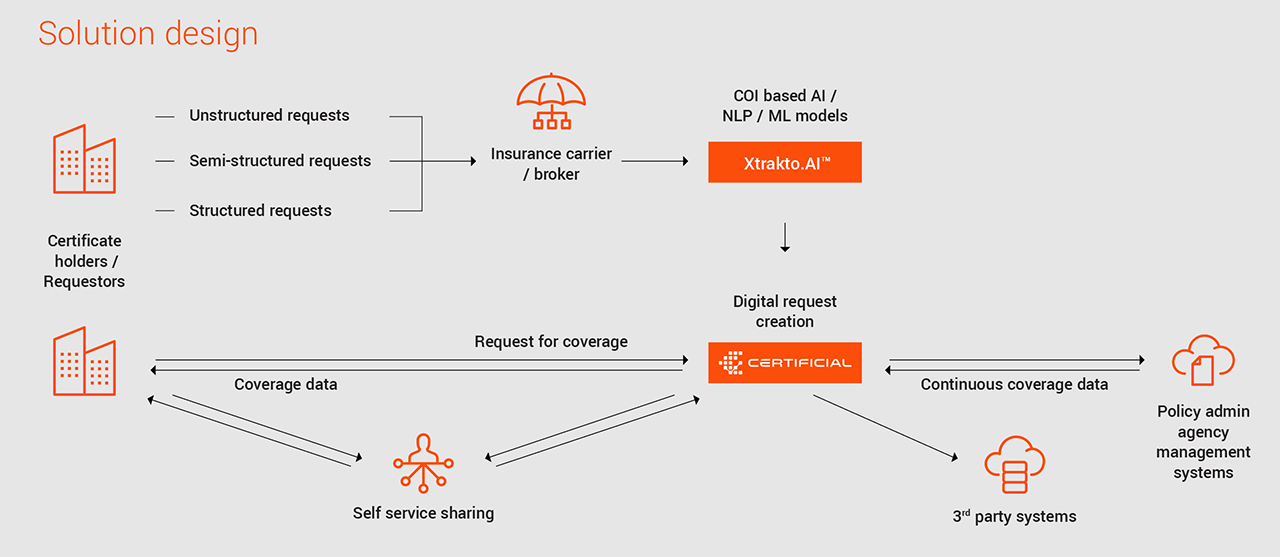 Solution benefits
Operational Efficiency
Xtrakto.AI™ AI/ML based data extraction models enables highly accurate data extraction from COI requests reducing significant bandwidth spent by employees in reviewing requirements from Certificate holders leading to lower cost of operations
Seamless ingestion of extraction data to create digital request in Certificial managed by insurance experts
Certificate of insurance issued through Certificial through seamless integration with Agency Management/Policy Management systems
Real time coverage information shared with Certificate holders including policy change/cancellation/expiration eliminating manual intervention further lowering operational cost
Enhanced experience
Increased self-service adoption
Access to real time coverage information eliminating the need for sending multiple requests seeking certificate of insurance
Quality improvement
Reduction in errors owing to automated data extraction and sharing coverage information directly using Policy management/Agency management systems.
50%+
Reduction in cost of operations
5-10%
Reduction in error rate
Increased
Self service & customer experience
Key differentiators
EXL's AI/ML based pre-trained COI extraction models with ease integration with intake channels
Certificial's integration with Policy/ Agency management systems providing ability to share real time coverage data between all stakeholders
Built in Compliance management for continuous monitoring of coverages on Certificial