EXL Health clinical informatics
Together, we will do this
Derive meaningful clinical insights from healthcare data to improve outcomes
Healthcare data is increasingly difficult to analyze. Its complex underlying taxonomy of codes and clinical criteria make it difficult to understand the data, how to use it, and maintain current definitions. In addition, many organizations are stretched for clinical resources, making it difficult to move critical initiatives ahead at the desired pace and accuracy.
As healthcare organizations move toward value-based care, they need to manage key clinical KPIs such as gaps in care, cost and utilization by service areas, disease flags, etc., more efficiently and accurately. At EXL Health, we make it easier for you to drive meaningful KPIs.
With our clinical informatics expertise and robust clinical library based on industry guidelines, we accelerate your speed to value for:
Health economics and outcomes research
Interoperability readiness
Disease progression analysis
COVID-19 long-term impacts
Total cost of care analysis
Treatment effectiveness
Measurement of compliance
Detailed cost and utilization analysis
Population health analytics
Disease management identification
Behavioral health
Medication adherence
Incentive design
…and the list goes on…
With EXL Health, you get a comprehensive, ready-to-go clinical library that is always up to date, as well access to industry-leading clinical informatics experts to support your specific initiatives.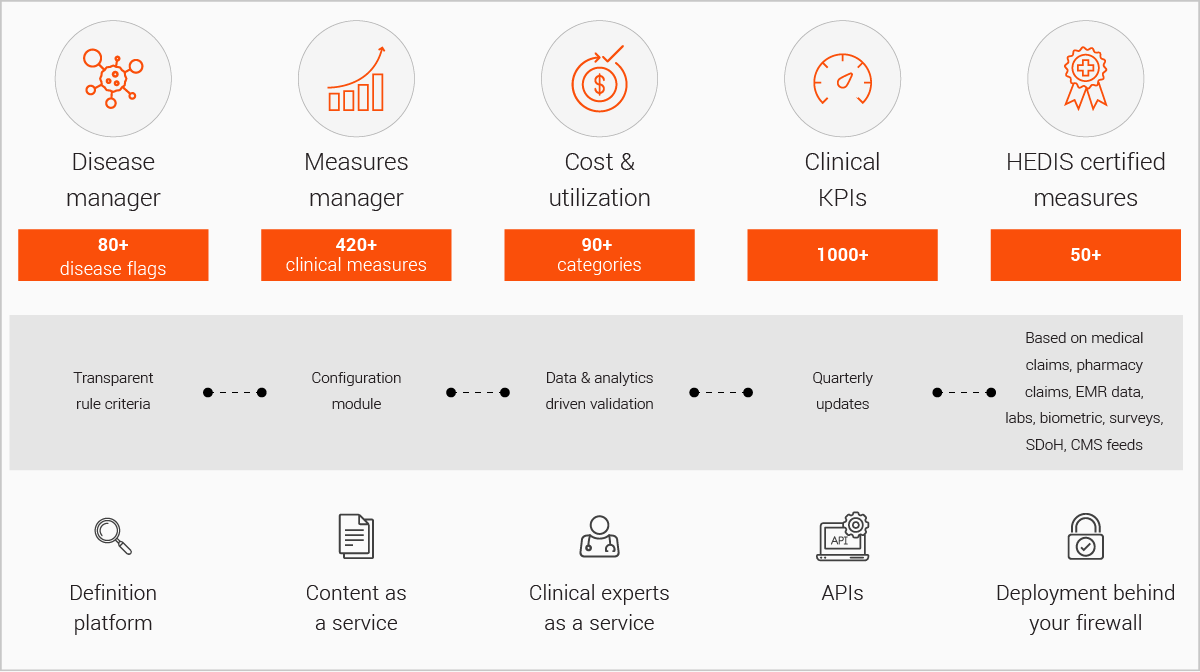 At EXL Health:
We license our library as-is or tailor it to your specific needs.
We offer a transparent solution with no need to maintain complex clinical algorithms.
We make it easier to meet compliance for different regulatory programs.
We realize the needs of every client are different, so we design clinical criteria specific to helping you achieve your desired business outcomes.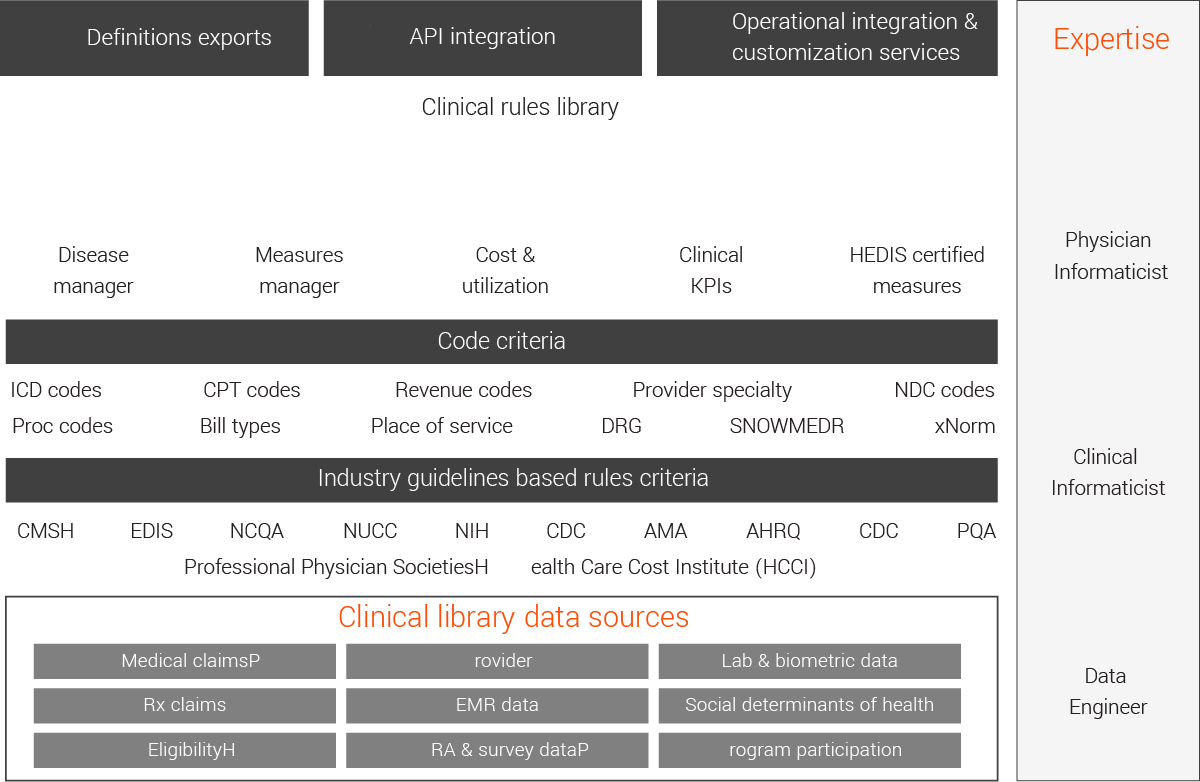 Rigorous clinical methodologies
Evidenced-based standards - AMA, NCQA, NUCC, CMS and more
Translate evidenced-based standards into clinical concepts
Build clinical concepts using industry standard terminologies
Test concepts with a de-identified data set
Understand prevalence prior to providing output to clients
Implementation per client's need
Continuous reevaluation & routine updates, based on codes & evidence updates
The right team with the right approach
In addition to our library, EXL Health's deep clinical expertise includes a certified team of nurses, clinical coders, data analysts and physicians. Their knowledge of industry operations, regulations and standards brings together the right team with the exact skill set needed for your requirements.
Right-sized approach aligns staffing needs to meet client requirements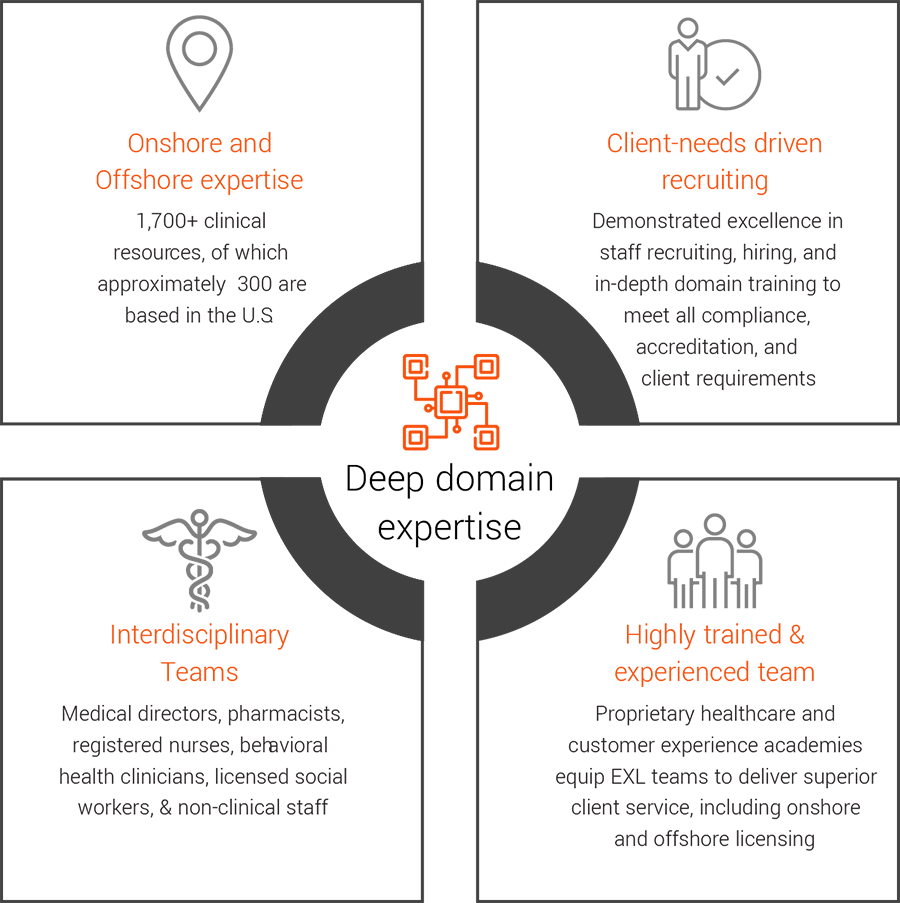 EXL helps its clients drive interoperability excellence by providing clinical and technology services for interoperability mapping and API implementation.
EXL's clinical expertise drives interoperability excellence
EXL scope in Interoperability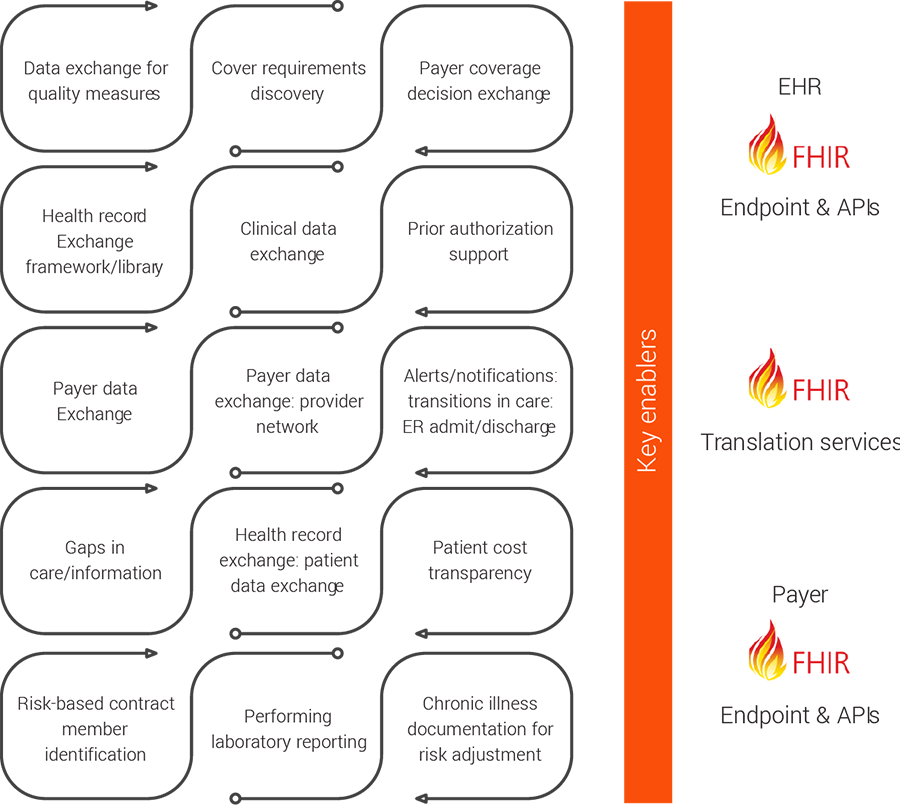 Why EXL Health?
With the variety and complexity growing of healthcare data growing daily, the industry moving toward value-based care, and the need for evidence-based care integrations, healthcare organizations are increasingly focusing on augmenting their current offerings with clinical intelligence. EXL Health can help drive meaningful outcomes through evidence-based, data-driven guidelines and our deep clinical expertise. Together, we will do this.