EXL Health Clinical Services
We are here for you in your pursuit of healthcare excellence
Healthcare clinical leaders face an evolving landscape that is creating significant pressures to the cost, quality and utilization outcomes of their businesses - outcomes that make or break member and provider satisfaction, as well as bottom line results.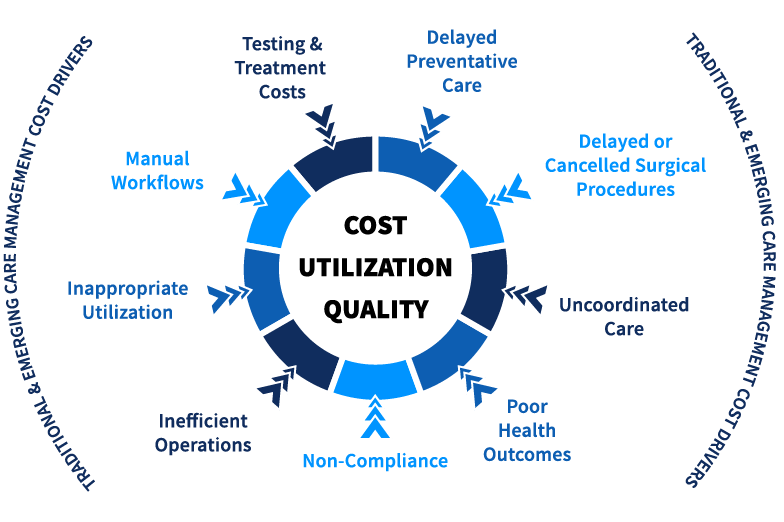 A remarkably different approach
EXL Health's Clinical Services organization embodies human ingenuity to propel the clinical performance of the customers we serve by solving their most complex problems.
We achieve this by looking and going deeper within clinical operations. Our care management and population health solutions drive healthcare excellence and deliver improvements across cost, quality and utilization.
Introducing EXL Health clinical solutions
EXL Health's care management solutions support an integrated model to achieving efficient, effective and compliant operations across case management, utilization management and population health.
Clients gain tremendous value when partnering with us for robust clinical solutions. We work with each client to deeply understand business needs and design a client-centric approach to meet them where they are on their clinical transformation journey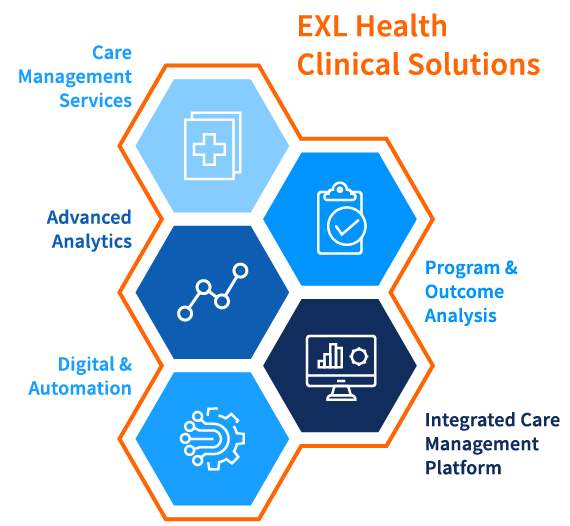 Care Management Services
End-to-end and accredited utilization and case management services across Medicare, Commercial, Medicaid and Health Exchange, ensure the effective use and delivery of healthcare resources, quality outcomes, and help appropriately manage costs. These services are enabled by technology, informed by analytics and driven by digital automation for optimal outcomes.
Case management
Services Delivered Across Medical & Behavioral
Member Screening/Identification
Member Outreach & Program Enrollment
Clinical & Risk Assessments & Surveys
Member-Centric Care Planning
Adherence & Intervention Management
End-to-End Care Coordination
Community, Member & Provider Collaboration
Program Analysis and Reporting
Integrated Population & Risk Analytics
Population & Risk Analysis
Emerging Risk Analytics
Impactability & Intervention Analytics
Social Determinants of Health Analytics
Provider Network Performance
Quality & Compliance
Value-based Benefit Design
Client defined Analytics as a Service
Utilization management
UM Services Delivered Across Medical, Behavioral & Pharmacy
Pre-authorization
Concurrent review
Post Service Clinical Claims Review
Peer-to-Peer Consultation
Network Steerage
Benefit and Eligibility Checking
Program Referrals
Quality & Audit
Appeals & Denials Management
Analytic Service
Pre-authorization list ROI analysis
Provider gold card status analysis
Population & Risk Analytics
Proprietary population and risk analytics are the foundation for delivering successful outcomes across case management and population health programs. Leveraging client data, along with our consumer data, our advanced analytics provide a comprehensive member view and deliver actionable insights into opportunities to impact member health, medical costs and quality outcomes.
Gain a holistic member view
Proactively identify members most in need of care
Prioritize member outreach and engagement based on impactability and intervenability
Engage with members using most effective methods and known preferences
Analytics-Enabled Care Management Platform
Our platform is a comprehensive and integrated care management platform for efficient and compliant processing of utilization management, case management, contact management, population health, and appeals and grievances. The platform can be used by clients to perform in-house care management services or, used by EXL Health to deliver our care management services to clients.

Digital Technologies & Automation
We are constantly innovating to deliver new and advanced digital solutions to transform clinical operations for our clients. We do this by leveraging cloud technologies, advanced analytics, and by embedding natural language processing (NLP), machine learning, conversational AI and robotics/automation into current workflows. EXL Health combines this approach with the deep domain knowledge of our techno-functional experts. Having the rich experience of working with numerous clients and technology partners, we are well positioned to drive significant value and business outcomes for Utilization Management and Case Management operations.
Our platform agnostic, highly modular digital solutions can be rapidly applied to deliver the following key benefits:
Reduce cost to serve
Reduce cycle time
Improve operational accuracies and efficiencies
Improve member/provider engagement and satisfaction
Global clinical domain expertise
We invest deeply in our talent pool of clinical team members in order to deliver high quality services to our clients. We employ professionals with experience and domain expertise, while augmenting tenure with industry-leading training and education.
EXL Health right-sizes our staffing approach to meet unique client requirements, while staying ahead of shifting needs in staffing models.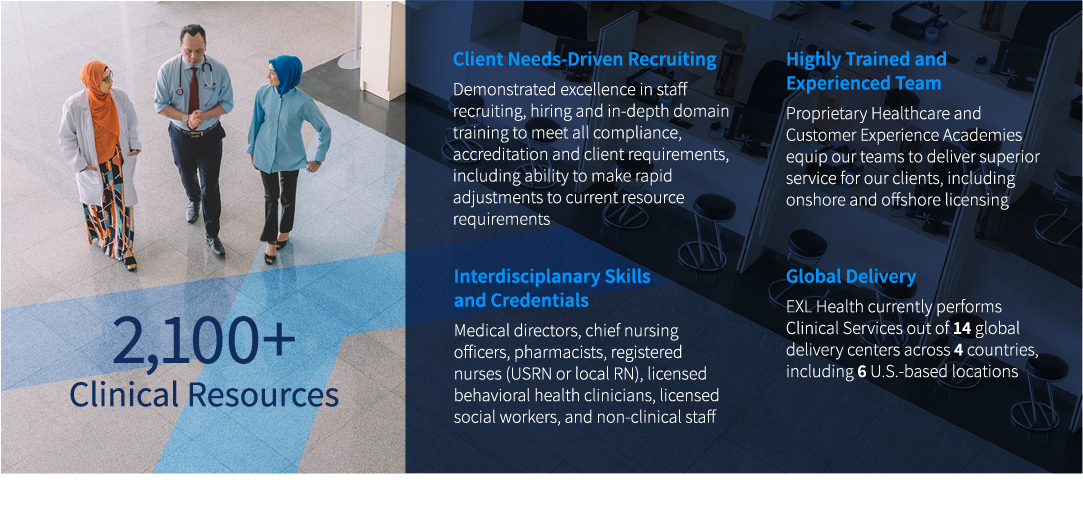 Highly flexibile delivery model
EXL Health offers a variety of delivery models, and will work with you to create an approach that meets you where you are on your transformation journey.
Full or partial delegation of services
Capacity/business process outsourcing services
Global delivery centers enable mix and match onshore/offshore/work from home models
"EXL is one of the very few players to have an automation and analytics enabled Clinical and Care Management solution."
Everest Group: Clinical and Care Management BPS Services - PEAK Matrix Assessment 2019
Compliance & accreditation
EXL Health brings a high level of rigor and discipline to our approach in order to maintain robust and comprehensive processes, policies and procedures that support the compliance and accreditation of all services delivered.