EXL Health economics outcomes research
EXL's Health economics outcomes research solution can help your health plan improve outcomes and reduce costs – and ultimately experience success in today's value-based world
The challenge
Healthcare plans are in a precarious position. Although growth opportunities loom, your payer organization must proceed with caution, responsibly managing costs while simultaneously producing the best outcomes for your members. In fact, this double-edged challenge to improve care results and reduce costs is taking center stage as the healthcare industry embraces value-based models, which tie payments to outcomes. To succeed under these models, payers need to access, utilize and apply health economics research, which includes clinical data, financial data, as well as real world evidence as applicable to provide insights on the connection between outcomes and costs.
The EXL solution
EXL Health provides everything your health plan needs to succeed, a robust solution for Health Economic and Outcomes Research (HEOR), along with in depth knowledge about therapies, devices, clinical care, and patient populations as well as robust data models with measurable outcomes supporting all these areas. All this intelligence helps your health plan reduce costs without compromising on care quality while also transforming your presence in an evolving, value-based healthcare environment.
EXL Health's domain knowledge is what makes the HEOR solution so effective. This unmatched intelligence combined with our multi-payer 360-degree longitudinal patient data, clinical measures libraries and data science expertise can empower your health plan to truly gain the insights required to produce the care results that lead to overall success in the value-based care environment. With our proprietary clinical algorithms, healthcare data model and analytics framework, robust benchmark, clinical library and evidencebased outcomes measures, your health plan can quickly garner much-needed results.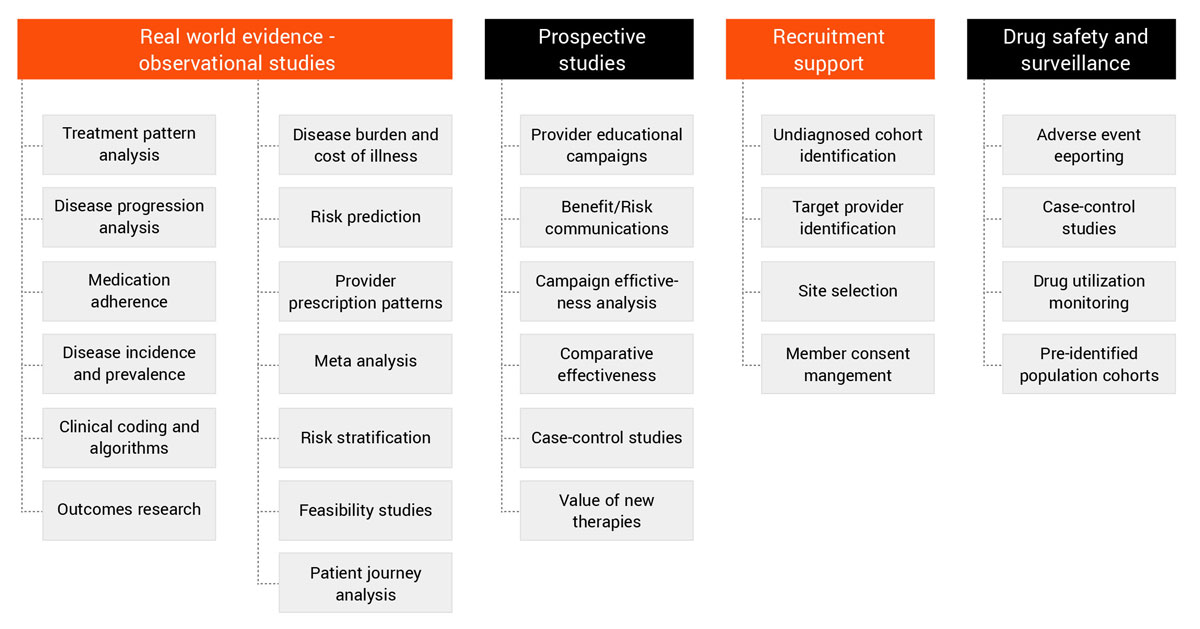 EXL HEOR solution enables health plans to experience speed to value by offering:
Proprietary benchmark data:
At EXL Health, we offer robust benchmark with applied intelligence, drawn from medical claims, prescription claims, enrollment and biometric sources. The database covers the complete claims experience for 20% of the insured patient population. EXL Health's ability to integrate heterogeneous data sets enables greater versatility in addressing today's business challenges. In addition to managing disparate data at scale, EXL Health has developed normative and non-normative benchmarks used by clients to identify and remediate unwarranted variation, a critical factor to optimizing results and reducing healthcare waste.
This data comes with:
Longitudinal rich data assets.
360-degree view of members, providers and claims.
 Commercial, Medicare and Medicaid population experience.
US representative data.
Adjustment for risk, age, gender, geography, industries and other business needs.
Information derived from 100 million+ lives.
 Data to dig deeper to analyze across various dimensions.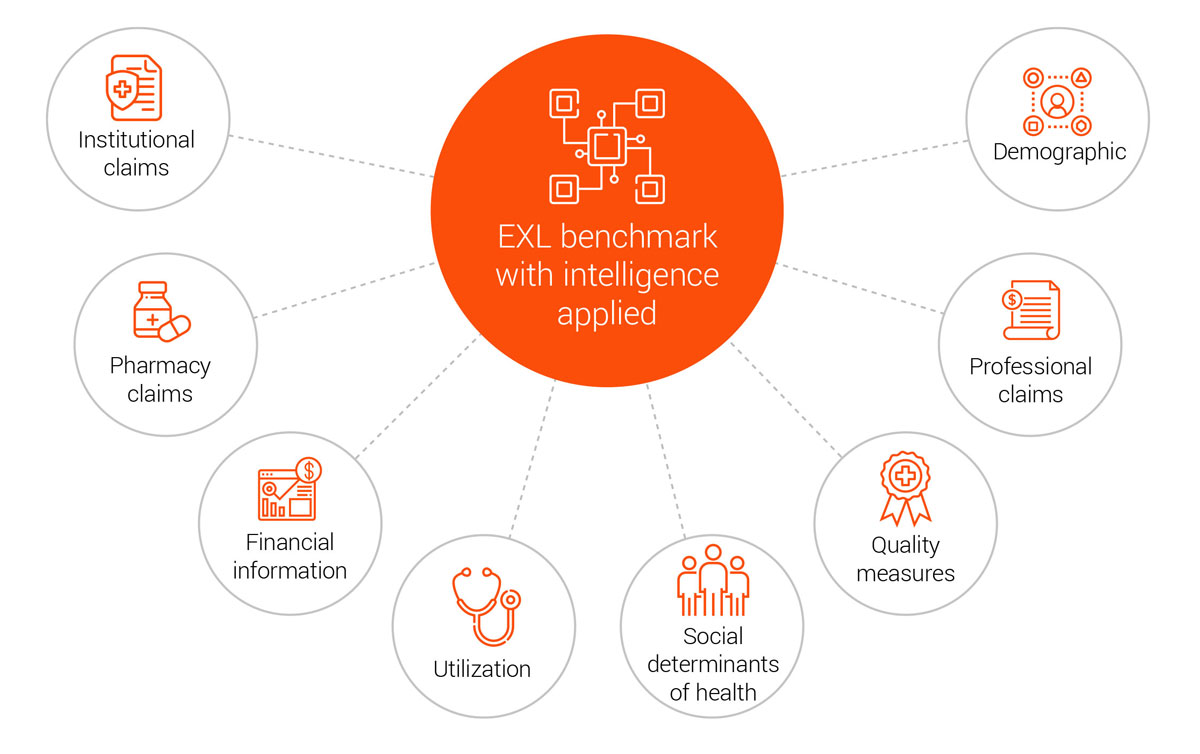 Benchmark components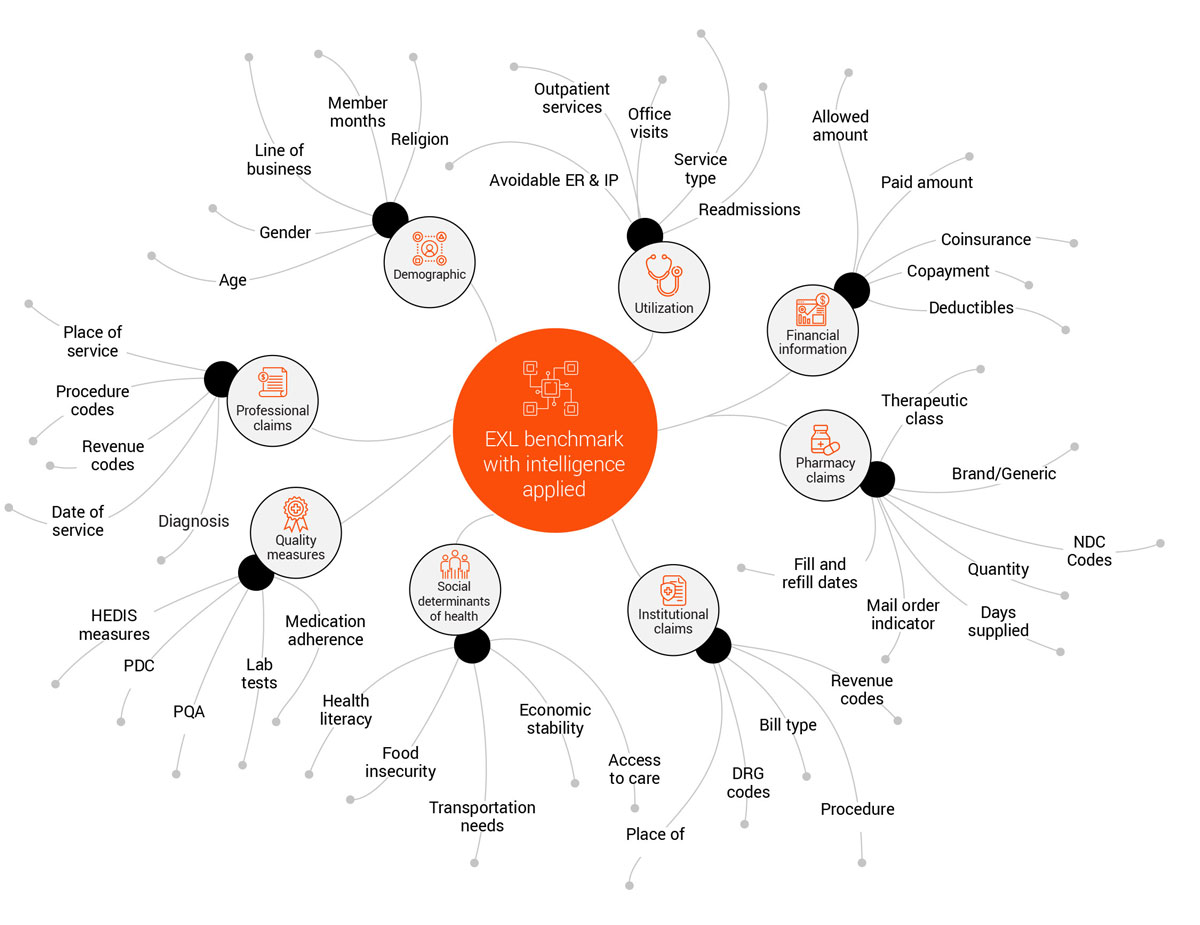 Clinical library:
As healthcare organizations perform outcomes research, they need to manage key clinical KPIs such as gaps in care, cost and utilization by service areas, disease flags, etc., more efficiently and accurately. At EXL Health, we make it easier for you to drive meaningful KPIs. With our clinical informatics expertise and robust clinical library based on industry guidelines, we accelerate your speed to value for health economics and outcomes research for specific cohorts, disease progression analysis, COVID-19 long-term impacts, total cost of care analysis, treatment effectiveness, measurement of compliance, cost and utilization analysis, and population health analytics. With EXL Health, you get a comprehensive, ready-to-go clinical library that is always up to date, as well as access to industry-leading clinical informatics experts to support your specific initiatives.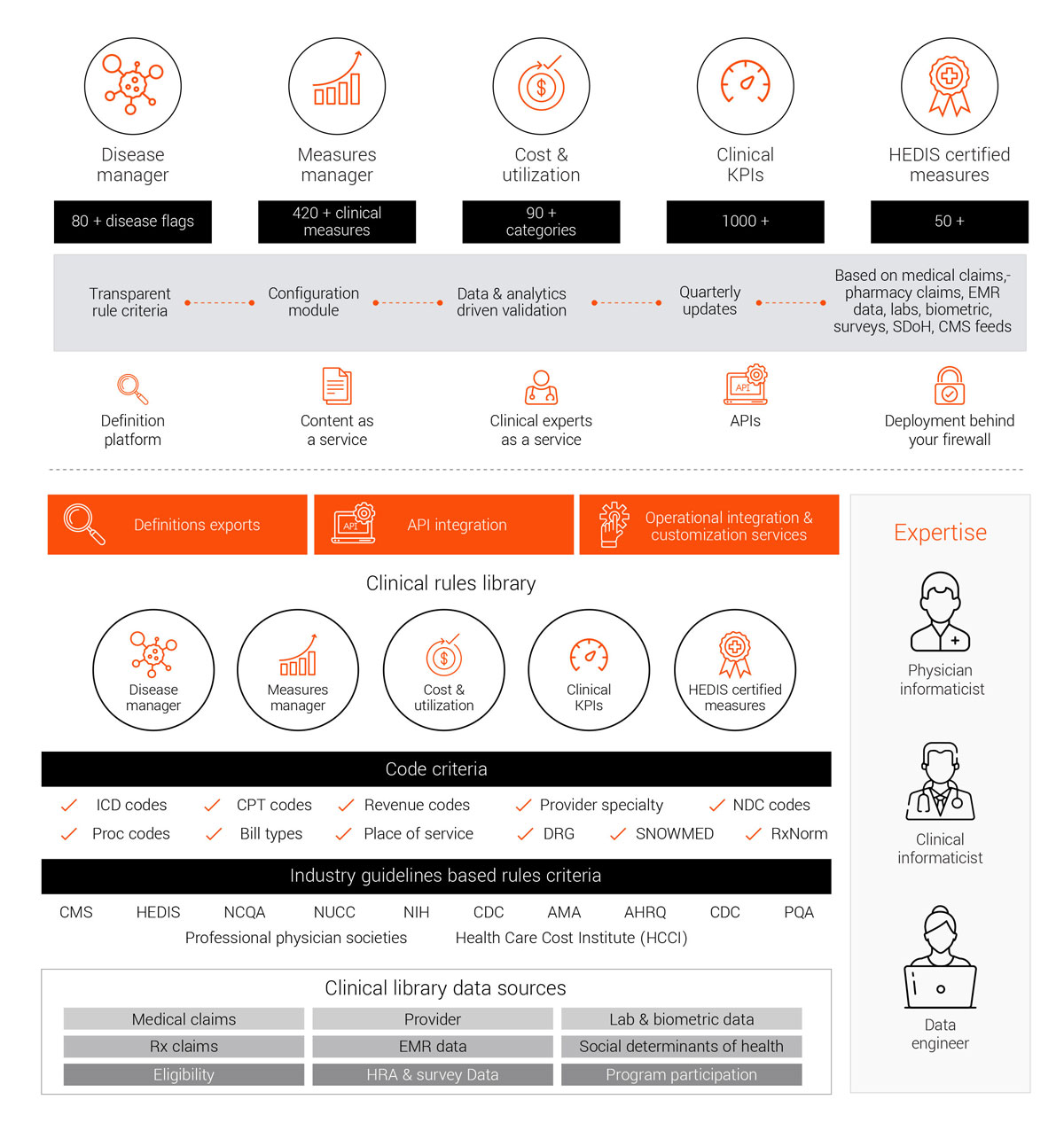 Advanced expertise:
EXL Health offers proven expertise in handling healthcare data at scale, driving data and analytics driven research with experienced data scientists.
Flexibility:
Our solution supports customized and ad-hoc analyses leveraging existing health plan investments.
Proven approach:
Our proven approach to execution across multiple stages such as feasibility, study design, preliminary analysis, analytics and visualization, and conclusion ensures speed to value to achieve desired outcomes.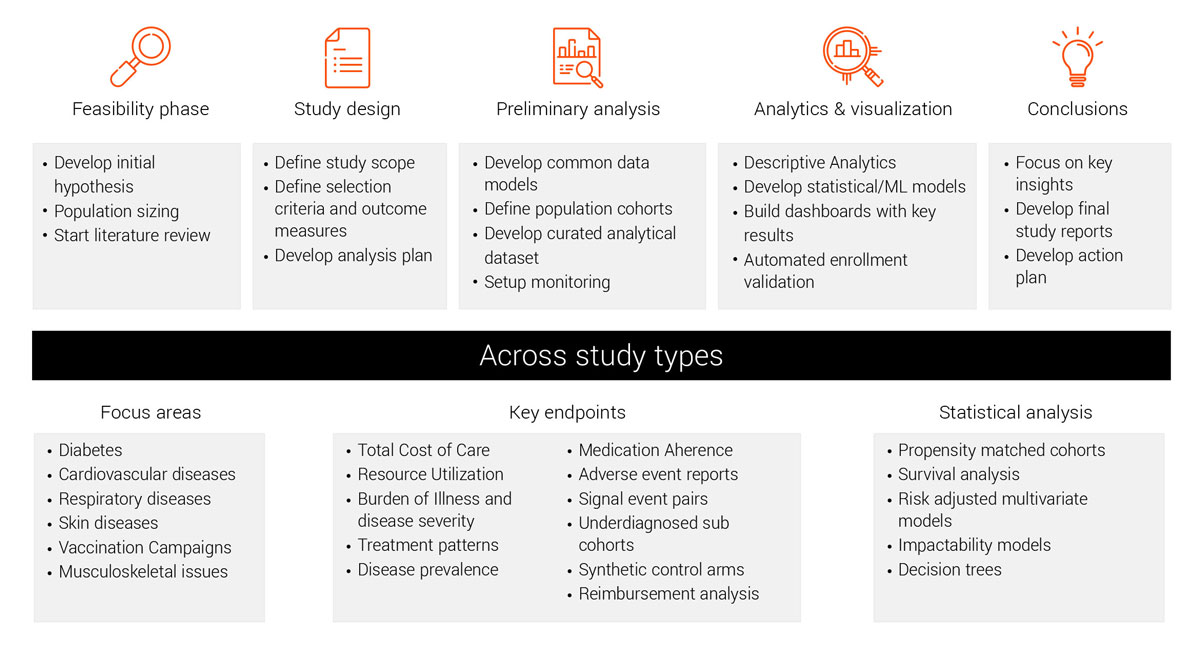 With EXL, clients can accelerate their health economics outcomes research at scale and drive outcomes using proven expertise and solution accelerators.
Why EXL Health?
At EXL Health, we are committed to a true partnership with our clients. We are passionate about your success. We take a client centric, collaborative approach to every engagement. We combine deep domain expertise with analytic insights and technologyenabled services to transform how care is delivered, managed and paid. Leveraging Human Ingenuity, we collaborate with our clients to solve complex problems and enhance their performance with nimble, scalable solutions. With data on more than 260 million lives, we work with hundreds of organizations across the healthcare ecosystem.