EXL health performance marketing services

EXL health performance marketing services
Unlock the potential of precision marketing
EXL health performance marketing services
Unlock the potential of precision marketing
We help health care companies unlock the potential of precision marketing. With Human Ingenuity, we look and go deeper to help solve health care companies' most pressing challenges.
The U.S. healthcare industry spends $30 billion a year on marketing. However, maximizing ROI from this spend can be challenging. Other obstacles include decreasing consumer attention due to becoming saturated with more marketing messages than ever before, and difficulty acquiring audiences due to the proliferation of marketing channels.
Health care marketers need a contemporary partner who will guide them to the right solutions to overcome these challenges. We have the data, capabilities and partnership model that will help you succeed.

Introducing EXL health performance marketing services
We are a precision Direct to consumer (DTC) agency powered by data, analytics and technology. This means: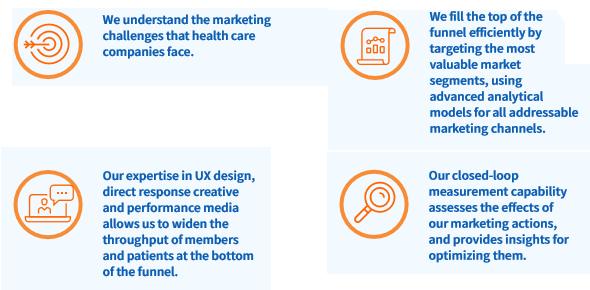 Our Solution: Opti-Channel Marketing
We go beyond multi- and omni-channel marketing to deliver opti-channel marketing that delivers the right message to the right audience through the right channel. Using health care benchmark data, we identify consumer personas and needs. Combining those personas with demographic and contact data, we determine which message will resonate best in which channel. This leads to greater marketing effectiveness and efficiency for our clients at any stage of the patient or member lifecycle.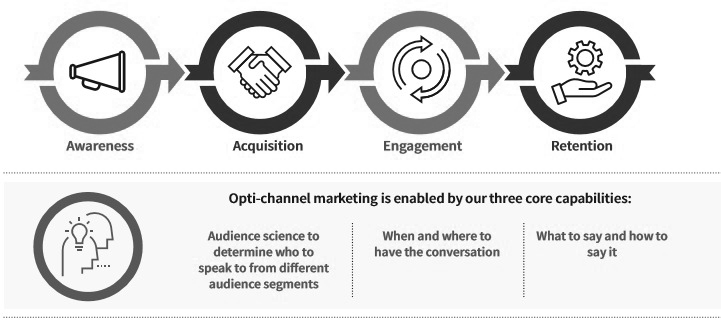 Sophisticated audience science capabilities


End-to-end marketing channel and media capabilities
We offer in-house expertise to plan, buy and execute in any marketing channel.
Owned: Websites and microsites, email marketing, organic social, outbound phone or SMS
Paid: Addressable TV and radio, programmatic display, paid search, paid social, direct mail


Innovative creative and experienced design solution: Opti-Channel marketing


Proven outcomes: human ingenuity at work
Here are some real-world examples of how our deep collaborative approach combines data, technology and domain expertise to deliver superior performance marketing solutions for our clients, helping enhance customer experiences and drive growth.
A leading U.S. life and health insurance provider wanted to make its dental insurance sales efforts more profitable. Through our precision targeting and lead generation, EXL Health:

A large health benefits provider needed a digitally driven health insurance distribution channel. Through digital acquisition and teleservices, EXL Health:

A leading field marketing organization for health insurance needed to acquire new independent agents to contract with and to ease their onboarding process. Leveraging its advanced digital and data capabilities, EXL Health:

Why partner with EXL health?
Six of the top 10 health plans, two of the top three pharmacy benefits managers and eight of the top 15 pharmaceutical companies partner with EXL Health.
We have unique experience in integrating health care analytics and marketing services. This enables us to deliver efficient and optimized results to all our clients and partners.
We are client-focused. We listen to you and take the time to understand your needs. We then rapidly deliver flexible and configurable solutions using a proven framework.
Our collaborative approach facilitates clear, consistent communications throughout our partnership, including an ongoing feedback loop, to adjust to your changing needs.
Our team quickly adapts new techniques and technologies to meet your specific needs, accelerate your transformation, and support your continued success.
This approach results in much more than a transaction. Through it, we establish and nurture long-term, forward-thinking business relationships - true partnerships.
Human ingenuity is the catalyst with which we solve your complex problems. "Together, We Will Do This," is our passion, our commitment and our promise to do so. We look forward to beginning our journey with you to develop a best-in-class performance marketing solution.