EXL Technology services
As data continues to grow, organizations are finding it advisable to migrate to the cloud.
A data-driven world
Technology is woven into the fabric of the healthcare industry like never before. Consider the following:
Consumer focused care is in demand

Consumers expect healthcare organizations to rely on data and technology to tailor services to meet their individual needs – and to engage with them on their own terms. In addition, consumers are increasingly embracing digital tools, technology, and apps to measure and manage their own care.
Transitioning to the cloud is a top priority

As data continues to grow, organizations are finding it advisable to migrate to the cloud. To do so successfully, healthcare organizations need to collaborate with industry experts as they train their own talent to identify the right technology options, learn the ins-and-outs of these tools and leverage these solutions at scale.
Interoperability has moved from "nice to have" to "must have."
The focus on data sharing has never been more urgent. In fact, to comply with regulations emanating from the 21st Century Cures Act, healthcare organizations must share information with patients and with each other.
Gaining true insights by leveraging a wealth of data in an efficient manner is a key element of success.
With an ever-increasing volume of data, identifying relevant information and garnering valuable insights relies having on the right technology and analytics tools.As data continues to grow, organizations are finding it advisable to migrate to the cloud.
What does this all mean? Healthcare organizations are under unrelenting pressure to:
Support consumer-centric valuebased care
Enhance member and provider satisfaction
Create and manage interoperable systems
Leverage next generation digital technologies
Transition to cloud-based systems
Drive data driven intelligence through technology enablement
Comply with regulatory requirements
Support automation and transformation acceleration
Improve operational efficiency and reduce costs
Store, process and share data
Experiencing the results that matter
EXL Health has worked with a variety of healthcare organizations to support the technology initiatives needed to survive –and thrive—in today's complex healthcare environment. Here are just a few examples illustrating how EXL has assisted clients with its technology and healthcare expertise:
Helped a healthcare organization automate its patient services platform, making it possible to deliver personalized SMS, email, letter, call messages and merchandise to patients.
Outcome: The healthcare organization is now able to educate patients about their medical conditions via a multitude of customizable formats, which has resulted in improved patient satisfaction and enhanced clinical care achieved through better medication adherence.
Partnered with a healthcare organization to transform from paper to electronic data interchange claims processing.
Outcome: This initiative made it possible to eliminate manual claims processing, effectively manage an ever-growing volume of claims, reduce turnaround times by four-to-six days, and significantly decrease overall costs.
Worked with an organization to automate a repricing of reworked claims, thereby reducing manual intervention.
Outcome: The initiative resulted in the elimination of manual claims processing as well as the reduction of vendor costs by 90%. In addition, the program made it possible to eliminate a backlog of 79,342 claims in just two months instead of a year while empowering the organization to move from handing 4, 000 reworked claims per month to 25,000 per month.
Facilitated migration to the cloud for several healthcare organizations
Outcome: This program reduced cloud migration costs by about 50% and turnaround time and complexity by about 60%.
Capability matrix
We work with variety of Programming languages, frameworks, tools and Cloud service providers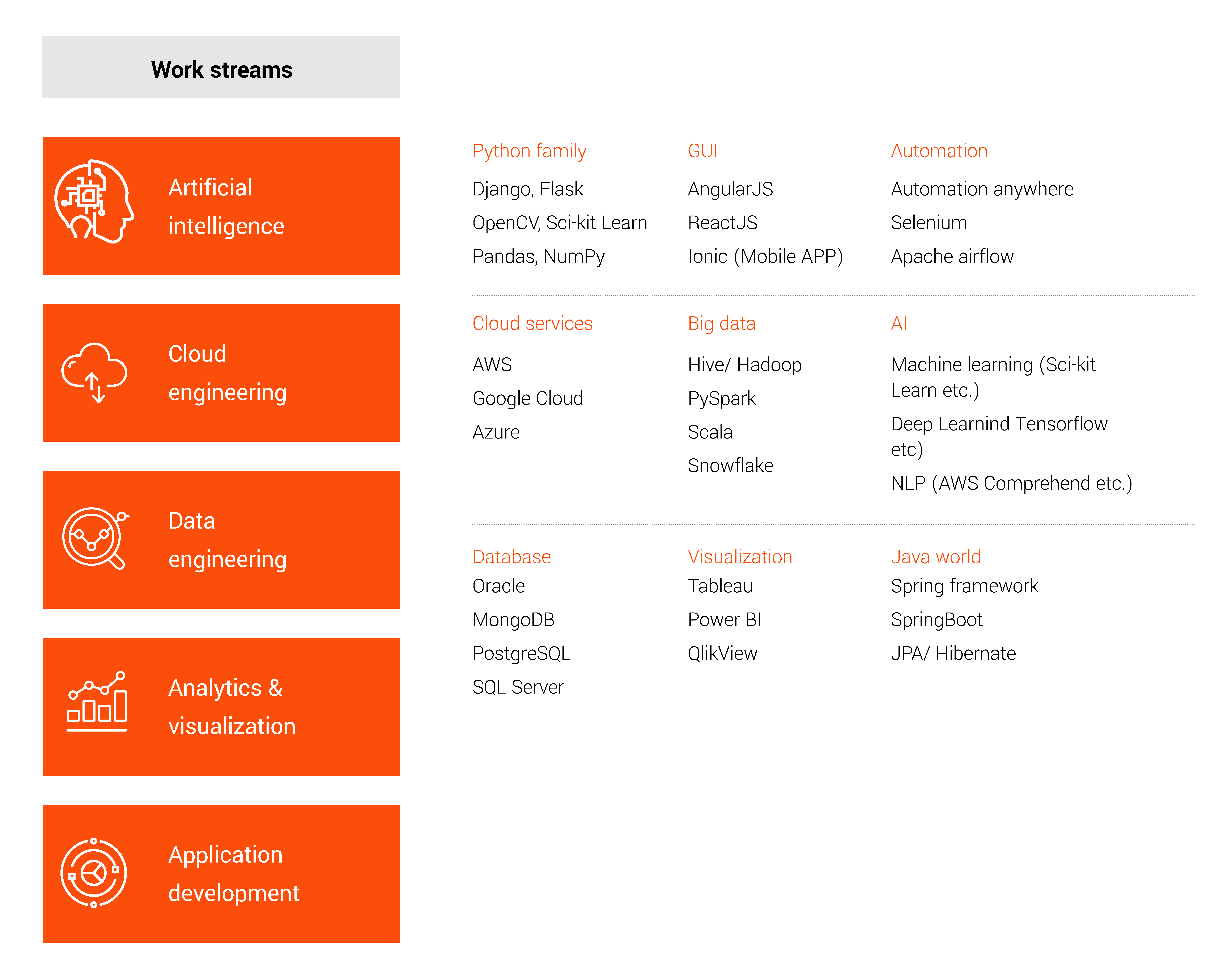 Flexible engagement models
We offer a variety of engagement options – making it possible for EXL to meet you where you are. As such, we make it possible to offer the quickest time to value – regardless of what type of technology challenges your organization is grappling with.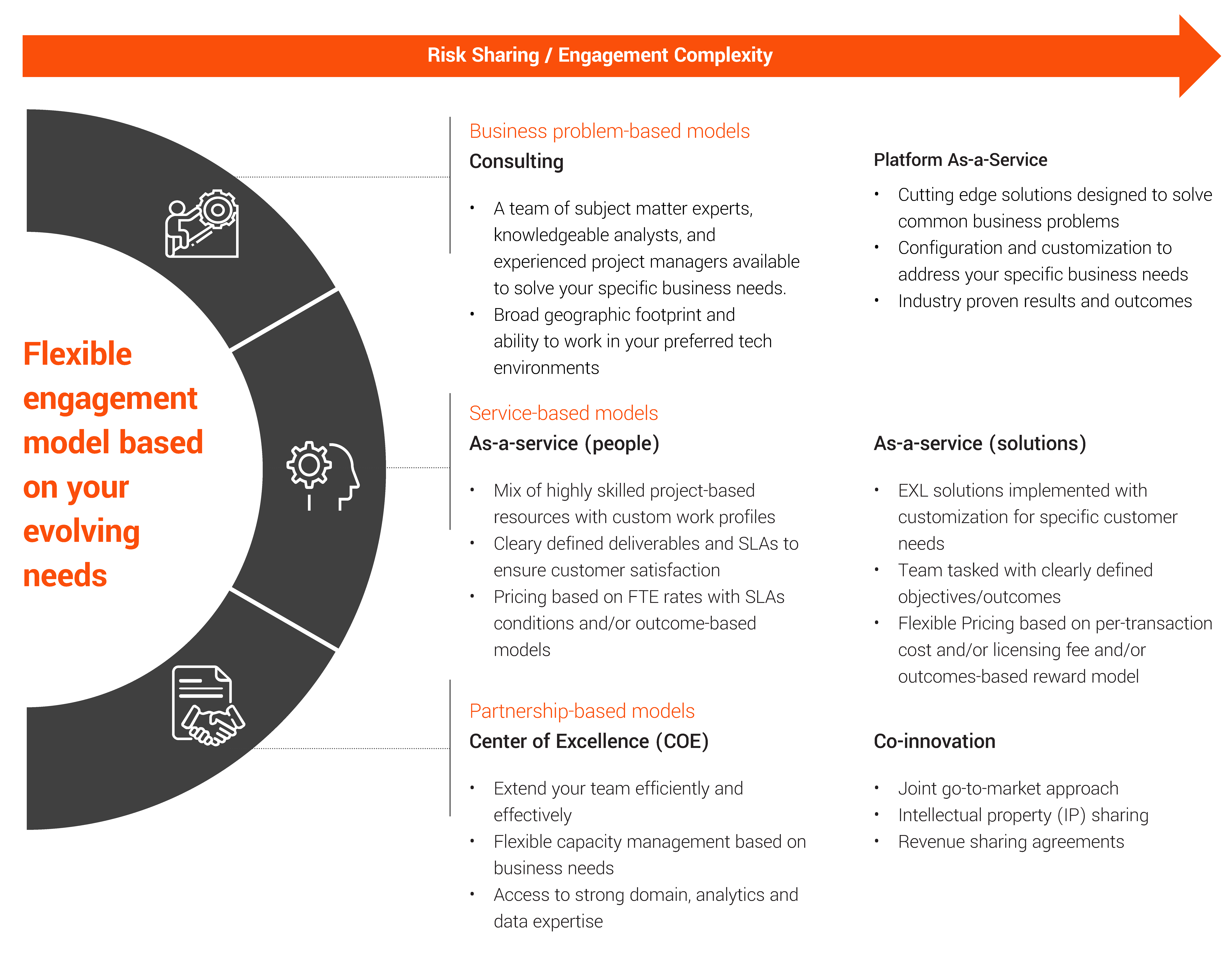 Why EXL Health?
At EXL Health, we are committed to a true partnership with our clients. We are passionate about your success. We take a client-centric, collaborative approach to every engagement. We combine deep domain expertise with analytic insights and technology-enabled services to transform how care is delivered, managed and paid. Leveraging Human Ingenuity, we collaborate with our clients to solve complex problems and enhance their performance with nimble, scalable solutions. With data on more than 260 million lives, we work with hundreds of organizations across the healthcare ecosystem.
Discover the EXL difference
EXL Health's technology services are rooted in deep domain expertise, thus providing comprehensive support that makes it possible to leverage technology to drive optimal outcomes.
We work across multiple technologies, reliably handling technology solutions to drive business decisions and outcomes. We guide your journey to modernization through our expertise in the latest technologies, providing strategies and execution excellence that accelerates the outcomes.