Medicare sales operational support
Analytics and operational Medicare sales support through digital transformation
As the demand for Medicare health insurance grows with the aging population, so does the competition amongst health plans to capture this highly important segment of the overall health care market. Health plans need innovative and cost effective tools that will allow them to maximize their potential while containing their overall costs of sale.
A large percentage of Medicare sales occur during a short 3-month period known as Annual Enrollment Period. During this highly competitive window, health plans need traditional and digital outreach to generate more robust leads and real-time dashboards, analytical solutions and data models to achieve their yearly targets and drive revenue growth.
EXL Health's breadth of experience assists health plans in reaching their sales goals with various tactics – retail event management, seminar lead generation and analytics to drive better outcomes – that are indispensable to winning in a highly competitive marketplace.
Medicare sales operational support
Medicare Sales Operational Support (MSOS) is a suite of services that consists of several analytical and support capabilities under one umbrella, along with disruptive technology. MSOS helps the business in resolving challenges posed by rapid changes in the healthcare industry, mitigating the losses by optimization of traditional operational processes, and using advanced analytics to generate significant insights that lead the business towards effective decision-making.
Improve lead generation through a centralized seminar management system
Create end-to-end retail event management and lead generation through one platform
Minimize vendor costs
Improve enrollment and retention rates through analytics, visual dashboards and reports
Transform lead generation, enrollment and retention
EXL Health's MSOS is an end-toend portfolio solution that optimizes Medicare sales across the lead generation continuum, from prospecting, to enrollment to retention.
15%
Year-over-Year increase in enrollment
18%
Year-over-Year increase in leads generated
EXL Health's MSOS is an end-to-end portfolio solution that supports Medicare sales across the lead generation continuum. Medicare sales agents are able to increase lead generation through digitally enabled retail and online seminars, increase Medicare Advantage generation vendor costs, and ultimately improve Medicare Advantage enrollment and retention.
Drive improvement across the Medicare sales value chain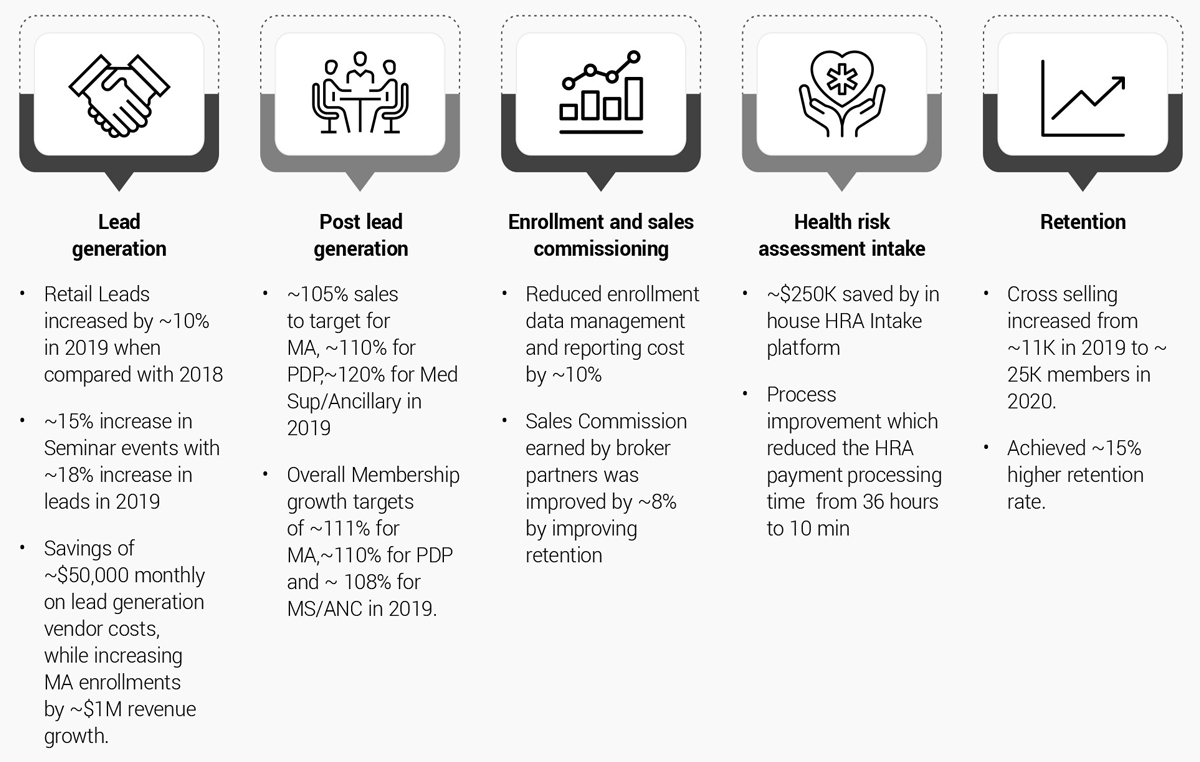 EXL Lead Engager
EXL Lead Engager provides a seamless and efficient engagement platform for the Medicare sales organization and broker/ agent partners and captive agents that can operate on a mobile platform. EXL Lead Engager users are able to:
Collect, save and upload agent leads with higher accuracy without adding SFDC user licenses.
Reduce workload of agents by reducing manual tasks and, therefore, reducing lead generation turnaround time and improving efficiency.
This frictionless engagement platform for Broker/Agents and Medicare sales organizations within a health plan is vital to an effective and efficient sales engine. EXL Lead Engager is part of a digital ecosystem that connect leads and prospects with agents and health plan in a contactless manner. It is a one-stop-shop to manage all broker needs, generating millions in savings by providing a mobile access to online, intuitive and AI-enabled tools such as MA Enrollment, HRA Intake, Seminar and Event Management Tool, and others.
Seminar lead generation tool
Individuals turning 65+ require enroll/ re-enroll with different Medicare health products. It is required to conduct Medicare meetings to demonstrate benefits and features of different Medicare Products to these customers. These meetings are conducted across different geographical locations targeting customers for different markets.
For managing these meetings and capturing the leads, it is required to have a centralized system that is accessed by marketing, meetings coordinators, and customer care. With the Seminar Lead General Tool, users get:
Lead generation through conducting physical/online seminars
An in-house, centralized seminar management system
Daily lead generation and updates to SFDC
Retail event management tool
Retail events are conducted for demonstrating Medicare health benefits and capturing leads from the events. These events are conducted in stores for which requests are raised. The requests need to be further approved by the stores according to the availability of the stores and agents. Events conducted need to be verified.
To manage events conducted in retail stores, collect lead information, and capture verification of events, a centralized system is required.
This application is a one-stop solution for managing events with requests, approvals, verification, as well as collecting leads and feedback and establishing a document library. The system includes an integrated mechanism for the approval process and to notify relevant users, and enables brokers and sellers to:
View all upcoming events at retail locations that are approved for him/her and can check details
Quickly schedule/ cancel an event
Create lead generation through Retail tool in SFDC
Manage lead collection and reporting on a single platform
Medicare sales analytics
Medicare Sales consists of various activities that include goals allocation, forecast generation, and performance evaluation of partners/vendors with respect to sales.
Organizations need to minimize lack of knowledge and mitigate communication gap among applicants and partners due to which enrollment might turn into denials or an active member at various levels which include plans, geography and enrollment platform, etc.
Additionally, organizations need to mitigate the churn rate of active members and help business to retain max possible active members.
By conducting sales opportunity assessment with respect to the available partners and resources and using historical sales numbers, a goals allocation and forecast generation model are developed at all the required levels/ metrics. A Tableau/Power BI dashboard has been developed to visualize the goals, forecasts, actual sales and issued rate, etc. on daily basis.
Enrollments analytics comes handy when providing the insights on the application received for enrollment by analyzing member preferences by plans performance, enrollment platforms and geography and extending the same analysis at agents/partners levels, including the reasons for denials.
Member retention is a very crucial aspect for every organization; hence, retention analysis provides effective insights on churn rate along with the key reasons by analyzing a member's behavior throughout the member tenure and communication between members and partners/ organization.
With Medicare Sales Analytics, organizations care able to model goals and forecasts, and perform analysis that improve enrollment and retention. Through the application, organizations have:
Dashboards to have better visibility of sales operations
Models to enable effectual prediction of sales growth
Focused analytics on enrollment, retention and commission tracking to help improve strategies for optimized sales in improved member retention
Broker partner tool and dashboard
A telesales organization generates marketing leads (calls) by paid and unpaid media channels. The purchased leads process and budget allocation will be discussed here. The organization which engages multiple vendors to purchase leads. Each of these vendors have different sources, campaigns with different quality and quantity. It is a complex process to allocate funding to right campaigns to fulfill business sales goals keeping in mind optimal cost and profitability. The Broker Partner Tool and Dashboard aggregates historical campaign data to create an optimization model based on different factors related to vendor's capacity, campaign performance, consistency, and quality. These point estimates constitute constraints of optimization problem. This allocates maximum funding to best-performing campaign and lowest funding to poorest campaign.
With the Broker Partner Tool and Dashboard, organizations are able to:
Manage and optimize vendor costs for lead generation
Optimize budget allocation to achieve maximum number of Medicare Advantage enrollments while minimizing cost of enrollment.
EXL Health's comprehensive data approach and agnostic integration, paired with advanced analytics and domain expertise, enables MSOS to drive, transform and scale Medicare sales lead generation, enrollment and retention.