Risk adjustment & quality

Risk adjustment <br>& quality
Named #1 in Risk adjustment and Best in KLAS 2022 <br>– Software and professional services
Risk adjustment <br>& quality
Named #1 in Risk adjustment and Best in KLAS 2022 <br>– Software and professional services
How prepared are you?
In today's healthcare environment, risk-based program performance is impacted by the lack of comprehensive data and analytics needed to accurately and comprehensively perform risk adjustment and quality programs. To heighten matters, payers and providers must collaborate to meet value-based targets, creating several factors that contribute to less than optimal performance, including:
Delayed visibility into CMS' view of population risk and conditions
Lack of awareness of how accurate coding and documentation contributes to revenue optimization
EHR-limited view to only in-network delivered care
Limited cross-payer view of provider performance
Lack of ability to submit data back to payers
In order for payers and providers to deliver the highest quality, cost effective care to their patients, it is imperative they have a complete view to estimate risk scores. This requires healthcare organizations to proactively identify care and documentation gaps, close those gaps and accurately document severity of conditions for needed treatment.
EXL Health delivers industry-leading and recognized risk adjustment and quality expertise, and delivers comprehensive solutions to optimize performance through proactive analytics, services and insights.
EXL health looks and goes deeper to find a better way
EXL Health's Risk Adjustment and Quality Management organization embodies human ingenuity to propel the success of our clients by solving their most complex problems.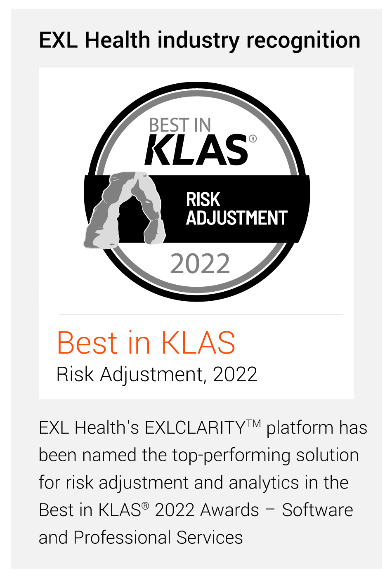 We take a relentless approach to getting results and deliver outcomes through a highly flexible, collaborative and responsive approach. We look and go deeper to drive the highest quality of care while protecting the bottom line.
This approach enables us to form strong, long-lasting partnerships with our clients who look to EXL Health as a strategic partner today, tomorrow and for years to come.
Introducing the EXL health risk adjustment & quality solutions
Who We Serve
EXL Health delivers comprehensive risk adjustment and quality analytics and services to healthcare organizations looking to deliver upon their value-based risk arrangements, including:
Payers
Healthcare Delivery Systems
Integrated Delivery Networks (IDNs)
Managed Care Organizations (MCO)
Medical Service Organizations (MSO)
Accountable Care Organizations (ACO)
Independent Practice Associations (IPA)
At-risk Providers
We support all risk-adjustment markets, including medicare advantage, PACE, ACO, Medicaid, ACA/Exchange.
Comprehensive approach
Our approach is unique in that we bring together claims data with CMS data, and offer the ability to review the clinical data from the client's EMR, to create a 360-degree view of population risk. This complete view creates transparency across all payers, patients/members, providers and CMS and enables our clients to:
Proactively identify and diagnose conditions
Ensure accurate documentation and coding
Deliver high quality, coordinated care
Build analytic tools that can solve a wider-variety of business problems
Flexible delivery model
We take a flexible approach to delivering our solutions because we know how critical it is to meet clients where they are on their value-based transformation journey.
Our solutions are offered through a variety of delivery models, including a global delivery model as allowed by clients and regulatory requirements. EXL Health will work with you to create an approach that works with your business today and, in the future.
Risk Adjustment Analytics as a Service
Risk Adjustment & Quality Insights as a Service
Risk Adjustment & Quality Platform as a Service
Risk adjustment & quality solutions
Risk adjustment analytics as a service
Enabling healthcare organizations to optimally perform risk adjustment and quality programs through actionable insights to drive accurate revenue projections, better coordinated care, enhanced member experience, improved provider performance, and reduced compliance risk.
Member prioritization
Estimated and actual risk scores
Gaps in care identification
Financial forecasting
Prevalence chronic conditions
Risk recapture
Quality measure analytics as a service
Ensure quality measure compliance across Stars, HEDIS, AMP, and Marketplace quality programs through NCQATM Certified quality measures and actionable analytics.
Gaps in care identification
Member prioritization
Provider performance
Risk adjustment & quality insights as a service
End-to-end and AAPC certified risk adjustment and quality services deliver optimized performance on a risk-adjusted population, including improvements across clinical documentation, quality outcomes and accurate reimbursement.
Performance tracking
Risk verification
Member prioritization
Member retention analysis
Member outreach
Provider scorecards
Provider CDI HCC documentation education & training
Coding/chart review services
NLP/AI powered chart extraction
RAPS/EDPS submission support
RADV support
Customized analytics, risk stratification, etc.
EXL Health's comprehensive risk adjustment and quality solution provides proactive data insights and enables outreach to patients who are at highest risk. These coordinated efforts helps to improve HCC coding, leading to improved shared savings.
Proven outcomes: human ingenuity at work
A leading health system uses EXL Health's integrated risk adjustment services to improve the accuracy of their risk scores and support provider documentation for their Medicare population. EXL Health's coding expertise, risk adjustment analytics and support for provider education for Medicare Advantage and Medicare ACO patients has demonstrated the following results:
10-18% improvement in average HCC RAF scores through effective provider education
15% improvement in visit rates for high risk patient through coordinated annual wellness visits(s)
$250-$350 identified per medical record through targeted medical record reviews
EXL health's commitment: human ingenuity in action
Client need
Visibility into vulnerable populations during the height of COVID-19
Project
Develop dashboards to stratify vulnerable population and enable front-line team quick access to patients most in need
"In 3 weeks we delivered highly interactive dashboards to help our client prioritize care during COVID-19."
- Varun Pandarathil, AVP, Risk Adjustment Analytics, EXL Health
Overview
Our goal was to help our healthcare provider client make up for some of their lost revenue due to COVID by getting Risk Adjustment credit for telehealth. The team worked over a 3-week period to create a set of highly interactive dashboards that helped our client target and help their most vulnerable clients during the pandemic. The project was proactive on our part—we saw a way to help and acted on it. Days after the demo, the client converted our initiative into a full project.
Human ingenuity is the catalyst with which we solve your complex problems. Together, We Will Do This represents our passion, our commitment and our promise to do so.