Transform member and provider experience
EXL Health's conversational AI solution integrates with new age and legacy systems to deliver maximum ROI
A superior conversational AI solution
Human-like interaction as you've never seen before
At EXL Health, delivering effective, empathic AI-infused customer interactions for our clients has never been more important. In fact, AI solutions are cited as the number one customer experience trend in 2020.1 And with at least one in three customer service interactions predicted to be AI-infused in the next year, AI is no longer a nice-to-have initiative, it's a must have.
Exelia.AI™, powered by Amelia, is the next step in delivering outstanding AI-infused consumer experiences. Exelia.AI™ offers cutting-edge conversational AI capabilities, which can be fully deployed and driving tangible value in your organization in just 90 days. In fact, AI-infused customer experiences, when driven by solutions like Exelia.AI™, have the power to transform the healthcare consumer function, not simply automate it.
Exelia.AI™ solution features
Pre-trained solution for human-like interactions through voice and chat capabilities across multiple touchpoints (web, IVR, WhatsApp, Teams, Slack, SMS, Facebook, etc.), providing a truly omni-channel experience.
Trained with healthcare-specific knowledge with prebuild business process workflows, intents, and entities. Delivers both inbound requests across patient and member interactions, as well as a touchless outbound experience that helps with case/disease management work streams before calls are transferred to case managers for enrollment and scheduling.
Plug and play model requires limited customization and enables rapid implementation. Seamlessly integrated into other systems and data, it recalls and includes key customer profile information and data from past interactions.
Features AI in over 100 languages and the ability to transition seamlessly between languages in a single interaction.
An NLP module that offers the ability to continuously learn from human colleagues' responses and train itself to pick up best possible response from the knowledge base in a supervised learning environment.
Flexible deployment model with SaaS, on premise and public cloud deployment options on Microsoft Azure and Amazon AWS.
Secured communication with industry standard compliances of HIPAA and HITECH.
With Exelia.AI™, healthcare organizations can provide a true digital experience for patients and members, while improving customer experience, reducing costs to serve, maximizing profitability, and differentiating the market.
132
million
people in U.S. will use digital voice assistance one or more times a month in 2021.2
58%
of U.S.
consumers said that they prefer their healthcare interactions to be digital.3
75%
of U.S.
consumers wish their healthcare experiences were more personalized.3
Results that matter for healthcare organizations
Using Exelia.AI™, organizations that have collaborated with EXL Health have seen a: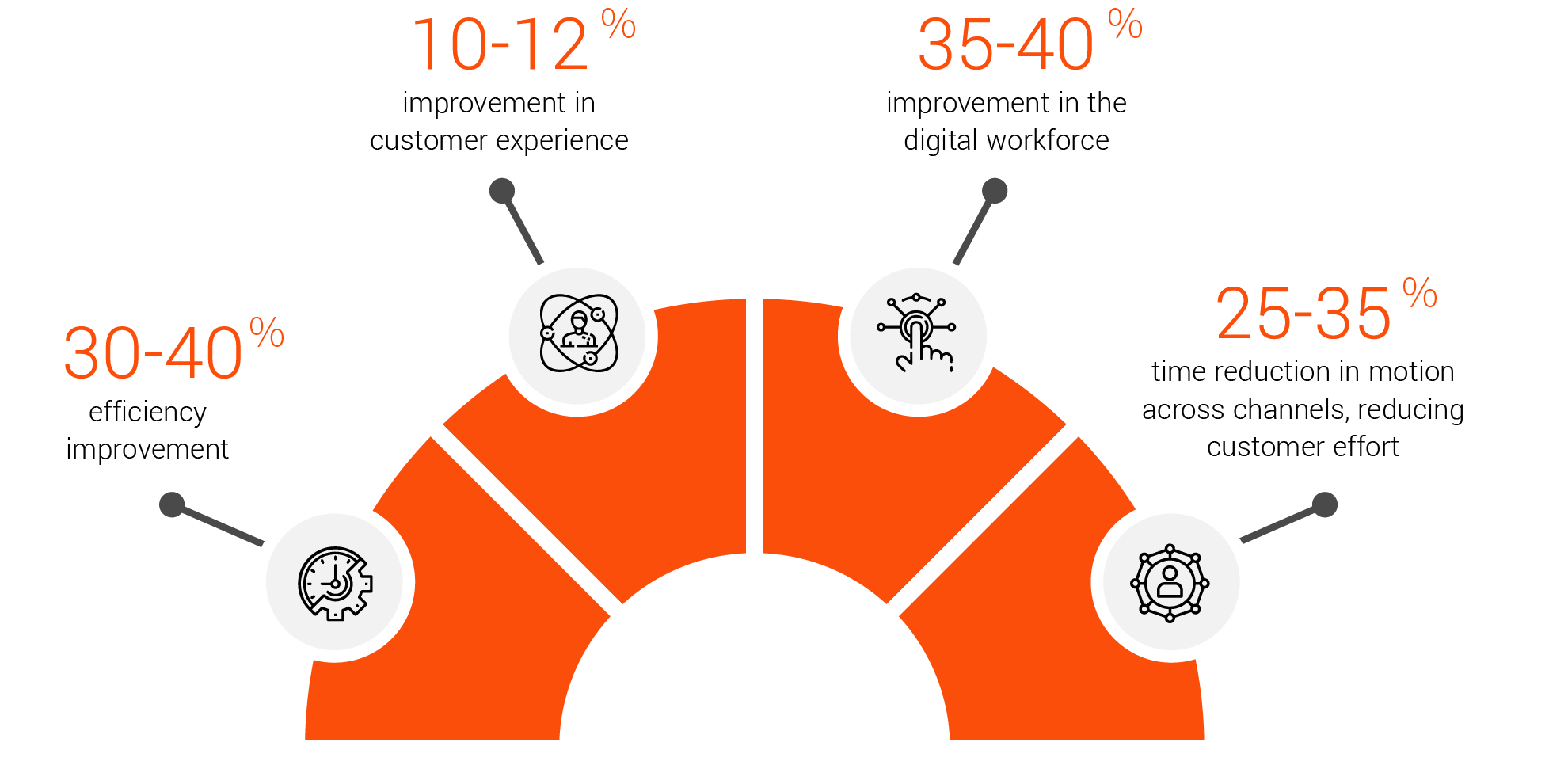 Boundless transformation possibilities
EXL Health's Exelia.AI™ offers boundless possibilities for transforming the healthcare consumer experience and for harnessing the power of data and machine learning to drive superior service and meaningful business results, fast.
Always-on customer service: Automated assistance reduces timeto resolution and provides help to customers when they need it, 24/7/365. Manage peak volumes seamlessly with lower waiting times for the customers.
Meaningful savings potential: Over three years and a conservative 25% containment rate, cost savings are worth more than $13 million to healthcare organizations.
Reduced friction and increased customer satisfaction: Instantaneous assistance with no wait time becomes possible, unlike traditional voice services.
Rapid payback: Organizations can expect to see returns in less than six months.
Build richer data sets: With EXL Health's domain expertise and analytics capabilities, organizations can generate actionable insights and improve key metrics like first call resolution, engagement, and enrollment rate.
Getting started
To get the conversational AI journey started for your organization, start with some of the following use cases.
Appointment booking: Helping your patients access your facilities with the convenience of conversational appointment booking.
Member queries: Helping members and provider administration teams with resolving general queries on policy coverage (status checks, precertification queries).
Disease diagnosis and first aid: Assisting users in early detection of diseases based on previous patient history.
Post-discharge patient engagement: Helping patients easily rehabilitate by engaging with them on medication reminders and regular updates.
Why EXL Health?
At EXL Health, we are strategic digital transformation partners who drive breakthrough results for our clients. We are experts in more than digital technology and advanced analytics; we are experts in you and healthcare, and work together with our clients to form true collaborative partnerships that drive transformation in the way healthcare is delivered, managed, and paid.
This gives us the context to look and go deeper to identify and capitalize on opportunities to outperform. We call it digital intelligence: the combination of data and domain knowledge needed to create context. Digital intelligence is the rare ability to orchestrate complex and interdependent technologies – AI, robotics, analytics, machine learning and more – to deliver tailored, targeted, breakthrough solutions.
Our team of deeply experienced, clientfocused professionals, who understand both technology and the context in which it is applied, will deliver these solutions. The impact? Real, tangible outcomes: first-to-market advances, revenue growth, improved profitability and satisfied patients and members.
References:
1. https://www.gartner.com/en/conferences/apac/customer-experience-australia/gartner-insights/gc-rn-top-cx-trends
2. https://www.statista.com/statistics/1029573/us-voice-assistant-users/
3. 75% of U.S. Consumers Wish Their Healthcare Experiences Were More Personalized, Redpoint Global Survey Reveals | Business Wire