Whole person health risk
An integrated SDoH and clinical analytics approach to engage members and move ahead of the risk curve.
Together we will address individual patients' needs and improve outcomes
Social and clinical comorbidities are an inescapable reality of healthcare. Almost 80% of health outcomes are related to social and environmental aspects*. Even with the increased awareness, and tools in the market, payers, providers, and community organizations struggle with data access and interoperability challenges. Payer organizations need additional ways to leverage data and analytics to manage cost trends and improve quality.
They must be able to combine members clinical information with Social Determinants of Health (SDoH) data to find actionable insights, proactively reach out, mitigate risk and reduce costs.
With a lack of industry standards for social screening, identifying individual member level SDoH information, and integrating it with clinical and claims information, Payers have challenges in implementing SDoH informed interventions and measuring outcomes.
Whole person health risk
EXL Health's whole person health risk solution addresses patients' individual needs combining social and clinical aspects to engage members and affect health outcomes.
With this solution, powered by EXLVantage™, Payer organizations can:
Quantify and understand SDoH risk in their population
Integrate SDoH risk with clinical risk derived from claims and EMR data to drive holistic member-centric care
Identify the right interventions and partner with CBOs to drive outcomes
Identify "next best action" to address barriers to care resulting in healthier communities
Deliver tailored member level interventions to address needs of at-risk populations
Create a better patient/member experience
A Member-centric approach to drive outcomes
EXL Health's whole person health risk solution is a progressive way of delivering care to populations. It's built to create care management efficiencies and effectively engage with members in order to truly impact health outcomes. This end-to-end data driven analytics solution integrates both SDoH and clinical data into a unified Member 360˚ view for actionable insights to eliminate barriers to care and drive compliance, mitigate risk and reduce costs.
With whole person health risk, payers are able to:
Precisely identify members with current or emerging risk based on social and/or clinical risk determinants
Intervene and align members with community based organizations to address prioritized barriers to care and mitigate future risk
Enable personalized member-centric care and empower care teams through single unified care plans and shared decision making
Create a closed loop feedback approach with continuous improvement including tracking trend of the population programs and the efficiency of engagement operations implemented
EXL Health's framework ensures that SDoH data is integrated and leveraged from the beginning and consistently, as opposed to applied in an ad-hoc siloed manner. This pragmatic framework is key to helping Payers reduce cost of care and align interventions proactively. The result allows payers to truly move ahead of the risk curve and create an integrated model of care delivery that manages members across the risk spectrum, including those yet to become high risk. Whole person health risk ensures the right care to the right member at the right time.
Using SDoH to transform the way care is managed and delivered
EXL Health's comprehensive data approach with integrated SDoH and clinical attributes creates a holistic 360 o member and population view. Paired with predictive & prescriptive analytics and domain expertise, the result is a unified view for actionable insights to engage members, pair them with the appropriate Community Based Organizations (CBOs) resulting in higher care quality.
Reduction
2-5%
Cost of care
Increase
10%
Member engagement
6 key SDoH aspects reducing unnecessary readmissions, ED visits and Inpatient stays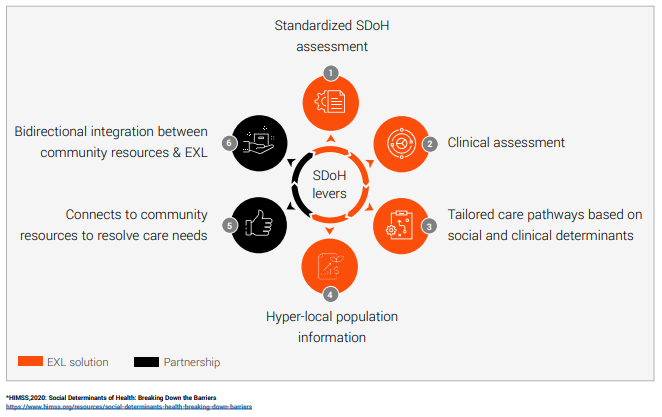 Why EXL Health
At EXL Health we are committed to a true partnership with our clients. We are passionate about your success. We take a client centric, collaborative approach to every engagement. We combine deep domain expertise with analytic insights and technology-enabled services to transform how care is delivered, managed, and paid. Leveraging Human Ingenuity, we collaborate with our clients to solve complex problems and enhance their performance with nimble, scalable solutions. With data on more than 260 million lives, we work with hundreds of organizations across the healthcare ecosystem.