Connected customer experience for a digital future
Crises tend to accelerate macro trends, especially for contact centers. The implementation of remote working, digital self-service, messenger bots, machine learning, and AI have all been accelerated due to COVID-19.
Meanwhile, customers are still expecting an emotionally and psychologically satisfying experience, ready answers to their complex queries, agents exhibiting empathy for their circumstances, and first-time resolutions for their problems. These expectations exist whether the customer contacts the organization over text message, social media, apps, video calls, or webchat.
For contact centers, it's no longer about effectively managing contacts at the lowest cost. It's about delivering experiences that inspire advocacy and loyalty. The mindset around the role of the contact center is changing as it becomes the epicenter of customer experience.
89% of businesses are expected to compete mainly on customer experience
Consumers are willing to pay up to a 16% price premium for better customer experience
Companies using a proactive customer experience approach increased customer retention rates by 3-5%
Organisations with best-in-class customer experience report a 2.7x higher operating margin than those with average customer experience
However, creating market-leading, low-cost customer experiences is a significant challenge.
EXL's approach - CONNECx, connected customer experience
EXL knows what makes not just a good customer experience, but a cost-effective one. EXL's distinctive approach to digital-first contact centers creates value through connections: Connections between strategy and execution; connections between front and back office; connections between agents and customers; connections between human and AI; connections between long-term growth and immediate efficiency. We call this approach CONNECx – transforming a disconnected present to a connected future.


CONNECx helps fix issues that impact traditional contact centers, such as data silos, a lack of data insights, broken customer journeys, a break-fix approach, manual touchpoints, and siloed communications. This helps us to deliver customer experience improvements including:
Drives out cost by reducing hand-offs, reducing calls, or using low-cost channels instead of voice interaction
Carries cost, but are sufficiently valuable, such as AI-infused customer experience using conversational AI
Improves retention rates via appropriate interventions or removing detrimental drivers of churn
Improves acquisition rates via active customer referrals
mproves cross-sell and up-sell opportunities, such as by adding 10% to conversions for key segments and interactions
CONNECx is a holistic approach built upon several pillars, visualized as spokes around the CONNECx hub: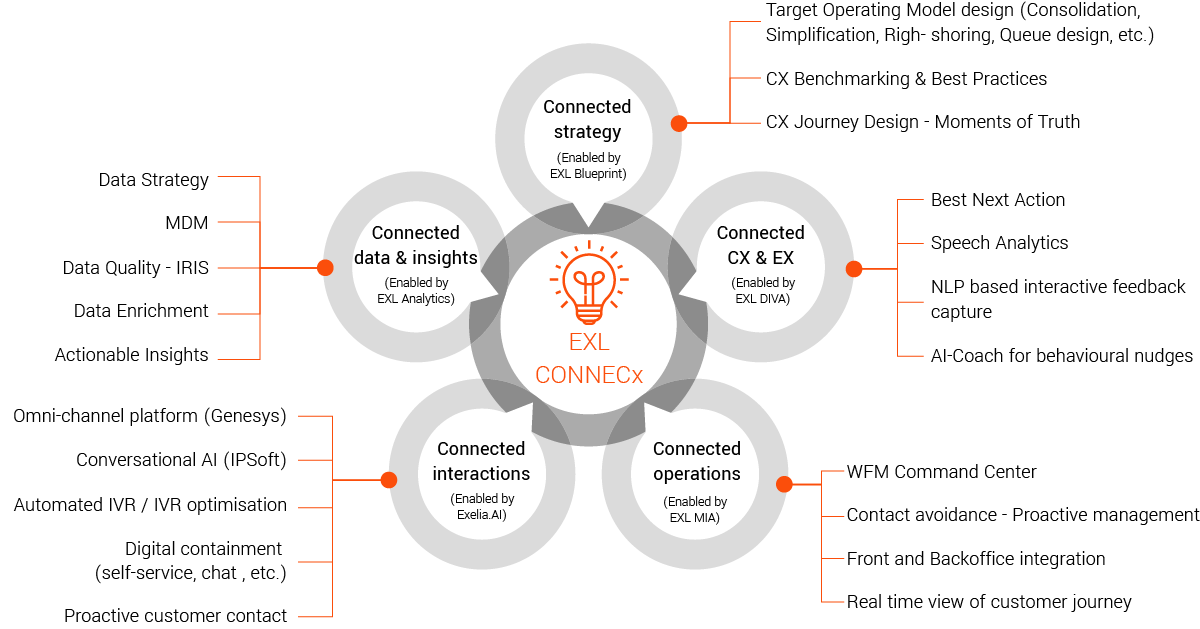 Compelling results from EXELIA.AI™ integrations include 10-12% improvement In overall customer service, 30-40% contact deflection from human agents, and up to 25% reduction in cost to serve
Customer's choice Gartner peer insights customers' choice for data and analytics service providers 2020
Visionary Gartner's 2021 magic quadrant for data and analytics service providers
Connected strategy:
Beginning with a connected strategy, we use our BluePrint™ framework to leverage 50+ data points to help our clients design the right target operating model for their contact center. A few of the key things we help our clients with are:
Consolidation, simplification and location strategy
Benchmarking and best practices
Customer journey mapping and identifying moments of truth
Digital containment and deflection strategy
Intelligent staffing model that ensures the right call lands with the most appropriate agent
Shift to a variable cost structure
Connected data and insights:
EXL is a leader in enterprise data management, with dedicated practices for Cloud, data architecture, data governance, data integration, data quality, master data management (MDM), and reporting and analytics.
This comprehensive expertise sets EXL apart from our competition and helps us identify the optimal data strategy and governance to produce actionable insights for Connected CX initiatives.
Connected interactions:
Customer engagement needs to not just be present on channels where customers want service, but provide a seamless flow and context between these channels. This includes the interplay between digital associate conversational bots and human representatives. EXL bring in best-in-class digital solutions to unify every moment of the customer journey across all channels and departments, turning touchpoints into a story. Our conversational AI, Exelia.AI, the brainchild of our partnership with IPsoft's Amelia, takes customer experience to the next level by using human-like interactions powered by natural language processing and contextual understanding. It makes these consumers self-sufficient, and is able to instantly solve their concerns any time.
Connected operations:
EXL's AI-powered Management information Assistant (MIA) provides a real-time view of the customer journey, with the goal of connecting the front office to the back office to impact the customer experience and proactively handle potential roadblocks on the customer journey. MIA's intelligence module also provides insights into whether an interaction should go to a bot or a human.
Connected Employee experience (EX) and Customer experience (CX):
EXL understands the importance of aligning CX and EX by empowering employees to deliver excellent customer experiences. Combining the right people with the right digital tools and best practices is a winning formula, driving better daily interactions and delivering consistent customer experience.
Our Digital Virtual Assist (DIVA), an AI-based agent augmentation tool which gives human representatives guidance and recommendations for how to best handle conversations, reduces agent as well as customer effort. We also use our AI-Coach solution that uses AI/ML based cognitive nudges to drive behaviour change for our agents. It helps personalise the coaching regime to drive winning behaviours and deliver outcomes.
What it means for our clients
Put simply, we use our CONNECx approach to safely consolidate, simplify, and transform fragmented operations across to a new AI-infused target operating model. Typical outcomes for our clients post CONNECx implementation include: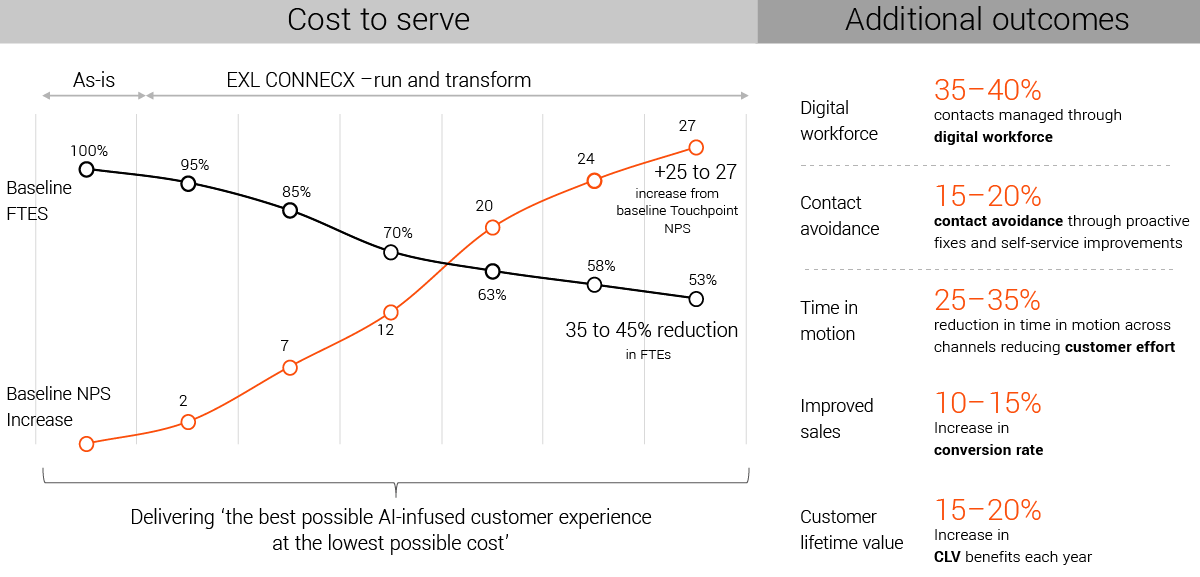 Using DIVA, EXL delivered +204 bps improvement in CSAT and 20% reduction in cost of operations for a leading global travel management company
Apart from the typical benefits provided above, EXL also builds next-generation contact centers for our clients that evolve with customer expectations. We continue to leverage a fluid integration of technology, data management, analytics, and organisational design to enhance cognitive interactions and transform the role of associate from basic customer service representative to empowered customer advocate. Here is how contact centers look like post CONNECx implementation: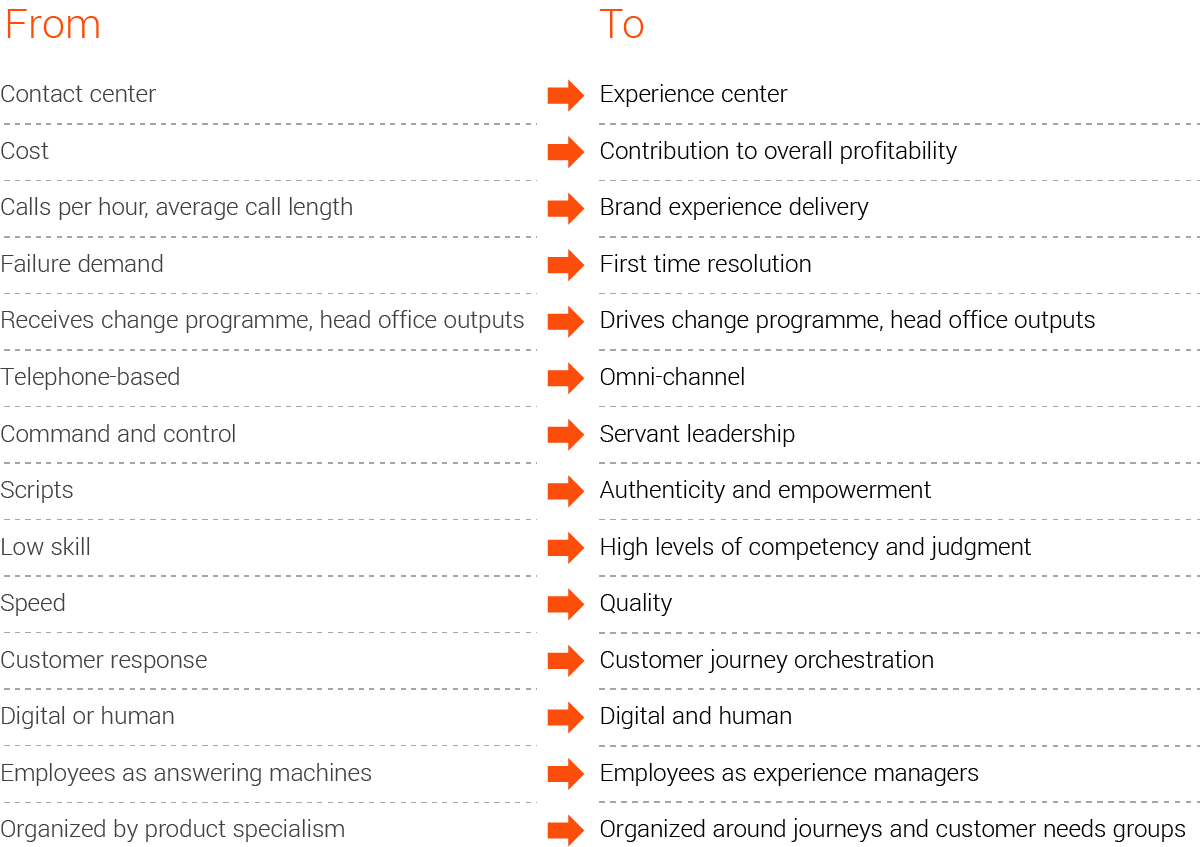 EXL has successfully implemented the CONNECx platform for leading Fortune 100 and FTSE 100 clients across our chosen industry verticals. Here are few case studies: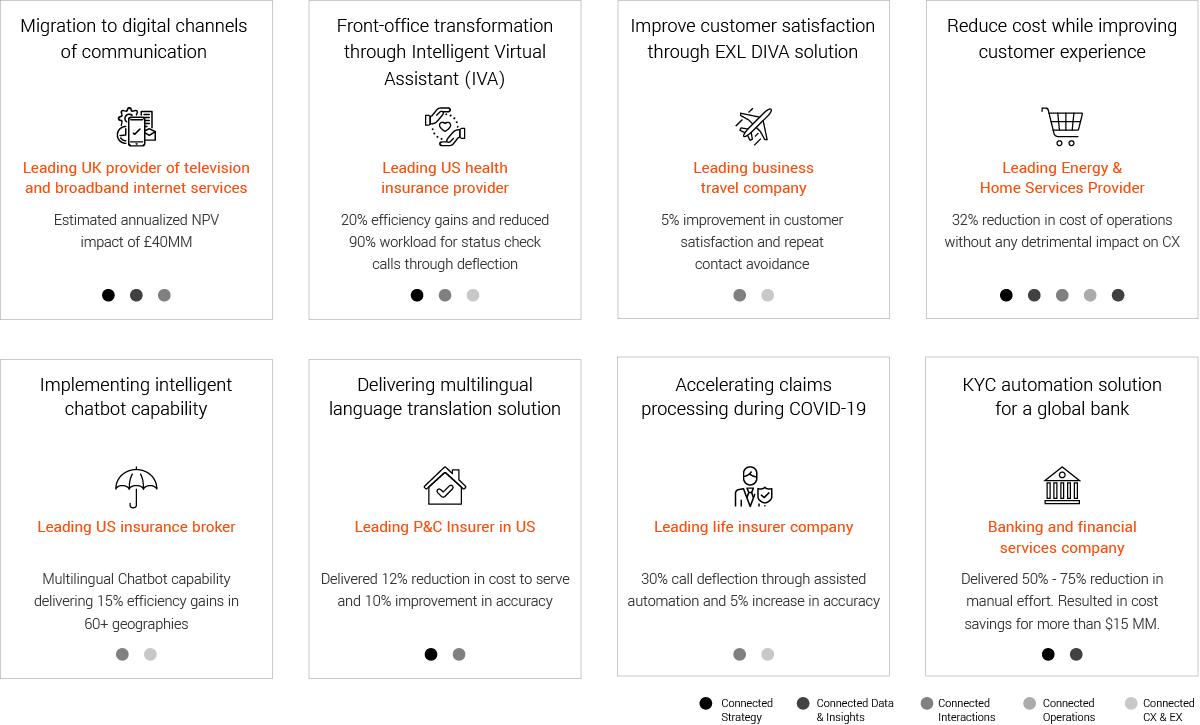 In conclusion, we differentiate ourselves as a digital-first partner, with deeper domain expertise, advanced analytics, and AI-led digital solutions providing an outcome-based value proposition, rather than a scalefirst provider focused on commoditized, low-margin, non-differentiated contact centers. Our vision is to become an indispensable partner for contact center operations where we deliver outstanding AI-infused customer experiences, leading to higher customer lifetime value and reduced costs.
Our methodology and technology stack is not just about cost cutting, as a race to the bottom on price is not sustainable. It's about dramatically improving the customer experience, in turn delivering efficiencies and growth on a larger customer base. This is being aptly supported by the talent and partnership ecosystem with firms like IPSoft that cut across our stack augmenting customer experiences, driving powerful business outcomes, creating cost efficiencies and accelerating growth.
Written by:
Rahul Arora
Emerging Business Head – UK & Europe