Generative AI: Driving responsible adoption in the insurance industry
Generative AI is the most talked-about topic of 2023. While most companies are still just experimenting with how to integrate generative AI into their ecosystem, it's safe to say this technology will drastically improve productivity for every industry, including insurance. We believe generative AI has the potential to create significant value across the insurance value chain in the long term.
Refer to exhibit 1 below for details.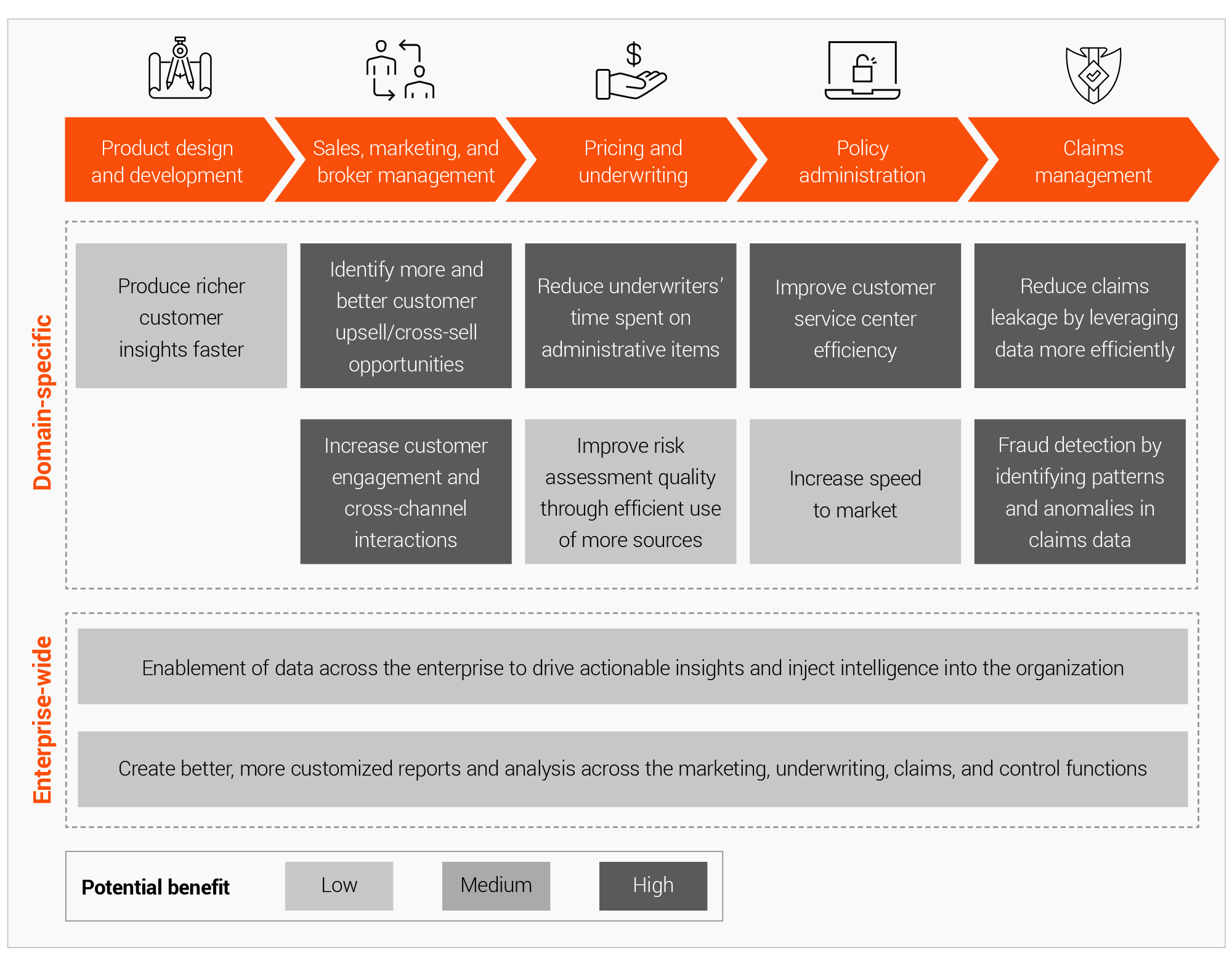 Exhibit 1

The key question now is how can insurers adopt this technology and transform their organizations in a rapid, safe, and responsible way.
Change is extremely disruptive. This is especially true for generative AI. The technology is causing significant changes to how businesses operate while advancing at an uncanny speed. Regardless of the methodology chosen to drive the adoption of generative AI, a structured approach managed by a trained and dedicated change team will be necessary to coordinate, plan, and execute the cultural and mindset changes needed both internally and externally across the transformational portfolio.
Insurance companies can create significant value and differentiate themselves by understanding and unlocking the true potential of generative AI to enhance customer experience and improve operational efficiencies.
The key thing to note is this will require taking a step back and reimagining how work is done today.
Based on our work with over 600+ insurance companies (carriers, reinsurers and brokers), EXL has curated a list of internal and external use cases under evaluation that we believe will drive maximum impact.
Refer to exhibit 2 below for details.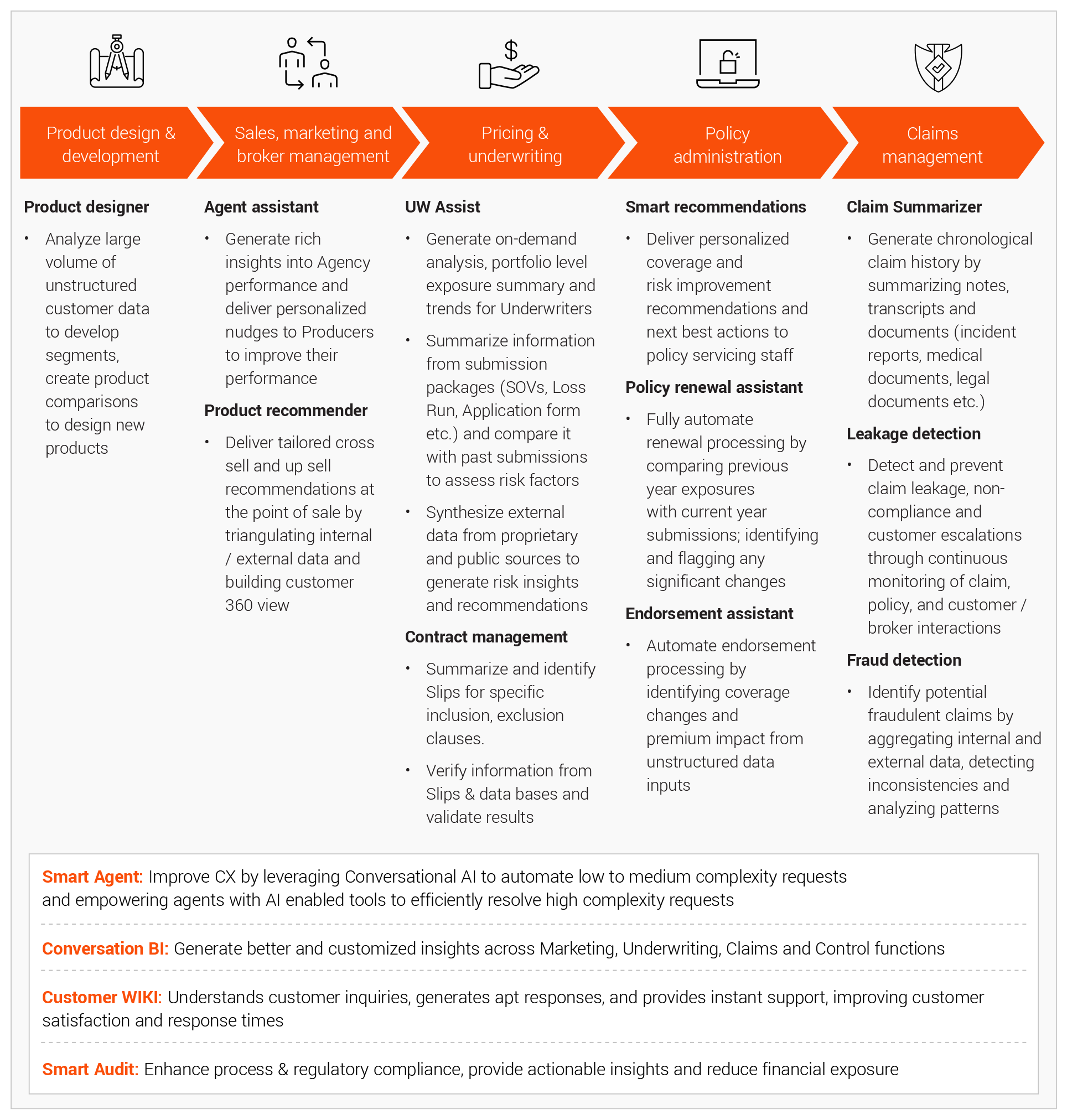 Exhibit 2

The ABCs of generative AI adoption
Insurance companies must be proactive about embracing generative AI as it will be an essential part of winning in the digital era.
When making a plan to drive generative AI adoption, consider these ABCs: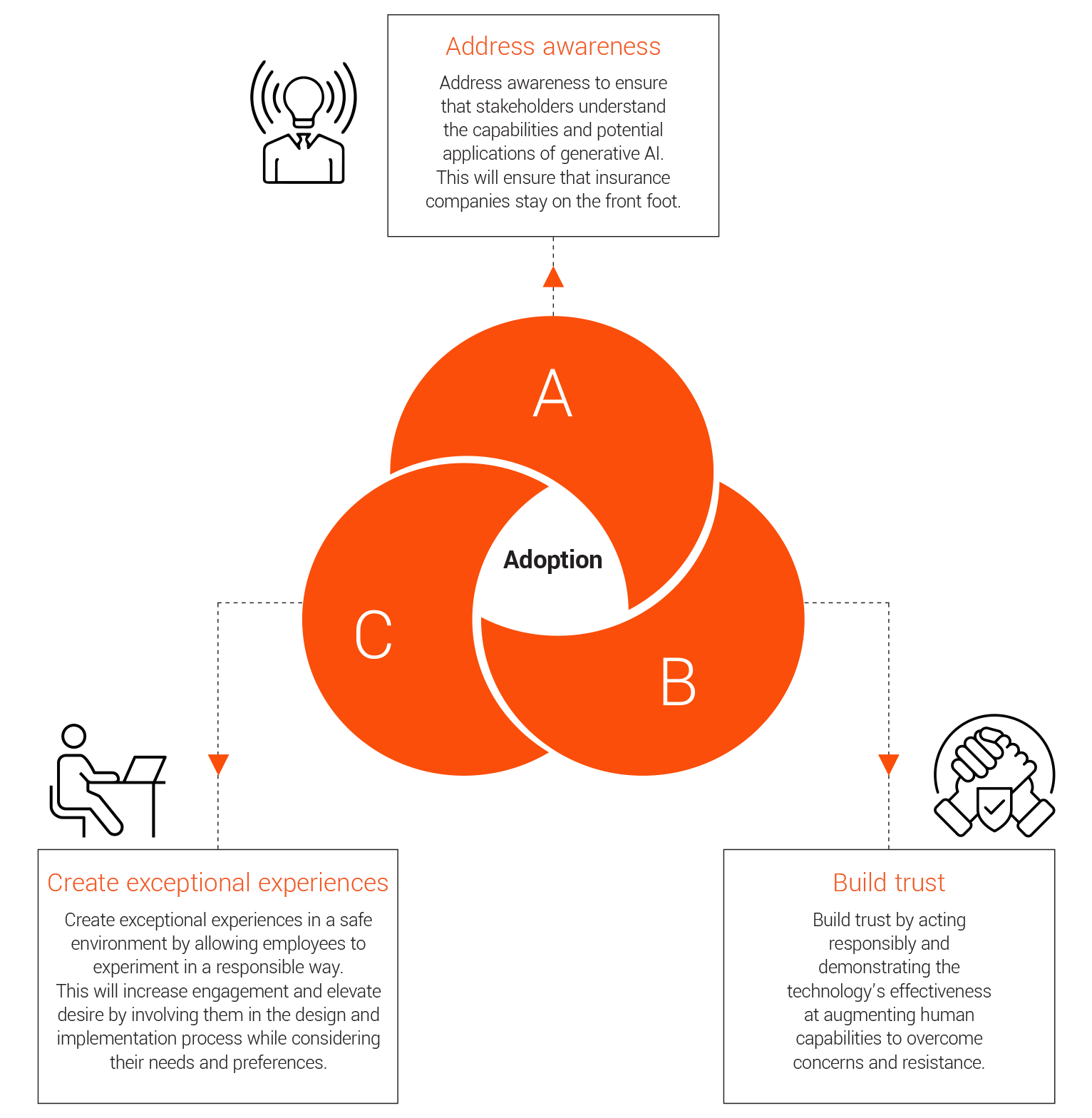 Through effectively addressing awareness, building trust, and creating exceptional experiences, insurers can mitigate challenges and decrease adoption time to scale of generative AI across their organization. While this concept seems simple and effective, executing it successfully poses its own set of complexities.
Addressing awareness
Successfully implementing generative AI technologies within an organization requires addressing awareness by fostering a clear understanding amongst employees about its capabilities and identified applications. Leaders need to be able to clearly articulate the future state vision for how AI will be used, what it means for people's jobs, and how it will help the customers.
Share the importance of transforming, what will likely happen if generative AI is not adopted, and how using and collaborating with generative AI will be a critical component in achieving the organizational aspirations and goals. This begins the process of not only aligning people to the need for change, but, if done well, sparks the emotional change journey that each person goes though as they embark on any shift of this magnitude.
Misunderstandings and misconceptions about generative AI are common due to how the technology is changing, learning, and becoming more capable at a rapid rate. This holds true as organizations scale.
The capabilities and use cases are often deployed quickly, making it difficult for employees to understand what these changes mean to their day-to-day work and how they can keep up.
One effective way to combat misunderstandings and misconceptions is through using employee networks to keep workers abreast of any current capabilities, as well as help prioritize future features based on their interactions with AI.
Building trust
Trust is the foundation upon which desire and confidence are built.
When people trust the technology, products, and tools they work with, they are more likely to embrace them wholeheartedly. Just think about your phone's operating system—whether it's iOS or Android—and why you choose to use it. It's because you trust the system to provide a reliable and seamless user experience. The same principle applies to your favorite restaurant—you trust its quality, consistency, and service.
Consistency plays a pivotal role in establishing trust. When implementing generative AI, it is crucial to create consistency through effective change management. Employees are often reluctant to embrace AI because they perceive it as unpredictable or unreliable. By ensuring a consistent experience with AI, organizations can address these concerns and build trust among users. An organization that consistently delivers accurate and helpful AI-generated recommendations can instill confidence in its users, leading to increased adoption and usage.
An example of a trust-building activity
One way organizations have found to be very effective at starting to build this trust is though creating a dedicated room in an office or a virtual "playground" for generative AI where employees are encouraged to experiment, learn, and ask questions about this exciting new technology. In addition to providing an opportunity for employees to see consistent results while not in a high-pressure or customer-facing environment, it also creates the added benefit of addressing awareness. By allotting dedicated time to let employees use the AI playground, you involve them in the process which creates ownership while enabling an exceptional experience.
Creating exceptional experiences
To drive the adoption of generative AI and make it remarkable for all users, it is crucial to focus on creating exceptional experiences. This involves:
Fostering involvement
Leveraging advanced leadership skills
Creating accountability
Positive reinforcement
Designing user-friendly interfaces
By implementing these strategies, organizations can not only solve problems, but also make employees and customers lives easier while inspiring a sense of excitement and curiosity.
Stakeholder involvement
It's essential to involve stakeholders in the design, development, and implementation process. By seeking their input and feedback, organizations can ensure that the generative AI systems align with their needs and preferences. When integrating generative AI into existing workflows and processes, it is essential to consider the needs and experiences of all the stakeholders involved to ensure a smooth adoption journey. A best practice here is to involve stakeholders by leveraging a human-centered design approach. This not only supports adoption, but also creates user-friendly interfaces, intuitive interactions, and seamless integration of generative AI tools into the day-to-day of those using this technology.
Active listening
Understand the concerns and fears of employees affected by the implementation of generative AI and respond with empathy. By actively listening to their apprehensions and addressing them, leaders can alleviate resistance. An effective leader will inspire and motivate employees – even those not on board with this change – though the creation of exceptional experiences in daily work, communications, and interactions.
Agility as a skillset is one competency that supports creating exceptional experiences. Leaders who involve employees early, listen to feedback, and iterate along the way have been the most successful at not only seeing quicker adoption within their organizations, but also creating higher employee satisfaction.
Positive reinforcement
Positive reinforcement is a powerful tool to create exceptional experiences and encourage the adoption of generative AI. Recognizing and rewarding individuals or teams who actively embrace and excel in using the technology fosters a positive environment. For instance, an insurance company launched an on-the-spot recognition campaign. Each week, managers who observed employees using generative AI to service customers quicker were rewarded instantly and publicly with a gift card. Employees who demonstrated exceptional use of generative AI were publicly acknowledged and rewarded, supporting the positive behavior change required to realize productivity and quality benefits. This recognition not only motivated employees, but also created a ripple effect inspiring others to explore and utilize the technology.
Showcasing real-world examples, sharing testimonials, and highlighting positive outcomes of those who have embraced generative AI can further reinforce its value and encourage wider adoption at a faster pace.
Conclusion
It takes significant behavior and mindset shifts to sustain and transform a company's operations. The success of this shift all depends on how quickly people are ready, willing, and able to transform. By addressing awareness, building trust, and creating exceptional experiences, the path to adoption becomes smoother, leading to increased efficiency, productivity, and innovation. Embracing generative AI is not just a bold move—it's a necessary step towards the future of work.
At EXL, we currently have over 120 prebuilt solutions across the industries and are working to build and customize even more for the insurance industry. To learn more, reach out to us.
Raghav Maheshwari
Global Head for Commercial Lines, Specialty Lines and InsurTech Business at EXL
Raghav.Maheshwari@exlservice.com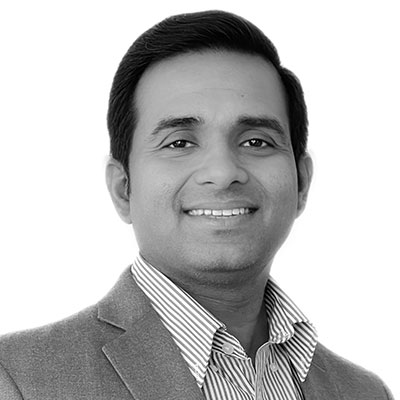 Anupam Kumar
Enterprise Gen AI Architect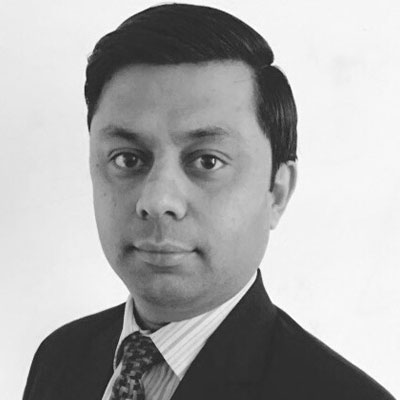 Puneet Mehra
Sr. Business Architect and Client
Transformation Partner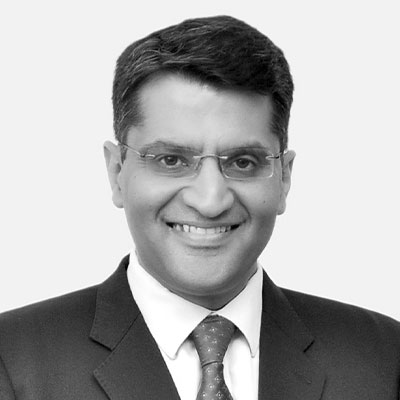 Saurabh Khanna
AI Solution Architect (UK)