Streamline and simplify HEDIS retrospective data collection
It happens every spring: HEDIS data abstraction and submission for the previous years' measures. During peak season, payers and providers alike rush to collect and complete requests for medical records, claims, data verification, and audits. While HEDIS is an effective tool to ensure care is meeting quality standards, it can put a strain on both overworked staff and relationships with providers and members.
Quality ratings and the financial health of a health plan are intertwined and it's becoming imperative for health plans and providers to bolster their quality programs with intelligence.
Measures and reporting requirements become more complex every year; health plans and providers are working harder than ever to achieve the coveted five-star rating for their services which improves outcomes and revenue.
Let's partner together to take steps now to gain traction on potential pain points and solve your complex business challenges. Whether you're looking for a basic solution or something more complex, we can work with you to address your needs.
What is HEDIS?
The Healthcare Effectiveness Data and Information Set (HEDIS) is a group of standardized measurements used to evaluate provider performance in terms of clinical quality and customer service. Developed by the National Committee for Quality Assurance (NCQA), HEDIS data is a retrospective review of healthcare services to ensure clinical care is meeting quality standards and that providers are following evidence-based guidelines. Health plans and other health care entities collect these key measurements and submit the findings to NCQA, resulting in an aggregate quality comparison across health plans.
HEDIS includes over 90 measures across the following six domains of care1 :
1. Effectiveness of care
2. Access/availability of care
3. Experience of care
4. Utilization and risk adjusted utilization
5. Health plan descriptive information
6. Measures collected using electronic clinical data systems
Why HEDIS matters
As our healthcare system moves toward quality-driven value-based care, HEDIS scores are becoming more integrated into various initiatives and practices. Results are used to measure performance, evaluate gaps in care, increase health plan visibility, and identify quality and educational opportunities for providers and members.
Centers for Medicare and Medicaid Services (CMS) use the results to calculate Star Ratings for the health plans, which are tied to rebates and bonuses.
Health plans review provider-specific scores for contracting, provider profiling, and incentive programs.
Individuals who purchase government-sponsored plans can review the results within state and exchange report cards.
While the HEDIS quality improvement cycle is a year-round effort, the season for HEDIS data abstraction happens annually from January through May, where clinical and non-clinical teams retrospectively evaluate charts from the previous measurement year (for example, in 2022, charts from 2021 are reviewed).
1. https://www.ncqa.org/hedis/
2. https://www.ncqa.org/hedis/data-submission/hedis-2021-data-submission-timeline/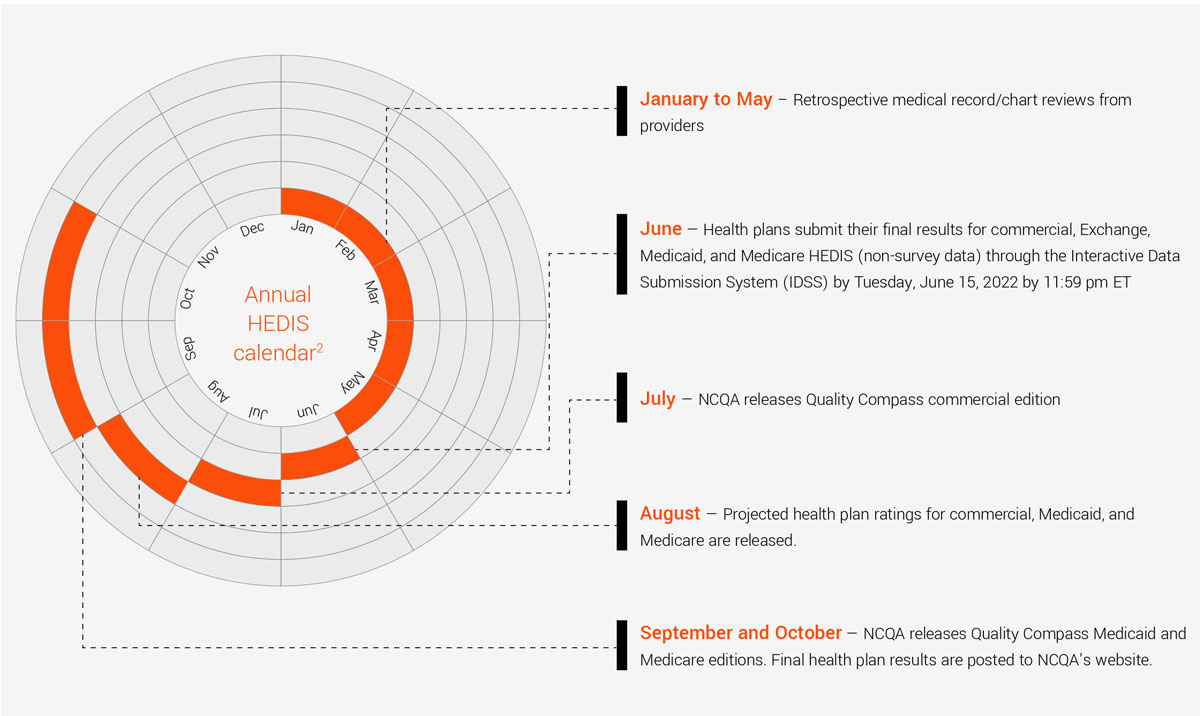 After May, certified HEDIS compliance auditors review the data and have results ready for reporting by the end of the year.
The results from HEDIS data collection and submission create long-term financial impact, and as such, meeting the reporting June deadline is increasingly important. For health plans and other risk-bearing entities, HEDIS scores can translate into millions of dollars in reimbursement. For health plan members, HEDIS scores provide insight into a plan's quality initiatives, acting as a consistent scale to evaluate cost-effective delivery of care and better health outcomes. The process for HEDIS data abstraction, and its significant impact on the bottom line, causes high levels of stress, as well as time and energy, for employees to do it both quickly and accurately.
Let's partner your way to solve your challenges within the HEDIS process
HEDIS data is collected four ways:
1. Administrative data, including claims, encounter, eligibility, and provider data submitted to the health plan
2. Hybrid data, including both administrative data and a sample of medical record reviews
3. Member and provider survey data
4. Electronic clinical data (ECDS) from electronic sources (electronic health records, case management, and claims processing systems)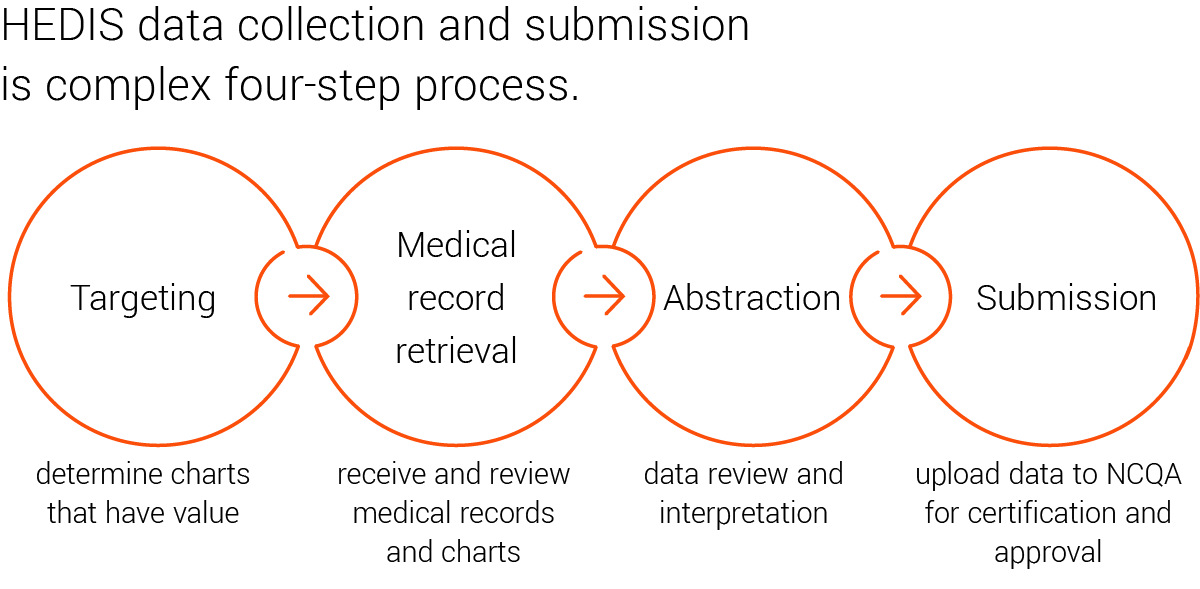 Targeting:
Basic approach:
Whether due to a lack of tools, resources, or strategic insights, sometimes targeting is done without any strategic direction. In its most basic form, this process pulls every chart, regardless of value. It could also mean pulling a generic sampling of charts, with the optimistic hope that the sample will capture a good enough selection. This method causes an increase in time and effort, with little ROI, and can lead to adverse relationships with providers.
Intermediate approach:
Using extensive data collection and advanced analytics, an intermediate approach to targeting integrates complex structured and unstructured data sources and combines these efforts with comprehensive member profile analytics. Data sources include medical and pharmacy claims, biometrics, lab results, and screening tests, all with variable look-back timeframes to capture the full spectrum of services performed. This insight provides an accurate list of members who may or may not need services.
Additionally, a fully complete and accurate data set includes provider-specific data, such as practice location and contact information, to help with follow-up and long-term engagement strategies. Targeting based on claims analytics aggregates and harnesses the full power of data to drill down from a provider to a member and all the way to a claim level, giving a better insight into the full member and provider picture. By pairing claims data with formidable data analytics, patients with gaps in care are more easily identified, allowing for better, more proactive outreach, engagement, and interventions for both members and providers.
Advanced approach:
The advanced targeting approach goes beyond data collection and analytics to combine risk adjustment, quality, and payment integrity. This method fulfills the intermediate approach and also identifies charts that have multiple opportunities for value. Leveraging charts already collected for payment integrity, as well as the unique charts that have been pulled for risk adjustment needs, creates a more efficient process. By pulling charts only once – and not multiple times throughout the year – the process is streamlined, minimizing provider abrasion while maximizing cost/ savings opportunities.
Medical record retrieval:
Basic approach:
Once the targeted charts have been identified, the medical records or claims must be collected, either though physical retrieval onsite at provider offices or digital data collection of electronic health records (EHR). This process requires a high attention to details to ensure document accuracy and quality in order to prevent data rejection or future rework, caused by faulty photocopies or missing charts. Having trusted, established relationships with providers is one tried and true best practice that can lead to a higher attention to detail while minimizing provider abrasion. It also reduces the burden of the costly manual chase.
Intermediate approach:
To improve upon the manual efforts of medical record retrievals, retrospective chart reviews can be done by integration with various EHR systems. In this case, data is extracted from EHRs using direct integration or via PDF or image formats using optical character recognition (OCR), and artificial intelligence (AI)-enabled techniques.
This is particularly time saving when done through a specialized, user-friendly platform. Leveraging automated, self-service digital solutions to manage chart retrieval, users can streamline the process, saving time and resources. When connected to both EHRs and provider databases, digital tools and web-based platforms improve efficiency and accuracy, improve engagement for follow-up outreach, and receive transparency to track the entire process.
Advanced approach:
To take retrievals to the next level, EHRs are integrated for prospective chart reviews throughout the year to eliminate retrospective chart chases. By establishing connection to the provider's EHR, the provider identifies the right members and allows access to the right data. The pulled data can then be used for risk adjustment data validation (RADV) support, providing the necessary information without disruption to the office's workflow.
Abstraction:
Basic approach:
HEDIS abstraction from the collected data entails a detailed review of medical records and pharmacy claims, including hospitalizations, medical office visits, specialty consultations, procedures, and lab results, specific to each quality measure to determine if the criteria have been met. Once charts have been reviewed for each of these quality measures, the information is then abstracted into raw data.
Relying on only a manual set of eyes for review is time consuming and can lead to human error and missed opportunities during data interpretation.
Intermediate approach:
A strategic approach to abstraction combines OCR, natural language processing (NLP) as well as medical coder services for manual chart reading. The OCR- and NLP-based extraction solutions scan the full chart, including the chart notes, rather than just data, to read the images. These efforts are sent through a data warehouse for storage and analysis, where they can be used for RADV purposes, if necessary. NLP algorithms extract and abstract information to support condition identification, and gaps in care. Using this method saves time and resources as it automates the process, creates a more thorough record, and is validated by both machine learning and certified coders.
Advanced approach:
To progress from the intermediate process, it's all in the AI. When working with advanced NLP, the language can be customized for different chart populations or provider standards. This ensures that medical coders have minimal manual efforts once it's time for their review. This method provides opportunities for cost reduction and process efficiency (onshore and offshore).
Submission:
Basic approach:
Before the process is officially complete, the data requires upload to NCQA for certification and approval. This heavily prescribed process requires a high attention to detail from the plan.
Advanced approach:
Once uploaded, reporting on the data is a critical tool to measure acceptance rates and data errors. Sophisticated reporting systems offer customizable, interactive, and actionable data visualization tools. They can also expedite the audit process and streamline ongoing efforts throughout the year.
EXL Health risk adjustment & quality solutions
At EXL Health, we provide basic, intermediate, and advanced options to help you succeed.
EXL Health's modular, end-to-end risk adjustment and quality management solution is a combination of products and services to drive improvements across your quality management ecosystem. Our end-to-end and AAPC-certified risk adjustment and quality services deliver optimized performance on a risk-adjusted population, including improvements across clinical documentation, quality outcomes and accurate reimbursement.
At EXL, our goal is to work with you. We work together with our clients to collaborate and develop lasting relationships based on their specific goals and needs. Do you want to improve your score? Do you want to streamline risk adjustment reviews and HEDIS data collection? Do you have the right resources and tools? Once we understand your unique business challenges, we will customize our solutions to best fit your organization.
It's one of the reasons why EXL Health was named Best in KLAS 2022 for Risk Adjustment, with 100% of our customers stating that they would purchase EXLCLARITY™ again.