Hyperautomation
Orchestrating multiple technologies & automation tools
EXL's Hyperautomation approach combines the power of Automation, AI and Analytics, and orchestrates these levers on Cloud to accelerate digital transformation. Our focus is to shift the business from people-intensive legacy OS to a future ready, thin human AI Operating System (AI:OS).
EXL's Hyperautomation CoE takes enterprises a step closer to AI:OS. It is a cohesive automation suite that:
Marries different digital transformation tools
Consists of highly modular, cloud-enabled, pre-built accelerators and solutions
Executes with speed for optimum business and customer outcomes
Enables end-to-end digital transformation at scale
Data-led Hyperautomation Service
EXL facilitates data-driven digital transformation, empowering organizations to revolutionize data and AI utilization for a competitive edge. Boost efficiency and productivity through task automation and standardized processes, while enhancing work quality with hyperautomation.
How is EXL Hyperautomation different?
The solution is step ahead in moving away from Human:OS to AI:OS
Helps progressing from Automating Process maps to Digitizing E2E Data flows.
Our Hyperautomation CoE led transformation:
Delivers 50-100% higher returns than traditional automation
Enables shift from input-based commercial models to ROI-led models
Offers scale and flexibility
Delivers:
20-30% higher YoY impact
3-4X ROI
10-20X more data available for advanced analytics
30-40% benefit on Ops spend in a steady state
3 step framework
EXL's uses a defined 3 step framework from discovery to execution for successful hyperautomation program outcomes.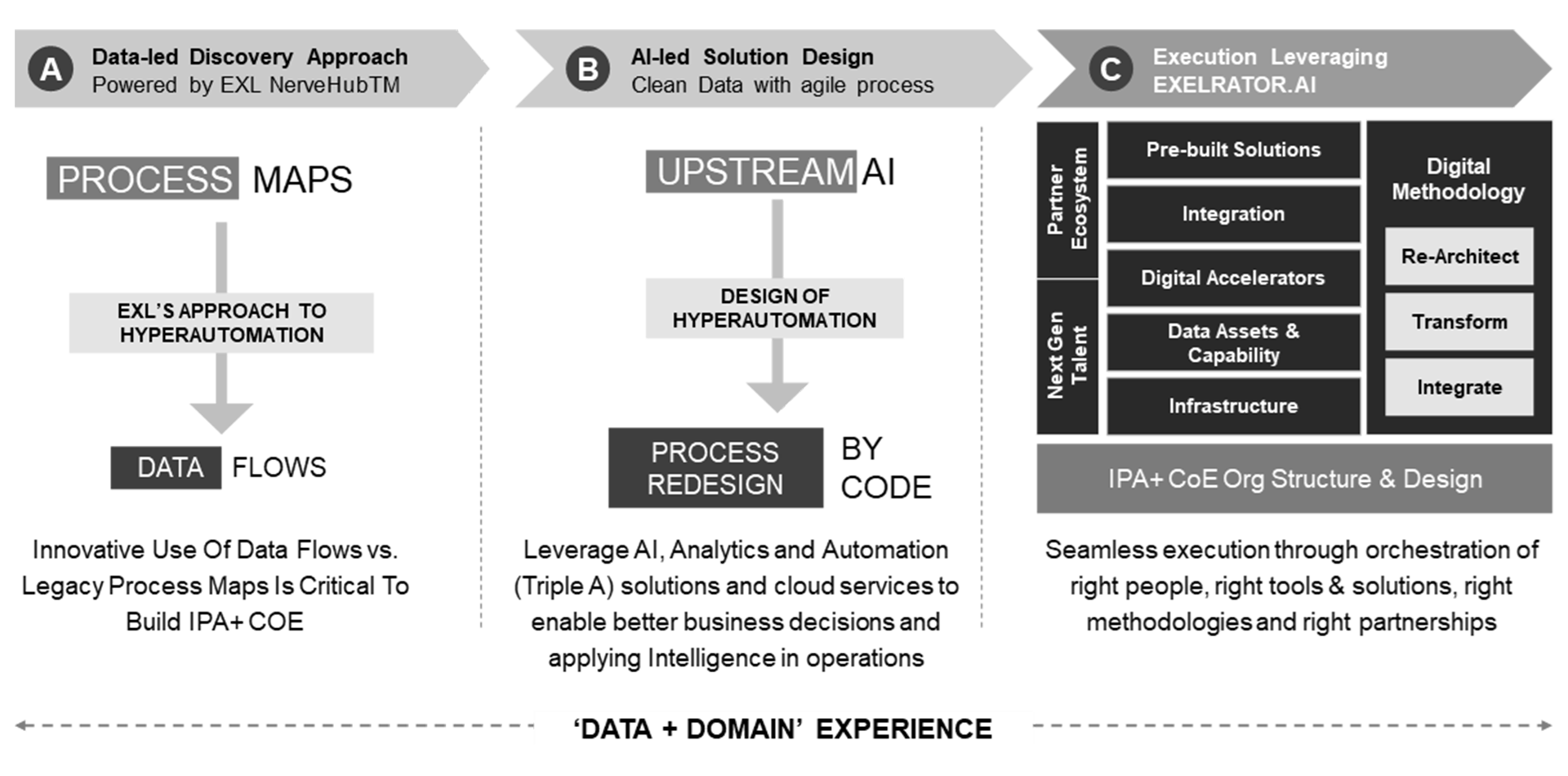 Delivering real outcomes for clients
Banking & Financial Services
Cloud enabled mortage and title operations for one of the leading Land Title Insurance company
Over 25% savings and 30-40% improvement in turnaround time by moving to a cloud receiving center with multiple AI and automation apps
Digital debt colletions using AI and cloud for Large Financial and Debt Services Company
20%+ improvement in customer engagement metrics leading to higher promise to pay, better customer experience and lower complaints
Insurance
AI upstream to eliminate manual processing for a large Global Insurance Broker:
30%+ savings across a variety of use-case by building an enterprise capability that aims to reduce an annual spend of $150M
Underwriting data asset from aps documents using AI and cloud for Top 5 US Life Insurance Company
Improved effectiveness of mortality models, over 20% reduction in underwriter turnaround time and development of a brand new data-asset for better risk assessment
Health
Automated processing of unstructured documents for a Large US Healthcare payer
50% reduction in FTEs, 70% improvement in turnaround time and improved member experience in the medical consultation request process
Travel Transportation & Logistics
Audit and revenue leakage prevention for a Large US based Transportation Company
$15M of revenue leakage prevention annually by deploying NLP and RPA to identify billing misses and send a set of proactive alerts
Utilities
Streamlined utilities operations using RPA for a large utilities provider in UK
Over £5M of cost savings by deploying over 200 BOTs with strong governance and change management