EXL Digital Claims Intake Solution

EXL Digital Claims Intake Solution
Omni-channel, personalized and data-rich claim intake experience
EXL Digital Claims Intake Solution
Omni-channel, personalized and data-rich claim intake experience
First Notice of Loss (FNOL) is a critical step in the claims lifecycle. It is an organization's first opportunity to demonstrate the value they provide to policyholders, and sets the tone for the entire claims process. FNOL can be a nightmare for customer experience when stifled by a tedious, inconsistent experience, and equally stressful for claim handlers obstructed by manual redundancies.
EXL's Digital Claim Intake solution is capable of engaging customers across multiple lines of business through various channels, including telephony, webchat, email, fax, web and mobile self-service with ease of integration with claim management systems. Powered by a highly skilled human workforce with over a decade of claims handling experience for top insurers and enhanced by EXL's AI technology, EXL Digital Claim Intake solution delivers a consistent omnichannel customer experience and maintains the level of service existing customers are accustomed to by harnessing the power of data to refine the claims intake flow.
Solution
EXL's Digital Claim Intake Solution brings an end-to-end FNOL delivery ecosystem to drive best-in-class personalized experience and empathy for claims reporters, while ensuring a data-rich intake from the start to aid and expedite downstream claim handling.
Customers expect their providers to be their personal concierge and be responsive when they reach out to notify a claim. They want to report losses in ways that are convenient and available on demand. Only insurers agile enough to meet customers wherever they are in this critical moment of truth will survive an ever-changing consumer landscape. With round-the-clock coverage, EXL's Digital Claims Intake solution will stand at the ready whenever the need for claim intake should arise.
Enabling omni-channel support with Digital Intake Platform
Self-Service Mobile & Web – EXL's self-service tools equip policyholders and agents with a modern digital portal and mobile app to report a loss, check status, and upload documents.
Voice Intake – a dynamic flow that guides the intake specialist, who in turn guides the customer
Non-Voice – smart data extraction powered by EXL's Extracto.AI, validation, and assignment
Omni-channel Save & Retrieve – Customers can report a loss via multiple platforms (phone, email, self-service app) and switch between those options on demand for better customer experience and efficiency
24X7 support with Claim Intake Specialists
Offload the responsibilities associated with onboarding, training and managing a fulltime workforce to EXL. EXL's solution can provide a scalable team of claim intake specialists across all lines of business, operating 24X7 including providing support during CAT and weather surge events. EXL claim intake specialists will perform according to the organization's standards, with the ability to consistently hit the mark of performance goals.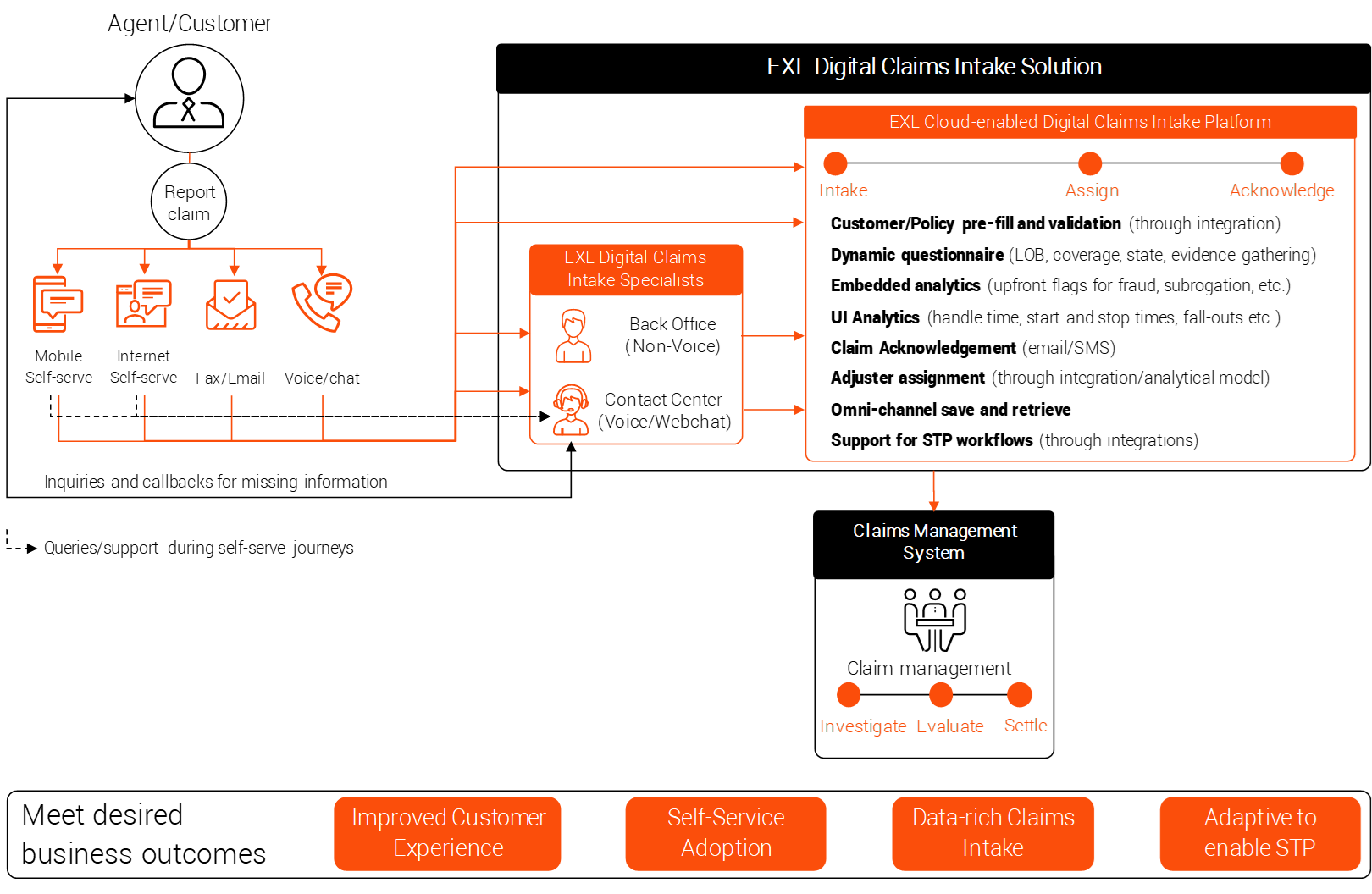 How is EXL Digital Claim Intake Solution different
Omni-channel intake support across all business lines
Dynamic intake questionnaire
Automated document ingestion, extraction, and validation
Early screening for escalation flags
Seamless backend systems integration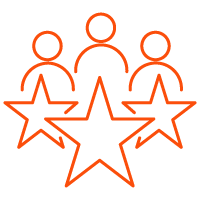 5 - 10%
CSAT Improvement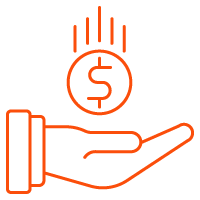 10 - 15%
Reduction in Claims Expenses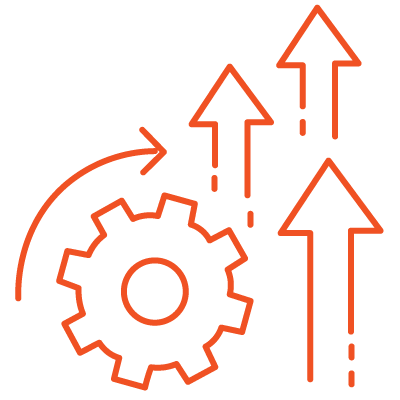 20 – 30%
Efficiency improvement in average handling times