Asset management
Distribution, digital transformation, operations and portfolio solutions for asset managers, wealth managers and insurer-owned investment managers
EXL's biggest impact for asset managers, wealth managers and investment managers comes from leveraging data and advanced analytics to improve their distribution and marketing effectiveness, building efficient investment operations with end-to-end automation, driving portfolio investment decisions through intelligent algorithms/signals and deploying a suite of marketing analytics solutions for digital transformation. EXL has worked with leading managers in multiple geographies to gain in-depth understanding of industry third party data sources and has developed frameworks and solutions that are easily transferable to any client platform.
Distribution Intelligence
EXL's state of art end-to-end products in distributions combine our deep expertise in internal & 3rd party datasets with predictive analytics capabilities, to help our asset management clients achieve better engagements and revenues
Objectives
Higher Revenues;
Enhanced Client Experience
Select Solutions
Predicting Investor Behavior
Personalized Digital Marketing
Fuel Growth from Targeted Leads
Client Master Data Management
CRM Intelligence and User Support
Client Life Time Value
Best Time and Reasons to Contact
Lead discovery for upcoming products like Alternatives, ESG & ETFs
Institutional client analytics
Investment Operations
EXL's experience in creating operational efficiencies at scale while lowering costs in investment operations has been touted as the best in class by asset management companies
Objectives
Lower Costs;
Improved Operational Efficiency
Select Solutions
Trade Execution and Surveillance
Pricing Threshold Recommendations
Reporting: Pricing, Regulatory, Client
NAV Calculation and Validation
KYC and Adverse Media Monitoring
Faster and Accurate Reconciliations
Master/Reference Data Management
Portfolio Management
EXL's data driven offerings help portfolio managers make informed decisions at speed and achieve higher investment alpha
Objectives
Investment Alpha;
Data-driven Investment Decisions
Select Solutions
Investment Research Support
Credit Risk Modeling
Alternative Data Usage for Valuation
Risk Analytics
Improved Trade Execution Algorithms
Performance Attribution Analysis
Digital engagement framework
Building an effective digital engagement framework requires a deep understanding of the fundamental success elements that empowers the entire distribution organization across sales and marketing. This helps us delivers incremental returns on investments both in human capital and technology.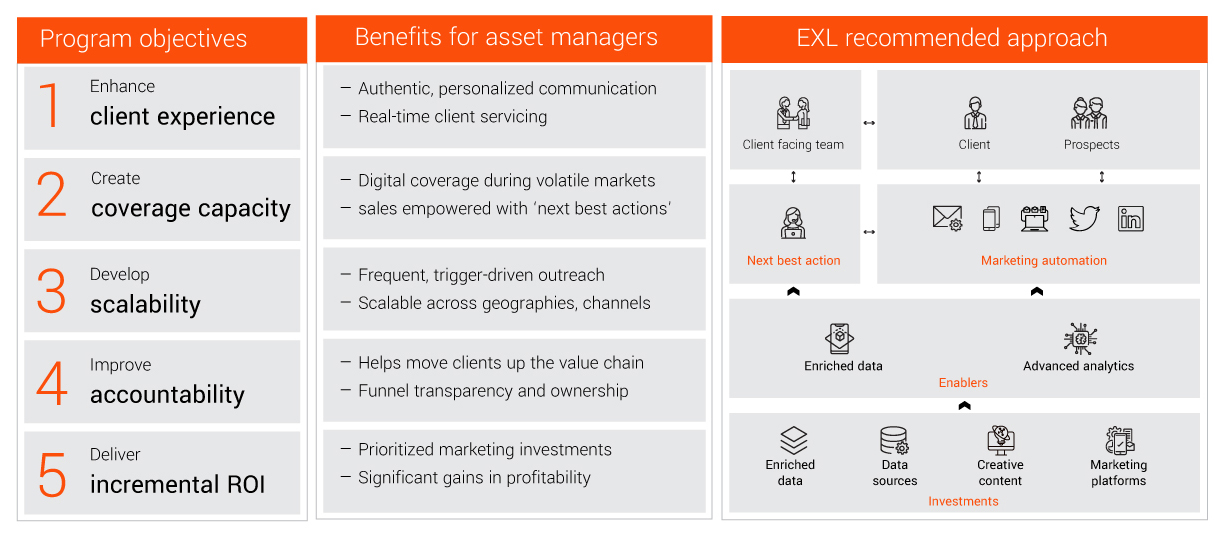 Latest insights
Transformation starts with inspiration. See the latest ideas from some of our leaders.
Why EXL Asset Management
Sophisticated and integrated analytics combined with deep domain knowledge.
In today's financial services industry, increasing regulatory and compliance requirements, the mandate to improve ROI following the recent Covid-19 crisis, and the imperative to harness digital technologies to improve the customer experience are all intensifying the drive to transform. EXL partners with institutions to help them stay competitive, improve customer centricity, enhance compliance and risk management and accelerate growth and profitability.
Our professional team has deep experience in all key areas of financial services, including asset and wealth management, investment banking, non-banking financial services, retail banking and brokerage services. This context enables us to apply domain-specific analytics, data management, digital and business intelligence tools to all aspects of your business, from the front office through the middle office to the back office.
Together, we create real, measurable value by deploying advanced analytics, AI, robotics, data, human intelligence and other domain-specific technology solutions to help you stay ahead.
Gartner Peer Insights Customers' Choice
for Data and Analytics Service Providers distinction (2021)
"Advanced Analytics & Insights (AA&I) Services PEAK Matrix® Assessment" 2021
in The Forrester Wave™: Insights-Driven BPO, Q4 2020
Ranked as a top 10 vendor
in the Voice of the Customer category– HFS Top 10: Triple-A Trifecta Services 2020