Enabling real time insurance verification
Industry challenges we address...
Increased complexity impacting speed due to unstructured data inputs from multiple sources
Certificates of Insurance (CoIs) are point-in-time documents
The process of managing Certificate of Insurance (CoI) is costly & inefficient
It is difficult to maintain a reasonable level of compliance between renewals
Our solution combines EXL Xtrakto.AI™ and Certificial
Embedded with AI | ML based capabilities helps carriers/brokers
Extract data from Unstructured/Semi Structured and Structured document
Create digital request in Certificial through seamless integration
Continuously enhance extraction accuracy reducing manual effort from employees
Move to cloud Native platform with expert Human-in-loop
Real time coverage information
Real time coverage information flow between Brokers/Carriers and Requestors through integration
Instant coverage comparisons against Certificate holders requirements
Continuous coverage monitoring for Certificate holders/Requestors
Shift industry from Document to data driven coverage monitoring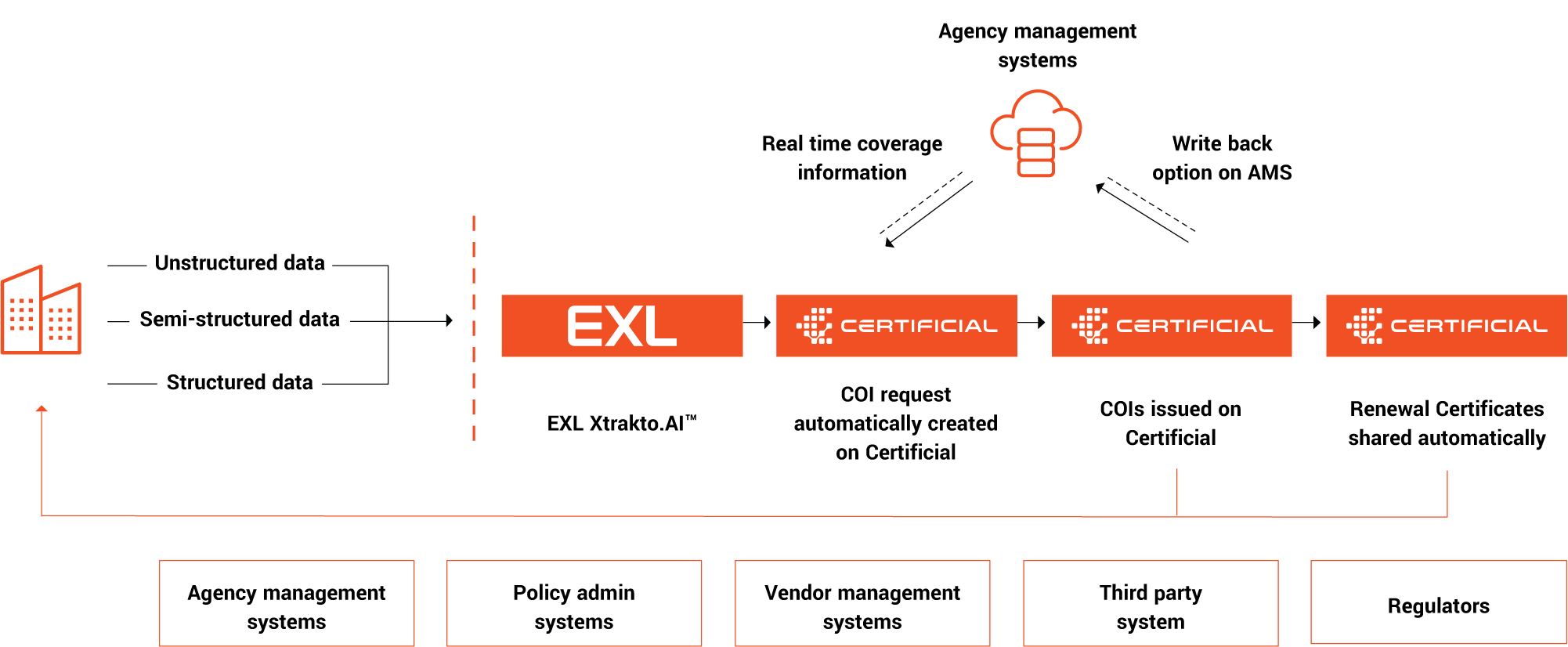 50%+
Reduction in cost of operations
5-10%
Reduction in error rate
Increased
Self service & customer experience
Key benefits to requestors
Real time verification & monitoring
Reduce risk
Always be aware of your Suppliers' current coverage by receiving notifications when a Supplier's insurance coverage lapses is canceled or is reduced below your required limits.
Save time and money
Reduce overhead and operating expenses up to 90% by using templates to quickly request insurance coverage. Once a connection has been made with the Supplier and their Agent Certificial takes over
Reduce complexity
Manage all your Suppliers on a single data-driven system. No more spreadsheets. You can also quickly and easily hit a toggle button to switch to "Insured Mode" to share your coverage with your Clients.
Eliminate uninsured activity
By utilizing dynamic data Certificial has partnered with leading technology companies that allow you to take action when a Supplier is not compliant with your coverage requirements.
Key benefits to insurers
Here are just a few of the benefits:
Reduce risk
Reduce operational costs
Improve customer service
Automate annual renewal process
Reduce certificate requests
Increase ROI from commissions
Save time and money
Ability to support unlimited Certificate Holders
Provide a client portal for sharing and monitoring insurance
Improved insight into client's B2B/B2C interactions
Offer new value-added services
<div class="fd__allinsight__section___header">Featured insights</div> <div class="fd__all__allinsight__section__subheader"></div>