Cognitive AI solution transforms contact center for leading healthcare organization

AI solution transforms contact center for leading healthcare organization
EXL EXELIA.AI™ tool solves many common provider pain points for precertification process
AI solution transforms contact center for leading healthcare organization
EXL EXELIA.AI™ tool solves many common provider pain points for precertification process
Cognitive AI solution transforms contact center for leading healthcare organization

The challenge
A leading healthcare organization was looking to improve its provider-focused contact center operations for precertification processing. After an in-depth assessment of their operations, which included the types of calls, call volumes, average handle time, and provider satisfaction, the organization identified several areas of challenge, including
A high cost of operations and the maintenance of multiple call centers, creating oversight and quality variances
A heavy reliance on staff, creating unwanted risk in a volatile labor market
Rising inflation contributing to increasing operational expenditures
Providers unable to obtain information after hours and on weekends
A risk to provider satisfaction and an increase in provider abrasion
Additionally, the organization was interested in how AI could be implemented to solve these issues. As a leader in contact center operations, and advanced AI solutions and tools, they turned to the experts at EXL.
EXL EXELIA.AI™ is a pre-trained solution that mimics human-like interactions through voice and chat, developed across industry specific use cases.
In today's healthcare call center ecosystem – where callers are increasingly used to getting information faster – the ability to provide immediate resolutions and impactful user experiences are more important than ever. Additionally, costs and staffing issues can create further challenges, creating a spiral of dissatisfaction, dropped calls, and long wait times.
Human ingenuity in action: The solution
The EXL team recommended our industry-leading, healthcare trained AI solution, EXL EXELIA.AI™ to help solve the organization's contact center issues. EXL EXELIA.AI™ is a pre-trained solution that mimics humanlike interactions through voice and chat, developed across industry specific use cases.
The solution instantly solves queries through next-generation natural language processing and contextual understanding. It also seamlessly switches between voice and chat options to expedite the intake of information while the caller remains online. Once EXL EXELIA.AI™ gathers the information from the caller, it can end the call if the call intent is met, or seamlessly transfer the call to an agent when requested.
EXL developed a plan to implement the solution into the organization's current workflow, and after thorough research, several proof of concept developments, and client feedback – the first use case was launched with the goals of:
Deflecting more than 40% of in scope calls
Reducing call resolution time and average cost per call
Increasing operational resilience with the ability to scale to meet business needs
Creating new data insights and assets to inform business operations
Providing valuable information to providers after hours and on weekends
EXL will continue to rollout other features as the implementation of the solution progresses, including precertification services, service date changes, and service authorization extensions.
See how the solution integrates within workflows.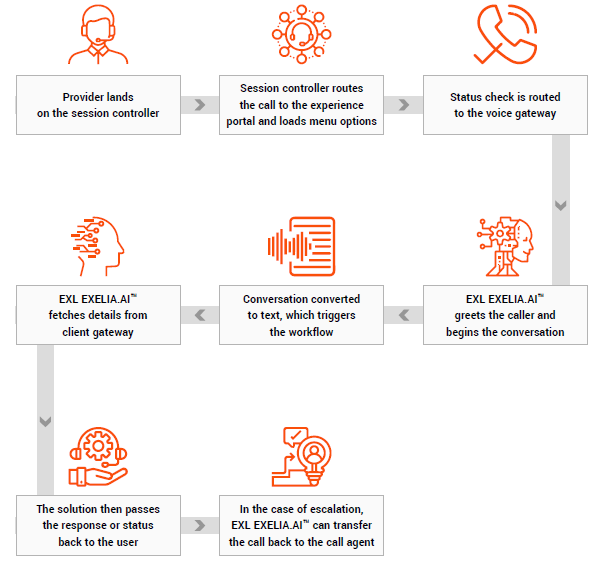 Measuring success: The outcomes
Since the initial implementation of EXL EXELIA.AI™, the organization has seen positive results. Additionally, EXL received a high customer satisfaction score (9/10) on implementation, performance, and ability to successfully deliver CX transformation.
Results to date include:
Cost per call reduction by
over 80%
 
Reducing the average call handle time from
4 minutes to 45 seconds
 
75% positive feedback
from providers
 
Exceeded the initial go-live
goal of 40% call deflection
and achieved 60% call deflection

See what the organization is saying:
"Very responsive, knowledgeable team. The working relationship we have with our EXL partners has been nothing short of collaborative, respectful, and has set a great foundation to enable the Cognitive AI initiatives we are planning to implement. The EXL team has a keen ability to engage with technical and non-technical stakeholders alike."
-- Product owner for client implementation

To learn more about EXL EXELIA.AI™ or to schedule a demo, contact us today.