Emerging population risk management
Leading Healthcare organization pairs social determinants of health data with predictive & prescriptive analytics to move ahead of the risk curve
Client profile
Large regional Healthcare organization
Over 4.5M member lives
3M+ Commercial lives (2M lives included in emerging risk analysis)
500k+ Medicare lives
Coverage across 40+ U.S. states
Background
Like the vast majority of Healthcare companies today, this EXL Health client sought to improve care management outcomes by creating improvements across member engagement, health and cost outcomes. Their current approach provided insight into members in need of immediate care management, but lacked the ability to proactively identify emerging early chronic members.
Furthermore, the client had a large strategic initiative to design, build and deliver a more integrated model of care delivery. As a part of this new model, they aimed to create a shift in care management focus from highly reactive care management to a more proactive approach that encompassed managing members across the risk spectrum, including those who are yet to become high risk.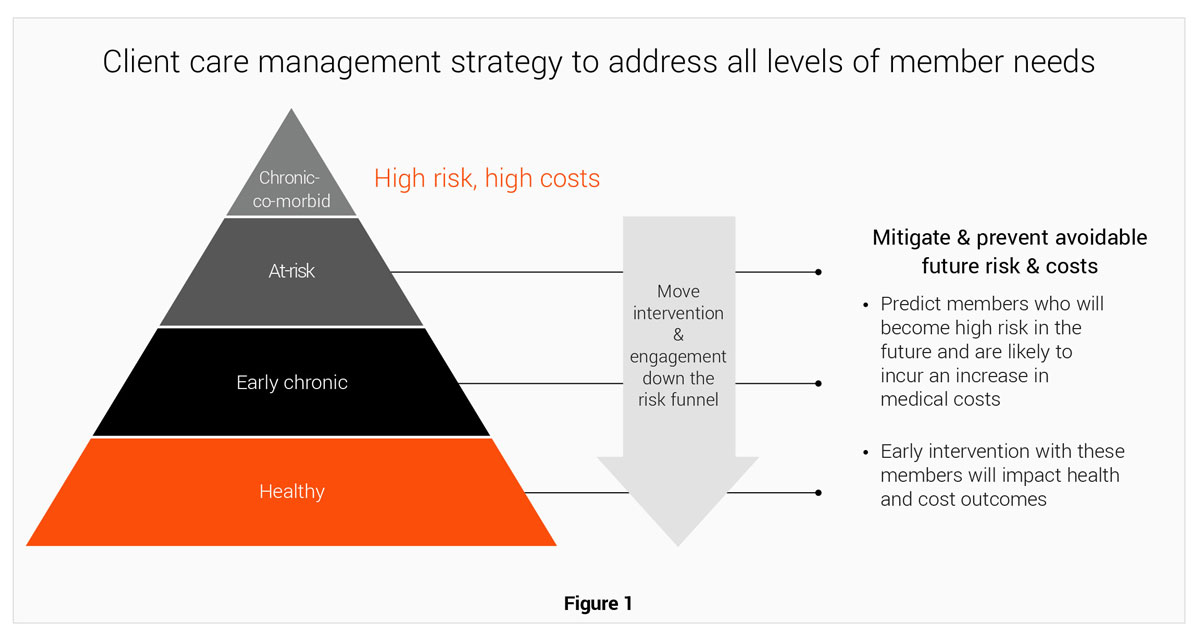 This progressive way of delivering care to populations required a new way of looking at care management. It also required a need to deeply understand members, populations and performance in order to appropriately equip their regional-based multi-disciplinary care teams. They not only aimed to create care management efficiencies, but in a novel way, understand how to effectively engage with members in order to truly impact health outcomes.
Strategic partnership creates the foundation for a bright future
In order to gain the deep insights needed for care transformation, the client looked to expand their current partnership with EXL Health. EXL Health's experience and expertise in end-to-end data management and ability to deliver actionable and operational insights derived from proprietary, predictive and prescriptive analytics was exactly what the health plan needed to catapult into the next generation of care management.
EXL Health's dedicated team of clinical, analytics and health plan domain experts delivered on the client need to:
Identify members who may become high risk members within the next 2-3 years
Prioritize care to achieve maximum efficiency and outcomes from care management teams
Suggest an intervention approach to mitigate against undesired health outcomes and increased costs
Approach
Projecting membership risk
Early chronic population
EXL Health began by performing a longitudinal analysis of the health plan's historical data and applied proprietary risk models to identify members who are likely to become high risk in the next 2 to 3 years. EXL Health started by identifying newly diagnosed chronic members and layered emerging risk analysis on top.
Early chronic with emerging risk population
What this gleaned for the organization was not only who their early chronic members are, which they already knew, but exposed which of those early chronic members demonstrated signs of potential future risk. EXL Health considered such risk factors as social determinants of health (SDoH), lifestyle , cost trends, ED visits, gaps in care and many more.
Early chronic with emerging risk & impactable / intervenable population
The client was getting much closer to gaining insight into where their care management resources should be focused, but by looking to predictive and prescriptive analytics they far surpassed traditional risk analysis. They worked with EXL Health to further narrow segmentation of the emerging risk population and identify which members look to truly be Impactable and Intervenable. Impactability enables clients to quickly identify which members should be prioritized based on the potential for greatest clinical and financial return. This analysis uses measures similar to HEDIS and PQA to create prioritized care gap closures for each member and quantify potential cost savings associated with care gap closure.
As part of the strategic direction of the plan, they sought to bring in additional layers of member insights in order to adequately equip each regional care manager for appropriate intervention and engagement. EXL Health identified key drivers or barriers for improving outcomes based on SDoH factors, such as ethnicity, companionship, transportation, access to care, financial stability, education, etc.
This analysis – paired with prescriptive analytics – allowed EXL Health to deliver a targeted population segment that was both impactable and intervenable, increasing a member's willingness and ability to comply with prescribed interventions.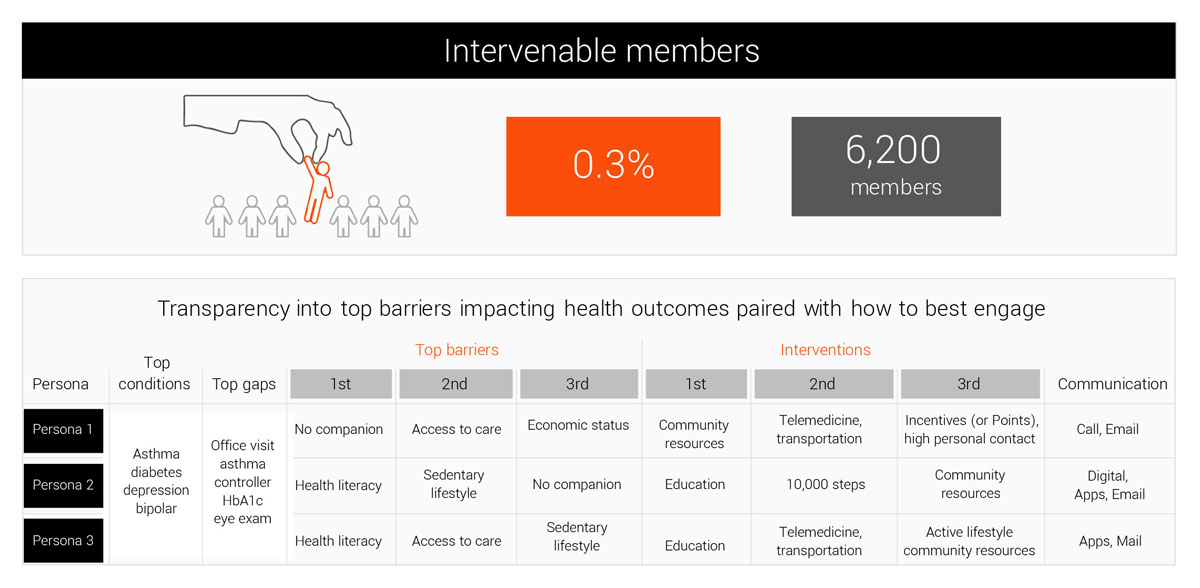 Figure 2 suggests there is a greater savings opportunity for the final cohort (Impactable and Intervenable members with emerging risk) compared with any other segment of the population
EXL Health provided the organization with a highly prioritized population segment that was both impactable and intervenable – and included what care should be delivered and how to best engage with members.
EXL Health identified the possible communication channels at a member level based on lifestyle and behavior factors, such as mail order preference, online/mail shopping preference, opt-out of mail solicitation, etc. By aligning preferred communication channels and recommended interventions based on the member's clinical and social factors, the health plan can make data driven decisions around where and how to best focus care management resources.
Proven outcomes
The client is embarking on their journey to operationalize the insights provided by EXL Health. As they integrate the analytics into their current and new regional care management programs, they expect to see significant improvements across: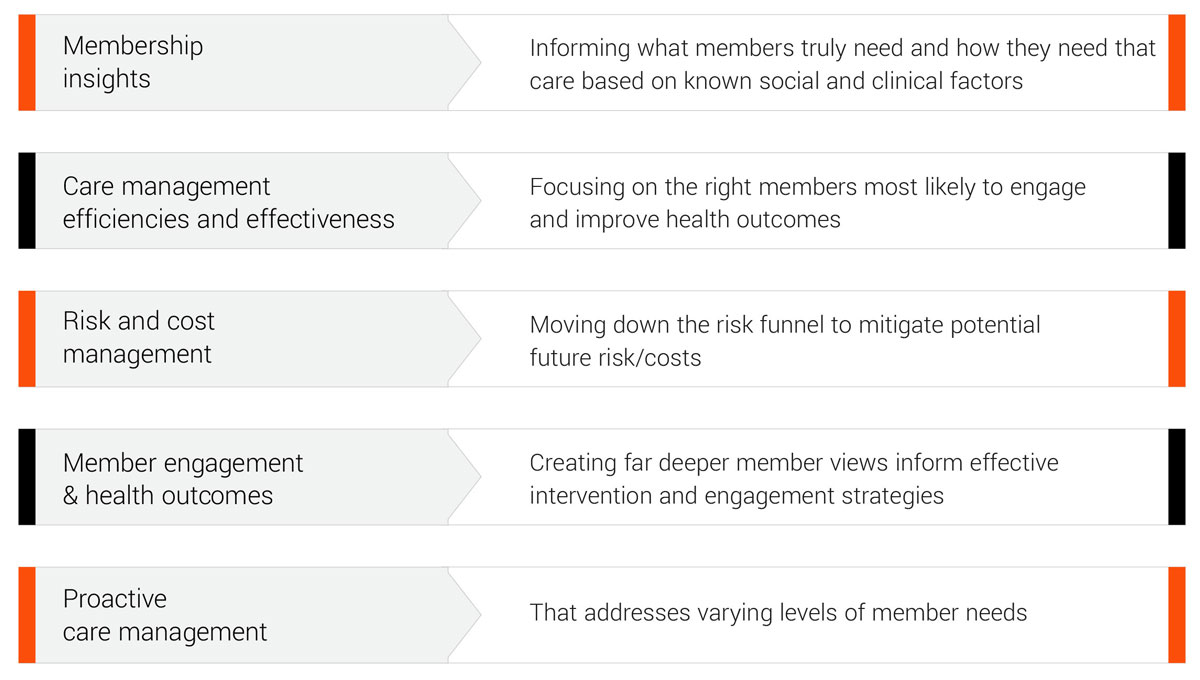 EXL Health will measure and monitor defined leading indicators on a monthly basis to ensure the right cohort is selected (traditional ROI analysis typically requires at least 12 – 18 months data post program participation). Those leading indicators include:
Risk
Inflation adjusted PMPM
Utilization (PCP/Specialist, avoidable IP, avoidable ER, readmission, etc.)
Measure compliance
etc.
By comparing the actual outcome to the expected outcome, the program efficiencies and effectiveness can be measured continuously before performing the traditional ROI analysis.
One of the key priorities set by the client was the need to understand the barriers to care compliance faced by their members. It was imperative to success to be able to view social determinants of health across their membership in order to break down these barriers and effectively intervene.
As the care team deploys the suggested methods for care gap closure and member outreach, results will be shared with EXL Health, and EXL Health will then create a feedback loop to further enhance the predictive model on an ongoing basis. EXL Health will also estimate ROI for this offering with the client through the partnership.