Leveraging EXL & AWS to provide near real-time, accurate data access for core business teams
Background
This multi-national real-estate conglomerate has several key drivers to indicate overall business health and growth. One key driver was not easy to gauge, and such a pain point that the management team provided an investment to modernize data collection and delivery.
The primary business focus was to provide leaders and decision makers with timely & accurate data to obtain insight and act. The primary focus was to obtain a clear picture of the organization's sub-divisions and agents in alignment with their sales objectives, closures and turnover rates.
Client challenge
Market competition was forcing this global real estate brand to reevaluate services offered to both agents and clients alike. Distributed data in various source systems presented a challenge to the initiative.
To gain access to the requisite data in semi-real time, a modern data platform was designed based upon the client's specific requirements in regard to speed of access, security, and projected architectural impacts.
The EXL Solution
EXL enabled leadership to easily consume and understand data about the organization's customers and products by sunsetting legacy and building new reports. Member and portfolio growth is now updated daily for enterprise use.
The solution that was designed and deployed for this customer was a greenfield environment designed to integrate data from multiple sources and make this available to the customer spanning over 100,000 users in over 110 countries. The solution was designed to expand rapidly by ingestion of over 600 similar sources within the first 2 years of deployment. Data would be ingested into AWS S3/AWS RDS/Snowflake processed for both quality, completeness and enhanced with further cross referencing and then presented to these users.
Because of the scalable nature of the sources, a framework was built that would ingest data natively into S3, and asynchronously process the data as needed. The SLA for data ingestion into the final reporting process was 1 day, though the architecture could be asked to perform significantly faster ingestion. All users were connected via a web-interface and relied entirely on IAM for authentication. The queries were performed by Tableau against Snowflake and did not allow for direct access by users to either ingested sourced data or the data managed by Snowflake, except for a small group of advanced users.
Owners and Agents increased productivity by leveraging standard application pipeline dashboards obtaining much needed insight during a downward shift in the economy. The Lending and Mortgage departments were able to effectively track and monitor application turnaround time to better serve and deliver for their applicants
Solution Architecture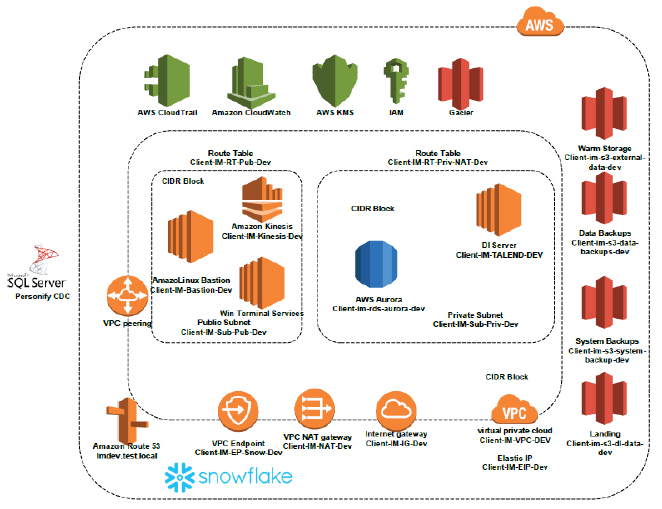 The ResultsThe Results
Accelerators:
Metadata driven data ingestion, data processing statistics (ABC) framework and related data model established strong foundation for future adaptability as well as extensive use of pre-built templates and artifacts to accelerate delivery
PoC to Implementation:
Lab environment created space for proving out technologies as aligned to prioritization of subject areas and architectural recommendations.
Global Delivery:
Global delivery enabled a 24x7 cost-effective implementation, delivery and support option were crucial to staying in-budget and delivering on-time.
Technical Know-How:
The success of this platform was dependent on expert recommendations around tools, technology and approach. Proven tool selection process rationalized best-fit tool for new platform.