Proactive risk management and improved outcomes with population analytics
Unique three-pronged approach helps healthcare payer focus on the most impactable members, implement effective interventions and leverage the best engagement strategies
EXL Health gets results
By relying on a little help from EXL Health, a large regional health plan is helping members help themselves. With EXL's population health analytics solution, the healthcare payer is empowering members to adhere to treatment plans, keep pace with provider visits and take medications as prescribed. The end result?
Members are able to better manage their health conditions – and many are avoiding emergency department visits and inpatient hospital stays. This not only improves quality of life but reduces overall costs as well.
The health plan has experienced these outcomes by leveraging the care management program to make improvements in the following areas: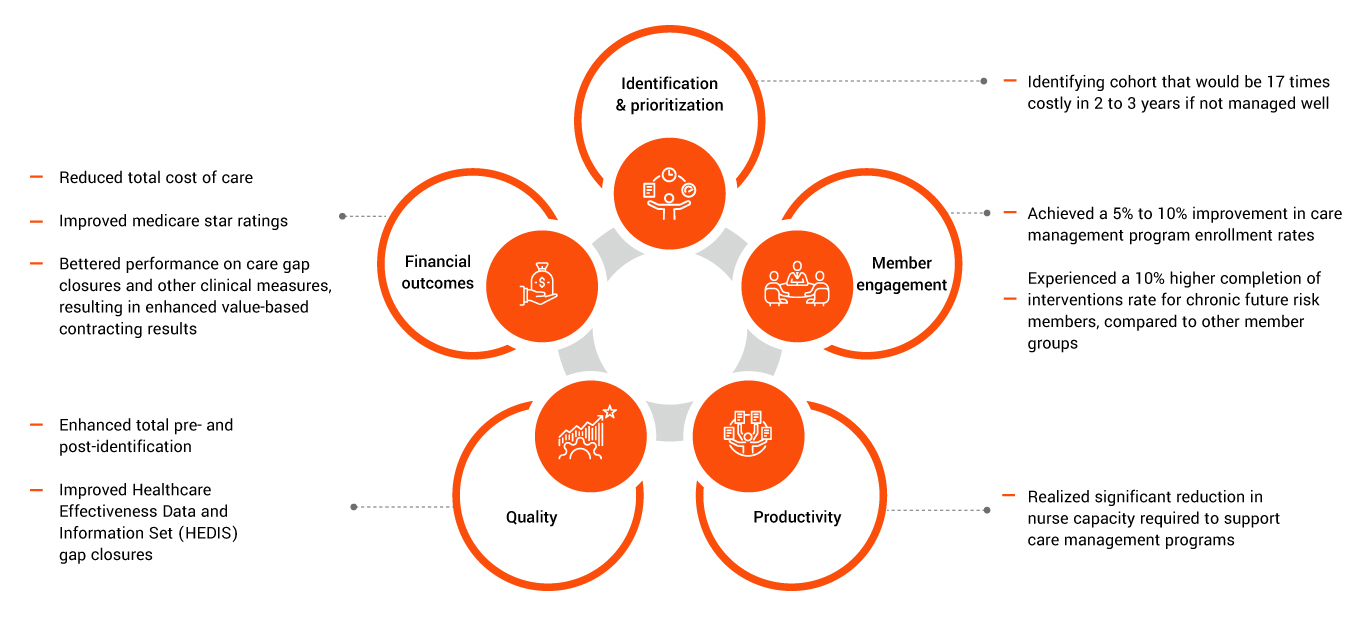 The health plan's challenges
This large regional health plan found itself in a tough – but all too common – position. The payer organization could identify members who needed care management, yet efforts to successfully engage these patients in programs fell short.
To move in the right direction, the health plan needed to elicit improved engagement and compliance with care plans from members – without placing unreasonable demands on nursing time and negatively affecting overall productivity. In addition, the health plan specifically needed to track gaps in care with members who were targeted to participate in care management programs and then implement strategies to close these gaps.
The EXL Health approach
With the holistic approach to population health, the health plan moved beyond merely identifying which members might benefit from care management initiatives to accurately pinpointing exactly which members are truly impactable – and to then engage these members successfully to drive outcomes.
To accomplish this, EXL Health worked with the payer to take a three-stepped approach:
1. Moving from reactive to proactive care management: Instead of just reaching out to members who are currently chronic or high risk, EXL identified patients who are likely to become high risk in future. The health plan engaged them in care management programs before their conditions started to progress. Through these efforts, EXL Health identified the 2.6% of the total population that was likely to enter the high-risk category in the next two to three years allowing the health plan to add focus on proactively managing risk
2. Assess impactability and intervenability: EXL Health empowered the health plan to move beyond simply identifying risk to determining which rising risk populations can truly benefit from care management initiatives. For example, the predicted risk for members with cancer, renal disease and diabetes patients could be the same or similar. However, impactability is typically relatively low for cancer and renal disease patients, simply because care interventions are not as likely to lead to significantly improved outcomes. On the other hand, interventions with diabetes patients are likely to lead to improved care outcomes and reduced costs. EXL worked with the health payer to prioritize members who are not only at current or future risk but also impactable.
What's more, EXL Health takes identification and stratification for care management one step further by coming up with intervenability scores as well. These assessments measure just how likely members are to listen to and implement recommended interventions. As such, the health plan also has a handle on how likely members are to make the lifestyle changes that will result in improved care.
This multi layered emerging risk, impactability and intervenability prioritization approach, led the health plan to target a chronic future risk cohort that had a relatively low near-term risk but could lead to significant high cost if left unmanaged. In this analysis, EXL was able to help the health plan identify the .3% of the population – or 6,000 members – that offered more than 17 times the savings opportunity, compared to any other population group.
3. Implement intelligent member engagement: Identifying risk prioritizing members can be a waste of time if members fail to fully engage with care management initiatives. As such, EXL Health worked with the health plan to develop appropriate outreach and engagement strategies by assessing clinical gaps, comorbid conditions and social determinants of health (SDOH) barriers for specific member populations. In addition, EXL empowered the health plan to improve engagement by leveraging predicted preferred communication channels for improved engagement via omni channel engagement.
In summary, this multi-faceted approach resulted in not only the identification of member populations that need care management services but also the: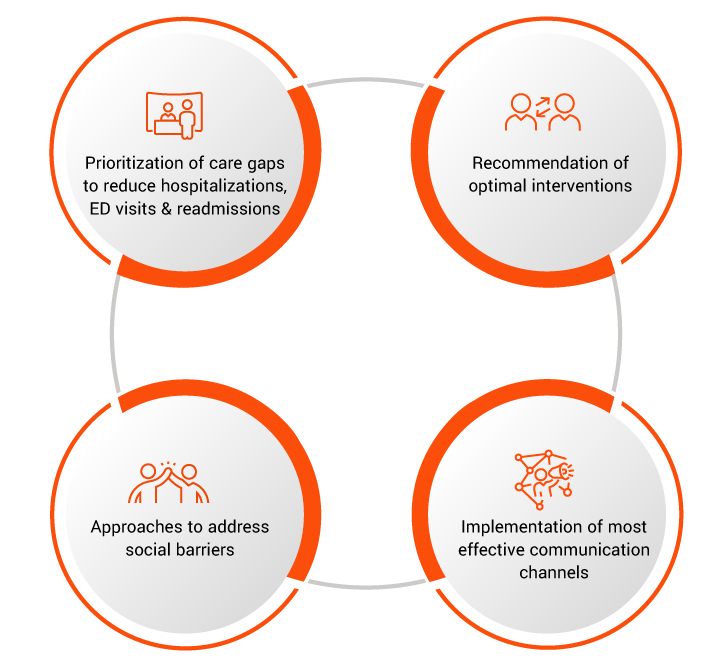 About EXL Health
At EXL Health, we are committed to a true partnership with our clients. We are passionate about your success. We take a client centric, collaborative approach to every engagement. We combine deep domain expertise with analytic insights and technology-enabled services to transform how care is delivered, managed and paid. Leveraging Human Ingenuity, we collaborate with our clients to solve complex problems and enhance their performance with nimble, scalable solutions. With data on more than 260 million lives, we work with hundreds of organizations across the healthcare ecosystem.