Active safety surveillance
The ever-evolving need for an efficient pharmacovigilance process
For over 50 years, life sciences companies have been committed to protecting patient wellbeing by detecting, reporting, and mitigating adverse events (AEs). Still, more than 100,000 deaths and 2 million hospital admissions each year are associated with drug- or device-related adverse reactions.
Today, the pharmacovigilance (PV) process is heavily dependent on people throughout each step. With an everincreasing volumes of AEs, traditional manual approaches of using in-house teams are becoming unsustainable. The market is now facing challenges including significantly increasing AE volumes, more stringent regulations, new safety regulations in emerging markets, improving signal surveillance for benefit and risk management, and aging legacy safety ecosystems.
AEs cause higher mortality rates than lung disease, diabetes, HIV/AIDS, and pneumonia, making it even more important to identify all possible drug reactions with the aid of a PV adopting leading-edge technologies and end-to-end automation.
Regulators and industry bodies are also seeking more in-depth trend data that looks beyond individual cases to identify signal trend patterns across treatment categories and patient populations. They want to see companies increasing their use of AE reports to gain greater insights about safety and support future decision making
| Patient safety and reporting | Technology |
| --- | --- |
| Limitations caused by fixed periods in clinical trials, leading to more errors in the post-marketing phase | Manual and ad-hoc signal management process lacking streamlined workflow, limited use of technology |
| Increasing ICSR volumes by 15% per year, with regulatory bodies pushing doctors to report more incidents Patients are sharing their AE stories via chat groups and social media | Industries pushed to search for solutions to decrease case processing costs whilst staying compliant with evolving regulations due to growing data volumes and complexity |
| Lifelong drug intake for patients suffering chronic diseases mean that AEs could occur if a drug is administered for long periods | Measures by PV department to curb headcount and cost increases through initiatives including leveraging partners to manage workload pressures and contain headcount growth while delivering scalability |
To address these market challenges and the pressing needs, EXL VigiLane delivers immense benefits to pharmaceutical, biotech, clinical research, and medical device companies and global health authorities.
EXL VigiLane, A cloud-based solution for active safety surveillance, is built using domain expertise and cutting-edge technology to digitally transform signal detection and manage processes for the passive to active monitoring of adverse events, targeted primarily on the postmarketing surveillance area. EXL VigiLane solution helps organizations by:
Transitioning from the conventional approach to the comprehensive signal detection and management system
Providing real-time monitoring of adverse events
Offering end-to-end automation embedding digital technology
Showcasing insights from EXL's longitudinal claims data and Real World Evidence (RWE), in addition to client safety data and FDA data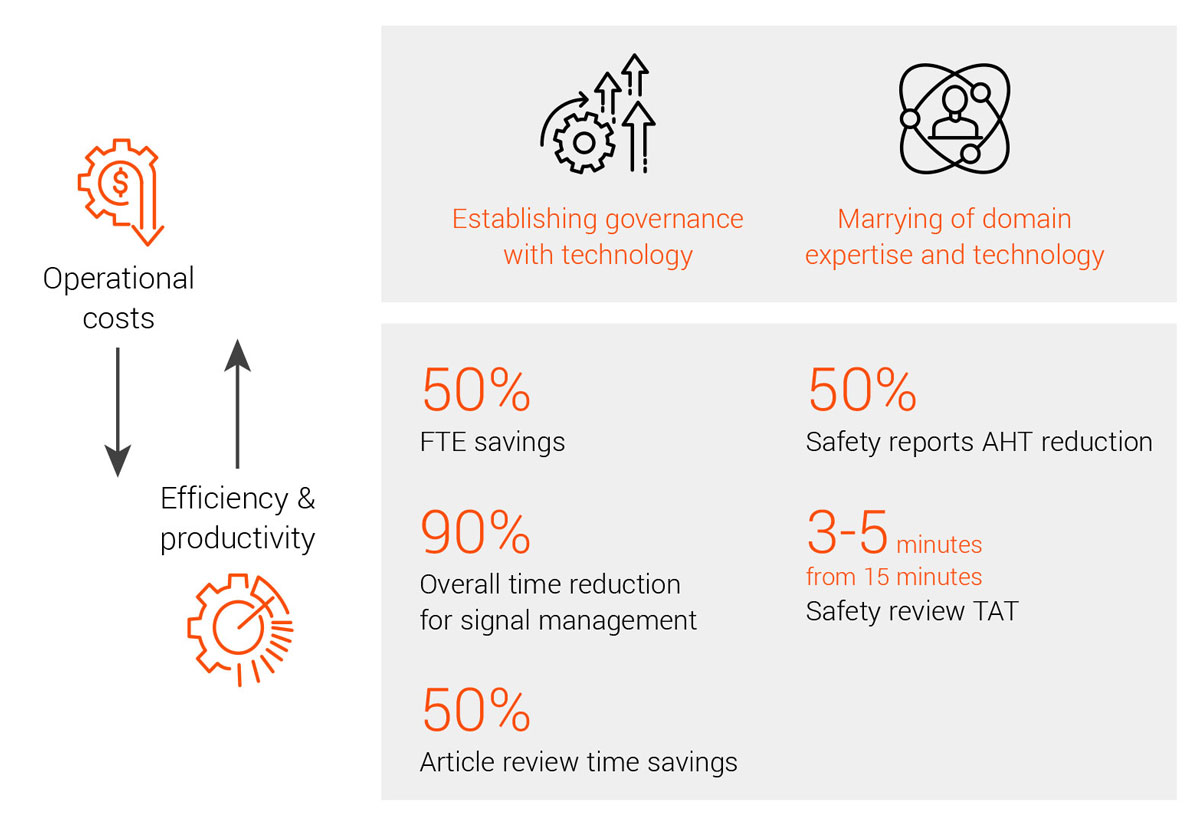 Solution features
Built-in interactive data visualization: Insights on members using the drug(s), AE summary sliced across FAERS and EXL data, top AEs reported, tree view of the drug-event pairs and metrics aligned to potential risk factors and significance drawn from statistical algorithms
On-demand social media monitoring: Use of analytics such as natural language processing (NLP) and sentiment analysis for social media mining across various channels
Digitally enabled automated literature review: Using EXL's Xtrakto.AI and NLP to compliment AE signal detection sources
Causal relationship: Exploration of causal relationship identification between drug event pairs
Cloud-based solution: Enables massive data storage with minimal investments and data collection support from multiple stakeholders
Statistical validation: Advanced algorithms to identify statistically significant AEs and signals
Wealth of data: Usage of EXL's RWE data in partnership with healthcare payer claims and FAERS data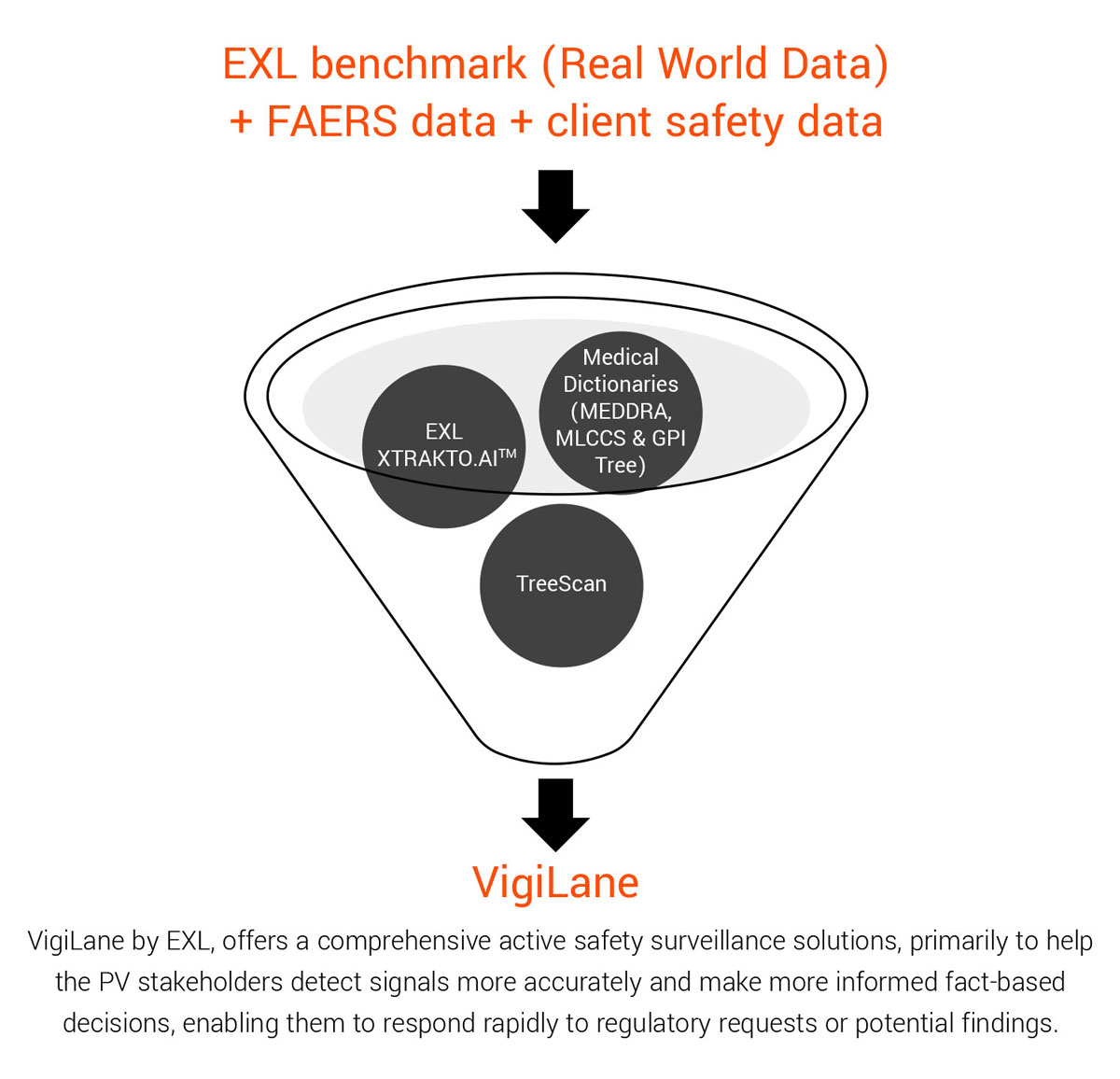 How it works?
Creation of drug event pair availability, cohorts of members taking similar drugs to narrow down the associated AEs
Use of advanced data mining software using FDA approved algorithms to track AEs, flagging false positives at a much swifter pace, helping the safety analyst do multiple hypothesis testing, thereby improving operational efficiency
Streamlined and active detection of new, unsuspected safety signals, case processing and automated literature review enabled by AI, NLP, and machine learning capabilities
Connectivity to heterogeneous data sources and platform deployment in Amazon Web Services, generating extensive insights on the potential AEs associated with the drugs
Benefits to your business
UI based real-time monitoring: Action-based and interactive UI to extract insights on patients across multiple data sets and the associated AEs breaking down by several KPIs such as age, duration, top AEs reported, drug-event pairs with relative risk ratios and likelihood of AE
Cost effective plug-play data model: No need to purchase expensive realworld data from third party vendors as EXL VigiLane leverages its massive RWE data based on adjudicated medical and prescription claims data across Commercial, Medicare and Medicaid lines of business
Simple and nimble deployment: Using a Cloud-based SaaS model, EXL VigiLane is flexible, safe and scalable without high dependency on IT infrastructure
Shorter TAT: : Faster signal management and literature review using AI and NLP than current conventional passive surveillance for prioritizing safety observations, eventually leading to informed and accelerated future drug discovery
Risk mitigation: EXL VigiLane helps prepare risk management plans, with resolutions much faster by considering signal identification, investigation and validation ahead of other sources
Periodic automated reports: EXL VigiLane is designed to work in the backend to provide active safety surveillance reports without the need for high amounts of resource deployment to manage the product
EXL VigiLane offers reliable data to safety departments so they can work smarter, faster, and provide insights for the regulators, industry bodies, internal experts to enable evidence-based decisions about the safety of marketed products and future opportunities in the marketplace