EXL Health Risk Adjustment
In today's healthcare environment, program performance is impacted by the lack of comprehensive data and analytics needed to accurately and comprehensively manage risk adjustment and quality programs. There are several factors that contribute to less than optimal performance for both providers and payers, including: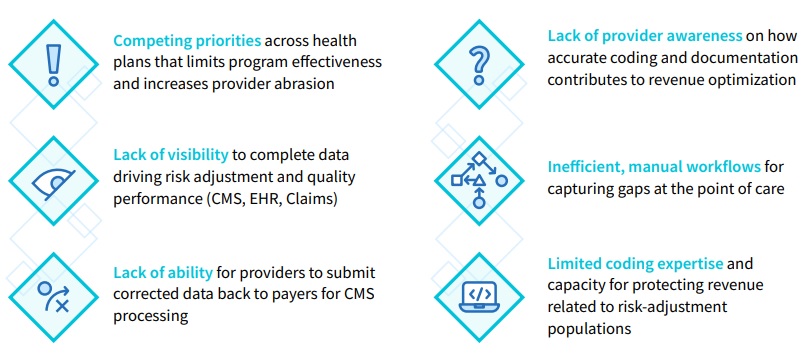 High performance in managed populations requires payer-provider collaboration with timely access to complete and accurate data. In order for providers to deliver the most cost effective and highest quality care to their patients, it is imperative they have a complete view of all care delivered regardless of network. Payers require healthcare organizations to proactively identify care and documentation gaps, close those gaps, and accurately document severity of conditions for needed treatment.
EXL HEALTH RISK ADJUSTMENT & QUALITY SOLUTIONS
EXL Health delivers comprehensive risk adjustment and quality analytics and services to healthcare organizations looking to deliver upon their value-based risk arrangements, including:

We support all risk-adjustment markets, including Medicare Advantage, PACE, ACO, Medicaid, and ACA/Exchange.
Risk Adjustment & Quality Solutions



EXL Health's comprehensive risk adjustment and quality solutions provide proactive data insights and enables outreach to patients who are at highest risk. These coordinated efforts help to improve HCC coding, leading to improved shared savings.
Proven Outcomes
A leading health system uses EXL Health's integrated risk adjustment analytics and services to improve the accuracy of their risk scores and support provider documentation for their Medicare population. EXL Health's coding expertise, risk adjustment analytics, and provider education for their Medicare Advantage and Medicare ACO patients have demonstrated the results on the following page: