Forging the way to advance healthcare transformation
"The EXL Health team is a highly responsive trusted partner who are experts at what they do. TRUST. If I need anything, I will get what they think the right answer is, regardless of how it affects my account. I value that."
Executive Director | leading national health plan
At EXL Health, we believe in the power of Human Ingenuity – our innate ability to work alongside our clients to create solutions to solve their most complex problems. When combined with our customer-centric approach, digital, data and analytics services and technologies, and deep domain expertise, we make healthcare transformation happen.
We do this through:
Driving cost transformation
Creating quality transformation
Accelerating value-based transformation
As the healthcare industry evolves at a rapid speed, we are here for you. EXL Health brings an unwavering ability to keep pace with an ever-changing landscape to help our clients get to what matters most – delivering high quality, effective healthcare at an appropriate cost.
The EXL Health approach
We bring innovation, automation and performance excellence to our clients to impact payment accuracies, cost management, quality outcomes and appropriate utilization – all key to value-based performance success.
EXL Health achieves this through our:
Value-added capacity - Domain expertise infused with intelligence to drive meaningful outcomes
Technology and analytic-enabled solutions - Digital and technology platforms informed by analytics and driven by automation for a unique 360º view
Insight and advisory services - A consultative approach to pinpoint precise recommendations, prescribe actions, and operational insights
We take a flexible approach to delivering value to our clients. To meet client compliance, security and cost needs, as well as quickly scale up or down, our solutions are offered through a variety of delivery models.
Full and/or partial delegation of services
Capacity/business process outsourcing services
Mix and match of onshore/offshore delivery models
Services delivered via on-site and/or offsite team members
Payers
Manage population risk
Reduce overall health claim expenditures/li>
Who we serve
Our diverse client base enables us to manage data on more than 150 million covered lives across the healthcare value chain and empowers our team of domain experts to drive collaboration, innovation, and bring a unique perspective to solving their most complex challenges..
Improve member care quality
Improve member and provider experience
Decrease administrative waste
Drive member acquisition
Optimize revenue opportunities
Drive network performance
Pharmacy benefit managers (PBMs)
Manage member drug benefits
Drive member acquisition
Improve provider and member experience
Create efficiencies and accuracies that drive cost containment and quality outcomes.
End-to-end care management services to improve patient care and support total cost of care reduction and delivery on contractual commitments.
Control costs associated with incorrectly billed or overpaid pharmacy claims, focusing on prevention, avoidance and recovery.
Data management foundation to support advanced analytics, that help you gain insight to drive the best action.
Providers
Proactively manage population risk
Improve quality outcomes
Optimize network performance
Optimize revenue opportunities
Drive member acquisition
Life sciences
EXL Health's Life Sciences services delivers improved patient outcomes and help our clients to transform to a value-based environment. We leverage extensive patient, consumer, and HCP-level data assets to deliver real-world insights through our advanced analytics and subject matter expertise.
Patient intelligence
Digital patient engagement
Outcomes based contracting
Commercial intelligence platform for Market effectiveness
Market access strategy development
Active safety surveillance
Finance and Accounting factors
Brokers
Comprehensive data acquisition and integration with enriched 360° view so you can trust your data and save internal team effort
Manage employer benefits to improve Employer cost, quality & productivity
Leverage curated analytics driven insights to drive action and outcomes
Empower your teams to build their own analytics and reporting to tell your own story
Accelerate your journey with robust off-the-shelf reporting with Financial Reporting, Population Health Reporting, Disability Reporting and more
Population health management to drive personalized interventions and employee engagement
Outcomes measurement across various vendor interventions
Benefit modeling and value-based benefit design analytics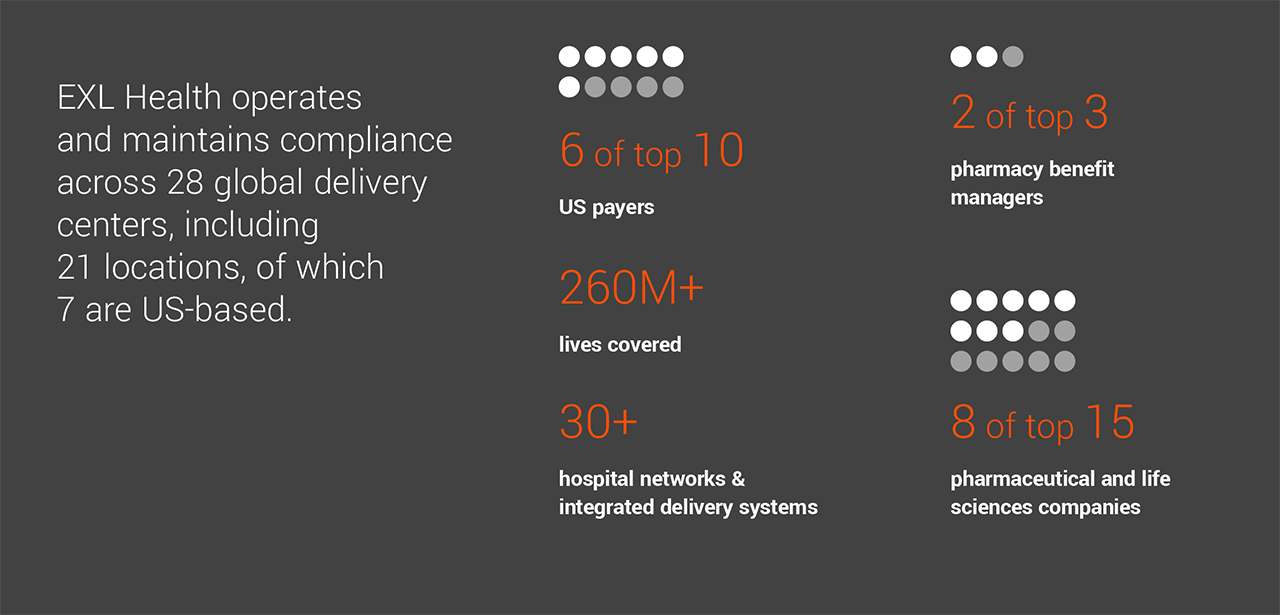 Digital Services
Powered by data, cloud, analytics, AI/ML, and domain expertise, EXL Health digital solutions improve business outcomes, help deliver great customer service, reduce cost, and strengthen quality of care. Health organizations can improve their performance across the value chain with EXL Health digital solutions.
Patient and member management
Provider management
Health & care management
Claims administration
Operations administration
Clinical services
End-to-end care management solutions support an integrated model to achieve efficient, effective, and compliant operations across case management, utilization management, and population health. Our team of domain clinical experts look to data-driven advanced analytics, sophisticated technology and digital automation to deliver impacts on member health, network performance, cost, and utilization outcomes.
We specifically deliver:
End-to-end BPO services
Case management and utilization management services
Analytics-enabled care management platform – CareRadius™
Program and outcomes analysis
Proprietary population and risk analytics
Digital technologies and automation capabilities
Contact center capacity services
Payment integrity services
EXL Health's payment integrity services provide payers actionable insights across the entire payment continuum to drive greater payment accuracy, decreasing overall health claim expenditure, reducing administrative costs, and improving patient and provider experiences.
Medical and pharmacy claims auditing

Complex audits and analytics in both pre-pay and post-pay modalities
Root cause identification and remediation
Fraud, waste and abuse (FWA) identification

Data Mining

Non-clinical coding and claims review
Contract compliance and payment management

Subrogation
Provider experience

Provider gold carding
Provider billing behavior analysis and scoring

Retail Pharmacy Auditing
Digital business process as a service (BPaaS) solutions (EXLMINESM, MY SOCRATESTM, Minerva)
Advisory services
Integrated revenue management solutions
EXL Health's integrated revenue management solutions make sense of data to provide full insight throughout the revenue cycle. Using payment analytics and digital-first payment processing solutions, we partner your way to implement solutions that provide up-front price transparency, improve revenue capture, optimize payment processing operations, and maximize & protect working capital.
Workflow Design
Payment Posting
Denials Management & Insurance A/R Follow-Up
Self-pay management
Optimal Analytics
Risk adjustment & quality services
Recognized as Best in KLAS 2022 for risk adjustment, EXL Health's modular, AAPC-certified risk adjustment and quality management services deliver optimized performance on risk-adjusted populations, including improvements across clinical documentation, quality outcomes and accurate reimbursement. By combining deep domain expertise, cutting-edge technology, and advanced analytics, we help you achieve accurate risk and quality scores, delivering comprehensive services including:
Impactful chart reviews powered by our proprietary NLP engine
Insightful and detailed analytics, powered by EXLCLARITY™
Bi-directional EMR integration
Member targeting and prioritization
Complete and accurate HHS and CMS submissions
Pharmacy services
EXL Health's Pharmacy Services embodies human ingenuity to proactively and comprehensively help our clients manage their pharmacy programs. We deliver services that resolve the most complex problems of pharmacy leaders by focusing on what matters most – improving member outcomes and quality, containing costs, and ensuring members and providers receive the best experience possible. Services include:
Pharmacy utilization management
Payment integrity for Rx claims
Pharmacy quality and care management
Pharmacy operations and digital transformation
Population and risk analytics
Market growth and expansion
Data & Analytics Services
With our Data and Analytics solution, we collaborate with our clients to improve member & provider satisfaction, optimize healthcare spend and improve population health using a combination of data, analytics, and digitally enabled solutions with human ingenuity at the core of it. More importantly, we meet our clients where they are with a flexible engagement model across software solution, services and advisory support to achieve optimal outcomes. We help clients make sense of their data to accelerate their business outcomes.
Data Management, enrichment and cloud services
Data discovery, visualization and data analytics platforms
Risk adjustment and quality measures
Advanced predictive and prescriptive analysis
Data assets, medical and pharmacy claims benchmark, and consumer data
Solution accelerators around Population Health Analytics, Employer Reporting and more
Digital Solutions & Services
Data, Analytics, Technology and Digital Centers of Excellence
Life science services
By leveraging extensive patient, consumer, and HCP-level data assets, advanced analytics and subject matter expertise, we provide real-world insights and value based solutions.
Patient intelligence
Market effectiveness
Market access strategy development
Why EXL Health
EXL Health is committed to the success of our clients. Your success is our success. And for that, we are determined to go the extra mile to develop highly collaborative partnerships and deliver solutions to meet unique client needs.
In addition to the healthcare capabilities outlined above, EXL Health delivers industry-leading finance and accounting services. These services are embedded with advanced analytics and driven by automation technologies to impact bottom line results and ensure compliance.
Our team of domain experts support health industry clients across the globe and bring experience and expertise across general ledger and accounting, accounts payable, payroll, treasury, taxes, financial planning and analysis, as well as internal controls. In addition to finance and accounting services, EXL Health supports our clients with legal and human resource shared services.
Our investment in our healthcare talent pool enables us to deliver the highest quality services to our clients. We augment our existing team by attracting professionals with demonstrated experience and domain expertise. EXL Health uses industry-leading training and education through our proprietary Healthcare Academy to advance knowledge and skills across the organization.
"EXL Health has deep, deep, analytical knowledge and are easy to work with. They bring a wealth of data science knowledge to the table. If you want to have a really good analytical discussion about your data, they're the people to talk to."
DIRECTOR OF CARE MANAGEMENT | BLUES PLAN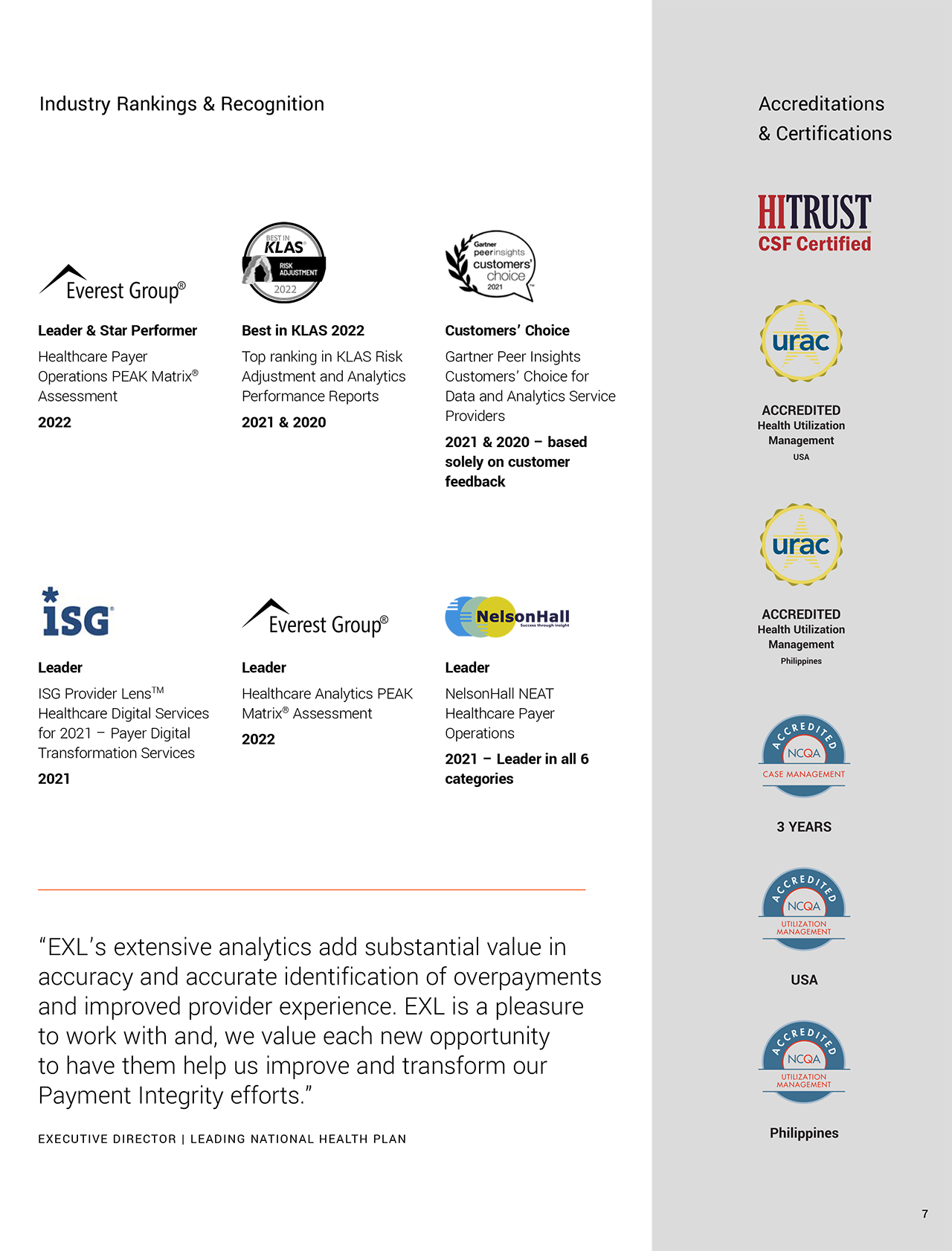 Human Ingenuity is the catalyst with which we solve your complex problems. Together, we will do this. It's our passion, our commitment, and our promise to do so.
Below are just a few examples of how our talent combines data, analytics, technology, and our domain expertise to deliver value to various healthcare stakeholders.