Accelerate Your Digital Adoption with EXL's Hyperautomation
Companies have started to realize that Automation needs Speed and Agility. The game plan for automation historically has been limited and focuses on specific point of the process with low complexity.
"You're either the one that creates the automation or you're getting automated."
~Tom Preston-Werner
Companies have started to realize that Automation needs Speed and Agility.
The game plan for automation historically has been limited and focuses on specific point of the process with low complexity.
The next frontier for every company is to think about automation in a more holistic manner and leverage the power of automation across the enterprise.
Here comes Hyperautomation.
What is Hyperautomation?
In simple words, Hyperautomation is the capability of putting together Automation, AI, Analytics, Intelligent Business Process Management Software (iBPMS), Machine Learning and Cognitive capabilities.
It is an enterprise-wide intelligent automation strategy that scales your existing automation program and is therefore more intelligent and smarter than automation.
Why Hyperautomation?
The presence of legacy systems along with the increased adoption of digital transformation technologies have turned the infrastructure of almost every company into a complex ecosystem.
There is a strong need to have a governing structure that can look into automation in a holistic way and orchestrate end-to-end automation through collaboration.
Can this be achieved by an existing automation approach?
Let's check the facts.
Challenges with traditional automation
Not applicable on unstructured or semi-structured data
Limited exception handling
Fixes the "problem" not the "process"
Example of claims vendor payment process with traditional automation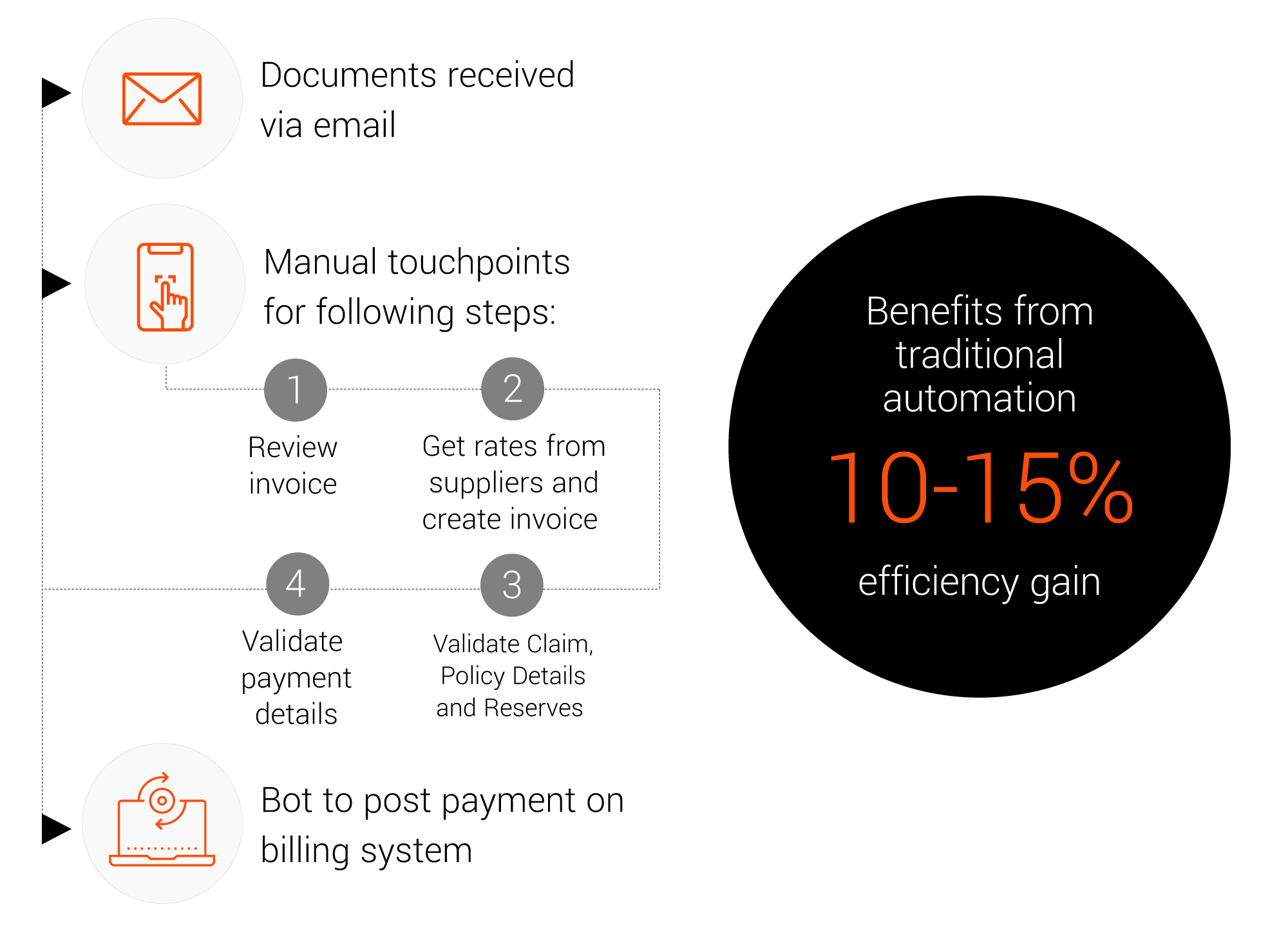 Benefits with Hyperautomation
Achieving Hyperautomation with EXL
EXL's Hyperautomation approach combines the power of Automation, AI and Analytics, and orchestrating these solutions on Cloud to deliver the benefit of transformation. Our focus is to shift the business from people-intensive legacy OS to a future ready, thin human AI Operating System (AI:OS).
The AI:OS help companies to capitalize on the opportunities introduced by both datadriven insight and new digital capacity. It empowers customers to act as coaches to AI and focus on complex activities that require the human touch.
The biggest benefit AI:OS delivers is speed, which in turn drives customer experience, better underwriting and claims outcomes, and reduced cost of operations. EXL's Hyperautomation CoE takes enterprises a step closer to AI:OS.
This type of Hyperautomation CoE enables business units to improve flexibility, re-usability and speed-to-Value.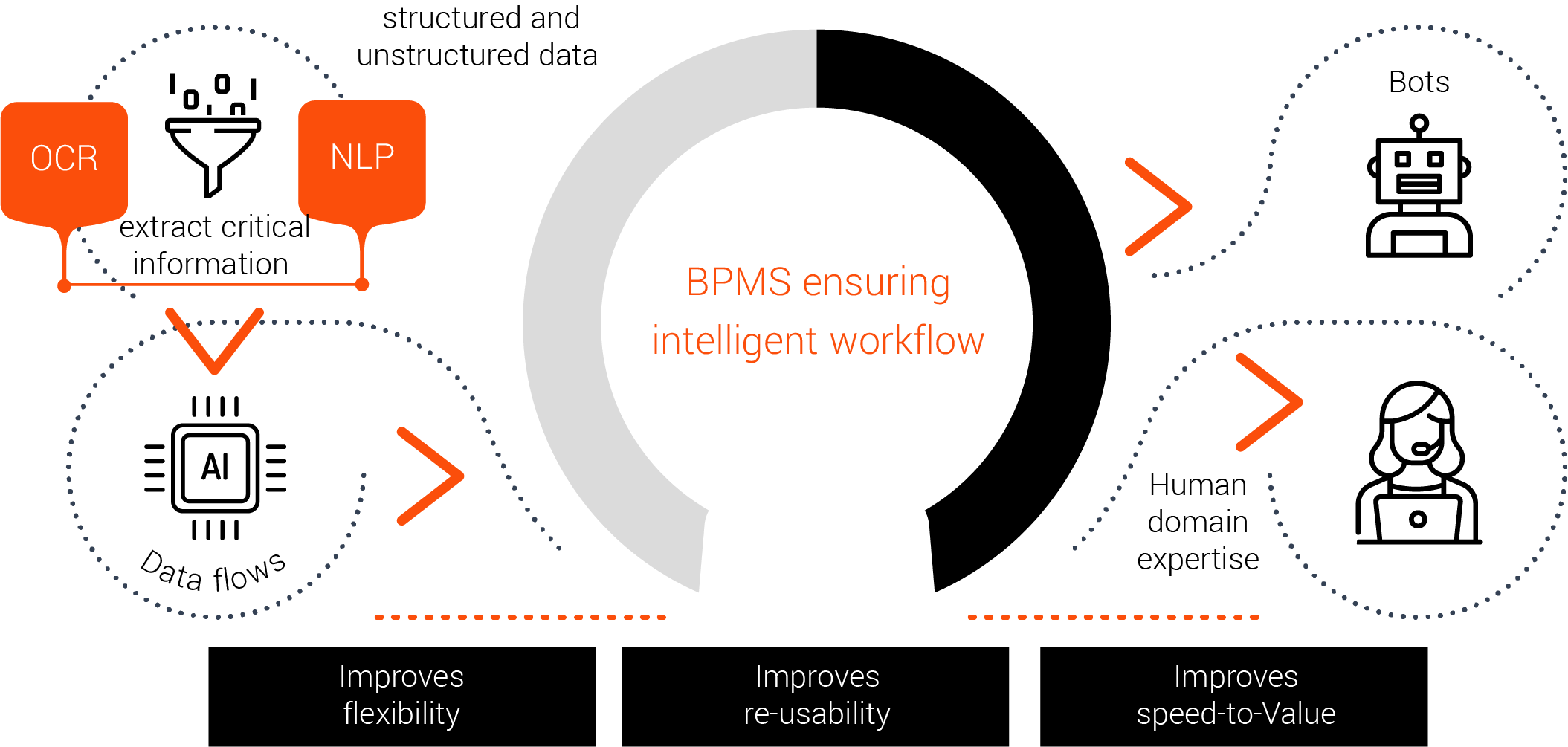 EXL leverages its existing tech stack, prebuilt solution accelerators and industry solutions and provides a structured approach towards development lifecycle delivering real results faster and much higher than traditional process automation.
The key differentiator of EXL's digitization approach is the focus on digital data flows. This is fundamentally different from the traditional approach that relies on analyzing process maps to identify interventions or solutions which can be applied at various steps of the process. Instead, we focus on re-imagining the clients operations by ensuring a seamless flow of data across the value chain.
Our approach to solution design combines multiple levers to orchestrate the reimagined end-to-end operations. We would look at Automation, Data, Analytics, AI, UX and cloud solutions to streamline the flow of data.
An example of streamlining data flows

Roadmap to Hyperautomation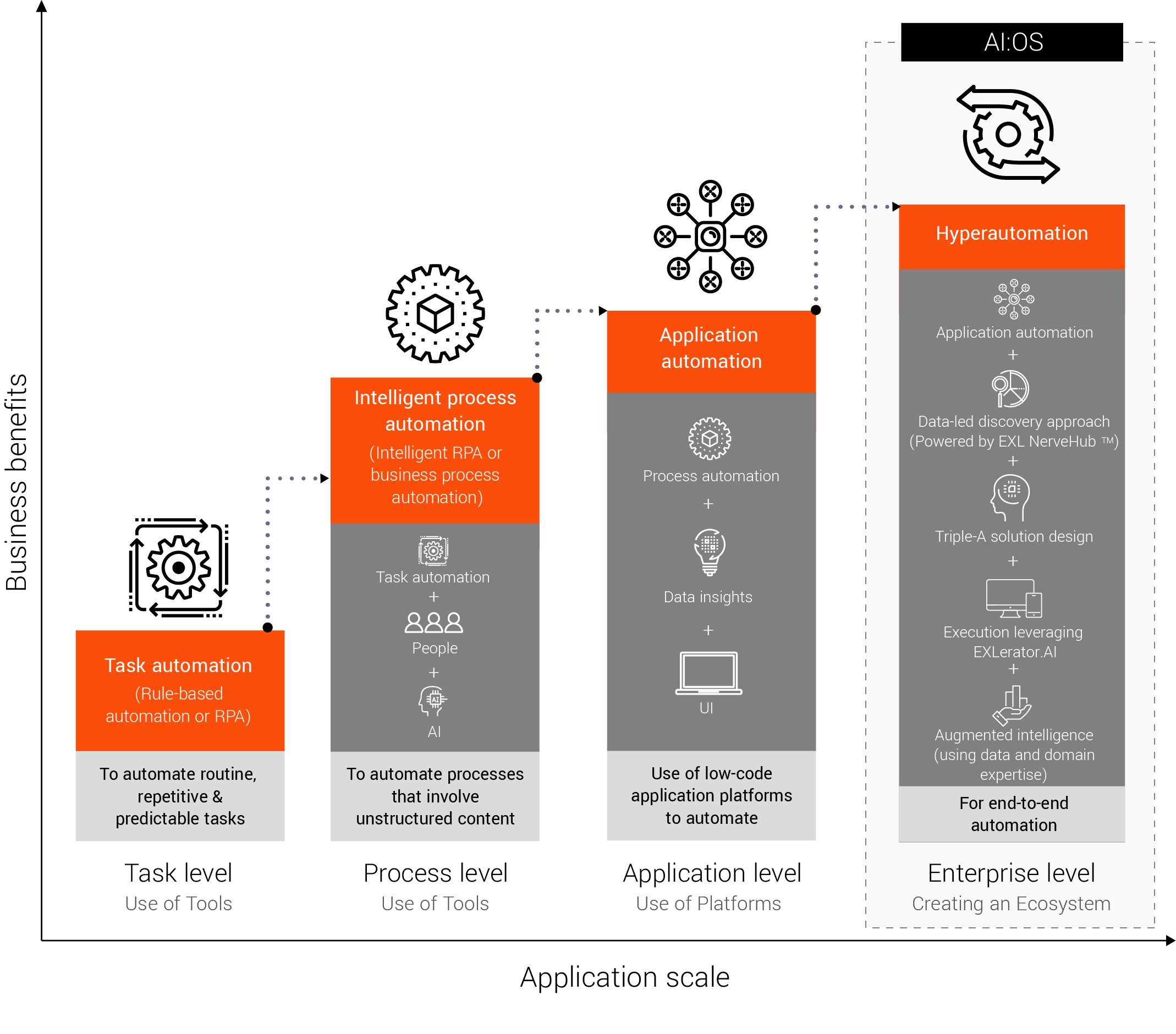 EXL's uses a 3-step framework from discovery to execution for successful Hyperautomation program outcomes. These steps help to simplify, measure and manage processes across the enterprise.
1. Data-led discovery approach using EXL Nerve HubTM
This involves the use of process mining techniques to convert traditional process maps into innovative data flows using EXL Nerve HubTM. With the EXL Nerve HubTM, companies can move beyond just visualizing data to understand what happened, why it happened, and what they need to do next to improve. Stakeholders can gain a powerful understanding of their transformation efforts through a centralized dashboard.

2. Triple-A solution design
This step applies intelligence in operations by leveraging AI, Analytics and Automation (Triple A) solutions and cloud services to enable better business decisions.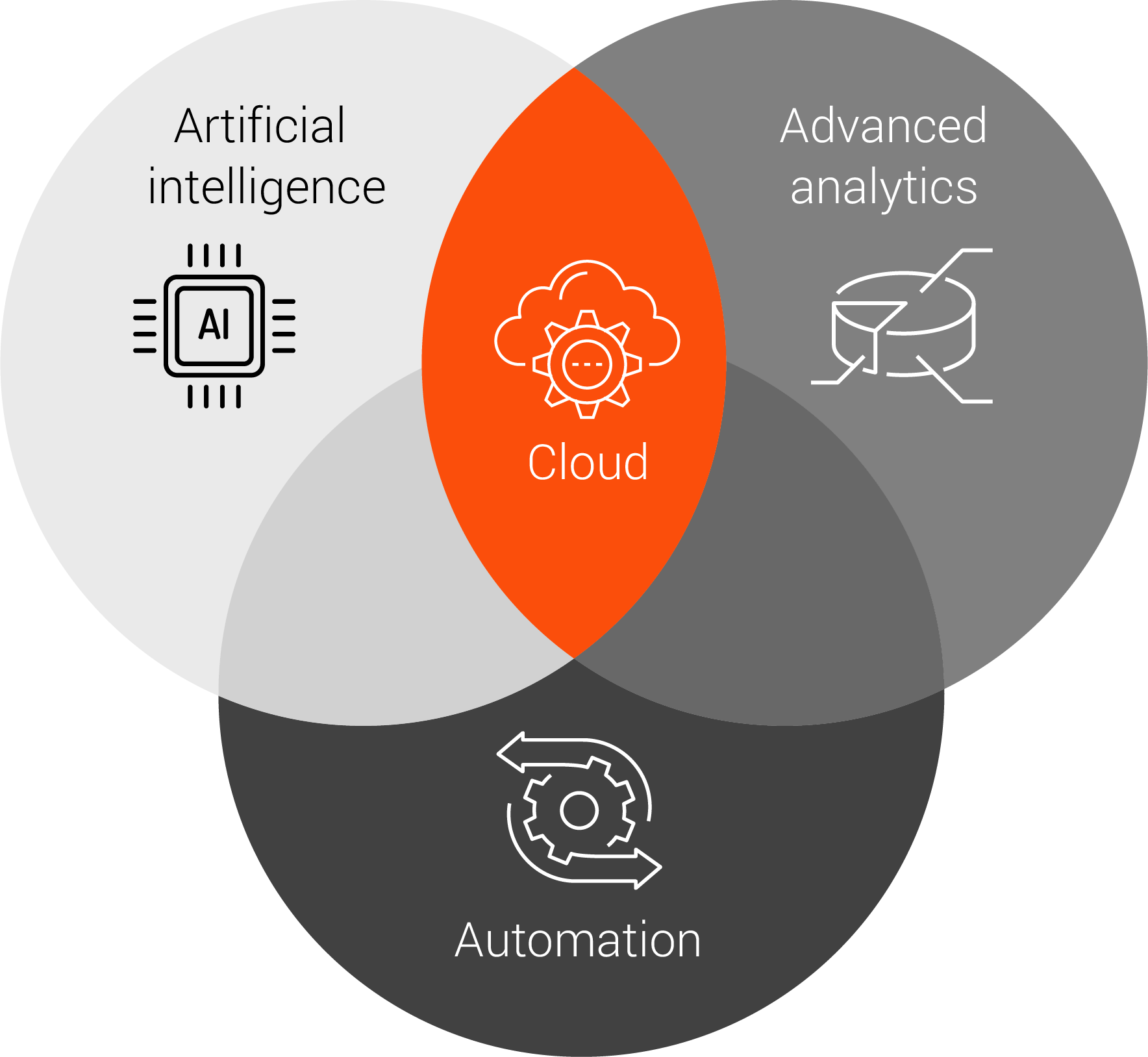 3. Execution leveraging EXLerator.AI
This step implements futuristic intelligent automation technologies leveraging EXLerator.AI. It is EXL's new digital transformation stack that ensures successful transformations at scale by enabling the operations team to move from experience- based to data-driven decision making.
EXLerator.AI supports a disciplined creation and execution of EXL's transformation strategy by Re-architecting legacy processes into digital data flows, Transforming using data/analytics/AI/ ML/ and redesigned UX, and Integrating solutions within the workflows using APIs, RPA, etc.
EXLerator.AI drives innovation in the rapidly evolving market conditions that is being driven by Customer Experience, Business Outcomes, and Efficiency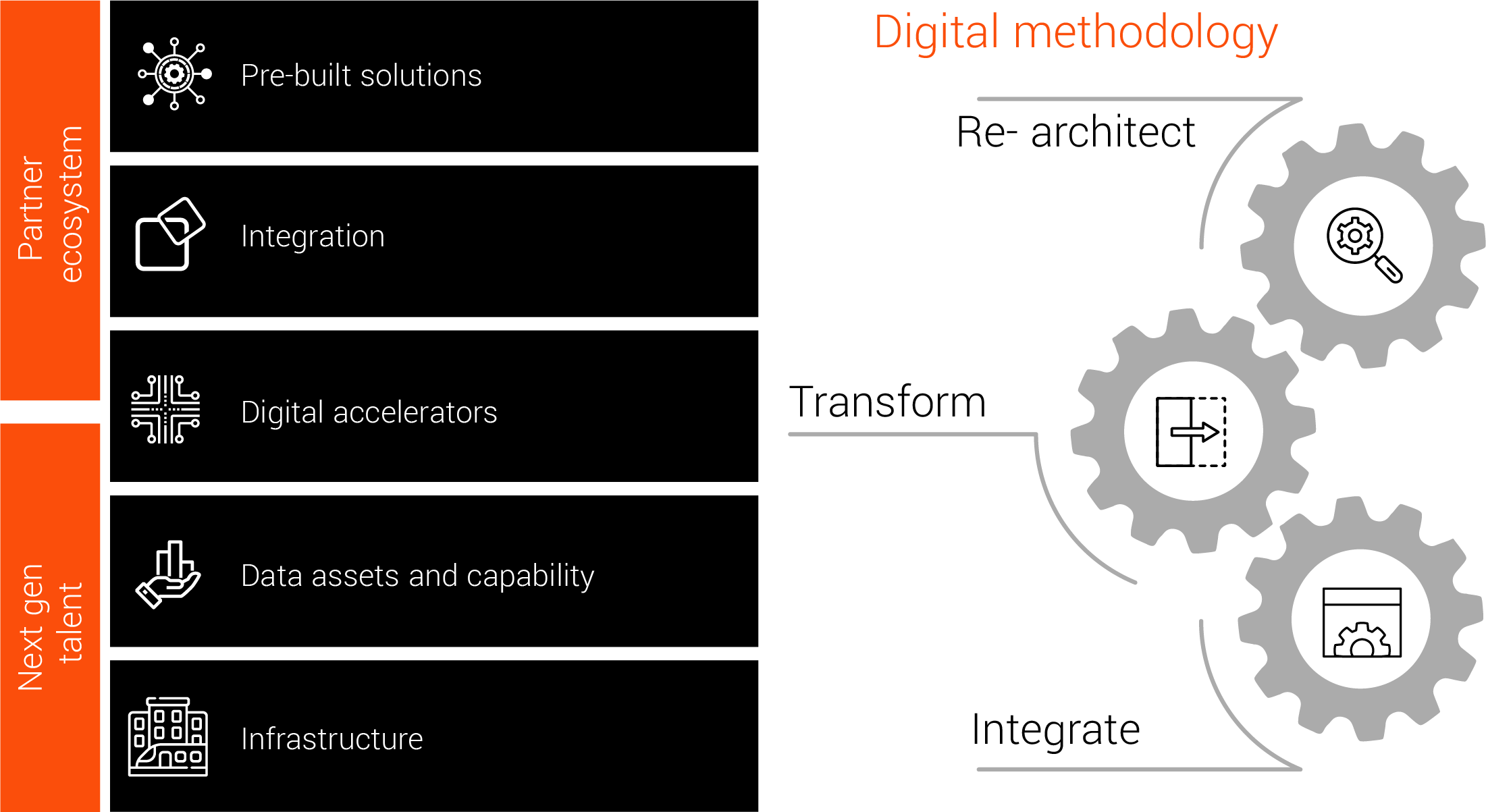 EXL's Hyperautomation operating model
Our Hyperautomation Operating Model provides a comprehensive view of the program management decisions to be made, such as roles and responsibilities, governance, and infrastructure management.
It is divided into 3 stages to enable clients reach automation at scale.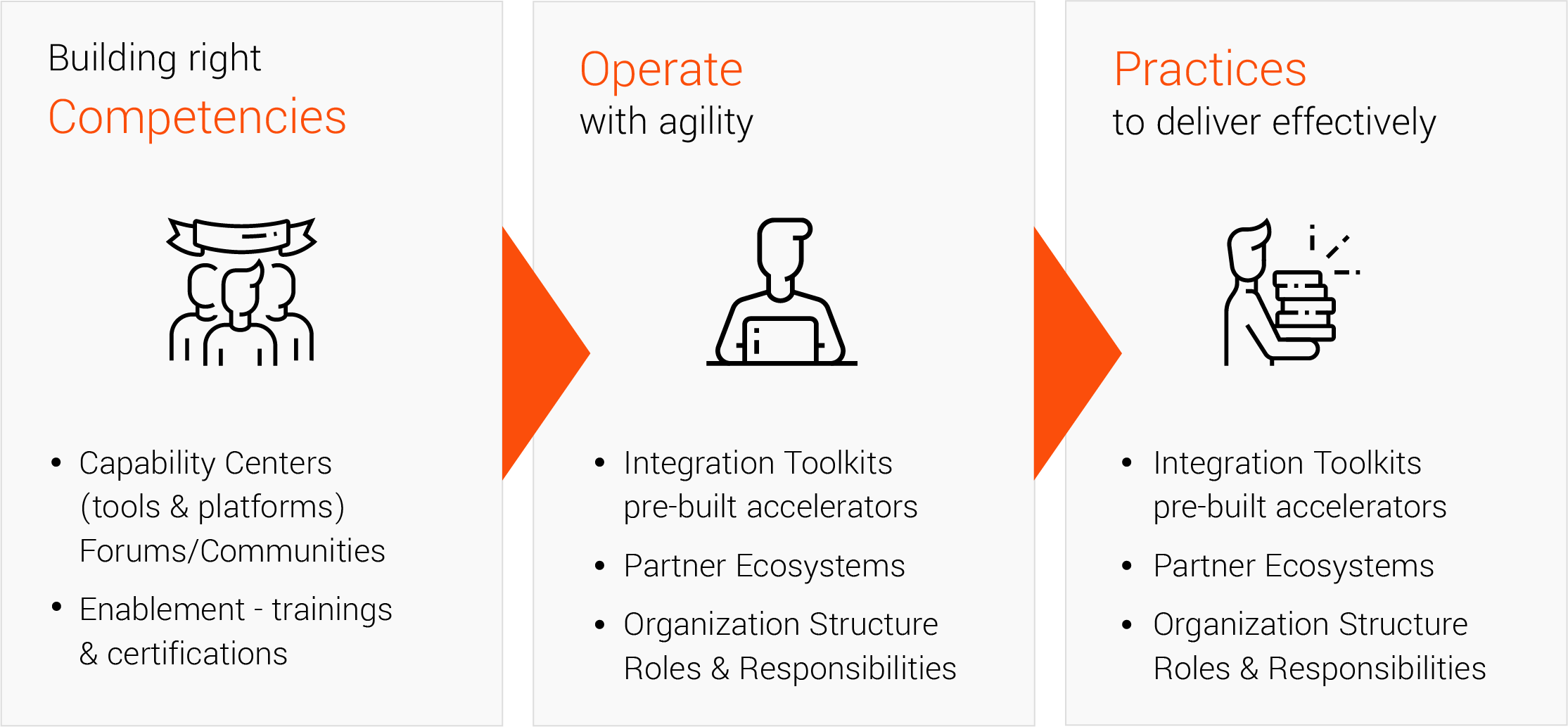 Conclusion
Hyperautomation allows companies to accelerate their digital transformation, bring better operational efficiency, enhance customer experience and increase service innovation.
It involves stitching together multiple intelligent technologies and embedding them into operations to achieve maximum value. To jumpstart Hyperautomation journey requires a strong domain expertise across a broad set of technologies along with the intelligence to leverage end-to-end process reengineering.
Therefore, choosing the right service provider becomes pivotal to your Hyperautomation strategy. EXL can help you become future ready, achieve digital excellence and turn your Hyperautomation goals into reality.
Sumit Taneja
VP and Global Lead
Insurance Transformation & Advanced Automation
EXL Digital
Manbir Singh
Sr. AVP
Transformation & Solutioning
EXL Digital
Rupesh Malik
Manager
EXL Digital