Data Governance as a Service (DGaaS)
Data governance used to be a term few people knew, and fewer organisations focused on it. Today, the term has widespread familiarity, yet few people understand data governance or know how to go about it.
This paper explores four perspectives of data governance:
1. "Defensive" aspects such as regulatory compliance
2. "Offensive" aspects such as enabling business process
3. Data governance within a holistic data strategy
4. Implementing Data Governance as a Service (DGaaS)
The growth of data governance
The following regulations have driven widespread attention to data governance:
Personal data and privacy legislation such as the EU General Data Protection Regulation (GDPR), or federal and state data protection laws in the US (such as CCPA)
The pressure for transparency and data accuracy stemming from financial crises such as the Banking Collapse in 2008
Industry-specific regulatory pressures for transparency and fairness in business practices such as those established for the UK telecommunications and utilities industries
Financial services regulations such as SOX in the US, IFRS 17 and Solvency II in the UK and EU, and the UK Prudential Regulation Authority (PRA) providing clear expectations on how firms should seek approval for internal capital models
The threat of substantial regulatory penalties for data breaches or noncompliance has made data governance critical to businesses.
Data governance is more than a defence exercise against regulatory penalties and data is more than a by-product of doing business. As an offensive tool, data governance will also enhance the value of data, minimise the cost of poor data quality, and enhance understanding of the meaning and use of data by staff. The combination of high quality data and accurate data knowledge optimises business process and decisions by providing the foundation for accurate, trustworthy performance insight. It fuels business change and growth.
Triggers driving data governance
You may have received an audit or assessment from an industry regulator advising you that you have failed to demonstrate adequate data management and governance capabilities. Or, being far-sighted, you may have produced your own data and information management strategy with the same recommendation. Regardless of the trigger, you must control your organisation's data, and then demonstrate that control.
A data strategy is the best starting point for data governance. It details what data is required by the organisation to satisfy its business strategy1 , which might be data you can't currently acquire from your own systems. It identifies the level of your data governance maturity, highlighting gaps in existing data governance, data quality and metadata management capabilities. It then recommends actions to fill those gaps.
EXL's experience confirms that the effort involved in creating definitions for common business terms should not be underestimated. This activity can also result in significant business process changes once the data definitions are established and the organisation realises how data has been misused.
The strategy should be delivered with a roadmap which outlines how to implement the strategy and the timeline for achieving it.
Creating a data governance framework is the likely next step.
This framework will define how you will govern.
You must also be able to understand what you will govern, your data. Most importantly, that understanding must be sufficient to satisfy a regulator that you control your data.
Shareable knowledge about data (i.e. metadata)
Data must be well defined, documented and understood. This requires organisation-wide input and agreement.
Metadata exists within most organisations, but rarely at the required level to satisfy business, technical and regulatory requirements.
Frequently, metadata is spread across documents, spreadsheets, user created databases, data models and flow diagrams. Sometimes, it exists only in an employee's memory. While this metadata can be useful to the people who know about it, it's not easily shared or integrated into a single searchable point of reference. Plus, it's not often easily transferred between individuals. At best, the metadata provides a platform for troubleshooting issues.
This metadata may be re-created by people unaware of what already exists, where to find it, or who to ask for it, or duplicated by those who want to keep a personal copy. We know each business function will use the same data for different purposes. Therefore, each function will have its own interpretation of the business definition for their data. This can cause difficulty when data issues or initiatives cross functional boundaries. If metadata isn't centrally managed, owned and shared then it doesn't support data quality and change management, or enhance data value.
Data strategy recommendations should include implementing a toolset, such as Informatica, Collibra, Alation or Erwin, to provide data governance, data cataloguing, discovery and stewardship capabilities. As illustrated in Figure 1, such tools serve as a cornerstone for data governance and quality management. They provide a platform for capturing and maintaining common, persistent and sharable data definitions. While these definitions support data governance, data management and data quality activities, they also provide a solid foundation for more efficient software support and development, educating users in the meaning behind the data they produce and consume, and promote improved business operations.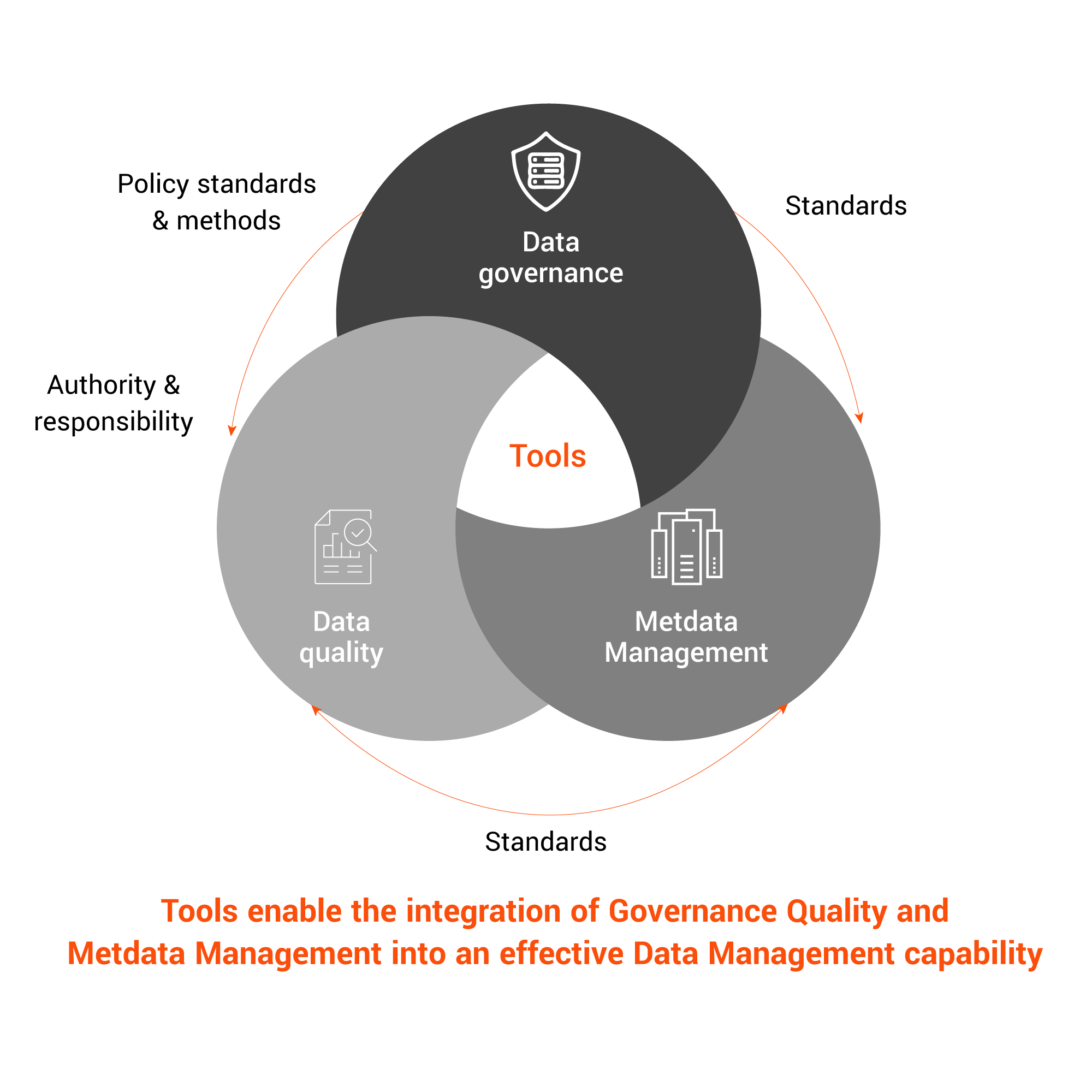 Implementing a data governance toolset
Organisations face two challenges: how to implement effective data governance and how to fund it.
Traditional costs associated with data, such as the cost of storage, are more quantifiable than assessing the value of it to the business. People who treat data as an abstract object fail to recognise that data has no value on its own – only from what you do with it. The best data governance and metadata management tools come with a high price tag. They're also complex to integrate and operate. Starting metadata collection and stewardship activities from scratch can seem overwhelming and progress can be difficult. Covering the full scope of an organisation takes time, resource and coordination.
96% of organisations struggle to implement data governance programs and gain traction* – just having a governance tool, or a program that has been designed, does not solve the fundamental management challenges that impact success. * Source: Experian 2018 Data Management Global Benchmark Report.
At the outset of a data governance program, even if the scope is simply toolset implementation, organisations are faced with a number of challenges, each of which can derail the project. These challenges include: At the outset of a data governance program, even if the scope is simply toolset implementation, organisations are faced with a number of challenges, each of which can derail the project. These challenges include:
EXL's experience shows that unless you have a clear idea of how you want to do data governance and win buy-in for implementation from senior business stakeholders, you're not going to get very far. Once again, a data strategy will highlight the benefits and costs to justify the implementation of data governance recommendations and supporting tool(s).
Buy-in - Persuading senior business stakeholders to accept a recommendation to implement a data governance program can be a show-stopping problem. After all, senior management will always get the information they need. They may not, however, be aware of the effort required for its production.
Funding challenges - Project funding can be problematic. It can be difficult to determine funding levels for tools, decide how to compensate for people and resource constraints and how to execute to deliver tangible value. Project funding is risky and susceptible to annual variation, making it more difficult to plan for than a continuous funding stream.
Resource and time constraints - Data stewardship activities, such as the capture and definition of data assets, are time consuming, despite the ability of tools to learn data structure and format directly from database structures.
Learning curve, skills and commitment - The time investment needed to acquire skills, plus the lack of adoption within the business because of the learning curve, provide serious commitment challenges.
Keeping skills and focus on track - Priorities and skills needed will change over time as the program progresses. Therefore, sustaining the right team to support change is another challenge.
Establishing priorities, ROI and framework - The initial time investment needed to define a data governance framework, the setting of priorities, the definition of ROI, KPIs, metadata loading templates and processes in general can be daunting as a first-time exercise.
Data governance enablement across the organisation - Having the time and skillset necessary to perform data governance activities without slowing down the development process is a challenge. This is especially true for agile and on-demand data development projects.
EXL's experience shows that the evidence captured during the Data Strategy Discovery Phase often highlights the inefficiencies and deficiencies of systems and processes for the provision of information. This can be used to build a convincing business case to help with stakeholder buy-in for the subsequent Data Governance implementation.
Keeping up with data growth - Continued maintenance of glossary and lineage information across multiple applications and software developments is necessary to keep metadata up-to-date. Data governance should be regarded as a journey rather than a destination. If your journey to data governance involves implementing a toolset to manage metadata, the potential roadblocks to successful navigation already exist.
DGaaS provides a solution
All companies moving to well-governed data are on the same journey with similar milestones, desired outcomes and challenges along the way, despite any differences in scale, scope, and complexity.
Most companies would only make this journey once and face a steep learning curve in the process.
Most companies struggle with achieving relevance and early wins.
How fast you can move and how hard it is to make progress are indirectly affected by the size and complexity of the technical and business landscape.
How fast you can move and how broadly you can cover your organisation is a function of the people available.
Data governance success is a direct function of the availability of people, skills, and funding.
The best way to make long-term progress is to take a sustainable approach to sizing and funding of the data governance effort.
For EXL, the data governance implementation process has become a repeatable practice from multiple projects as well as the acquisition of readily transferable skills.
The concept of Data Governance as a Service (DGaaS) provides hope for organisations that don't have the momentum, size or buy-in to start an organic data governance organisation. DGaaS can help achieve the right combination of focused effort and sufficient coverage.
DGaaS key benefits
DGaaS changes the sizing question from, "How much does data governance cost?" to "How much should I be spending on data governance?"
DGaaS spreads the risk for implementation and program progress by providing experienced resources across the whole program from strategy to implementation and ongoing data stewardship.
DGaaS has a flexible support structure capable of flexing up and down according to demand, project timelines and requirements. This is difficult to achieve with in-house staffing. Projects will have a higher data stewardship resource demand in the initial set-up/metadata capture. They will have a much lower requirement for ongoing support. DGaaS supports staffing flexibility by providing a blend of both onshore and offshore resources and services. Flexible staffing not only delivers better cost effectiveness, but also allows for more timely solutions due to the potential for round-the-clock stewardship.
Onshore resources focus on:
Data governance maturity assessment; strategy and roadmap development
Delivery of a data governance framework and process
Delivery of a data quality management capability
Provision of data stewardship resources
Offshore services and resources undertake:
Automated scanning and intake of technical metadata
Intake of manually collated metadata, e.g. from spreadsheets
Initial linking and tracing of data based on data mappings and ETL code
Intake of business metadata from uploaded templates
Initial validation of metadata population
Establishment of supporting maintenance workflow in the chosen tool
Technical data stewardship or data custodianship where data issues are investigated and suggested actions passed to data stewards for approval
DGaaS offers the most value per spend. The blended staffing model, accelerators and scope of coverage offers superior value for data management, analytics, and business processes. Providing end-to-end coverage, or focused coverage where needed, it enhances the team and optimises the costs and values associated with human resources.
DGaaS performs core stewardship services (figure 2) at an optimal cost and frees up staff for higher value work. DGaaS can multiply the effectiveness of data governance programs for a fraction of a total program's spend.
The figure below summarises the scope of DGaaS. It positions the people, process and tools between the inputs from the business data assets and the output capability to protect and enhance the value of the same data.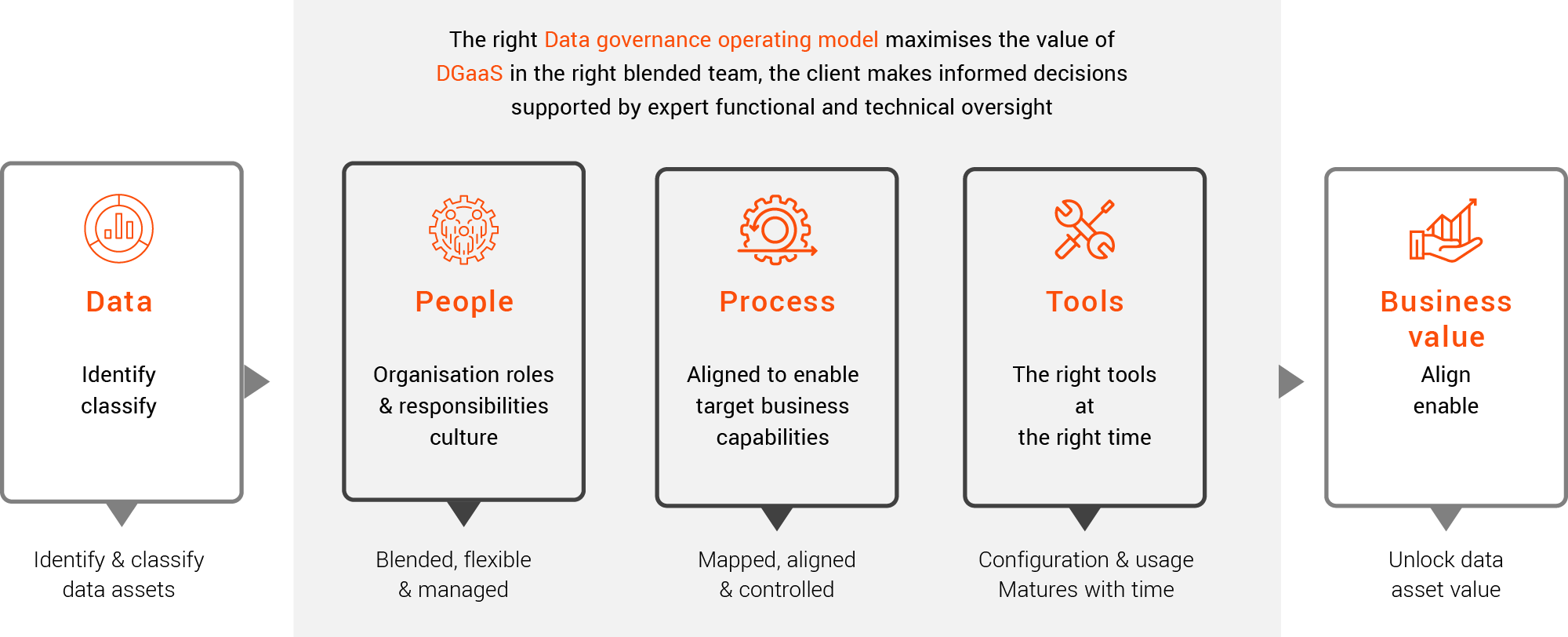 DGaaS supports modern data platform success
DGaaS offers a better, faster and cheaper way to deliver sustainable experience based data governance results. It uses the right blended team that scales to meet the demands of the organisation. It connects strategy with execution. It delivers a cost effective team of skilled resources that's sized to meet your needs, with a capability for round-the-clock availability. This, in turn, lowers your staffing commitment to a fraction of the alternative internal program cost.
In summary DGaaS:
Gives programs a good start
Accelerates the implementation despite resource constraints
Kick-starts maturity
Enforces common template standards
Monitors progress
Builds skills and competency
Creates a strong business/IT partnership
Supports prioritised initiatives
Improves accuracy
Enables tools across an organisation
Keith Corkhill
Data Governance Lead, UK and EMEA
Tel: + 44 (0) 207 767 3500