Future operating model – Hybrid for growth
Welcome to the new normal
Two years later, businesses are defying even their own expectations. Remote working is, for the most part, a normal, secure and effective practice. It's no longer just about surviving; many businesses are now thriving. Operations and analytics services companies not only sustained their businesses grew. Across verticals we are witnessing the kind of rebounds and growth that would have been unimaginable in March 2020. As per Forbes, many big US and Chinese banks not only grew significantly during the pandemic but also played a prominent role in economic recovery. Meanwhile, US biggest home improvement chain clocked sales worth $132 billion in 2020 with a 25% rise in the fourth quarter alone. In Europe, Nestlé is just one of the many FMCG players that used the pandemic to innovate and launch new products, ultimately delivering 23% more multi-market launches than in 2019.

Rising to the infosec challenge
Despite impressive demonstrations of resilience and progress, some workforce challenges remain for business at large. One of the largest is information security and the safeguarding of valuable data— with good reason. Cyberattack events doubled in 2020 and even more alarmingly, 70% of attacks in Q4 2020 featured threats to leak stolen data. As per a McAfee report, cybercrime cost the global economy more than $1 trillion in 2020. In response, businesses are paying heed to these very real threats. Gartner's 2021 CIO Agenda Survey reported cyber- and information security as CIOs' top priority for new investment. Encouragingly, 61% of respondents said they have already increased spending.
Rethinking corporate culture
There is also widespread concern about company culture and workforce wellbeing. In a McKinsey survey on the future of hybrid work, 58% of C-suite respondents said they believed employee productivity has increased since the start of the pandemic. But at what cost? A recent HBR article1 argued that in 2020 burnout became 'rampant', and blamed the blurred lines between home and office and between work time and down time for an epidemic of worker stress.
This is forcing employers to think again about how to balance corporate culture and performance with employee wellbeing—and the very real challenge of retention. McKinsey also reports that 40% of workers surveyed were planning on changing jobs by the end of 2021. Driving this so-called mass exodus is the growing range of options available to employees, now that digital-era remote working is not only a possibility, but a proven reality. Even service industry employees – previously tied to locations and fixed working patterns – have been able to successfully work from home, enjoying the benefits that come with it. This has worked especially well for families who have long struggled with juggling childcare arrangements alongside their daily commute. But widespread and generally positive experiences of remote working make it harder for businesses to mandate a return to the office, nor a 100% work-from-office model. Increasingly, business leaders are recognising that the old order is no longer fit for purpose.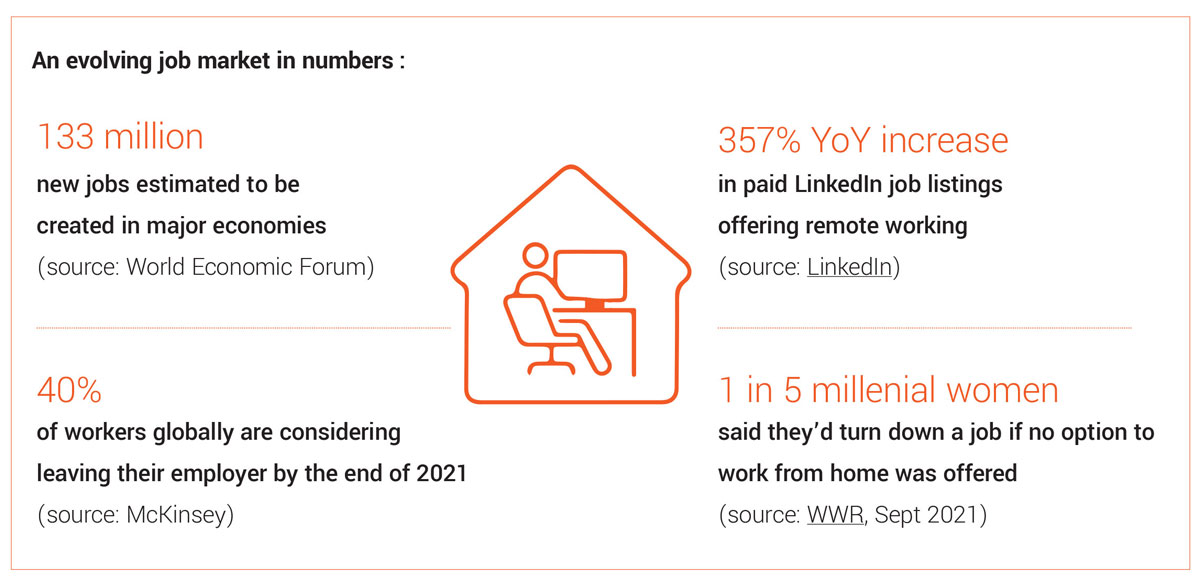 Back to the future
So, if remote working works, why the need for a return to the office at all? What's becoming clear to many business leaders is that it's no longer an either-or situation, but that the future of work demands a hybrid approach to work location. In many respects, the hybrid model offers the best of both worlds: the independence, focus and flexibility that can be enjoyed when working from home, along with the sociability and structure of working in the office.
But not all jobs are necessarily suitable for hybrid working—and the same goes for individuals. In a workforce survey, around 25% stated a preference for a hybrid working model, while around 50% said that they wanted to continue working from home. They also evaluated the suitability of different roles for different working models and found that employee preferences broadly mirrored role suitability: 50% of roles were deemed to be suitable for fully remote working, while 25% were better suited to an office base and 25% were good candidates for hybrid working. What is clear, however, is that sustaining the corporate culture and fostering collaboration benefits greatly from in-person interaction. Hybrid models must encompass opportunities for physical meetings, team building and in-person collaboration sessions on a regular basis.
New investment priorities
While hybrid working may largely satisfy employee preferences, there is nevertheless an evolving burden of cost for businesses as they adapt to the new model. As we know, investment in information security is a must, to protect data and to mitigate the risks of a dispersed workforce heavily reliant on laptops, tablets and mobile phones. Businesses would do well to follow the lead of Microsoft and Google, both which are committing to multi-billion-dollar spending on cybersecurity over the coming years, by reviewing security and investing in end-point encryption, insider threat management and AI based operations monitoring to protect their business' most precious asset—data.
Despite opportunities to downgrade or divest costly corporate office space under the hybrid model, physical office space per user just became more expensive. Corporate real estate must be reimagined for social distancing and designed for new ways of working as employees return to the office, whether in a full-time or hybrid working capacity. We only need look to the rapidly growing occupancy sensor market to see that organisations are keen to understand how teams are now using physical spaces and to invest in enhancing office environments for better collaboration, productivity and overall wellbeing. For many, accommodating a growing team that works remotely some of the time will be challenging until patterns are established and understood. No-one can afford to assume that what once worked will continue to suit business needs.
Managing change
We are living through a period of huge transition. As new working policies and operating models take shape and start to become the norm, the change management challenge cannot be underestimated. New expectations and changed obligations sit alongside continued uncertainty as the pandemic nears the end of its second year.
Employees have now experienced some form of the remote model and know that it works, making top-down return-to-office mandates problematic. And workforces are now more geographically diffused than ever before. One may have offices in 10 Indian cities, yet with the advent of home and hybrid working, the workforce may now be spread across 200 major locations.
Emerging from this period of transition is what I call the Future Operating Model— hybrid by default. Here, technology becomes the new office, and the physical office is now a lean reimagined space for collaboration, innovation and smart, flexible working. Organisational policies must now be shaped according to sustainable long-term ambitions, not knee-jerk crisis responses. Management teams must lead by example and demonstrate trust in their teams and faith in the future. Key to this is communication and an active effort to engage employees in company values, culture and goals—no matter where in the world they may be.
Exploring the Future Operating Model
To open your laptop is to step into your workplace. Collaboration tools, virtual spaces, online teams and training and video conferencing are replacing traditional face-to-face time and, in many cases, reducing the need for travel and its associated costs. So far, so good. But the Future Operating Model demands adequate technology investment to deliver all of this safely, reliably and in a compelling way for employees. This is digital transformation in action, as cloud, IoT, SaaS, blockchain, AI and machine learning enter the mainstream, powering everyday ways of working.
Meanwhile, physical office spaces are rapidly evolving under this model as large production floors morph into collaboration zones, hot-desks and innovation labs. Even the most traditional of industries are embracing this opportunity to transform. Lloyd's has committed to reimagining its iconic physical underwriting hub to better accommodate employees under new flexible working practices. Unilever has also taken a similarly long-term view, launching a new campus designed for hybrid working, with custom-built project rooms and wellbeing spaces that aim spark employee creativity and teamwork, while allowing for down-time and more reflective, solitary working.
Hybrid for growth
The hybrid Future Operating Model presents a solid blueprint for growth across several vectors. The first is talent: offering remote working alongside attractive physical collaboration opportunities opens up the talent pool considerably. Recruitment need not be encumbered by applicants' physical location or costly relocation packages. Your next star hire may be located in another city—or even on the other side of the world—yet can feasibly join your team as an active and valued member with the right remote working policies, processes and technologies in place. The second is operational resilience: hybrid working sets up an organisation to continue functioning seamlessly in the face of crisis. It also offers a degree of flexibility that helps mitigate previous blockers to growth, such as outgrowing office space or prohibitively high real estate costs. But the third, and possibly most important vector for growth that hybrid supports is a revitalised and cohesive corporate culture. With happy, autonomous and engaged employees, the organisation is better equipped to perform competitively across the board.
March 2020 feels like a long time ago, now. The crowded offices that were the norm back then are, for the most part, gone forever. But consider how far we have come. In the face of a deadly global pandemic, businesses across the world have embraced the challenge to redesign their workplace policies for not just times of crisis, but the for the future in an uncertain world. We have seen ambition, ingenuity, collaboration and humanity come together to produce new ways of working that are generally better for employees, better for families, better for the planet—and ultimately, better for the bottom line.
Vikas Bhalla
Executive Vice President and Head of Insurance
Ravi Pallavoor
Senior Vice President - Head of Transitions, Quality & Operational Excellence