How a mid-market PBM modernized member services to drive its business forward
Executive summary
In a lean economy, where healthcare costs are rising alongside ever-tightening global spending trends, pharmacy benefits managers (PBMs) are looking for innovative ways to preserve margins, control costs, and differentiate themselves in a highly competitive marketplace. It's not an easy task. Especially for an industry that has long been slow to innovate.
The daily grind of processing claims, managing networks, negotiating rebates, developing formularies, and managing utilization is complex enough, without adding wholesale process and technology changes into the mix. Where do business and IT leaders have the time to sit down together and hash out a game plan, much less identify a logical starting point? But do so, they must.
Current trends in the industry are forcing the issue. Price transparency has become the norm, forcing PBMs to reform contract strategies to be less dependent on rebates and more aligned with outcomes. Widespread consolidation by way of mergers and acquisitions have motivated a number of payers to create their own internal solutions, skirting PBMs altogether. As a result, government regulators have become more intrusive and more demanding than ever.
For a PBM to thrive in today's current environment, it will require much more than alternative pricing and delivery schemes. To remain competitive and flush, PBMs must embrace a new way forward. One that provides an integrated user experience, reflecting what consumers have come to expect in the retail sector. One that is less reliant on manual processes and more digital in nature. One that is sustainable, nimble, and value-driven, to deliver the kind of operational efficiency a modern PBM needs to not only stand its ground in today's complex pharmacy supply chain, but scale and grow with each emerging opportunity.
What follows is a mid-market PBM case study, presented by EXL Health, a global consulting services company that helps PBMs make sense of data to drive business forward, and ALTTRAX, a boutique consulting firm focused on the PBM industry. The case demonstrates how to effectively align business and technology concerns for improved user experience, scalability, and growth – at the speed of business.
EXL and ALTTRAX point the way
The client engaged the EXL-ALTTRAX partnership to address lingering concerns over an aging infrastructure and dependence on manual workarounds. Specifically, the partnership was charged with providing insight, support, and services, from a combined business and IT perspective, from solution development through final implementation across four areas:
"Growth is good, but there's a better way versus hiring more people to keep old processes alive."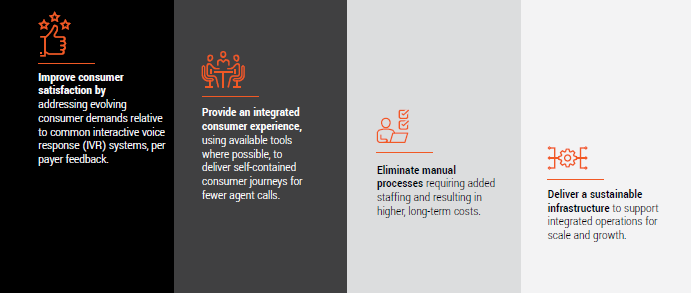 Improvements would focus on two areas: the member contact center and the client's overall technology stack.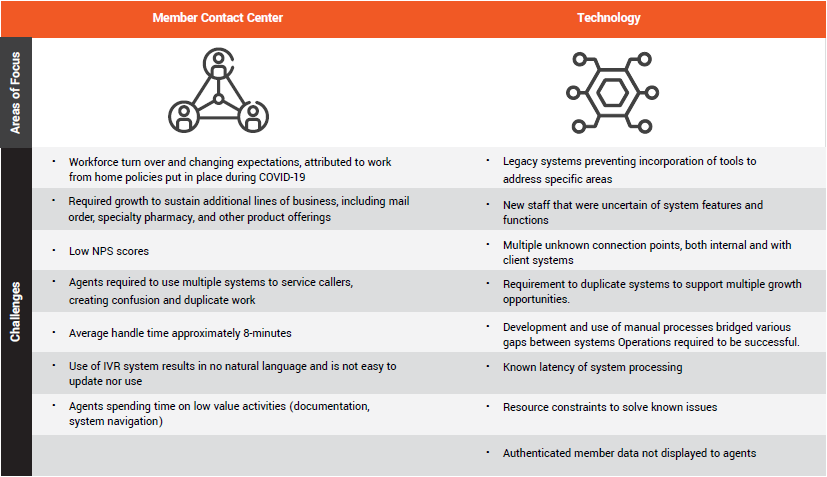 Securing understanding, ownership, and buy-in upfront
Taken separately, aging infrastructure and reliance on manual processes could appear to be two separate agendas. However, considering the integrated nature of technology and process, and the client's desire to quickly achieve results, the partnership saw fit to bring client IT and business leaders together in a discovery and planning process meant to align and energize the effort across siloes.
More than 16 hours of discussions and interviews were held across the organization. Sessions focusing on the contact center, IVR, various digital products, outbound communications, and the supporting tech stack exposed issues across all departments. And while the discussion helped to inform the partnership regarding root causes of disconnects up and down the customer journey, for the first time, executive leadership genuinely heard the needs, wants, and desires of internal peers and began to see a rationale path forward, together.
During the initial assessment, the team examined process flows, policies and procedures, job descriptions, and key business metrics, while documenting the findings and comparing them against member feedback for further review.
Targeted interviews with key stakeholders and subject matter experts expanded the intake. During these hour-long, anonymous discussions, the partnership built trust among team members, reinforcing end goals and clarifying core observations.
As the partnership shared documented observations with the client's functional owners and sponsors, feedback from interconnected parties and stakeholders solidified agreement on priorities – and a plan emerged.
"The important thing is to bring business and IT together. You can solve a lot of problems when you open the dialog, speak honestly and identify the disconnects."
Making the tough decisions
Where the company infrastructure grew in an ad hoc fashion over time, home-grown systems had been adopted that interrupted the flow of information across the organization. As these systems aged, many became unsustainable, forcing manual work-arounds to bridge the gaps.
Meanwhile, scrappy business teams, anxious to grow the business, went in separate directions. Rather than wait on IT solutions to facilitate the charge, business units began running closed data bases behind the scenes. Spreadsheets and other manual processes meant to only be temporary fixes suddenly became the rule. And for the want of more business, increased staff was required to keep the business flowing.
To achieve the organization's primary goals of reduced call handling time, increased member self-service, and improved net promoter scores (NPS), 62 separate opportunities across eight themes were identified and voted on for prioritized action. The client team and the partnership voted on items separately, as a control check.
Interestingly, both groups voted the same two priorities for action. First, create a single data source for the organization. This would facilitate a unified face of the company in discussions with members and payers and ensure integrity of service going forward. Second, enable system integration across the tech stack so that departments could communicate freely in near real-time, thereby eliminating false starts and wasted effort.
First things first
The future-state ecosystem was defined as an omni-channel contact center platform, tightly knit with forward-looking capabilities such as natural language processing (NLP), conversational AI, smart agent desktop, work-from-home support, and integrations with key operating systems for seamless transfer of data through open APIs.
Specifically, the contact center would deploy conversational AI, providing immediate ROI through member self-service, while automating member authentication and low-to-medium complexity use cases.
A unified desktop interface was also enabled to improve agent experience and productivity, featuring a 360° member view, structured call summarizations, sentiment analysis, and automated customer satisfaction scoring (CSAT).
The tech stack was transformed to sustain the omni-channel contact center. Its open architecture would facilitate flexible transitions into new channels, support enhanced conversational AI, and streamline member authentication and reporting operations in line with agent applications.
Rapid payback with a forward spin
The combined assessment, prioritization, and planning exercises led to a full implementation of the solution, including both the contact center and tech stack transformation, resulting in the following desired outcomes:
"It takes a certain level of corporate courage to admit that traditional ways are no longer working, and to summon the will make the difficult choices along the path of continuous improvement."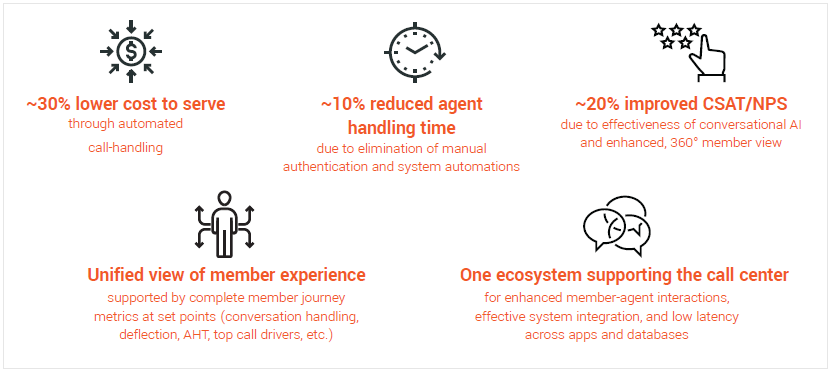 You can do it, too
The partnership's holistic approach delivered a high degree of functionality in a compressed timeframe, bringing all concerned parties together early in the discussion and engaging them wholeheartedly in formulating a workable solution.
In just four weeks, the team had identified core issues and prioritized the most urgent activities for improvement. Now, with the base platform in place, new value-added capabilities can be confidently launched to further the PBM's mission, to scale and grow by providing a more competitive, satisfying experience for members and payers alike. To learn more about the EXL-ALTTRAX partnership, or to discuss your own digital transformation journey, please visit EXLservice.com.
About EXL
EXL (NASDAQ: EXLS) is a leading data analytics and digital operations and solutions company that partners with clients to improve business outcomes and unlock growth. By bringing together deep domain expertise with robust data, powerful analytics, cloud, artificial intelligence ("AI") and machine learning ("ML"), we create agile, scalable solutions and execute complex operations for the world's leading corporations in industries including insurance, healthcare, banking and financial services, media, and retail, among others. Focused on driving faster decision-making and transforming operating models, EXL was founded on the core values of innovation, collaboration, excellence, integrity and respect. Headquartered in New York, our team is over 47,000 strong, with more than 50 offices spanning six continents. For more information, visit www.exlservice.com.
About ALTTRAX
ALTTRAX is a management consulting company that helps companies solve business problems and enable accelerated growth, with solutions primarily focused on the PBM industry. We deliver value for our customers by solving complex problems, helping our customers execute even better, and ultimately enabling their growth. Our broad network of talented experts will help you solve your complex business problems. For more information, visit www.alttrax.com

Written by:
Amy Sayers
Vice President, Pharmacy Services, EXL

Justin Thomaas
Senior Vice President, ALTTRAX